Have you seen all of the veggie/bean pastas popping up in grocery stores? I was super curious about them, so I bought a few to try out. So far, I've had a chance to try out the black bean and chickpea based pastas, and I'm sharing a winning recipe made with the black bean pasta today. This is a winner if you're short on time and don't feel like doing a lot of prep work. Thanks to the pasta having a high protein amount, you can enjoy a delicious and filling recipe with very few ingredients with this Easy Black Bean Pasta with Quick Tomato Sauce Recipe.
*VIDEO* How to Make This Healthy Pasta Recipe
Click here to view the video for this recipe if the above player doesn't work.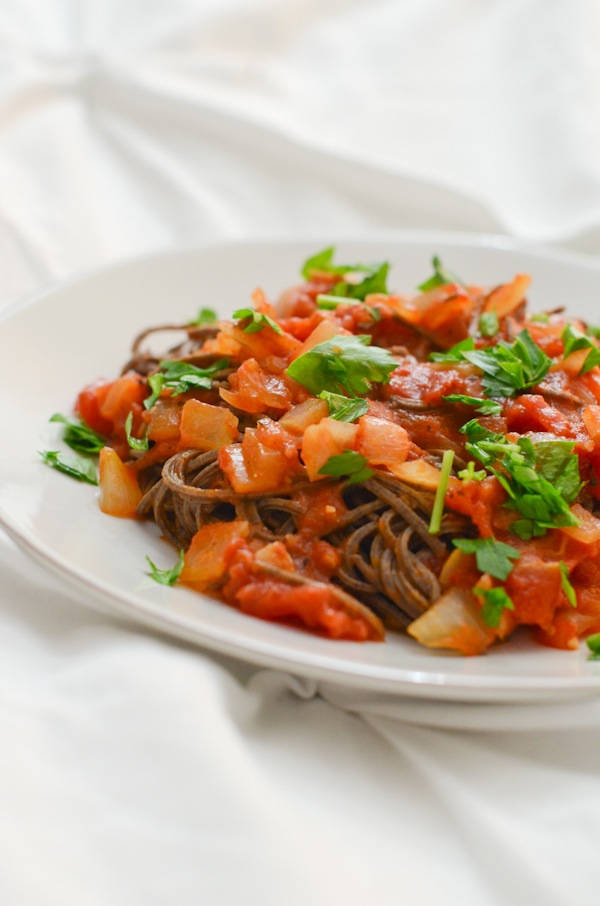 Easy Black Bean Pasta with Quick Tomato Sauce – An Easy Vegetarian/Vegan Entrée
Even though I'm not vegetarian or vegan, I often find vegetarian and vegan meals easier to make. Mainly because the recipes I tend to make require a lot less prep and cook time. My traditional protein with two sides meals require separate prep and cooking for each of the three portions. Unless I get something pre-prepped, of course. While this dish is all in one bowl. I hardly have to cut anything (just the onion and garlic, plus the parsley if I'm using it), and only two cooking pots/pans are needed. It's nice and simple, which I love.
How Much Protein Is in Black Bean Pasta?
I checked the box for the pasta I bought, which is by Explore Cuisine. It's called "Organic Black Bean Spaghetti". In one serving (2 oz dry), there are 25 g of protein. For comparison, one large egg has 6g of protein. And one cup of chicken breast has 43 g of protein. So while this is a lighter meal, I love that I don't have to figure out what protein to add to make the meal filling. It's already in the pasta.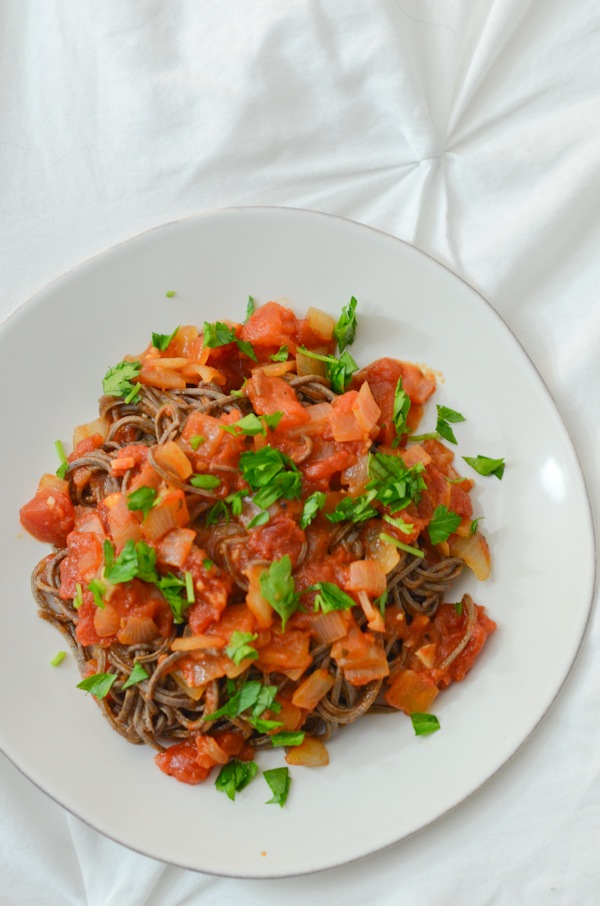 Is Black Bean Pasta Clean Eating Friendly?
I think so. The ingredient list of the box I bought has one ingredient: organic black beans. I'm impressed that they were able to make pasta with just one ingredient. So while the product is a little processed since it's not directly from the source, one ingredient is clean eating friendly enough for me. It's definitely Cleanish friendly!
A Cheesy Taste?
While I was eating the pasta, I noticed that it had an almost cheesy taste. Or maybe more accurately, texture? Basically, I thought for a moment I had gotten a bite of gooey mozzarella until I remembered I hadn't added any cheese. Not sure how that worked out, but I wasn't complaining since I love mozzarella. Has anyone else noticed this?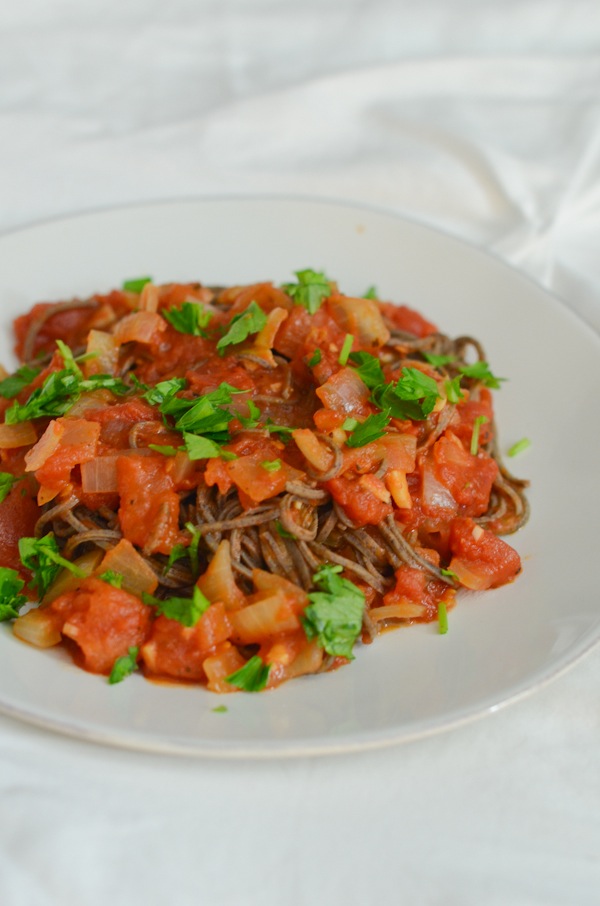 Print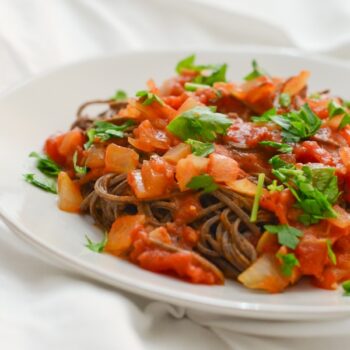 Easy Black Bean Pasta with Quick Tomato Sauce Recipe
Author:

Prep Time:

2 mins

Cook Time:

16 mins

Total Time:

18 mins

Yield:

2

1

x
---
Description
This Easy Black Bean Pasta with Quick Tomato Sauce Recipe makes for a super simple dinner on a busy weeknight. Or if you need a quick meal on the weekend.
---
2

servings black bean pasta

1 teaspoon

extra virgin olive oil

1

14.5-oz can whole peeled tomatoes

1

small onion, chopped

1

garlic clove, minced

1/4 teaspoon

Italian seasoning

1/4 teaspoon

kosher salt, plus more to taste
black pepper, to taste
fresh Italian parsley, chopped, optional
---
Instructions
Heat oil in a large sauté pan over medium low heat. When the oil is ready, add onion and sauté for about 3-4 minutes, stirring frequently, until onions begin to turn translucent.
Meanwhile, cook black bean pasta according to package directions and strain pasta. Note: Mine took about 6-8 minutes.
To the onions, add garlic and cook for 60 seconds, until garlic becomes fragrant. Add tomatoes and juice from the can, Italian seasoning, salt, and pepper. Use your cooking utensil (I like a wooden spoon with a flat top) to break the tomato into small pieces. Cook, stirring frequently, for about 10-12 minutes or until the vegetables are as tender as you'd like and the flavors are combined. Note: the tomato can pop a bit and the juice can get everywhere so be gentle…at least at first.
Add pasta to your tomato sauce and stir to combine. Pour pasta into a bowl and if using, top with fresh parsley.
---
Notes
Note: Experiment with your sauce to pasta proportions. I found that the one can of tomatoes made enough sauce for two servings. But if you really like tomato sauce, you may want to prep just one serving of pasta for all of the sauce. See what works best for you.
Recipe Card powered by
More Vegetarian Entrée Recipes
Veggie Noodle Stir Fry – and check out a video showing a glimpse at how to make this on this What I Ate video
***
Thanks for reading! Hope you enjoy this Easy Black Bean Pasta with Quick Tomato Sauce Recipe.
Share this with your friends: