Hi friends! Many of you have asked me about vegetarian proteins. As you know, I'm a meat eater who also enjoys vegetarian and vegan from time-to-time. So, I feel like I've found some good solutions that may help you if you're cooking vegetarian for a meat-eating SO, friend, or family member. Or if you're just looking for new ideas. I'm also someone who doesn't have time for food that is bland or boring. Plus, I absolutely need filling food because hungry-me is not pretty. Ha! So, let's jump in…
And be sure to check out my video. I think these are starting to tell a better story than these posts. Or that could just help add to the overall picture.
And please let me know what theme you want to see next! I think I could do a few of these vegetarian protein days of eating, but I'm open to trying new themes too. Just need to know what you want!
*VIDEO* What I Eat in a Day for Filling Vegetarian Food | Coconut Bowls Unboxing
Click here to watch the video if the above player doesn't work.
Almond Butter Breakfast
I forgot to snap a photo, but I had almond butter and jam toast from Bluestone for breakfast. I know I eat this all the time, but it's for a good reason. A few good reasons, actually! Today, I went with this option because almond butter is a good source of protein. I estimate I had roughly two tablespoons of it. And a two tablespoon serving of almond butter has approximately 7g of protein. This is one more than a large egg!
Food Tip: I use foods that I know fill me up as a baseline to compare to when I'm experimenting with new food. So for example, you guys know I love my morning eggs. I know one large egg with a side will fill me up nicely. So I shoot for roughly the same amount of protein to keep myself from getting hungry before lunch.
Farmer's Bowl at Dig Inn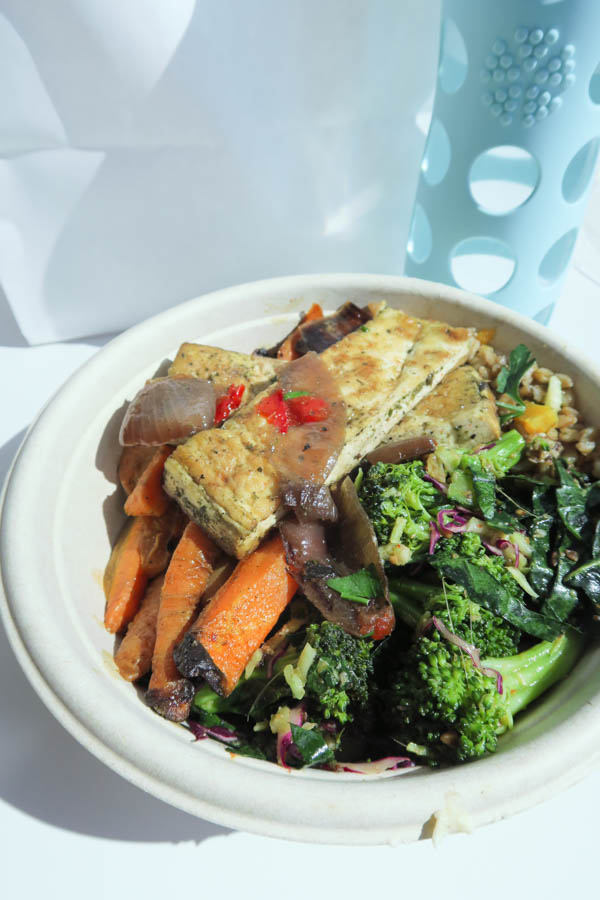 Tofu, farro, and broccoli are all good sources of protein. This bowl sometimes fills me up more than the chicken-based ones do!
And while I was researching, I learned that farro has more protein that quinoa. 1/4 cup dry of quinoa has 6g of protein while farro has 7g! Though quinoa does have all 9 essential amino acids. But still, it's good to know about filling options.
Sweet Cravings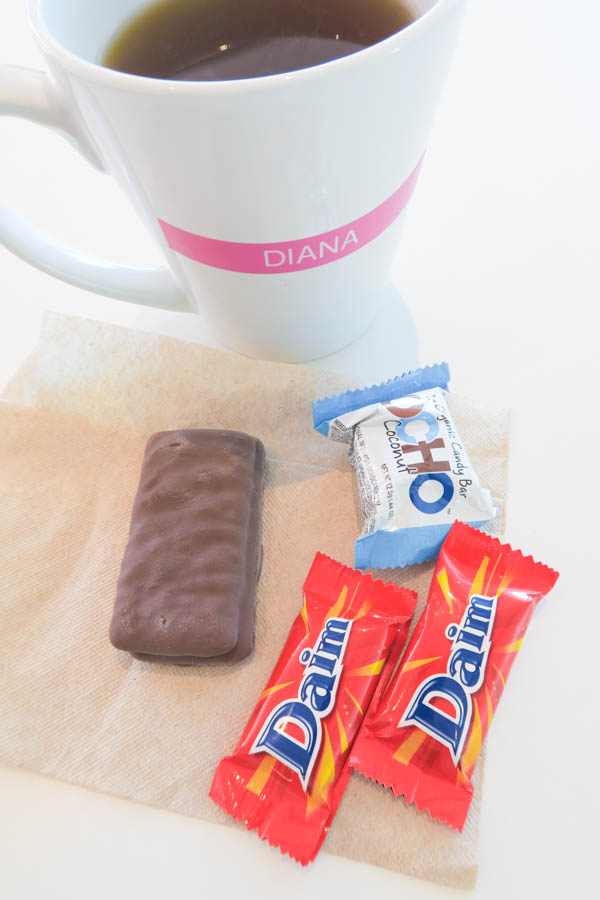 It's been a long time since I've talked about cravings, but today I caved. I normally can stick with one piece, and it's more than enough. But on this day, I had three pieces of chocolate and a dark chocolate Tim Tam!
I actually believe cravings are a good thing since they're your body's way of communicating with you. But, I'm planning to make a video to explain this more. So…more to come!
Quick Vegetarian Dinner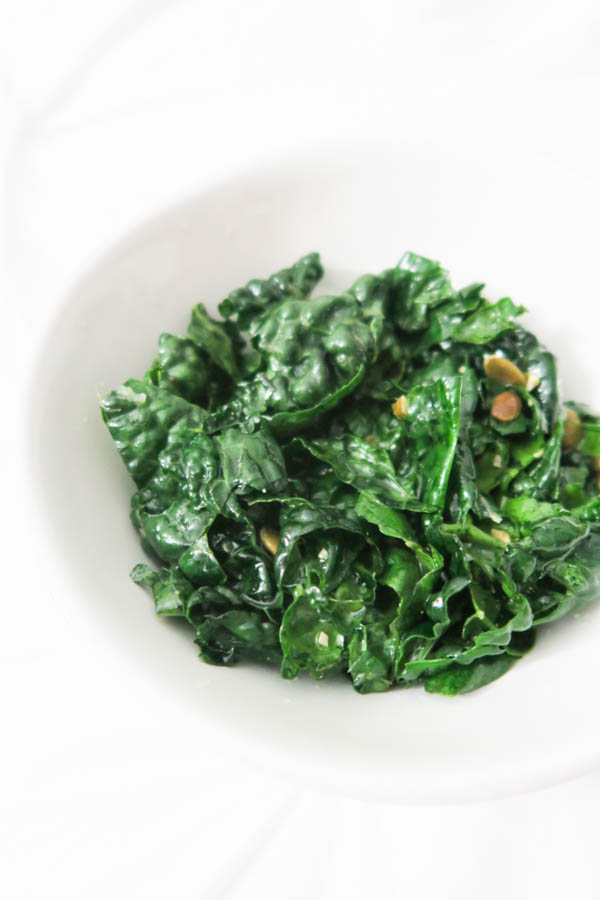 Although I'd had plenty of veg for the day, I thought I'd add in a bonus kale salad. This was pre-prepared at my local grocery store. The salad contains pepitas, which are also a good protein source. As I pointed out in the video, there isn't a significant amount of pumpkin seeds in the bowl, but I do believe every little bit adds up.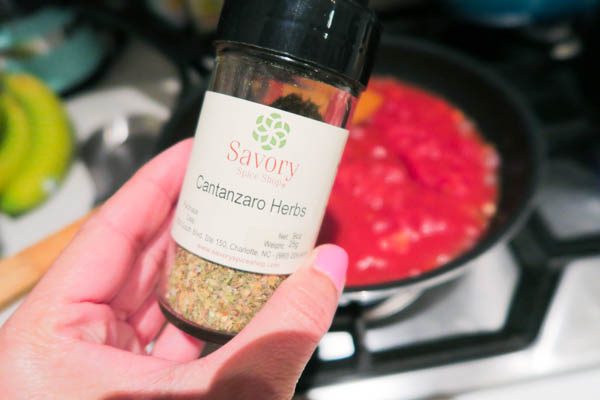 I made my Easy Black Bean Pasta with Quick Tomato Sauce. I think I have enough footage to cut a cooking video, so keep an eye out for that over the weekend!
To the sauce, I added Cantanzaro Herbs (by Savory Spice Shop) instead of Italian seasoning. This stuff is so good!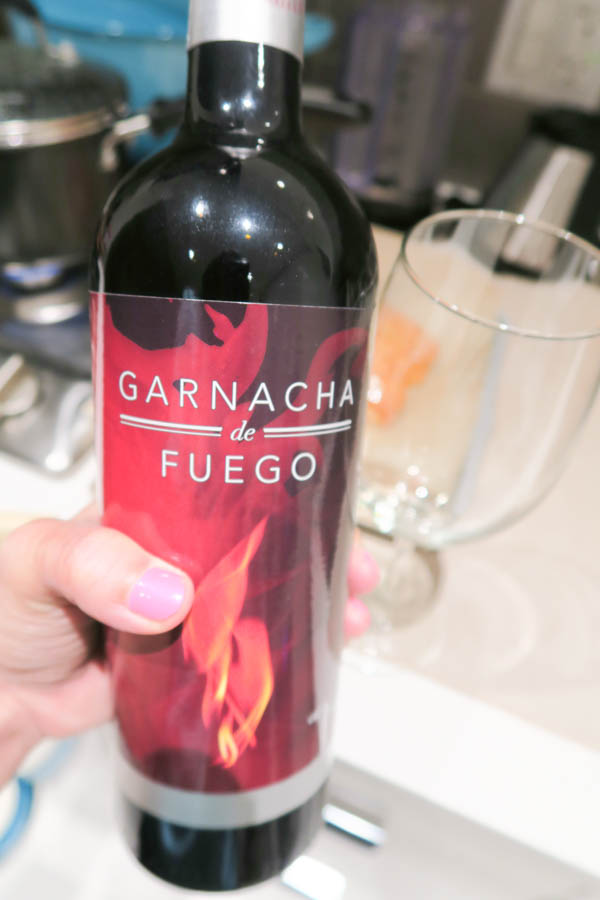 Glass of vino.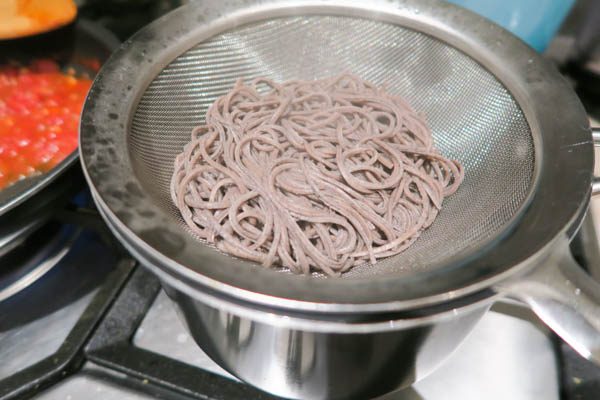 Have you tried black bean pasta yet? It's so good! And one serving has a whopping 25g of protein!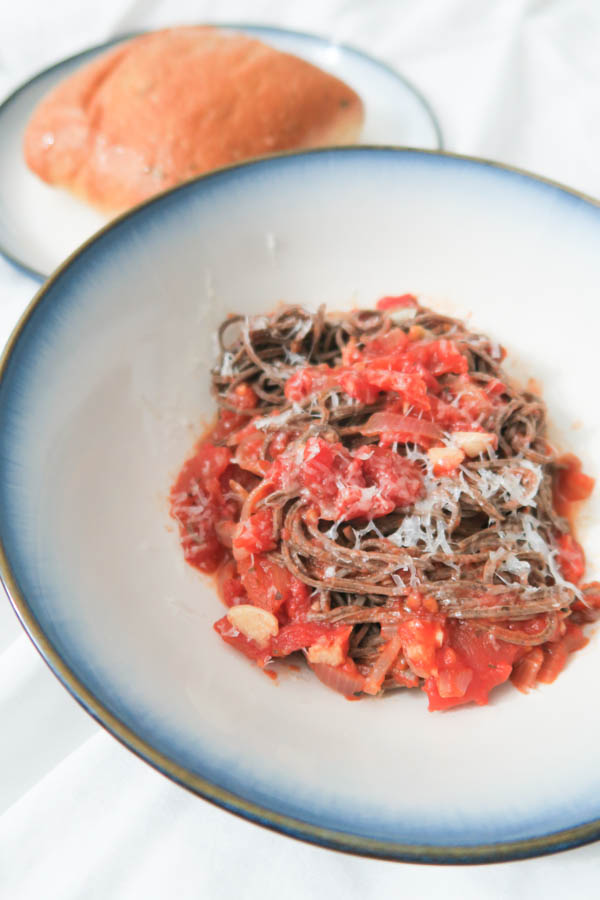 Here's the finished results, topped with a little fresh-grated pecorino romano.
Coconut Bowls Unboxing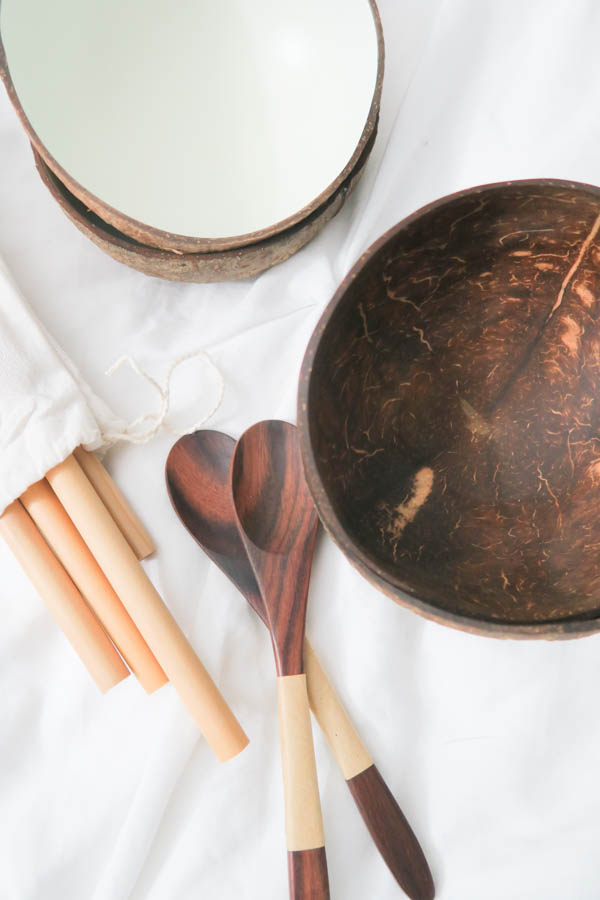 Have you heard of coconut bowls yet? They're all over Instagram, and I think they make smoothie bowls look really pretty. I ordered a few things, so you'll probably be seeing these a lot in upcoming posts and videos.
The bowls are cool because they help make use of coconut shells that are normally tossed out.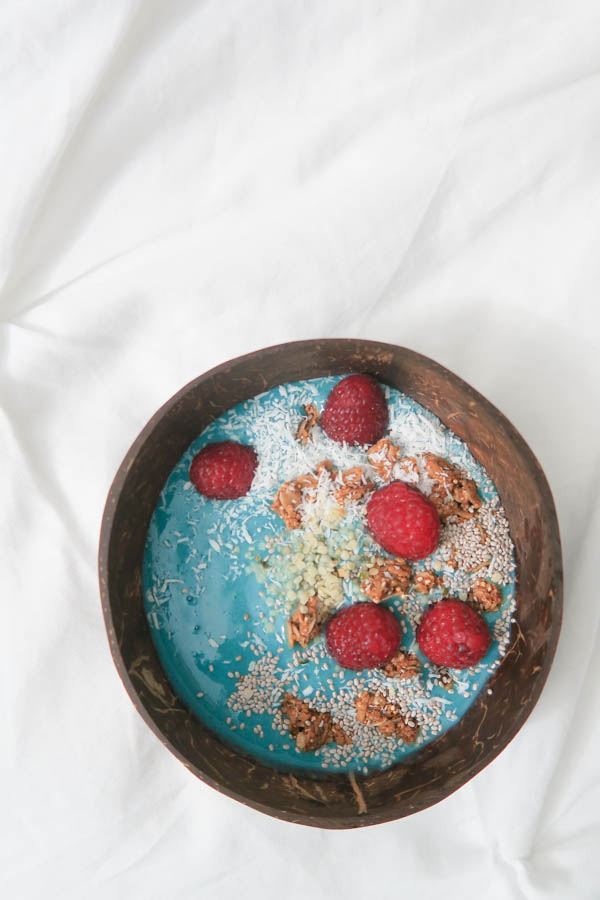 I made a quick smoothie bowl with frozen banana, frozen peaches, almond milk, and E3 Blue Majik for anti-inflammatory benefits. On top, I added granola, chia seeds, hemp seeds, unsweetened coconut flakes, and organic raspberries.
These bowls have been a great addition to my day of eating. I love the bonus fruit and superfood servings. And the toppings can help fill out my day if I'm still feeling a bit peckish after dinner.
More Food Posts
Click here for more What I Eat posts
Thanks for reading and watching! And be sure to let me know about your theme requests via any communication channel you'd like – social, email, etc.! Cheers!