Hi friends, So I totally intended to do more like one Christmas Plan with Me per week this year. But, all that travel just got in the way! So, here's one for now. Hope to have more next year!
Christmas Plan with Me Video
Click here to view the video if the above player doesn't work.
Christmas Themed Washi Tape Only Plan with Me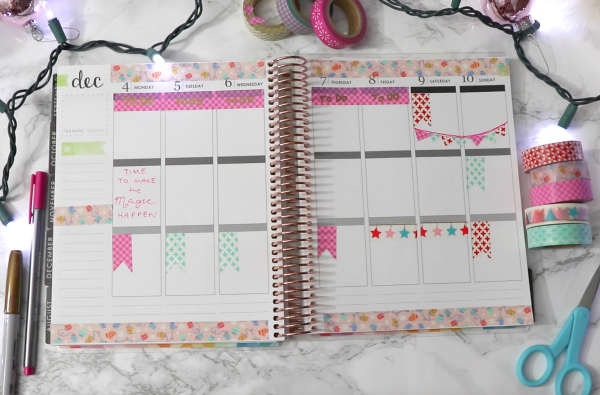 Additionally, I forgot to download the photos that go with this video before traveling for the holidays. So, here's a screenshot for now. Oops! My DSLR is in NYC.
The washi tape tutorial video I made for you guys is doing really well on YouTube. So far, it has over 150 likes and thousands of views. And I only published it a couple months ago! So, in honor of that, I created this washi-tape-only Plan With Me for you guys.
This uses a mix of holiday and non-holiday washi tape in non-traditional colors. Though if you've been reading the blog for awhile, you'd probably know this is my favorite holiday color scheme. PS the blog post has been around longer and has over 100,000 views!
The products used are available in the description box of the video. And I also featured these washi tapes in another recent post and video in case you want to see the other patterns that come in the sets.
Want to see more Plan with Me videos? Let me know! I'm happy to make more.
Oh and if you want to hear when I have new planner things going on, be sure to subscribe to my planner email subscription. It's separate from my weekly blog update email list. And you'll get a free Prep Your Planner for 2018 checklist! Click here to sign up.
Cheers and thanks for reading and watching! Happy Holidays!