Hi friends! Boy do I have a good recipe to share with you for National Doughnut Day. It's a Coconut Cake Batter Doughnuts Recipe. And it's made without refined sugar. Well, can't speak for the sprinkles. Haha. Anywho, I was totally saving this recipe for a week or two away. But when I kept seeing posts on Instagram about National Doughnut Day, I knew I needed to get my fingers typing this recipe up to share with you. Did I mention this is vegan? But I like to think of this as simply a healthy doughnut recipe. All the flavor, without the excessive sugar and processed ingredients you'll find at most doughnut shops.
Note: This post contains affiliate links. If you make a purchase from one of these links, I may make a small commission at no extra charge to you. Please feel free to reach out if you have any questions about the products in this post.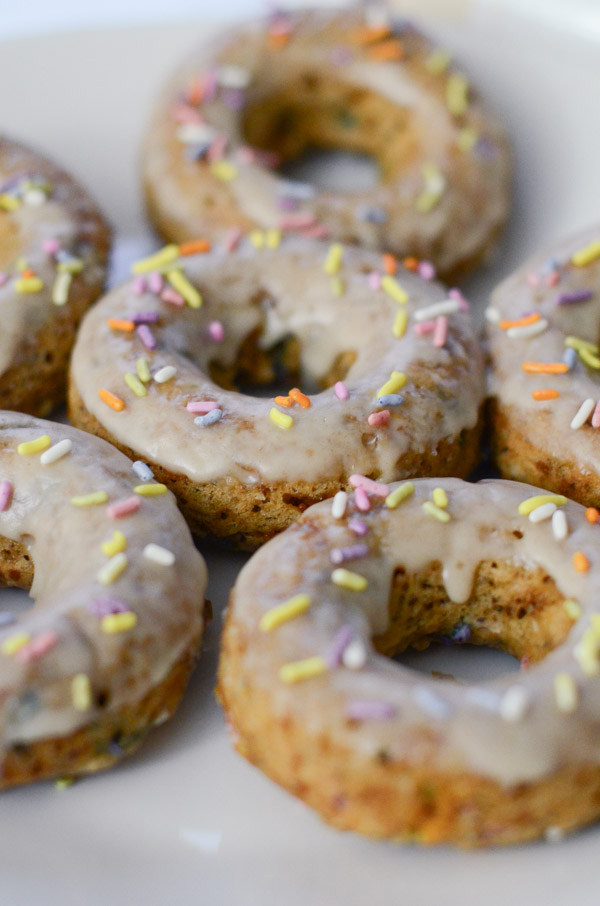 Ready for the recipe? Scroll to the end of this post. I'll also link up some other healthy dessert recipes, including some more healthy donut recipes. First, I wanted to share a bit more about how this recipe came about.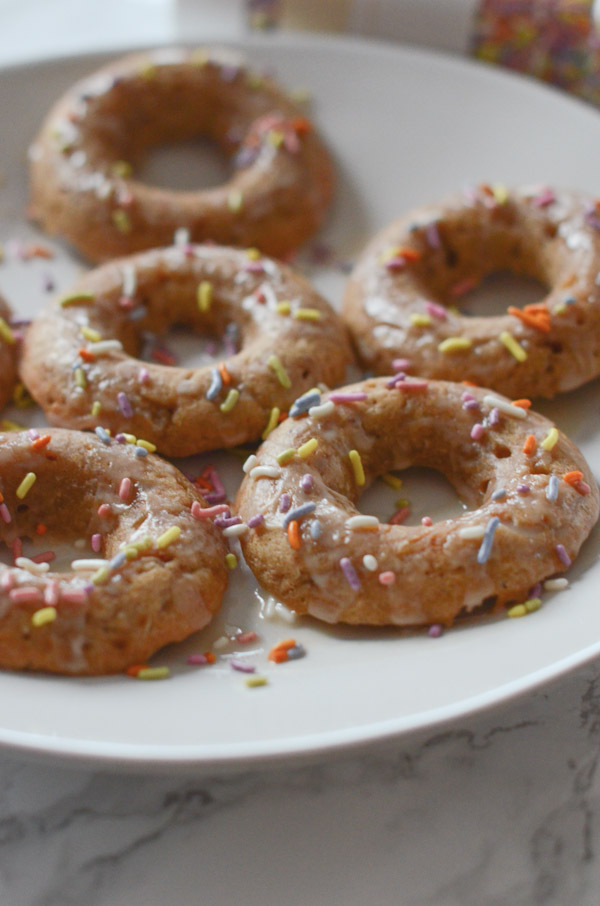 By the way, this (above) is what happens when you're totally exhausted and still trying to develop a new recipe and accidentally add corn starch where you meant to add baking powder. Oops!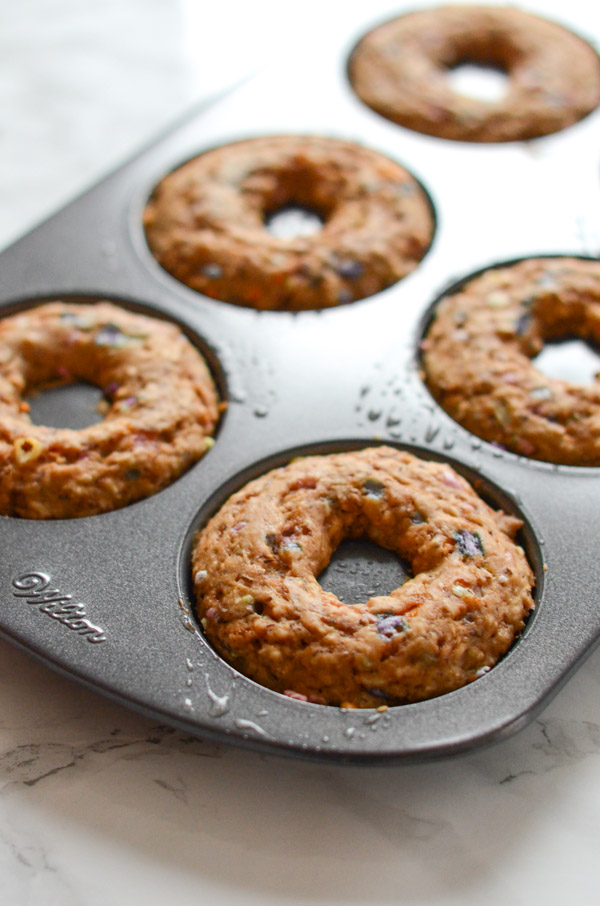 Now, this looks much better!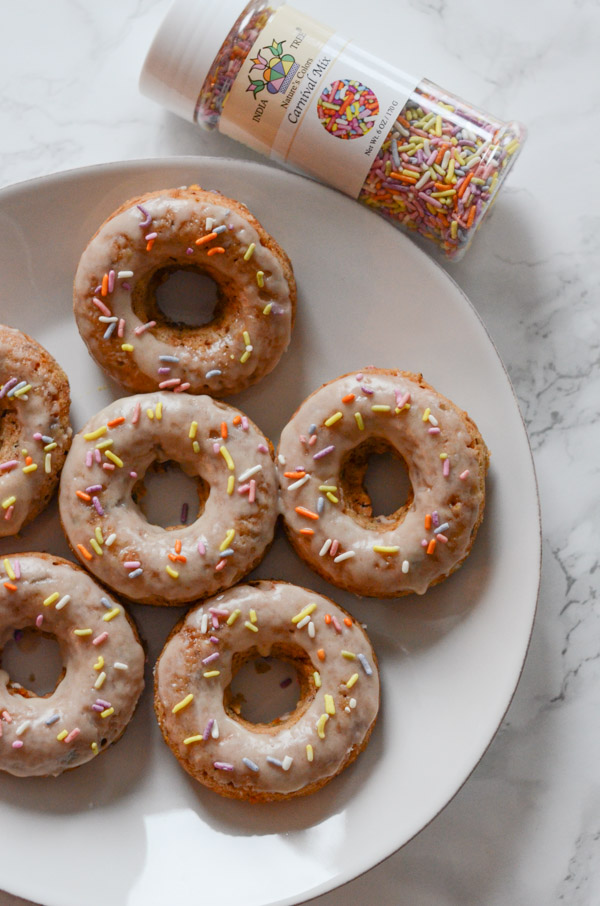 Naturally Colored Sprinkles (No Artificial Colors)
And guess what? I found sprinkles that aren't made with all the yucky artificial food colorings. Yup. It's true! So, while the recipe is refined sugar free, I must admit the first ingredient on the list of these India Tree Nature's Colors Carnival Sprinkles is sugar. So, if you're really trying to skip refined sugars, you may want to skip these sprinkles too.
However, you guys know I'm all about making better decisions over striving for perfection. So, I like to think of this as just that. While not necessarily healthier by sugar content, I do personally believe foods that are more clean are healthier for your body.
And if anyone knows of no-refined sugar sprinkles, share it in the comments for the others!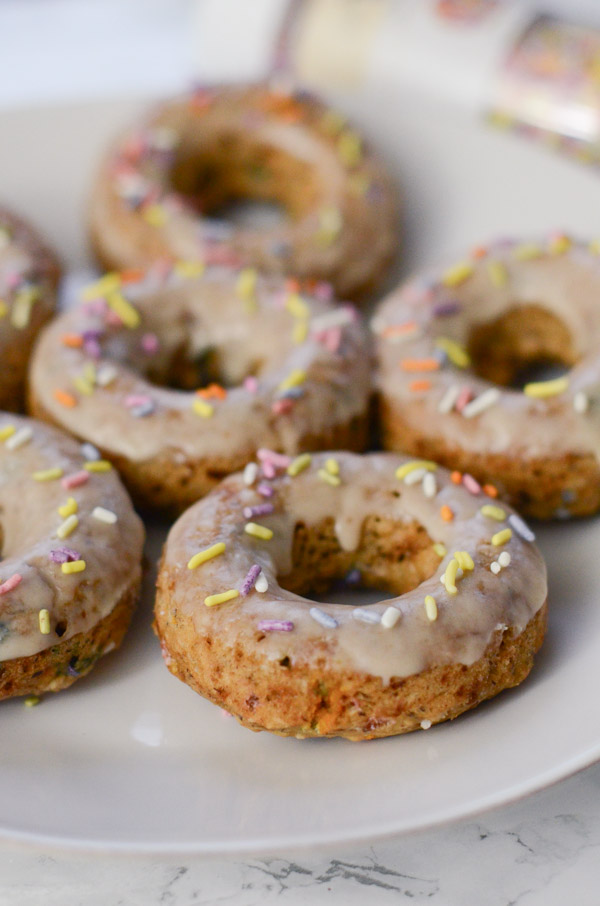 Healthy No Refined Sugar Frosting | One Ingredient
We've covered how the sprinkles in this are…maybe not technically healthier. But cleaner at least. Now, let's talk frosting.
While researching healthier frosting options, I stumbled upon something interesting. Using coconut butter instead of confectioners sugar + milk! Guess what I just happened to have in the pantry? Yup, Nikki's Vanilla Cake Batter Coconut Butter. Now, unlike the sprinkles, this one is refined sugar free since it's made with coconut sugar. Nice!
And since this coconut butter is already sweetened and flavored, you can use it straight up as the frosting. The trick is the consistency. In its natural state, coconut butter is solid. So you'll want to put the coconut butter into a microwave-safe container and heat it just until you can get it mixable enough you can dunk the tops of your baked donuts into it. I think I tried maybe 10 seconds and then added 2-5 until it was just past being solid. It didn't take long, friends!
So, is coconut butter "healthier" than confectioners sugar? I think so. For me, over the years, in addition to something being "healthier", I also evaluate the quality of the ingredient. And it's darn near impossible to find a good quality confectioners sugar. I mean, I don't put conventional sugar in my coffee, so why put it on my doughnuts? With this solution, we don't have to!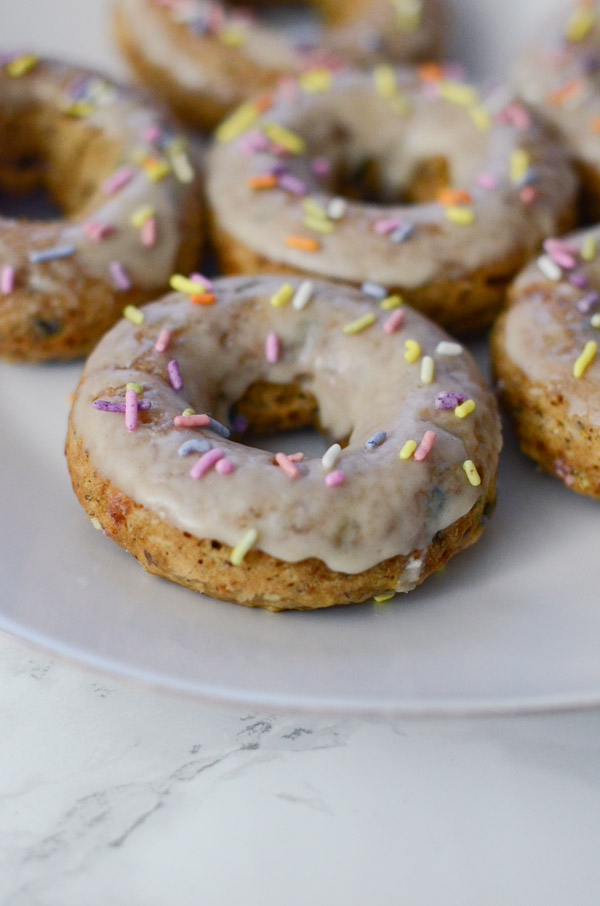 So the flavor of the coconut butter is what drove this Coconut Cake Batter Doughnuts Recipe. But, I also made a couple adjustments to the doughnuts to try to make them more cake batter like. I wanted to keep this vegan, and Earth Balance is great for getting that buttery flavor in plant-based format. I also increased the vanilla extract amount from my other doughnut recipes.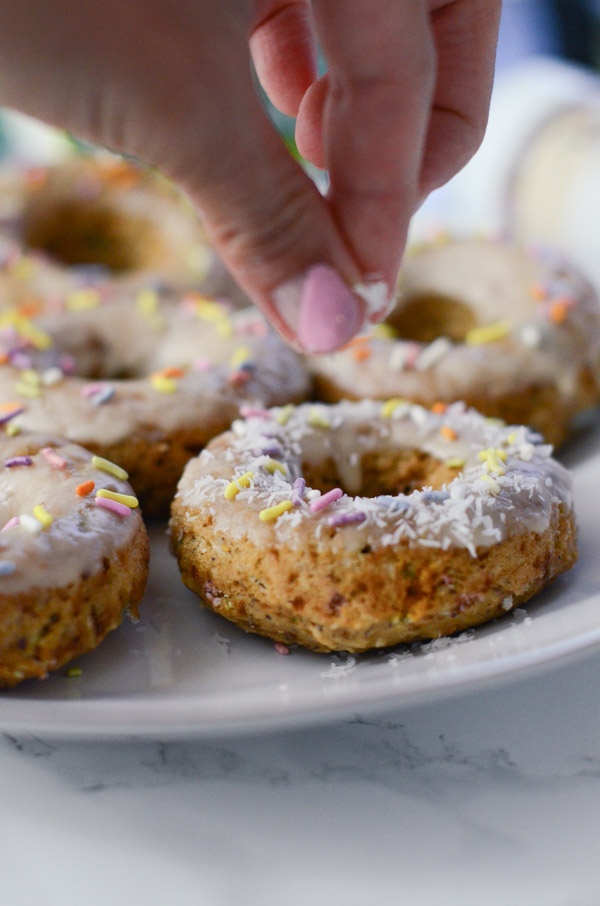 By the way, you can top the doughnuts with additional coconut flakes if you want.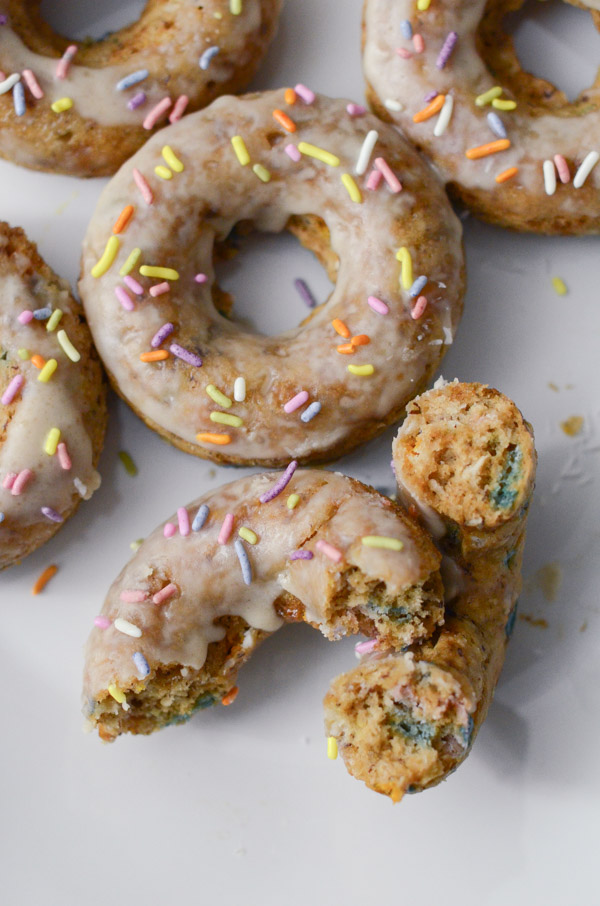 And I added sprinkles into the doughnuts, but that's of course optional too.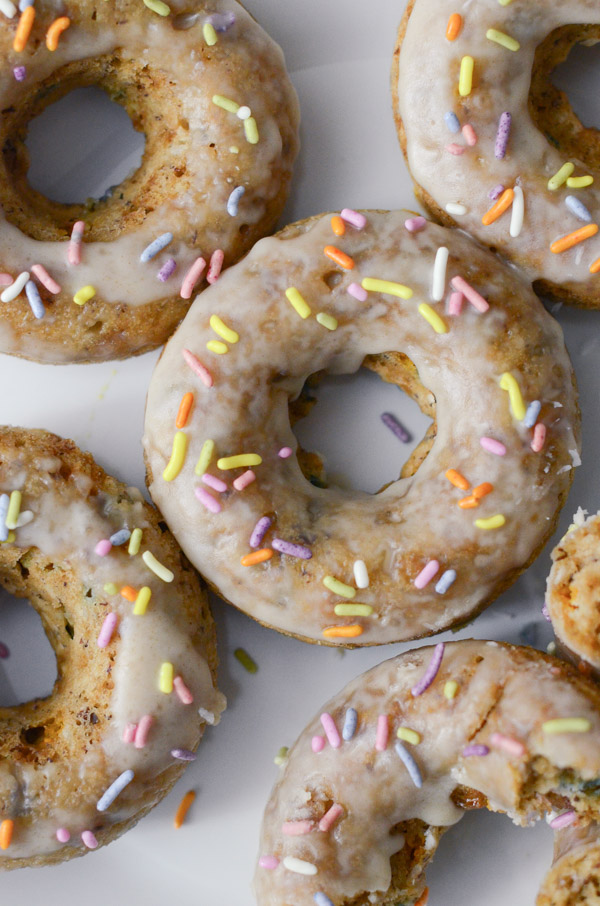 Print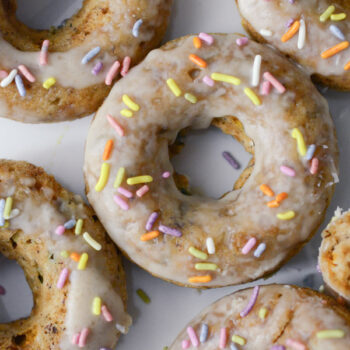 Coconut Cake Batter Doughnuts Recipe
Author:

Prep Time:

10 mins

Cook Time:

8 mins

Total Time:

18 mins

Yield:

6

1

x

Category:

Dessert

Cuisine:

American
---
Description
These healthy Coconut Cake Batter Doughnuts are made without refined sugars. Even the frosting! Try this for a fun dessert variation that is ready in 30 minutes or less.
---
1 teaspoon

plus 1 tablespoon Earth Balance, melted and cooled – keep separated

3/4 cup

Unbleached All-Purpose Flour

1/4 cup

coconut sugar

1/4 cup

unsweetened coconut flakes, plus more for topping, optional

2 tablespoons

sprinkles, plus more for topping, optional

1/2 teaspoon

baking powder

1/4 teaspoon

baking soda

1/4 teaspoon

salt

1/4 cup

, plus 2 tablespoons non-dairy milk (I used macadamia)

1

flaxseed egg (see Note)

1/2 teaspoon

vanilla extract

1/4 teaspoon

white vinegar

3 tablespoons

Nikki's Vanilla Cake Batter Coconut Butter
---
Instructions
Pre-heat oven to 375 degrees F. Brush a 6-count doughnut pan with 1 teaspoon melted Earth Balance.
In a medium-large bowl, add flour, coconut sugar, 1/4 cup coconut flakes, 2 tablespoons sprinkles (if using), baking powder, baking soda, and salt. Whisk to combine.
In another medium-large bowl, whisk together non-dairy milk and egg. Add melted and cooled Earth Balance, vanilla extract, and white vinegar and whisk to combine.
Pour wet ingredients into dry ingredients and gently mix until just combined (careful to not over-mix).
Evenly distribute in doughnut pan. Bake for 7-10 minutes, until doughnuts are cooked through (when a toothpick inserted into the doughnut comes out clean).
When doughnuts are cool, prep the frosting. In a bowl that the doughnuts can lay flat in, add Nikki's Vanilla Cake Batter Coconut Butter and heat in the microwave until just melted, start with 10 seconds and add 2-5 until just melted. Whisk until smooth.
Dip the smooth top of the doughnut into the coconut butter. Top with sprinkles if using. Top with coconut flakes, if using.
Serve and enjoy!
---
Notes
To make a flaxseed egg: before beginning the recipe, mix 1 tablespoon ground flaxseed meal with 3 tablespoons water. Let sit at least 10 minutes.
Note: Most likely the sprinkles you use will not be refined sugar free if you need the finished doughnuts to be 100% refined sugar free.
Recipe Card powered by
Coconut Cake Batter Doughnuts Recipe Supplies
Nikki's Vanilla Cake Batter Coconut Butter
More Healthy Dessert Recipes
Healthy Coconut Chia Pudding with Blue Majick
Individual Apple Cinnamon Crisp
***
Thanks so much for stopping by! Hope you enjoy this Coconut Cake Batter Doughnuts Recipe!