Ready to remember how beautiful you are – inside and out?! You'll love this blog post about 125 Beauty Confidence Quotes. Below you'll find beauty quotes ranging from self-confidence quotes to self-love quotes to quotes about the beauty of life. Hope you find some you enjoy!
Note: This post contains affiliate links. If you make a purchase from one of these links, I may make a small commission at no extra charge to you. Thank you for your support!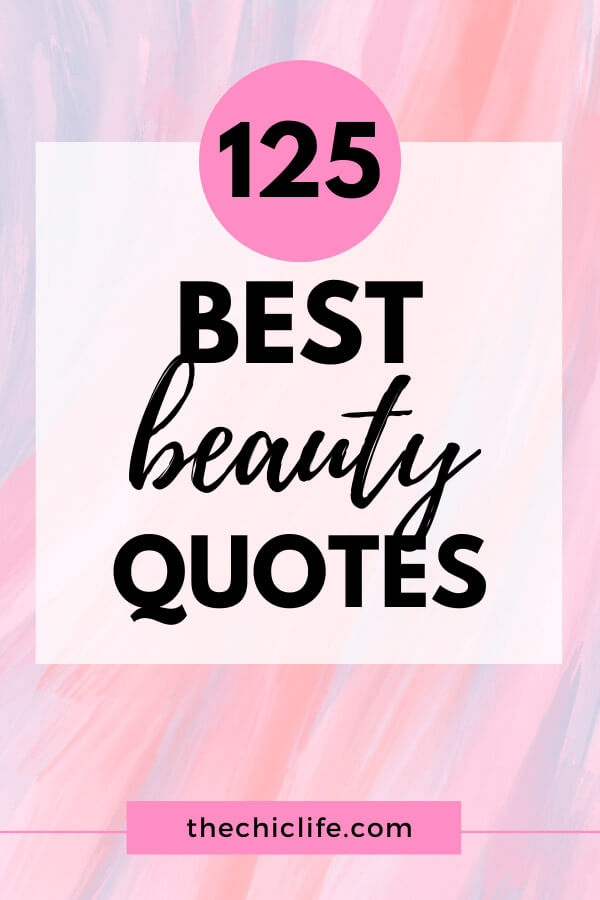 125 Best Beauty Confidence Quotes
I've searched high and low to find the absolute BEST beauty confidence quotes around and have compiled them into this list of my faves. There are beauty confidence quotes in all types of categories.
Read through this list of beauty confidence quotes and notice which ones you are pulled to the strongest.
Self-Confidence Beauty Quotes
I had to kick this list of beauty confidence quotes off with some self-confidence quotes, naturally!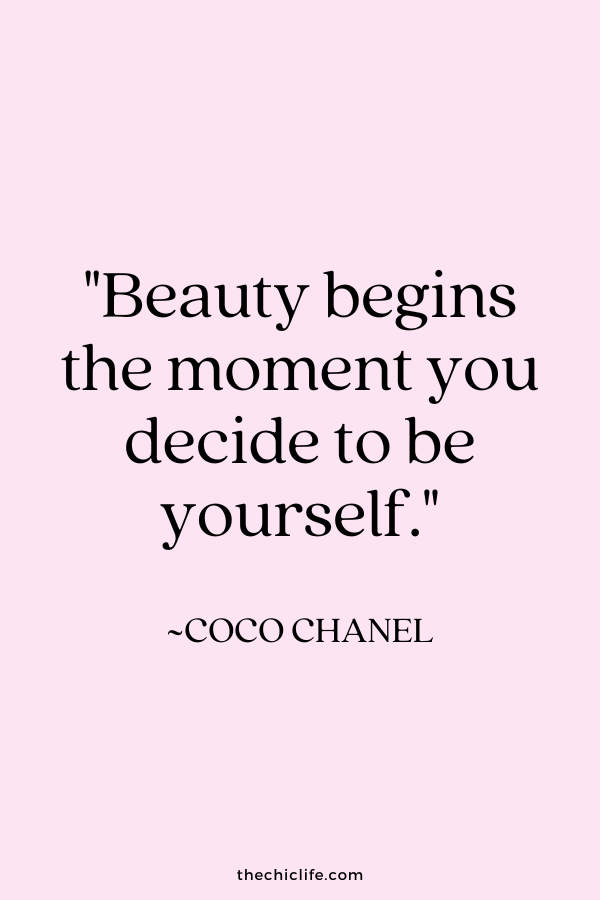 1. "Beauty begins the moment you decide to be yourself." ~ Coco Chanel
2. "Confidence breeds beauty." ~ Estée Lauder
3. "The most beautiful things you can wear are your self-confidence and your self-love." ~ Leticia Rae
4. "Being sexy is all about attitude, not body type. It's a state of mind." ~ Amisha Patel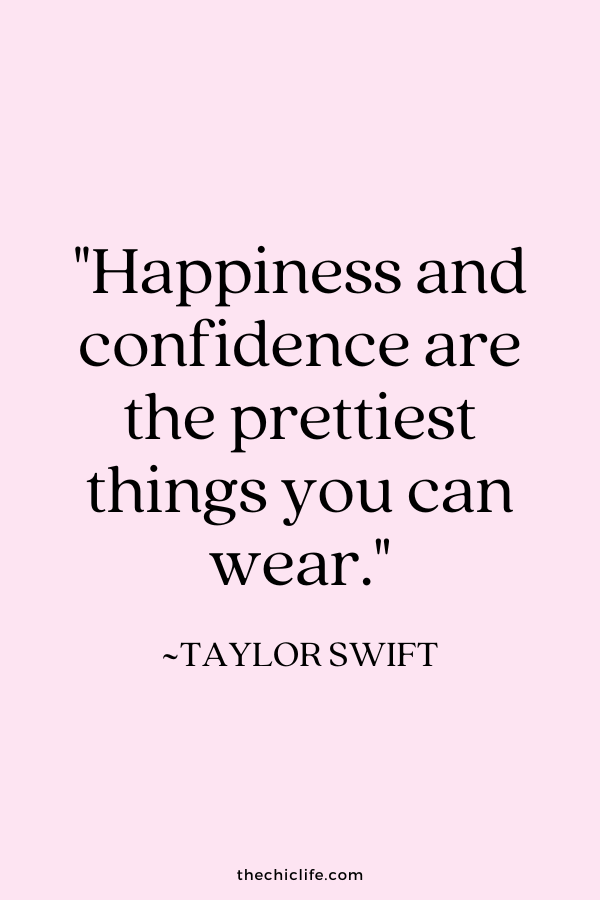 5. "Happiness and confidence are the prettiest things you can wear." ~ Taylor Swift
6. "Nothing makes a woman more beautiful than the belief that she is beautiful." ~ Sophia Loren
7. "Confidence is the most beautiful thing you can possess." ~ Sabrina Carpenter
8. "I like looking feminine and I enjoy being a role model. I enjoy being a woman. It all comes down to having the confidence to be who you are." ~ Cathy Freeman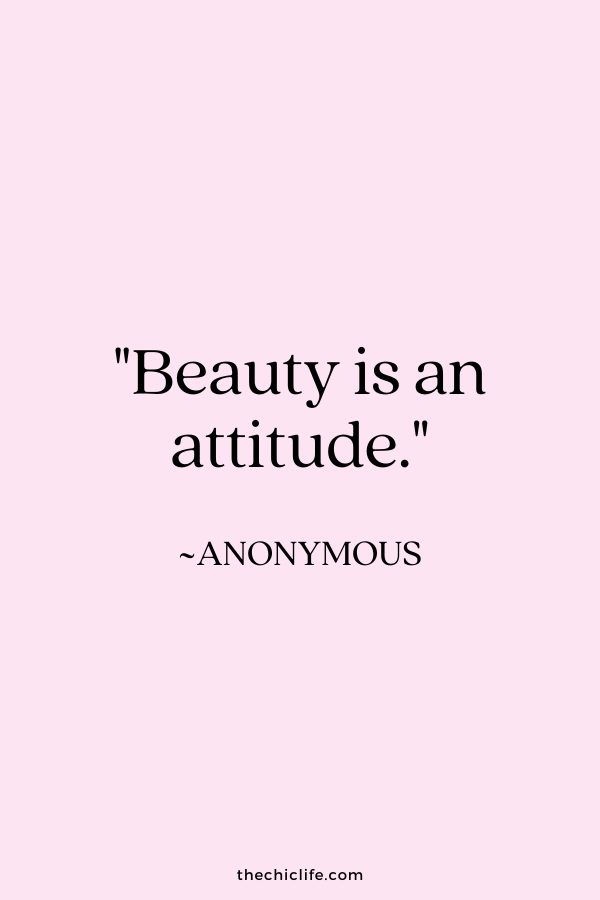 9. "Beauty is an attitude." ~ Anonymous
10. "I think the sexiest thing about a woman is confidence, but confidence in a humble way, not in an arrogant way. Sense of humor is definitely important. And sunglasses always hide a multitude of sins. Sunglasses and a great pair of heels can turn most outfits around." ~ Victoria Beckham
11. "Girl power is about loving yourself and having confidence and strength from within, so even if you're not wearing a sexy outfit, you feel sexy. That sexy stuff just happened to be part of our wardrobe, and its fun. Not all of our wardrobe is like that, but it is part of the performance and the show. It takes a woman who knows herself to be able to work an outfit like that." ~ Nicole Scherzinger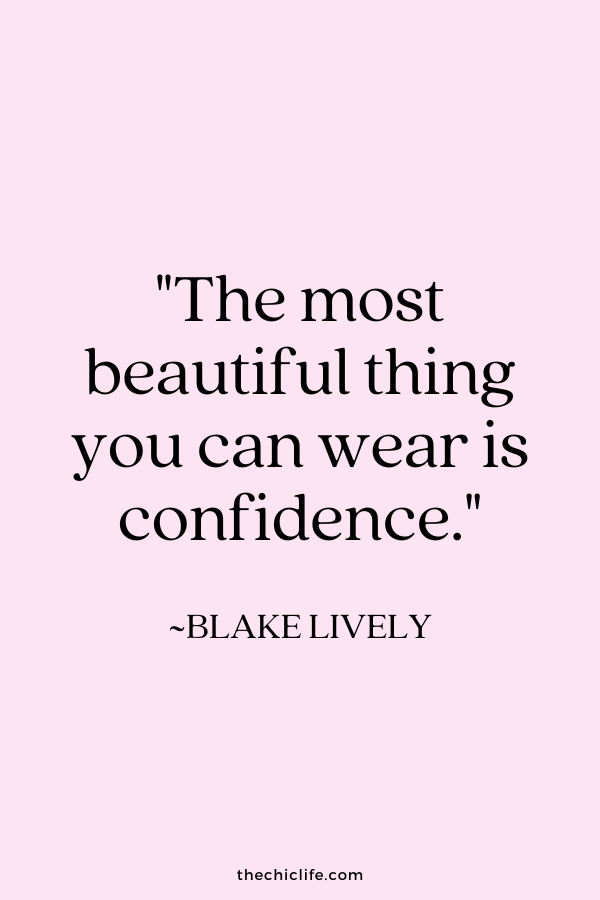 12. The most beautiful thing you can wear is confidence. ~ Blake Lively
13. "A great figure or physique is nice, but it's self-confidence that makes someone really sexy." ~ Vivica Fox
14. "How I feel about myself is more important than how I look. Feeling confident, being comfortable in your skin ~ that's what really makes you beautiful." ~ Bobbi Brown
Inner Beauty Quotes
We gotta remember the importance of inner beauty, friends.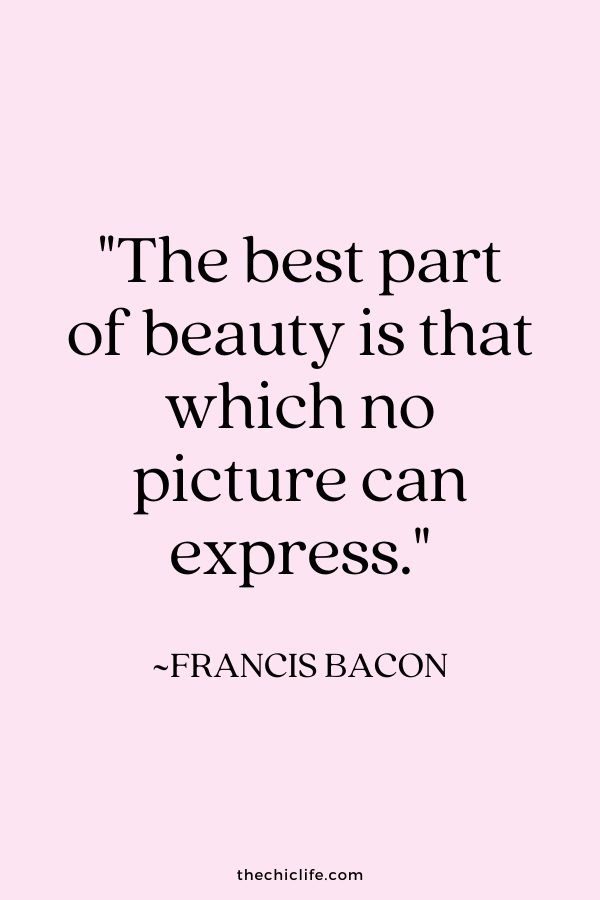 1. "The best part of beauty is that which no picture can express." ~ Francis Bacon
2. "No matter how plain a woman may be, if truth and honesty are written across her face, she will be beautiful." ~ Eleanor Roosevelt
3. "Outer beauty turns the head, but inner beauty turns the heart." ~ Helen J. Russell
4. "I think beauty comes from within. If you're happy and look at life in the best way you can, even when there are problems, it can make you beautiful on the outside." ~ Faith Hill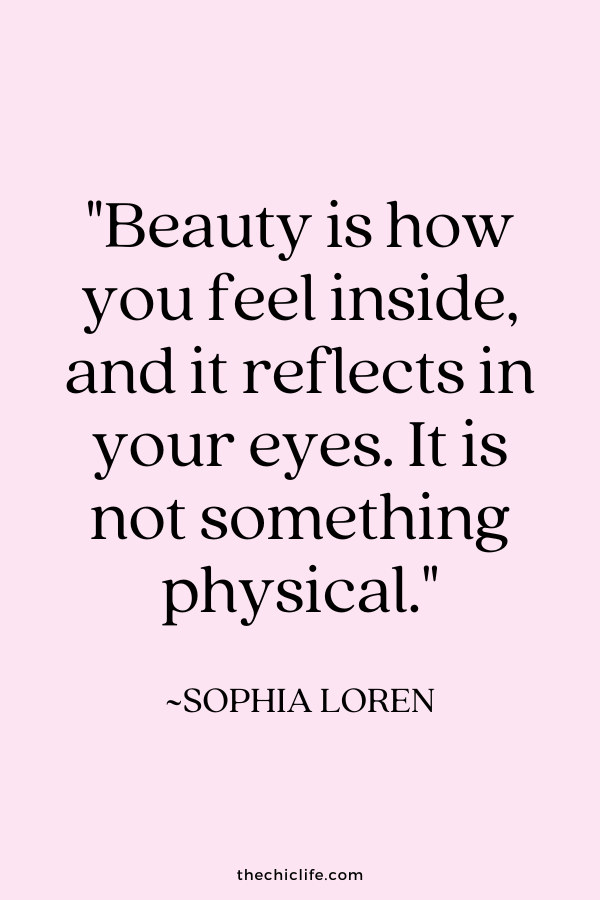 5. "Beauty is how you feel inside, and it reflects in your eyes. It is not something physical." ~ Sophia Loren
6. "Our dreams are expressions of our inner beauty. I've learned that it's completely okay to want whatever you want." ~ Sheri Fink
7. "Whole life is a search for beauty. But, when the beauty is found inside, the search ends and a beautiful journey begins." ~ Harshit Walia
8. "Be kind. It will reveal your true inner beauty." ~ Debasish Mridha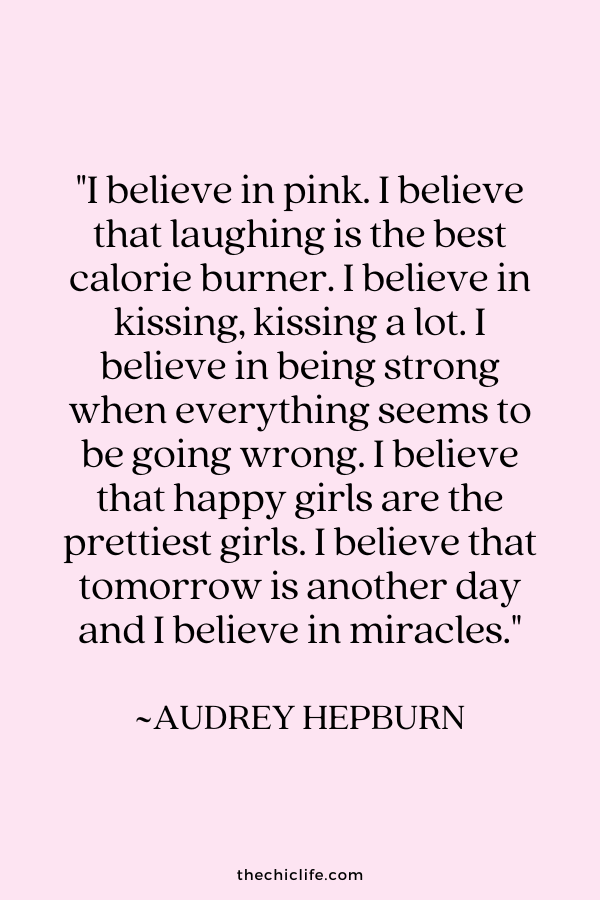 9. "I believe in pink. I believe that laughing is the best calorie burner. I believe in kissing, kissing a lot. I believe in being strong when everything seems to be going wrong. I believe that happy girls are the prettiest girls. I believe that tomorrow is another day and I believe in miracles." ~ Audrey Hepburn
10. "Outer beauty attracts, but inner beauty captivates." ~ Kate Angell
11. "I believe inner beauty is beauty in its truest form. When we nurture ourselves, it brings an inevitable, positive transformation." ~ Paula Abdul
12. "It's [beauty] a kind of radiance. People who possess a true inner beauty, their eyes are a little brighter, their skin a little more dewy. They vibrate at a different frequency." ~ Cameron Diaz
13. "Outer beauty is transient, but the inner beauty of a kind heart gets brighter with time. Be kind and get prettier forever." ~ Debasish Mridha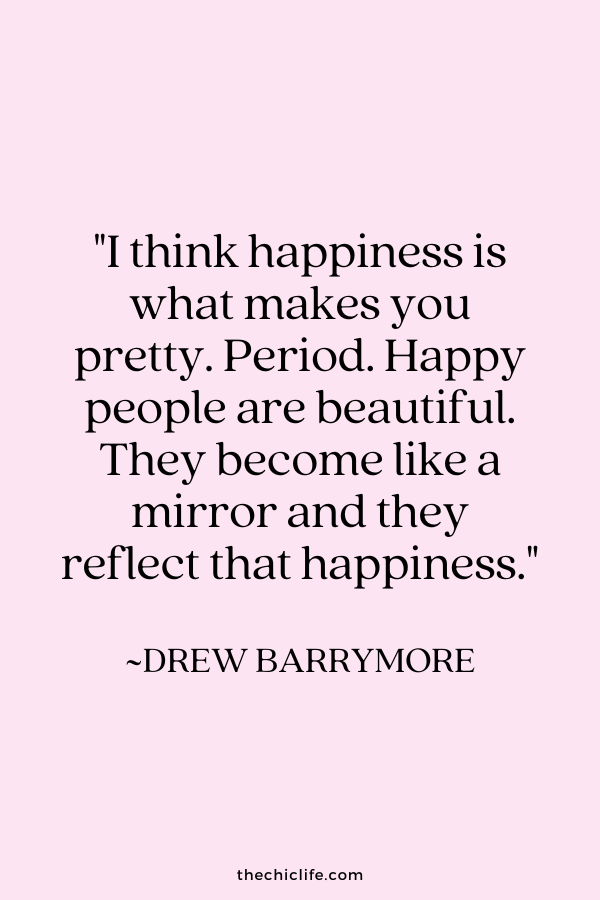 14. "I think happiness is what makes you pretty. Period. Happy people are beautiful. They become like a mirror and they reflect that happiness." ~ Drew Barrymore
15. "Meditation is realizing and expanding your inner beauty in every direction." ~ Amit Ray
16. "The beauty that we find in the world is a reflection of the beauty inside of us." ~ Abhijit Naskar
17. "Inner beauty should be the most important part of improving one's self." ~ Priscilla Presley
18. "Let your inner beauty be your main force." ~ Anoir Ou-Chad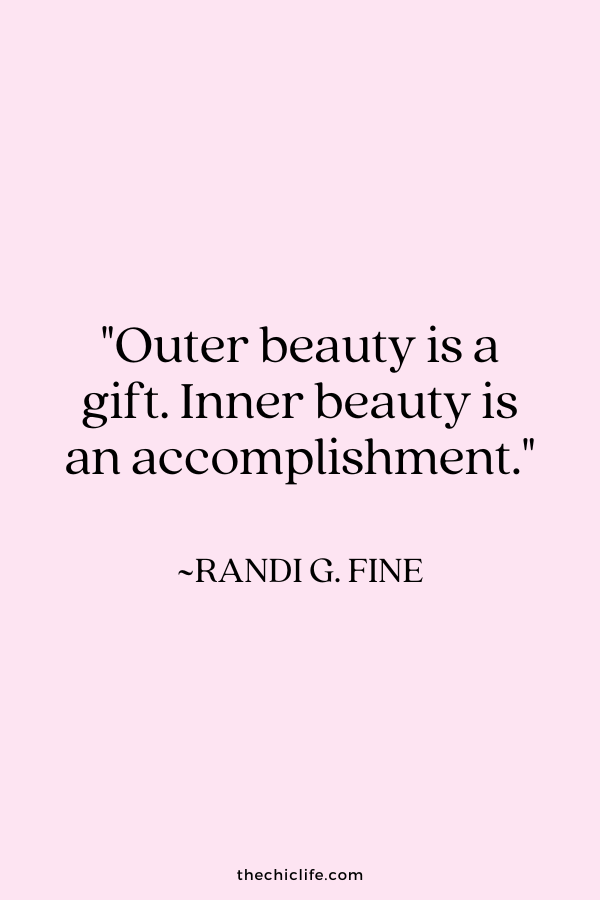 19. "Outer beauty is a gift. Inner beauty is an accomplishment." ~ Randi G. Fine
20. "There is no cosmetic for beauty like happiness." ~ Maria Mitchell
21. "Feel good to look good" ~ Diana Celestine
22. "A woman whose smile is open and whose expression is glad has a kind of beauty no matter what she wears." ~ Anne Roiphe
23. "When the inner beauty exceeds the outward beauty~ it creates a magical dance in the heart." ~ Angie Karan
24. "Outer beauty is inner beauty made visible, and it manifests itself in the light that flows in our eyes." ~ Paulo Coelho
Self Love and Self Care Beauty Quotes
Self love and self care go hand in hand, so I've grouped these beauty confidence quotes together.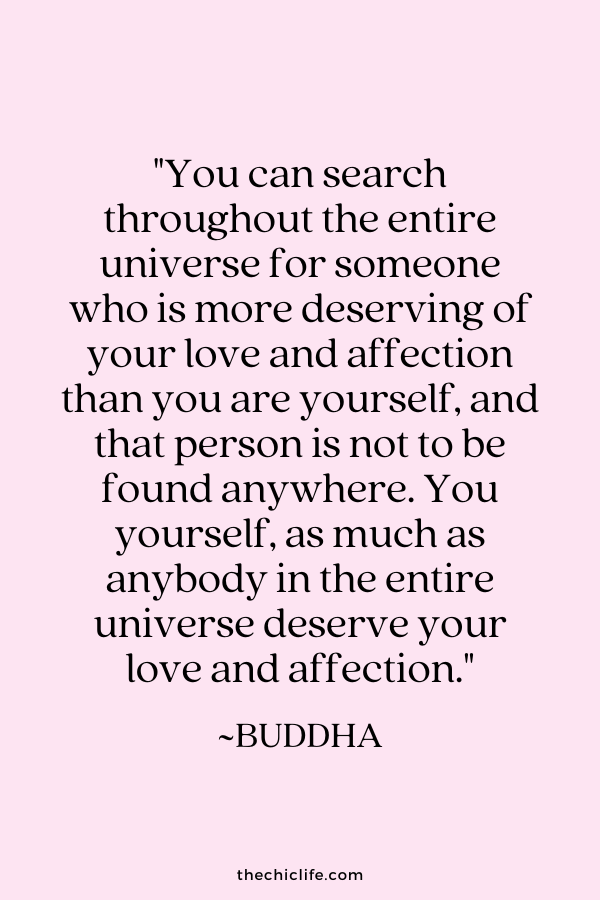 1. "You can search throughout the entire universe for someone who is more deserving of your love and affection than you are yourself, and that person is not to be found anywhere. You yourself, as much as anybody in the entire universe deserve your love and affection." ~ Buddha
2. "When you are balanced, and when you listen and attend to the needs of your body, mind, and spirit, your natural beauty comes out." ~ Christy Turlington
3. "Admire other people's beauty and talent without questioning your own. Let people live their truth without it threatening yours. Be truly happy when others are blessed. Learn from everyone, but compare yourself to no-one." ~ Brooke Hampton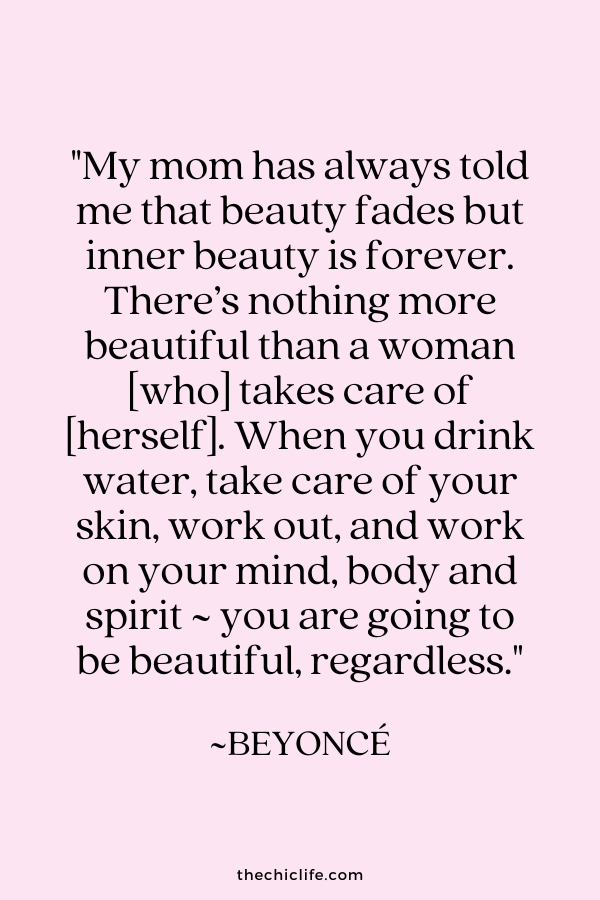 4. "My mom has always told me that beauty fades but inner beauty is forever. There's nothing more beautiful than a woman [who] takes care of [herself]. When you drink water, take care of your skin, work out, and work on your mind, body and spirit ~ you are going to be beautiful, regardless." ~ Beyoncé
5. "I believe more in looking after yourself than in doing make-up. So if it's skin care versus make-up or taking care of your inner body instead of just looking good, choose the former. You will end up looking good in whatever you wear." ~ Rhea Chakraborty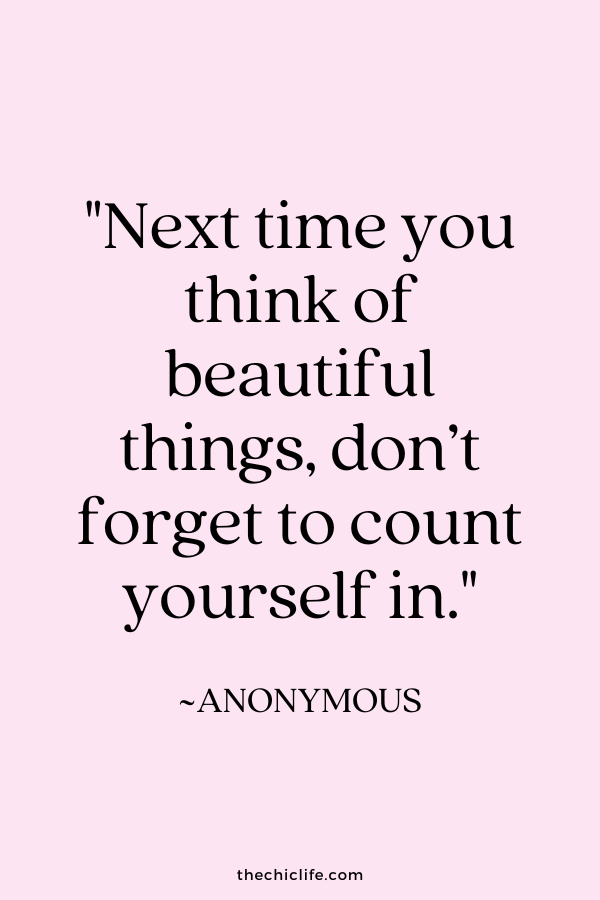 6. "Next time you think of beautiful things, don't forget to count yourself in." ~ Anonymous
7. "Self-care is the non-negotiable. That's the thing that you have to do. And beauty is the thing that can be the benefit of the self-care. Beauty is not the point. Beauty is just a cute side-effect from self-care." ~ Jonathan Van Ness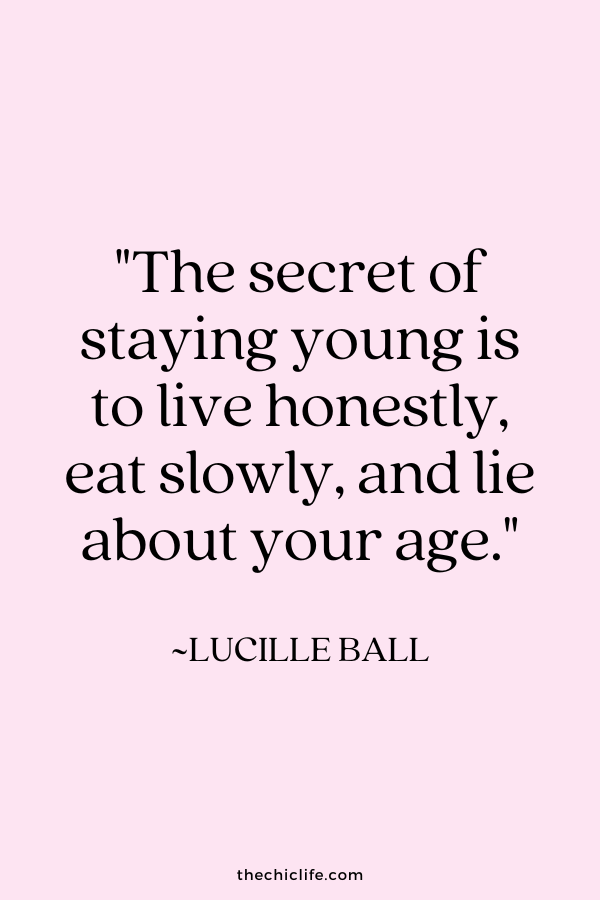 8. "The secret of staying young is to live honestly, eat slowly, and lie about your age." ~ Lucille Ball
9. "Don't forget to tell yourself positive things daily! You must love yourself internally to glow externally." ~ Hannah Bronfman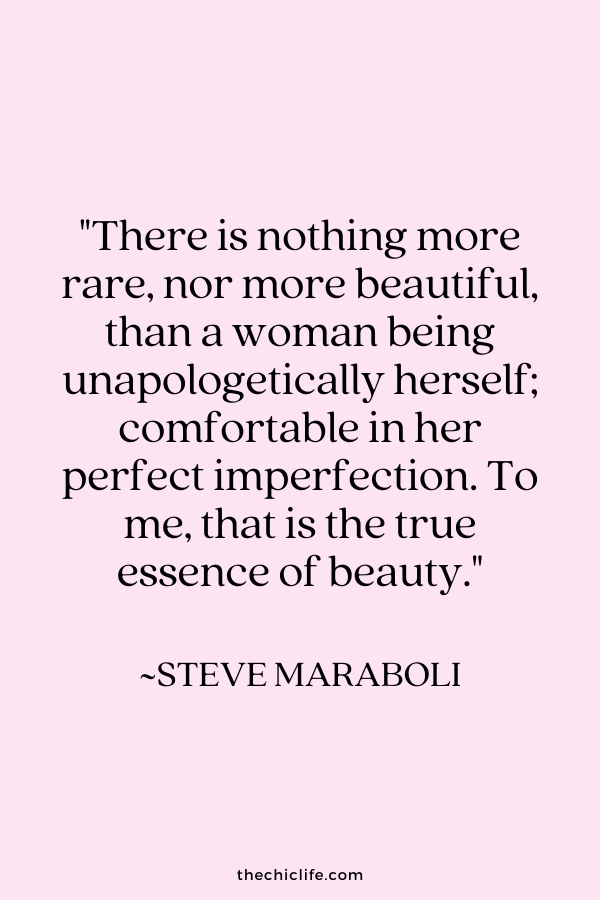 10. "There is nothing more rare, nor more beautiful, than a woman being unapologetically herself; comfortable in her perfect imperfection. To me, that is the true essence of beauty." ~ Steve Maraboli, Unapologetically You: Reflections on Life and the Human Experience
Deep Beauty Quotes
Some quotes go beyond simple inner and outer beauty.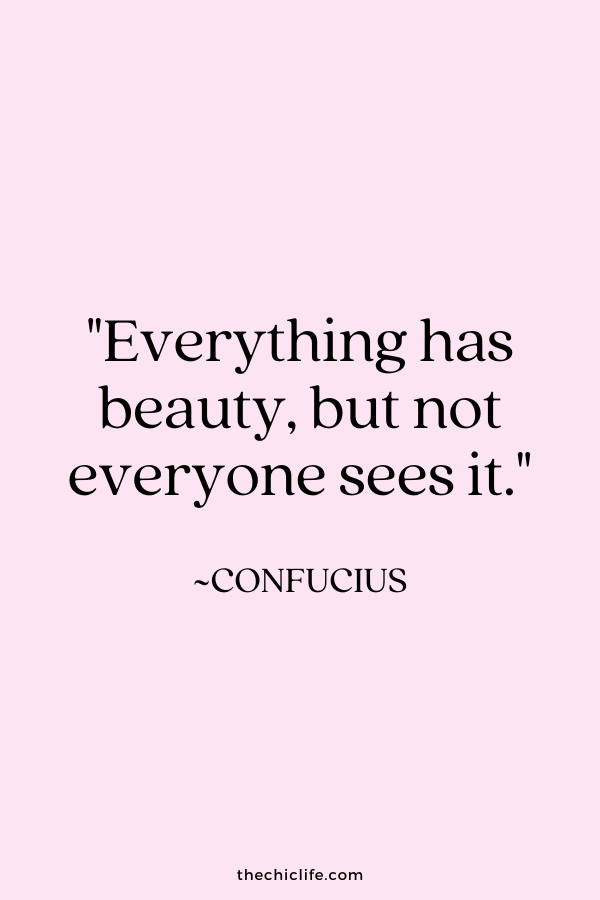 1. "Everything has beauty, but not everyone sees it." ~ Confucius
2. "Never lose an opportunity of seeing anything beautiful, for beauty is God's handwriting." ~ Ralph Waldo Emerson
3. "Integrity reveals beauty." ~ Thomas Leonard
4. "The fountain of beauty is the heart and every generous thought illustrates the walls of your chamber." ~ Francis Quarles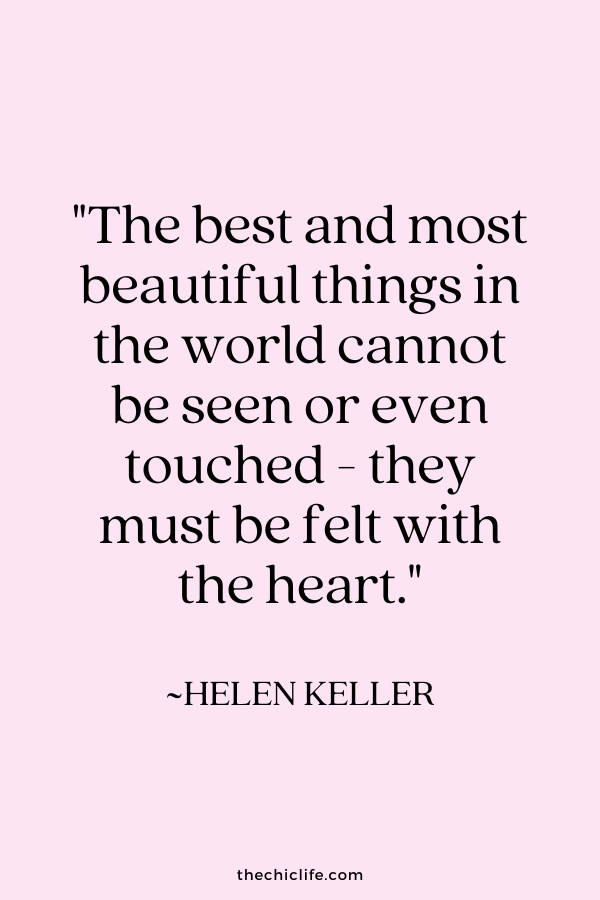 5. The best and most beautiful things in the world cannot be seen or even touched – they must be felt with the heart. ~ Helen Keller
6. "A thing of beauty is a joy forever: its loveliness increases; it will never pass into nothingness." ~ John Keats
7. "To love beauty is to see light." ~ Victor Hugo
8. "Beauty is power; a smile is its sword." ~ John Ray
9. "She's not classically beautiful, but somehow that only makes her more interesting." ~Jodi Picoult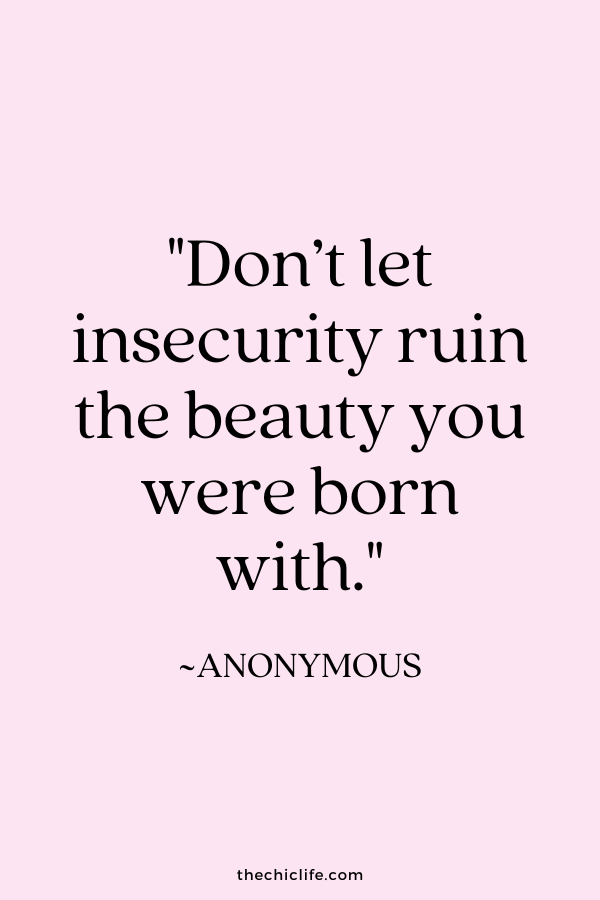 10. "Don't let insecurity ruin the beauty you were born with." ~ Anonymous
Empowering Beauty Quotes
These beauty confidence quotes have a powerful, uplifting energy to them.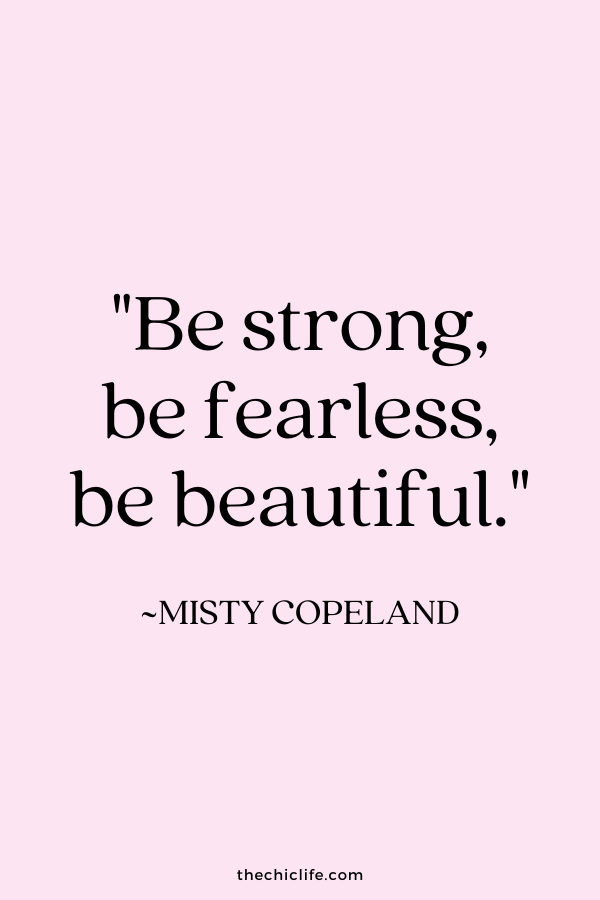 1. "Be strong, be fearless, be beautiful." ~ Misty Copeland
2. "In the end, you will not see the physical beauty in others that caught your eye but the fire that burned within them." ~ Shannon L. Alder
3. "It is time for parents to teach young people early on that in diversity there is beauty and there is strength." ~ Maya Angelou
4. "The most beautiful people we have known are those who have known defeat, known suffering, known struggle, known loss, and have found their way out of the depths. These persons have an appreciation, a sensitivity, and an understanding of life that fills them with compassion, gentleness, and a deep loving concern. Beautiful people do not just happen." ~ Elisabeth Kübler-Ross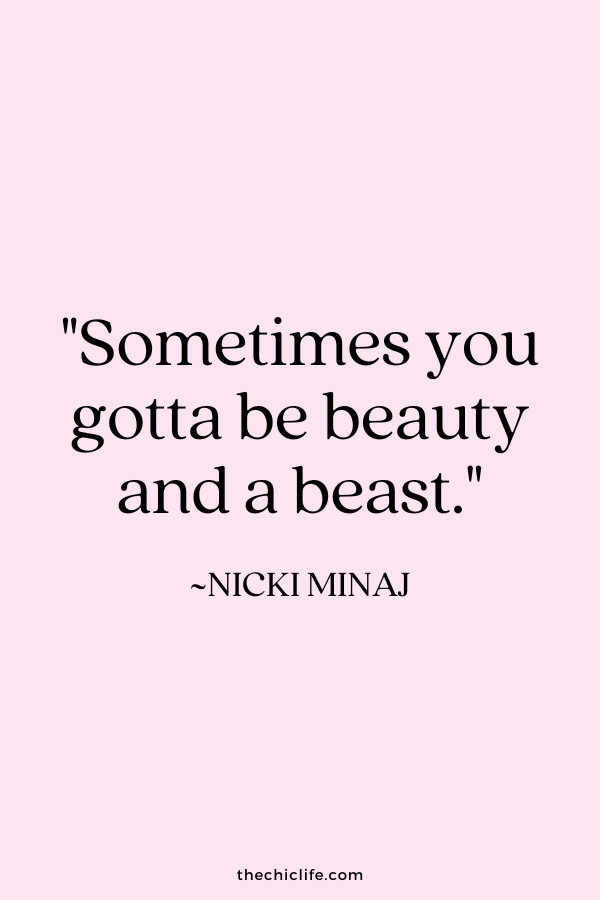 5. "Sometimes you gotta be beauty and a beast." ~ Nicki Minaj
6. "I feel like it's so important to have women in particular to feel secure and to feel like nothing can hold us back. I love feeling that way. I feel like the more women that can feel that way the more opportunities that we will see. We now understand that having diversity ~ sex, color, race ~ really makes a huge difference. Having women ~ having us ~ believe in ourselves, really brings out that difference you can make." ~ Serena Williams
7. "If you feel beautiful, then you are. Even if you don't, you still are." ~ Terri Guillemets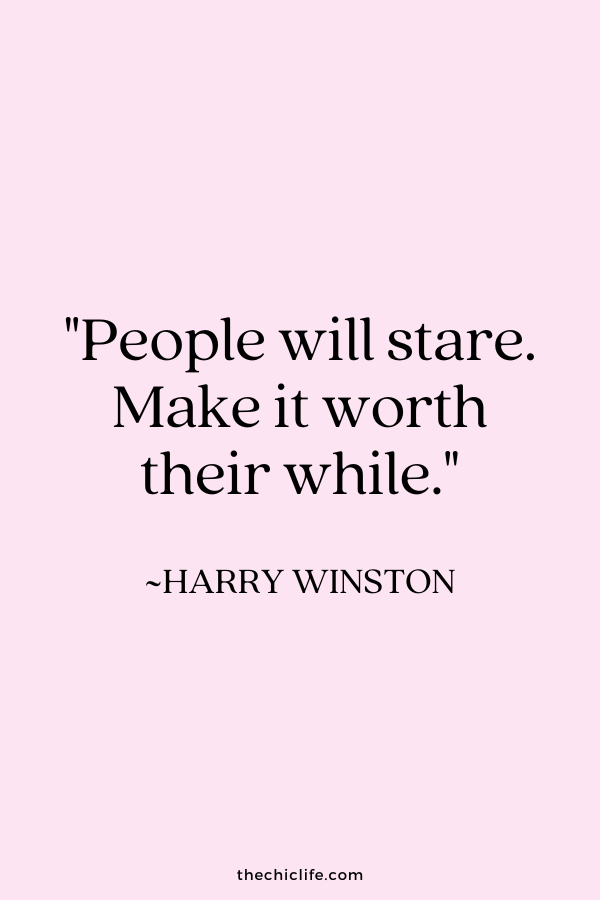 8. "People will stare. Make it worth their while." ~ Harry Winston
True Beauty Quotes
What is true beauty, anyway? Is it more than inner and outer beauty? Let's see what some great minds think.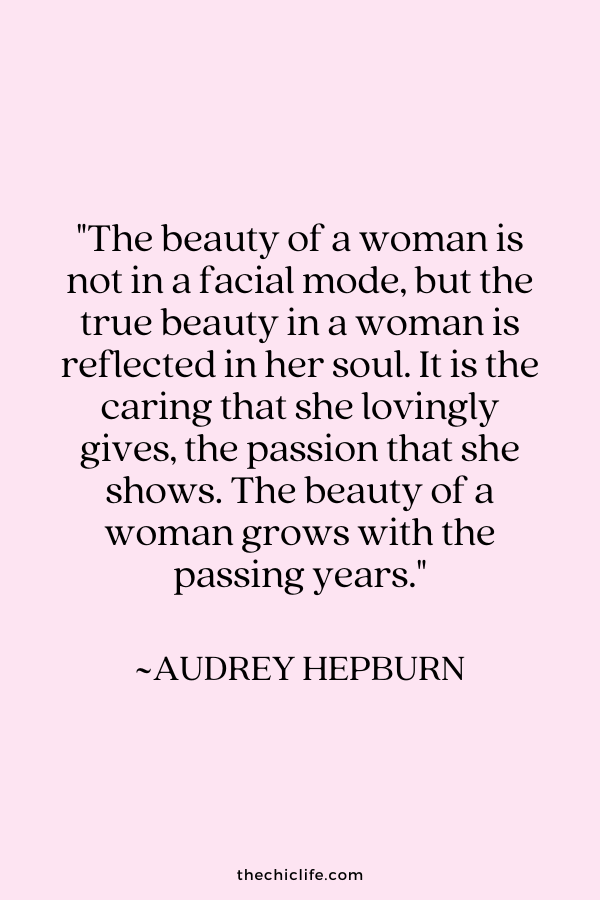 1. "The beauty of a woman is not in a facial mode, but the true beauty in a woman is reflected in her soul. It is the caring that she lovingly gives, the passion that she shows. The beauty of a woman grows with the passing years." ~ Audrey Hepburn
2. "People are like stained-glass windows. They sparkle and shine when the sun is out, but when the darkness sets in, their true beauty is revealed only if there is a light from within." ~ Elisabeth Kubler-Ross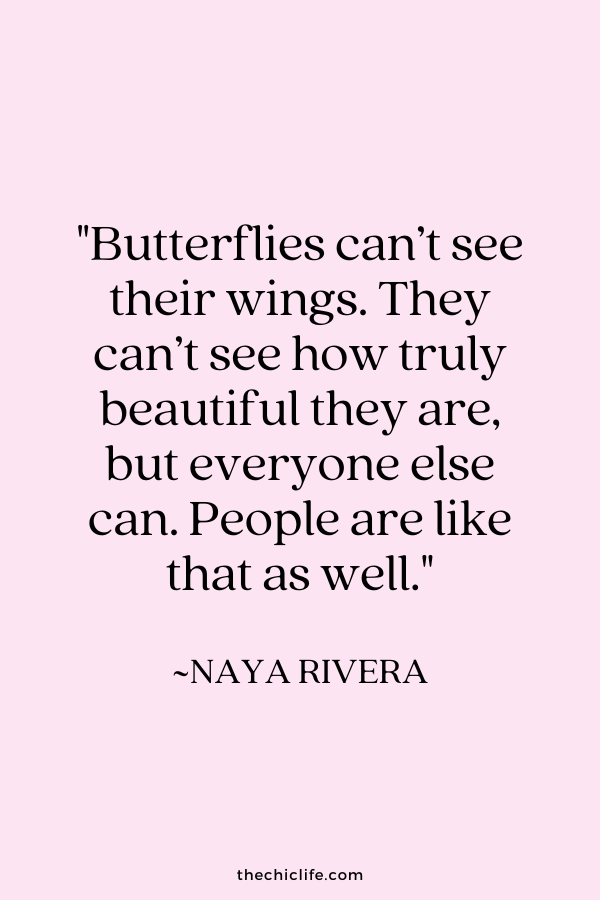 3. "Butterflies can't see their wings. They can't see how truly beautiful they are, but everyone else can. People are like that as well." ~ Naya Rivera
4. "Real beauty is to be true to oneself. That's what makes me feel good." ~ Laetitia Casta
5. "True beauty is when someone radiates that they like themselves." ~ Aimee Mullins
Non-Physical Beauty Quotes
And what about beauty that goes beyond physical form? These beauty confidence quotes have you covered.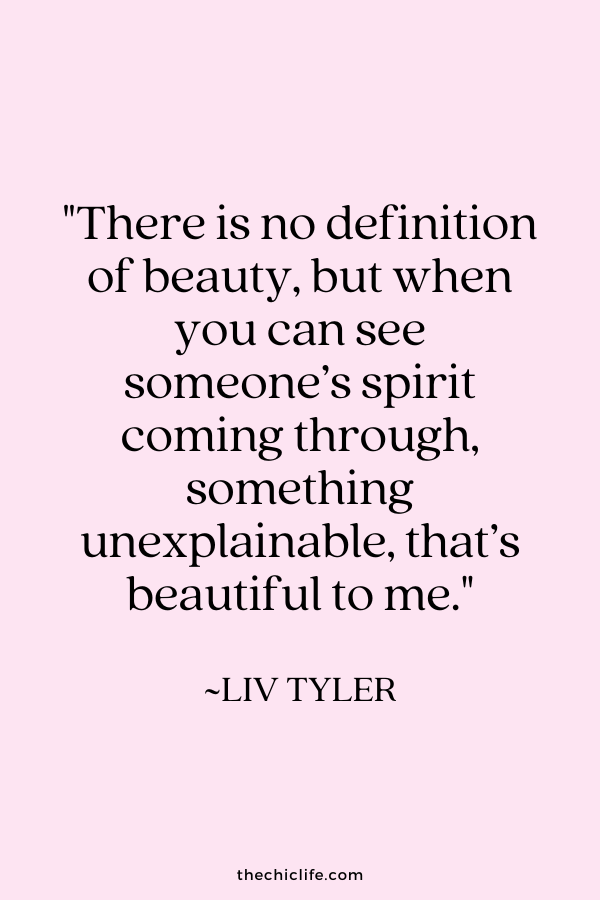 1. "There is no definition of beauty, but when you can see someone's spirit coming through, something unexplainable, that's beautiful to me." ~ Liv Tyler
2. "A woman whose smile is open and whose expression is glad has a kind of beauty no matter what she wears." ~ Anne Roiphe
3. "For beautiful eyes, look for the good in others; for beautiful lips, speak only words of kindness; and for poise, walk with the knowledge that you are never alone." ~ Audrey Hepburn
4. "Beauty is the illumination of your soul." ~ John O'Donohue
5. "When beauty lives in the heart, it doesn't need to show up anywhere else." ~ Steve Goodier
6. "Since love grows within you, so beauty grows. For love is the beauty of the soul." ~ Saint Augustine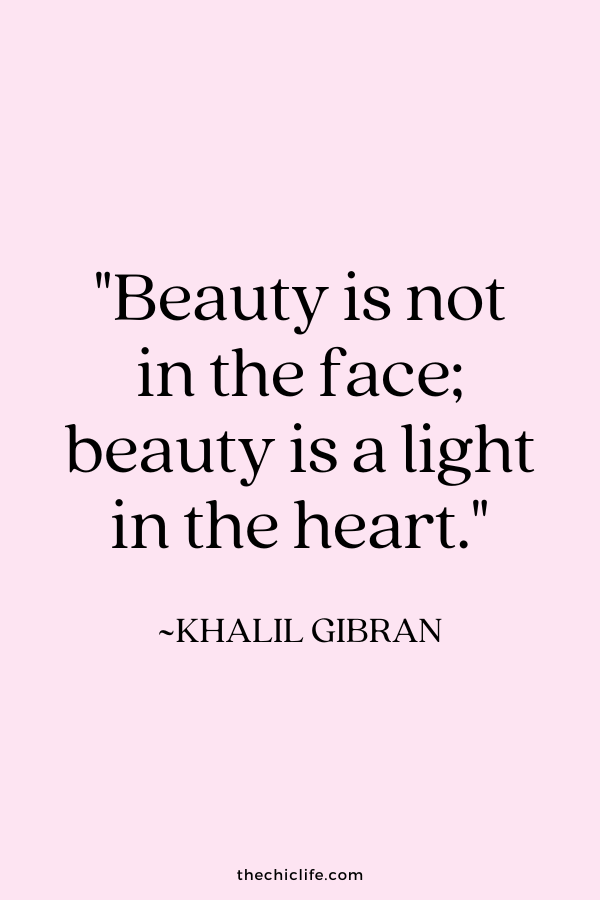 7. "Beauty is not in the face; beauty is a light in the heart." ~ Khalil Gibran
8. "Beauty is defined not by our physical appearance but who we choose to be." ~ Andrew Davenport
9. "Character contributes to beauty. It fortifies a woman as her youth fades. A mode of conduct, a standard of courage, discipline, fortitude, and integrity can do a great deal to make a woman beautiful." ~ Jacqueline Bisset
10. "Sometimes people are beautiful.
Not in looks.
Not in what they say.
Just in what they are."
~ Markus Zusak, I Am the Messenger
11. "Beauty has a lot to do with character." ~ Kevyn Aucoin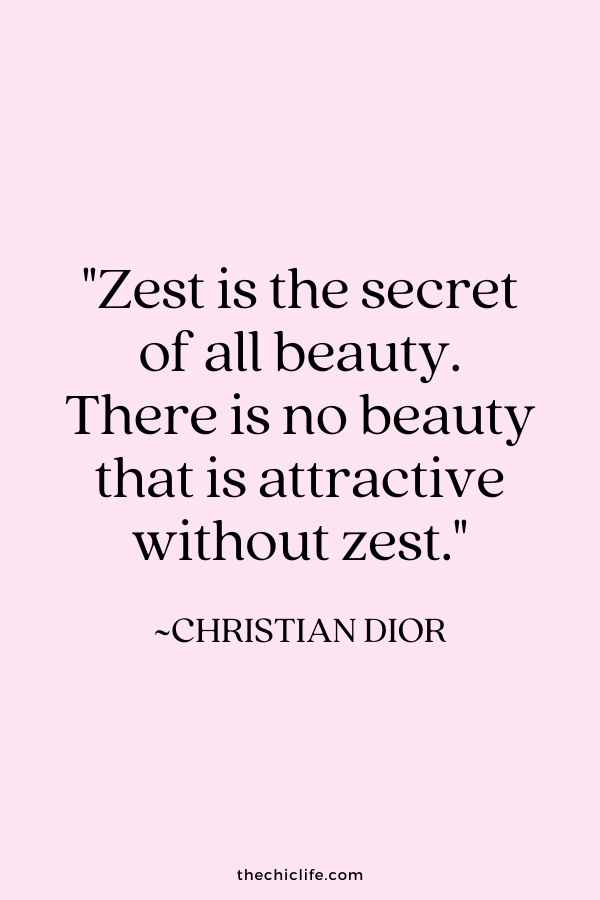 12. "Zest is the secret of all beauty. There is no beauty that is attractive without zest." ~ Christian Dior
13. "I think beauty ~ physical and emotional ~ comes from staying engaged in the world and curious about the people around you. As I've said many times before, interested people make interesting people. Curiosity is my not-so-secret weapon to staying vibrant!" ~ Katie Couric
14. "Make-up can only make you look pretty on the outside but it doesn't help if you're ugly on the inside. Unless you eat the make-up." ~ Audrey Hepburn
Beauty Confidence Quotes on Imperfection and Being Unique
There is great power and beauty in accepting your flaws and loving being imperfectly you.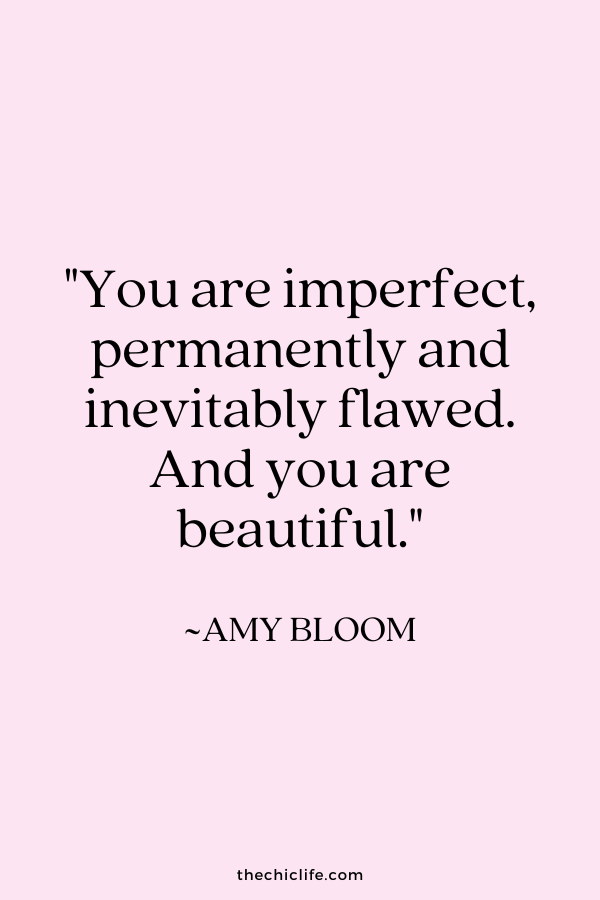 1. "You are imperfect, permanently and inevitably flawed. And you are beautiful." ~ Amy Bloom
2. "There is a kind of beauty in imperfection." ~ Conrad Hall
3. "Beauty is not flawless it shines even through your flaws" ~ Anonymous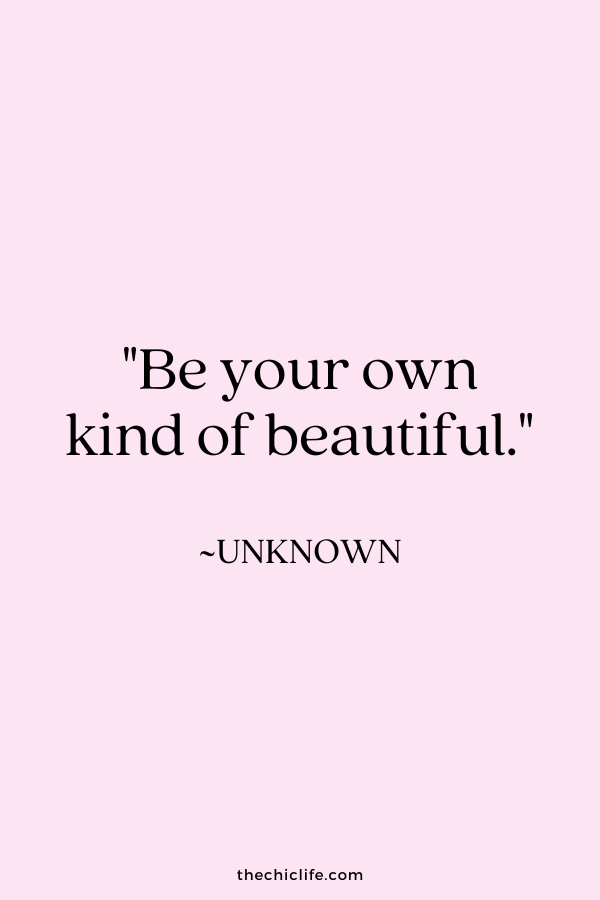 4. "Be your own kind of beautiful" ~ Unknown
5. "Beauty is in the heart of the beholder." ~ H. G. Wells
6. "The media plays such a big role in how women measure themselves against other women, so I can be in a position where I can say beauty comes from within, we're not all perfect, and the covers of magazines are of course retouched. We do not look like that…I have wrinkles [on her forehead], which are very evident, and I will particularly say when I look at movie posters, 'You guys have airbrushed my forehead. Please can you change it back?'" ~ Kate Winslet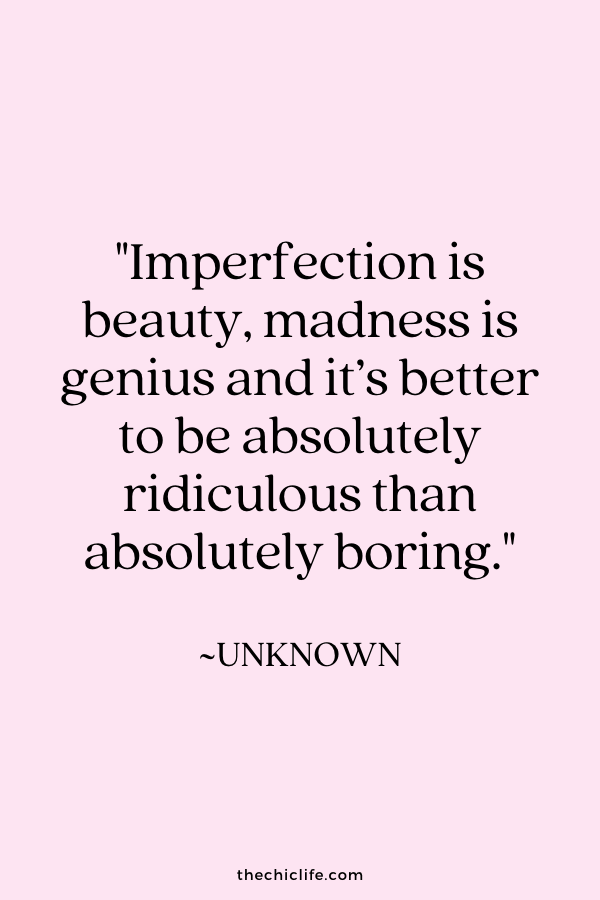 7. "Imperfection is beauty, madness is genius and it's better to be absolutely ridiculous than absolutely boring." ~ Unknown Note: This quote is often attributed to Marilyn Monroe but apparently is not actually by her. According to an article I found at People.com – the source of this quote is unknown. I've included it in this list to help shed light on this not actually coming from Marilyn and because I like this quote.
8. "Learn to embrace your own unique beauty, celebrate your unique gifts with confidence. Your imperfections are actually a gift." ~ Kerry Washington
9. "It's the imperfections that make something beautiful. That's what makes it different and unique from everything else." ~ Bob Ross, Happy Little Accidents: The Wit and Wisdom of Bob Ross
10. "You're imperfect, and you're wired for struggle, but you are worthy of love and belonging. Imperfections are not inadequacies; they are reminders that we're all in this together." ~ Brené Brown
Life Beauty Quotes
Sometimes the beauty of life can remind us about our own beauty and even the beauty around us in nature, the world, and beyond.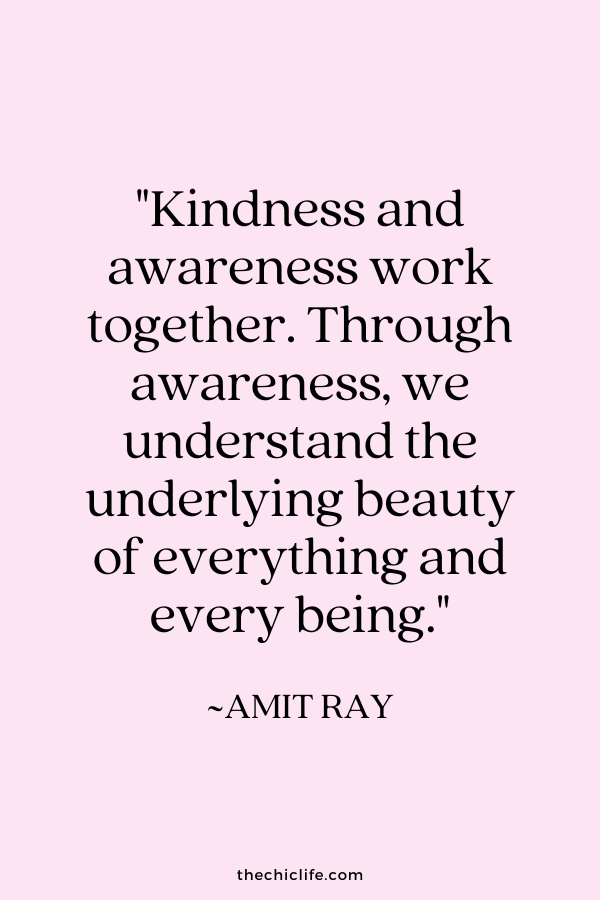 1. "Kindness and awareness work together. Through awareness, we understand the underlying beauty of everything and every being." ~ Amit Ray, Nonviolence: The Transforming Power
2. "I am among those who think that science has great beauty. A scientist in his laboratory is not only a technician, he is also a child place before natural phenomenon, which impress him like a fairy tale."~ Marie Curie
3. "It is our own mental attitude which makes the world what it is for us. Our thought make things beautiful, our thoughts make things ugly. The whole world is in our own minds. Learn to see things in the proper light." ~ Swami Vivekananda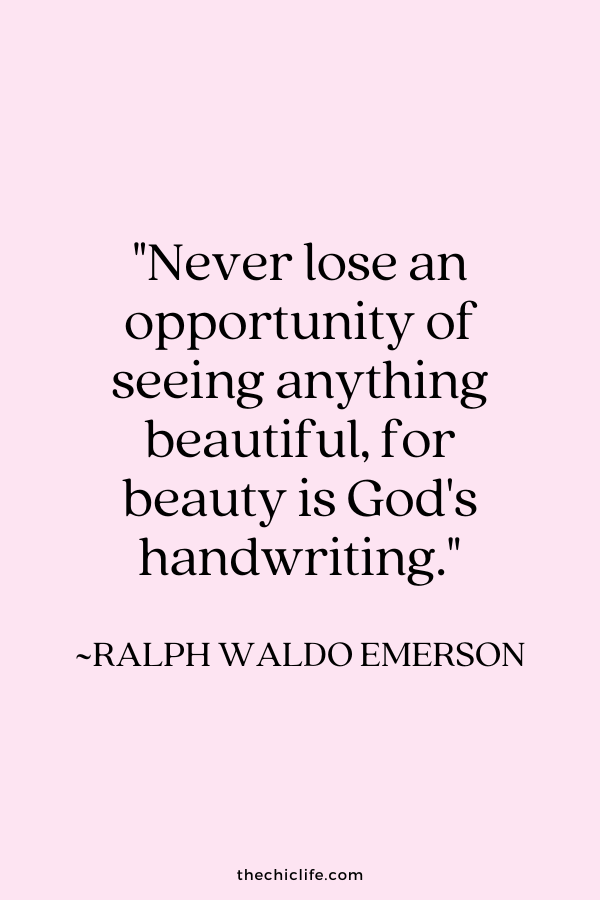 4. "Never lose an opportunity of seeing anything beautiful, for beauty is God's handwriting." ~ Ralph Waldo Emerson
5. "When you do something noble and beautiful and nobody noticed, do not be sad. For the sun every morning is a beautiful spectacle, and yet most of the audience still sleeps." ~ John Lennon
6. "The truth is not always beautiful, nor beautiful words the truth." ~ Lao Tzu, Tao Te Ching
7. "Our task must be to free ourselves… by widening our circle of compassion to embrace all living creatures and the whole of nature and it's beauty." ~ Albert Einstein
8. "The power of finding beauty in the humblest things makes home happy and life lovely." ~ Louisa May Alcott
9. "Let us live for the beauty of our own reality." ~ Charles Lamb
10. "Though we travel the world over to find the beautiful, we must carry it with us, or we find it not." ~ Ralph Waldo Emerson, Emerson's Essays
11. "I don't think of all the misery but of the beauty that still remains." ~ Anne Frank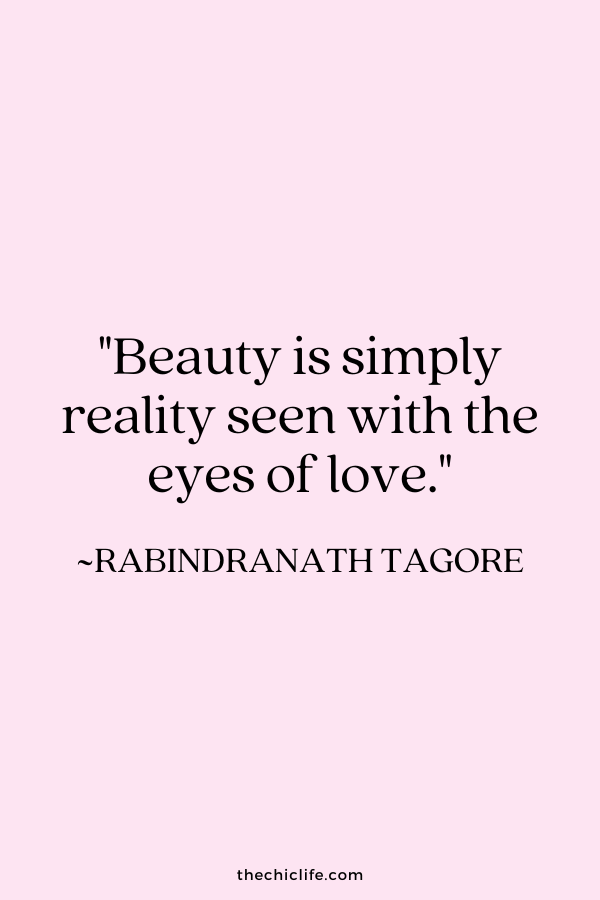 12. "Beauty is simply reality seen with the eyes of love." ~ Rabindranath Tagore
13. "Imagine all of us living in peace, it's too beautiful to just be a dream." ~ John Lennon
14. "We live in a wonderful world that is full of beauty, charm and adventure. There is no end to the adventures that we can have if only we seek them with our eyes open." ~ Jawaharlal Nehru
15. "For me the greatest beauty always lies in the greatest clarity." ~ Gotthold Ephraim Lessing
16. "My advice: Don't waste so much time worrying about your skin or your weight. Develop what you do, what you put your hands on in the world." ~ Meryl Streep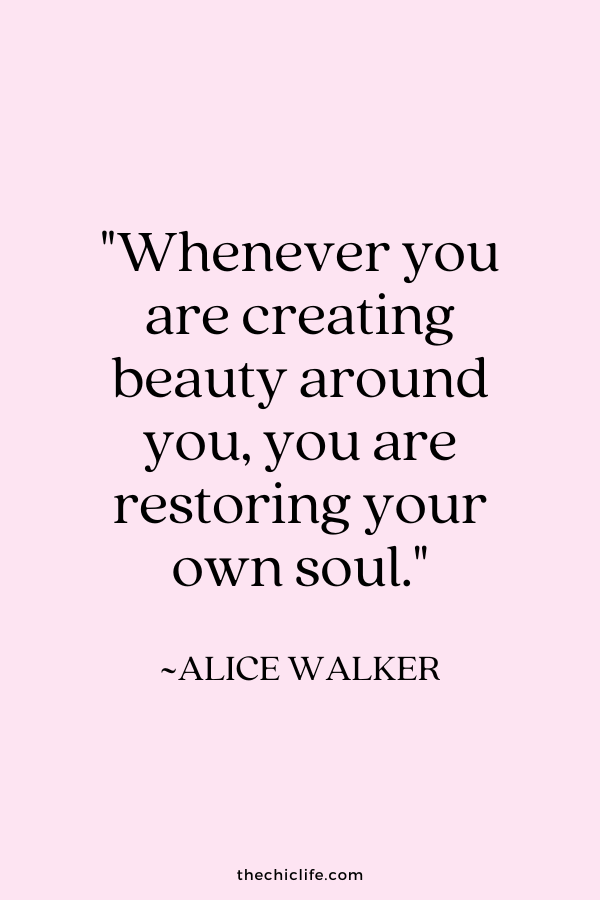 17. "Whenever you are creating beauty around you, you are restoring your own soul." ~ Alice Walker
18. "Look around. Look at what we have. Beauty is everywhere—you only have to look to see it." ~ Bob Ross
Beauty Confidence Quotes on Being Yourself – Be-YOU-Tiful
Forget people pleasing! The path to alignment is all about being the you-est you you can be. And being you is a beautiful thing.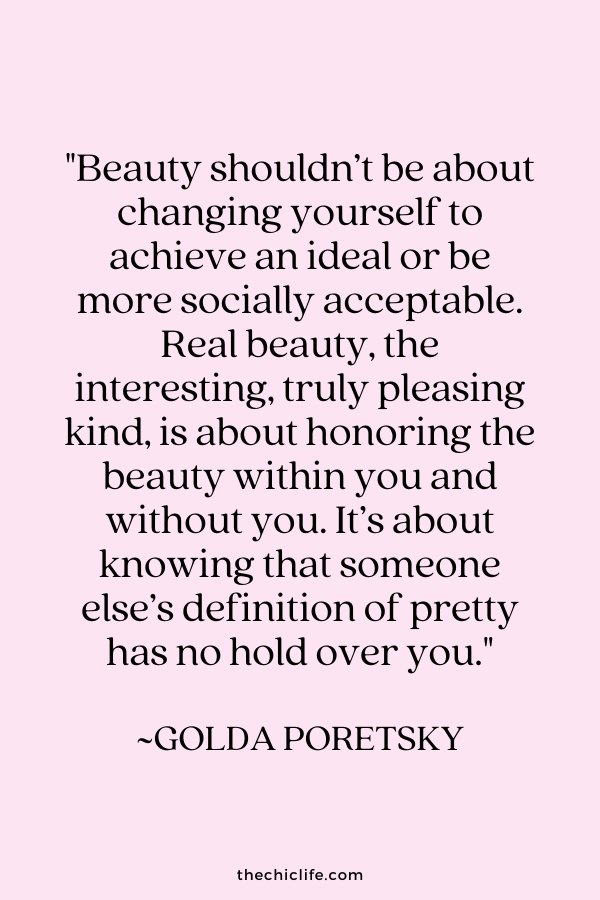 1. "Beauty shouldn't be about changing yourself to achieve an ideal or be more socially acceptable. Real beauty, the interesting, truly pleasing kind, is about honoring the beauty within you and without you. It's about knowing that someone else's definition of pretty has no hold over you." ~ Golda Poretsky
2. "To me, beauty is about being comfortable in your own skin. It's about knowing and accepting who you are." ~ Ellen Degeneres
3. Be proud of yourself and not ashamed of how someone else sees you." ~ Unknown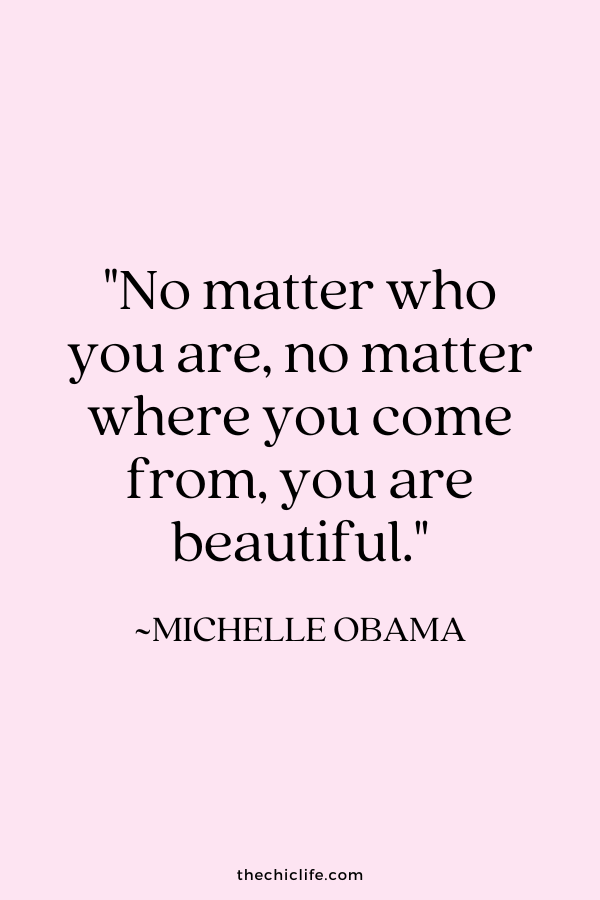 4. "No matter who you are, no matter where you come from, you are beautiful." ~ Michelle Obama
5. "To love yourself right now, just as you are, is to give yourself heaven. Don't wait until you die. If you wait, you die now. If you love, you live now." ~ Alan Cohen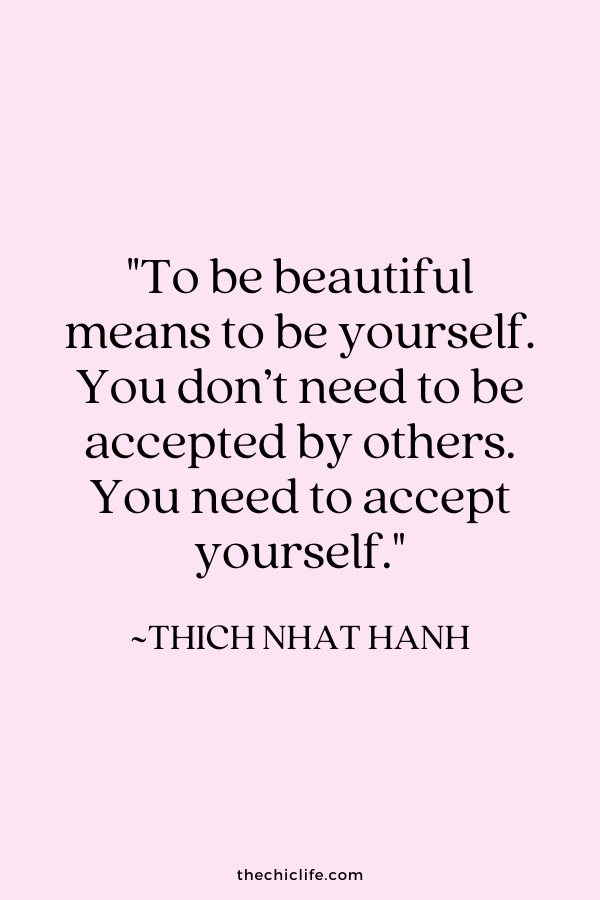 6. "To be beautiful means to be yourself. You don't need to be accepted by others. You need to accept yourself." ~ Thich Nhat Hanh
7. "Beauty is when you can appreciate yourself. When you love yourself, that's when you're most beautiful." ~ Zoë Kravitz
8. "Maybe it's NOT Maybelline. Maybe you were just born with it." ~ Mandy Hale, The Single Woman: Life, Love, and a Dash of Sass
9. "I can't think of any better representation of beauty than someone who is unafraid to be herself." ~ Emma Stone
10. "Beauty, to me, is about being comfortable in your own skin. That, or a kick-ass red lipstick." ~ Gwyneth Paltrow
11. "I heard my body is a topic of conversation so I wanted to say, I'm proud of my body and you should be proud of yours too. No matter who you are or what you do. I could give you a million reasons why you don't need to cater to anyone or anything to succeed. Be you, and be relentlessly you. That's the stuff of champions." ~ Lady Gaga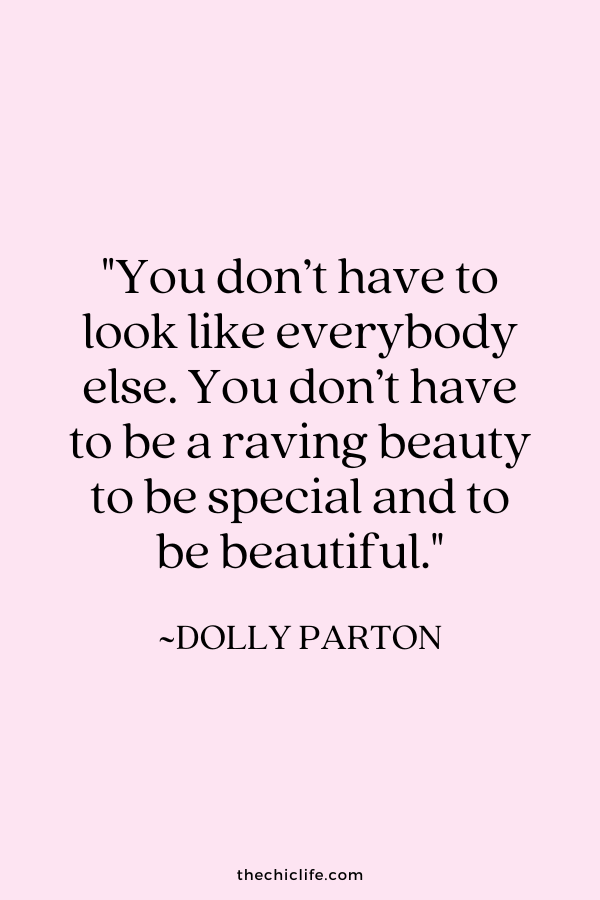 12. "You don't have to look like everybody else. You don't have to be a raving beauty to be special and to be beautiful." ~ Dolly Parton
Hope you found some inspirational beauty confidence quotes that you love. You can save your favorite graphics to Pinterest or bookmark this page to easily get back to this list. Or send this list of motivational quotes to a friend or loved one who would also find this helpful.
More Confidence Posts to Love
95 Inspiring Self Worth Quotes for Women on Confidence, Self Love, and Beyond
111 Affirmations for Confidence and Self-Esteem to Become More Empowered Today
22 Best Crystals for Self Love and Confidence to Bring Out Your Inner Power
***
Thank you for stopping by and checking out my post about 125 Best Beauty Confidence Quotes to Help You Remember How Beautiful You Are!
Which of these beauty confidence quotes is your favorite? Comment your fave quote below!