Have you heard about the hottest cardio workout around – ZUMBA!? If you're interested in trying a Zumba class but want to know more first, read on for some Zumba 101 questions and answers.
What is Zumba?
Zumba is a Latin-dance inspired fitness. Zumba is also exercise in disguise because you'll get a great workout, but you'll have FUN, too.
What to expect?
Expect a high-energy, cardio workout to upbeat music with plenty of booty-shaking. Unlike hip-hop style classes where you learn a choreographed routine with many different steps, Zumba choreography is typically pretty simple. Usually in Zumba, you'll do the same moves or set of moves for the chorus and then a new set for the verse, but repeat the chorus-moves each time the chorus plays, etc. Zumba choreography is supposed to be so simple that anyone can do them without any experience, so if you're on the fence about going to your first class, do it!
Can men do Zumba?
Absolutely!
Who can do Zumba?
Anyone! You don't have to have a dance background to do Zumba. Also, I've seen men and women of all ages in Zumba class (though you will have to gauge your personal situation as far as health level and ability before trying a new exercise of any kind. You may also wish to speak to your doctor or health care provider).
What to wear?
Wear anything you'd normally wear to a cardio style class: comfortable clothes and tennis shoes (plus a sports bra for the ladies). Most people wear pants and t-shirts or tank tops with sneakers. You can also get some cute zumbawear online at zumba.com – I adore the cargo pants.
What to bring to a Zumba class?
Water – definitely water. A handtowel may be a good idea, too. I also like to bring a post-workout protein shake/snack.
Do you get a good workout with Zumba?
Zumba is an excellent all-over, cardio workout. I've even heard Zumba can be good for your core. Additionally, I've seen different web-sites online claiming Zumba can burn 600-1000 calories per hour! I've never measured it myself, but I'd believe it. But, if you want to get a maximum workout, don't do the moves halfway. Do them like you mean them! Really doing zumba and sort of doing Zumba is like the difference between jogging and running. You're essentially doing the same move, but you're not going all the way in one version.
Where to do Zumba?
You can find classes online at zumba.com. You can also purchase DVDs if you want to do Zumba at home, but I highly recommend going to a group class because the group energy can help make the experience extra-awesome. You can find DVDs no zumba.com or on ebay.
My personal tips for your first zumba classes:
Dance like no one is watching – I very much remember my first zumba class. I remember strategically placing myself in the back of the class so there would no one behind me watching while I made an idiot out of myself. As I came back, I learned a few things: the instructors mess-up, too, and that's ok AND most importantly, that most people in class are so freakin busy trying to figure out what the instructor is doing, they are SO NOT watching you!
Ask your instructor for tips before/after class – Zumba instructors are very nice, fun and helpful. If they did a move in class that you just don't get, ask them to show it to you after class. I'm sure they'll be thrilled to help you and when you nail the move in class, you'll feel like a rock star.
Have fun – zumba is exercise in disguise. It's a workout hidden in a party. So cut-loose and enjoy yourself. You'll get a better workout if you let go, too.
Dance near the front – following the instructor is much easier if you can actually see the instructor. And remember, it doesn't matter what the people behind you think – see my first tip.
That's it. I could write more, but really the first tip is IMO the most important.
Have any more zumba questions? Email them to me at thechiclife at gmail dot com.
NOTE: Always workout to your own comfort level and ability. Be sure to consult your physician or health care provider before attempting a new exercise program.

*
*
*
Also, Click here to read about my personal story with Zumba. which includes my favorite songs, zumbawear, why I love Zumba.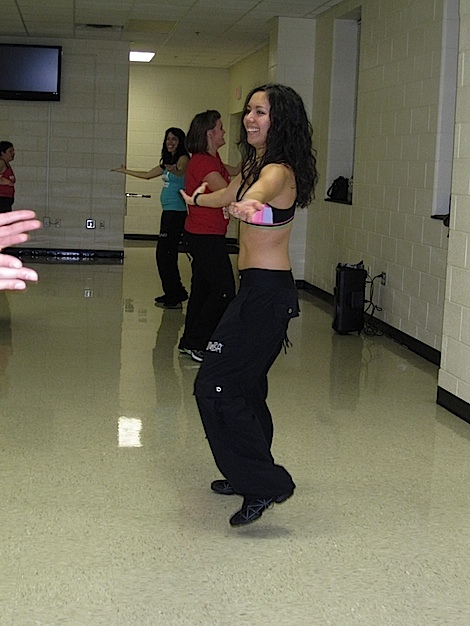 Join the party!