Oh yes…chocolate chip dough balls…finally!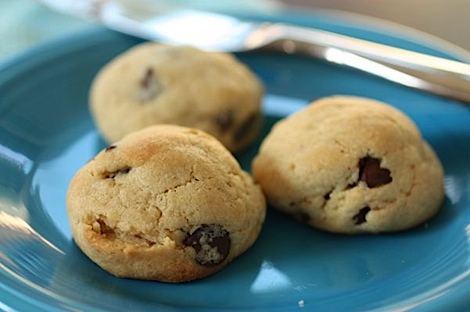 7 batches later, I finally have a chocolate chip cookie dough ball recipe to share with you guys!
But maybe you're wondering what the heck dough balls are anyways. Well…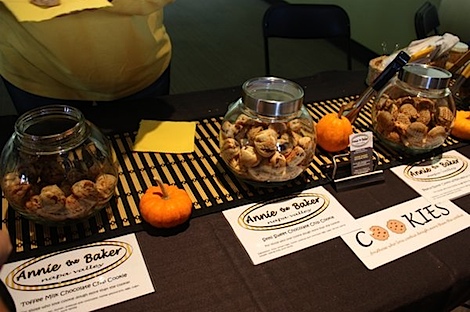 …back at the Foodbuzz Festival a couple weeks ago (wow, has it already been that long?), the buzz of the tasting pavilion was Annie the Baker's dough balls. I had two. They were amazing. I knew as soon as I tasted them that I just had to try to re-create them at home.
On Monday, I was too jet-lagged to be creative, but on Tuesday, I attempted my first batch. Little did I know that on the other side of the country at (possibly) the same time, Mama Pea was working diligently on a vegan version of dough balls in a peanut butter flavor. Her balls came out beautiful and perfect.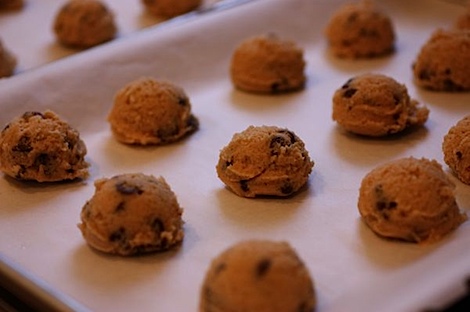 Mine started out ok, but…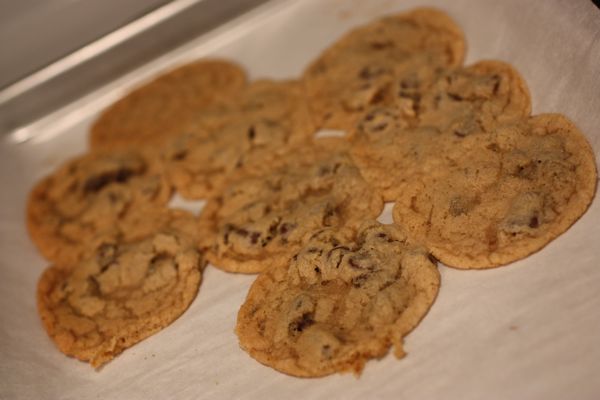 …they baked up completely flat. (real photos from batch #1…oy vay! I was too embarrassed to publish them last Tuesday)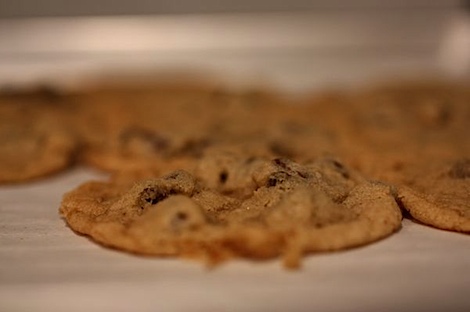 I mean they were flatter than normal cookies, even. It was a total fail. *tear*
But, you guys know me…I like a good challenge. And, I would NOT let these dough balls get the best of me.
I researched what caused flat cookies and tried to do the opposite. My main takeaways were:
I needed to put the dough in the refrigerator before baking it
I needed to reduce the amount of baking soda I used
I needed reduce the amount of liquids in the recipe
So, I modified my recipe and tried…and tried…and tried again.
As I mentioned earlier, my second batch more resembled dog treats than human treats.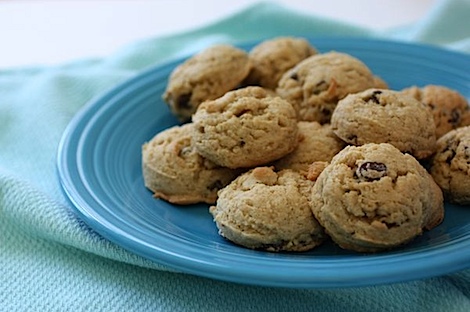 I tweaked the draft recipe and while my third and fourth were pretty good, but didn't have the right texture (though they were at least no longer flat).
My fifth made for a delicious regular chocolate chip cookie, but once again, they were flatter than they were supposed to be (though not nearly as flat as the dreaded batch #1).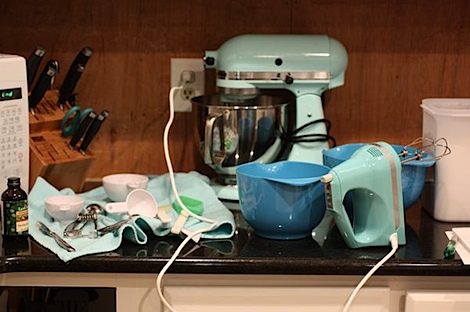 By batch #6, things had gotten serious. I knew I was on the verge of success, but wanted to put the dough balls through several tests before finalizing my recipe. I tried various variations of the draft recipe with the same dough, but different baking methods:
I tried refrigerating the dough
I tried freezing the dough
I tried baking the dough balls at 350, 375, and 400 degrees F
I tried various trial versions of the dough balls and made hubby do a taste test.
He thought they all tasted really good.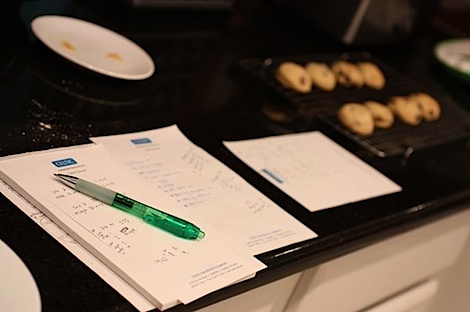 Notes on baking times and modifications.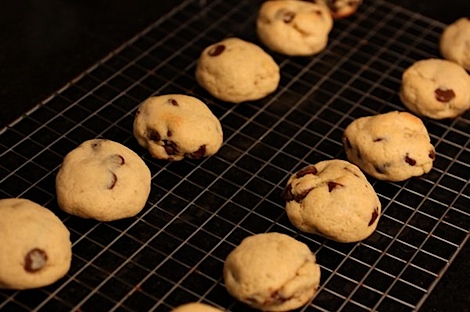 A strange collection of dough balls baked from frozen, refrigerated, and at 350, 375, and 400 degrees F.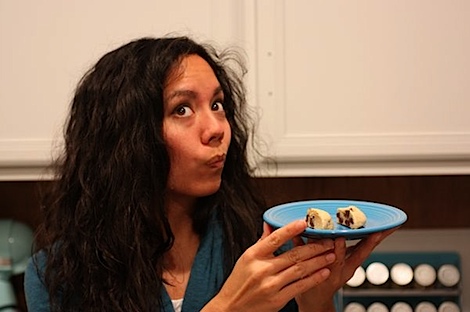 Which version will taste the best?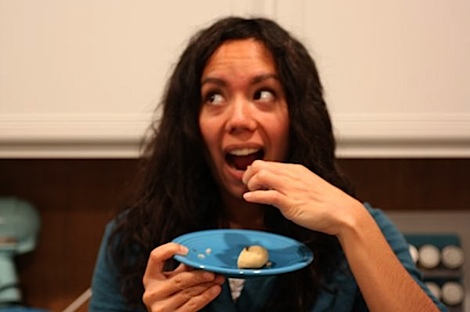 Only a taste test would tell.
I liked the version that was refrigerated and baked at 350 best.
***
So, here we are at lucky batch #7. See below for full recipe, but here are some photos to help.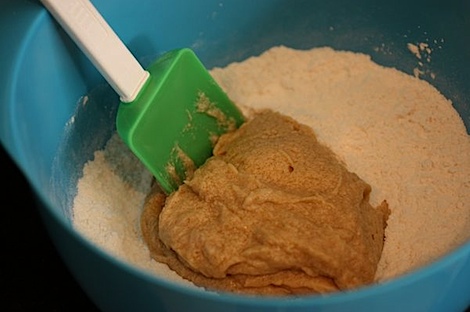 The wet just before stirring into the dry.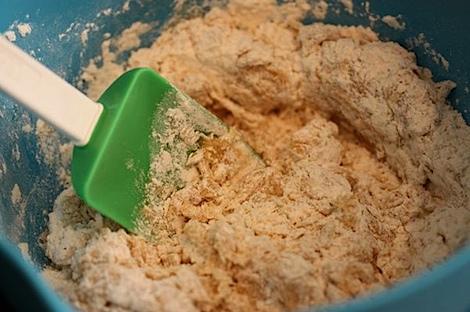 It will look like there is entirely too much flour and not enough dry. You may think you'll never be able to get cookie dough out of this desert of a bowl, but keep working the dough. Trust me. Just press the wet dough back into the dry parts, using the back of the spatula. Try to not overmix, though.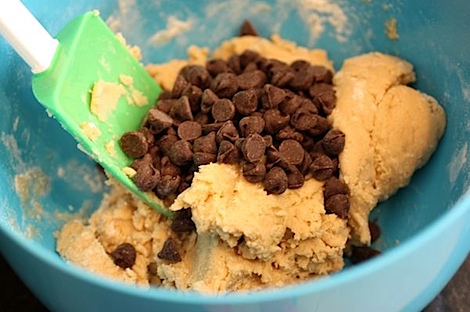 Add in chocolate chips and Boom!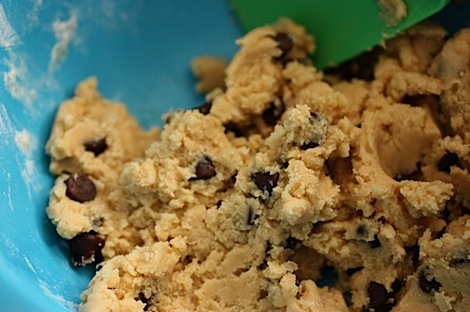 You have chocolate chip cookie dough.
Now, you won't actually want to eat this dough. Since it has raw egg in it (unless you use a flaxseed egg, and trust me, I will be testing that version of the recipe out sooner than later to ensure it works), you can't safely eat it until it reaches 160 degrees F, according to various web sites.
First you'll want to chill the dough a bit. You could probably skip the refrigeration step, but your dough balls may be a little more flat and cooked through in the center.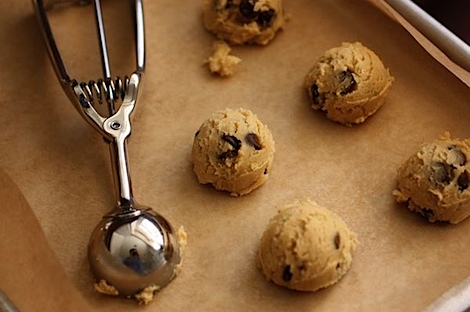 Use a small scooper to scoop out same-sized balls of dough.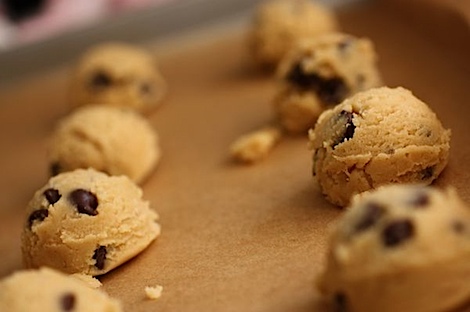 I think this is either a melon baller or a sorbet scoop. Use the one that is smaller than an ice cream scoop. The one with the little sweeper button will make this process a bit easier for you.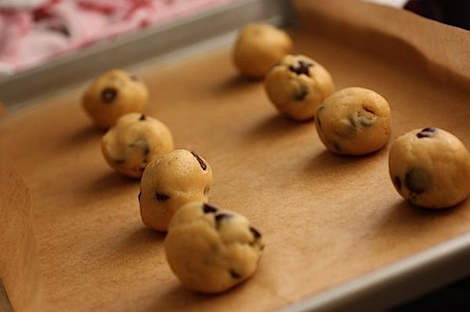 Roll the into balls.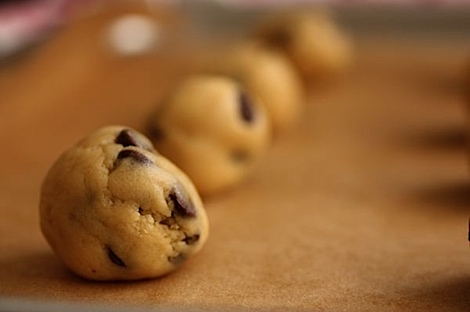 You can try skipping the ball rolling step, but since the balls will flatten out a bit during baking, I find it best to try to get them as "tall" as possible so they stay more ball-shaped throughout the cooking.
Bake and you should have perfect little dough balls.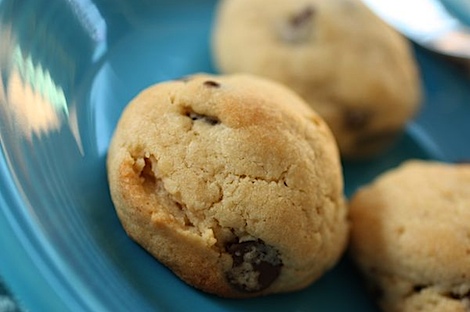 You'll want to look for very light browning on the raised area of the dough balls. For the most part, they may look like raw cookie dough when you remove them, but you don't want to cook these too long or you'll just have tall cookies and not dough balls. Likewise, you don't want to undercook these because of the eggs. I used a meat thermometer to ensure the centers of my dough balls were over 160 degrees F to be safe.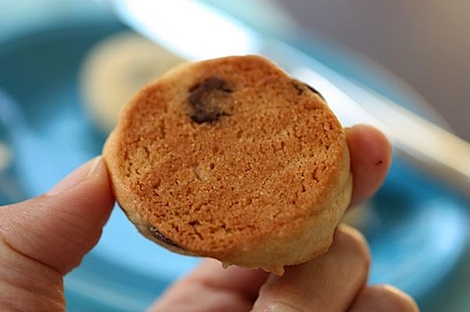 The bottoms will be lightly browned.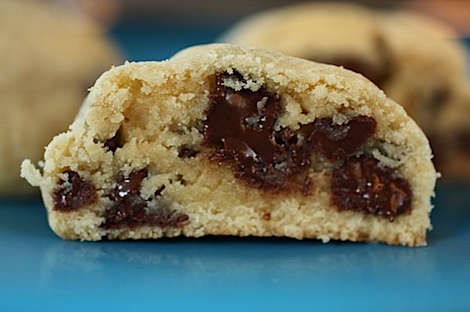 Note cooked outside edge and tender inside. That's pretty much what you're looking for.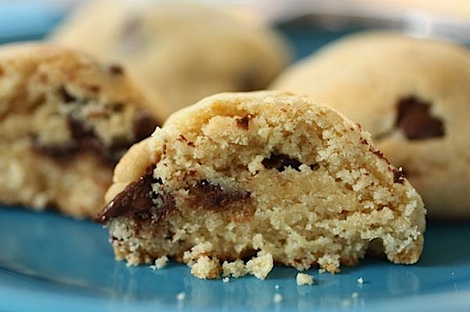 But, you can cook your balls a minute or two longer if you want your center a bit more set, like this.
Chocolate Chip Cookie Dough Balls
Inspired by Annie the Baker
*Update – I've made a new variation – Butterscotch Oatmeal Dough Balls! Click for the recipe*
Ingredients:
1 1/2 cups unbleached all-purpose flour
1/2 tsp salt
1/4 tsp baking powder
1/8 tsp baking soda
1/2 cup brown sugar
3/4 stick butter, softened/room-temp
1 tbsp sugar
1 egg (or flaxseed-egg)
1/2 tsp vanilla
1/2 cup semi-sweet chocolate chips
Directions:
Pre-heat oven to 350 degrees F. Prepare baking sheets with parchment paper.
In a large bowl, whisk together flour, salt, baking powder, baking soda.
In a medium bowl, mix sugars and butter till creamy. (I used a handheld mixer, but you could probably just use a whisk). Add egg and vanilla and mix till combined.
Mix wet into the dry. Note: it will appear there is not enough liquid for the amount of dry ingredients, but continue mixing. It will form into a dough, it will just be a firm dough. See tips above for combining. Careful to not overmix.
Gently fold chocolate chips into the dough, without overmixing.
Refrigerate dough for at least 20 minutes before using a small sorbet scoop to scoop out dough into small mounds. Roll each mound into a ball and spread evenly on a baking sheet, leaving roughly 2-3 inches between each ball.
Bake balls for 10-14 minutes, depending on how set you want your centers. If you use egg, and you're paranoid like me, you can use a meat thermometer to ensure the centers of the balls are at least 160 degrees F, which many web sites say is the safe temp to eat eggs.
Let your dough balls rest on the baking sheet to cool at least 5-10 minutes.
Enjoy!
I'm hoping to try out some other flavors I've been dreaming about (I'm thinking of mixing in oatmeal and almond paste!), but be sure to check out Mama Pea's scrumptious Peanut Butter Cookie Dough Balls for another wonderful flavor option and a vegan version.
Btw, if you like my recipe, please consider liking the official The Chic Life Facebook page (click to view), so you can stay in the loop of my latest and greatest creations. I like to announce things early for my FB friends.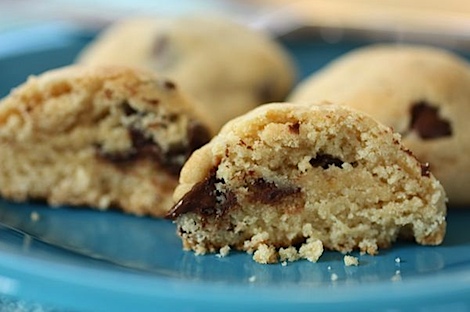 Who wants dough balls and pink salted caramels for Christmas? Because I'm starting to think that's all I'm going to be making this holiday seaon. lol
Bon Appetit!
What's the most times you've tried making a recipe? Did you ever get it right?