I bought a doughnut pan about a year ago with good intentions. But good intentions don't yield fresh-baked doughnuts. Some QT in the kitchen does, though! I experimented with a sour cream doughnut recipe several months ago but didn't quite love the finished result. After taking another break, I finally returned to doughnut baking this month, inspired by those amazing apple cider doughnuts from the apple orchard. While those doughnuts were delicious, they were also fried, which besides being not-so-healthy take a lot more work. As much as I love coming up with recipes and cooking yummy eats in my kitchen, I generally have a lazy side to me.
So, I give you…a healthier and easier to make doughnut…
Baked Apple Cider Doughnuts
It took me roughly 3 (4 if you count those sour cream doughnuts) batches before I settled on this recipe. In researching baked doughnuts, I found most recipes started with 1 cup of flour. But, I found this to yield way too much batter for my doughnut pan, resulting in something that looked less than doughnut-like (click). In wanting to keep measurements simple, I jumped straight down to 3/4 cup flour and adjusted other ingredients till I liked the finished result. Hope you like it, too!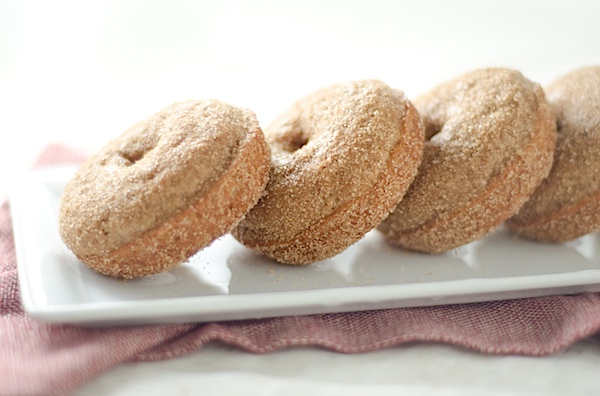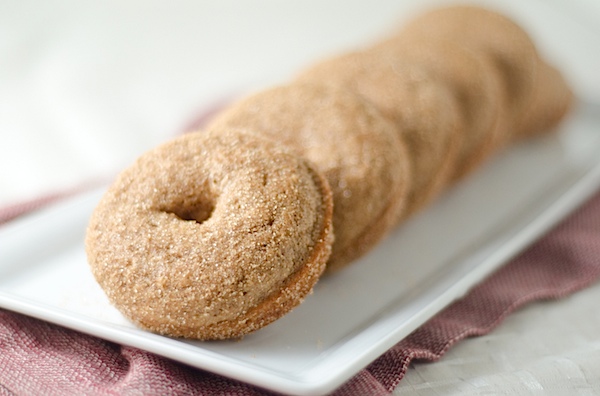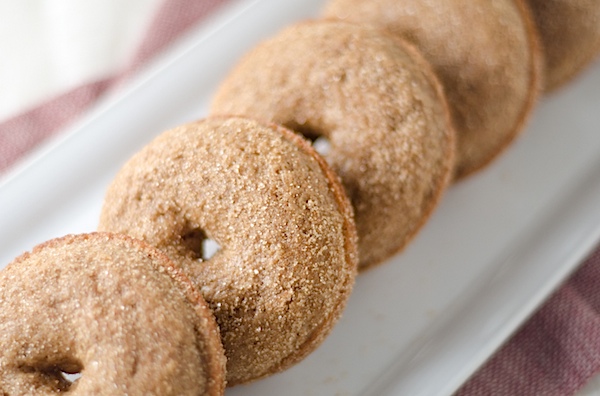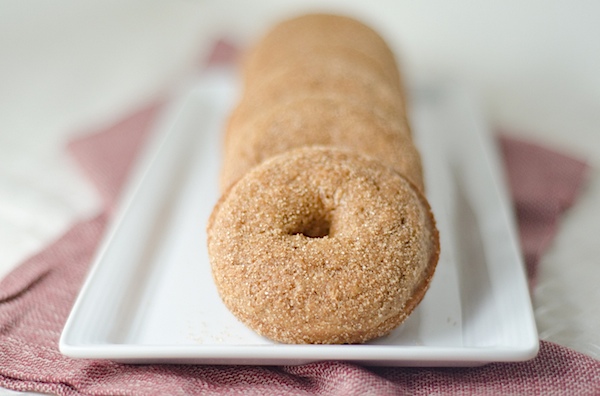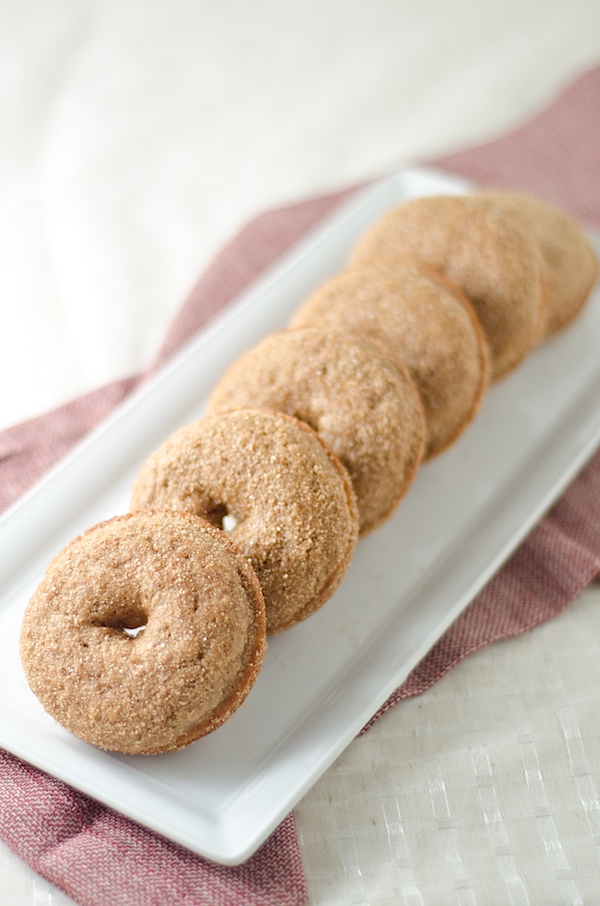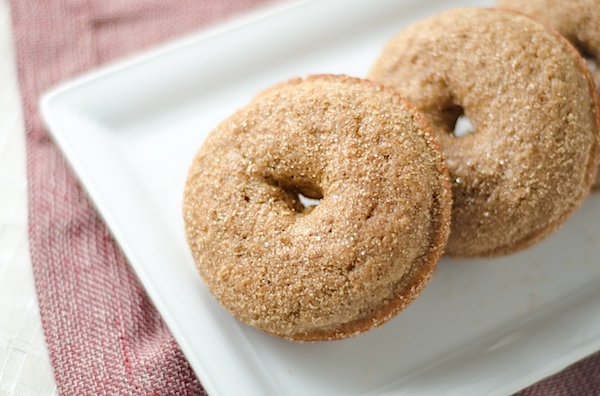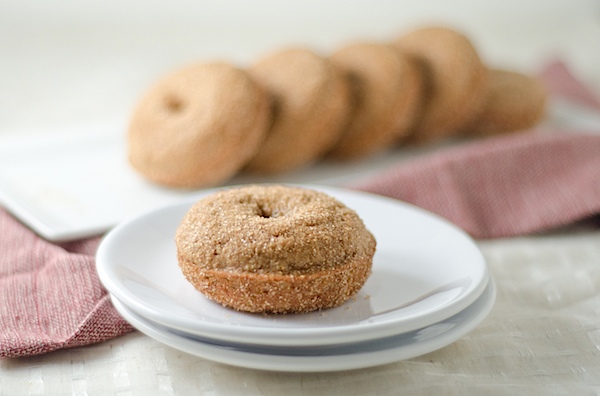 Baked Apple Cider Doughnuts
Baked Apple Cider Doughnuts are surprisingly easy to make and yield a healthier option to the traditional fried version. Made with sweet apple cider and spiced cinnamon, these will make your house small like fall and make your heart feel happy. These doughnuts are light and fluffy, though you can skip the vinegar for a more cake-like texture (pictured below). Did I mention they are pretty fast, too? Wouldn't you like from-scratch doughnuts in only 20 minutes? I know I do!
Prep Time: 10 minutes
Bake Time: 8-10 minutes
Total Time: 18-20 minutes (pretty fast, right?)
Yields: 6 doughnuts
*Vegetarian, Vegan options listed below*
Ingredients:
non-stick spray
3/4 cup Unbleached All-Purpose Flour (I've also used spelt flour with great results)
1/4 cup sugar, plus 2 tablespoons (preferably raw sugar)
1/2 teaspoon baking powder
1/4 teaspoon baking soda
1/2 teaspoon, plus 1/2 teaspoon cinnamon
1/4 teaspoon salt
1/4 cup apple cider
1 large egg (or sub flaxseed egg)
2 tablespoons milk (or sub vegan milk substitute)
1 tablespoon canola oil
1/4 teaspoon vanilla extract
1/4 teaspoon white vinegar
Directions:
Pre-heat oven to 375 degrees F. Spray 6-count doughnut pan with non-stick spray.
In a medium-large bowl, add flour, 1/4 cup sugar, baking powder, baking soda, 1/2 teaspoon cinnamon, and salt. Whisk to combine.
In another medium-large bowl, whisk together apple cider and egg. Add milk, canola oil, vanilla extract, and white vinegar and whisk to combine.
Pour wet ingredients into dry ingredients and gently mix until just combined (careful to not over-mix).
Evenly distribute in doughnut pan. Bake for 8-10 minutes, until doughnuts are cooked through (when a toothpick inserted into the doughnut comes out clean). (Mine were perfect at 9 minutes, but oven temperatures can vary, so check at 8 minutes)
In a small bowl, whisk together (or stir with fork) 2 tablespoons sugar and 1/2 teaspoon cinnamon until cinnamon is evenly mixed in. When doughnuts are safe to tough, but while they're still warm, dip each side into the cinnamon-sugar mixture, pressing and twisting to get good coverage.
Serve and enjoy!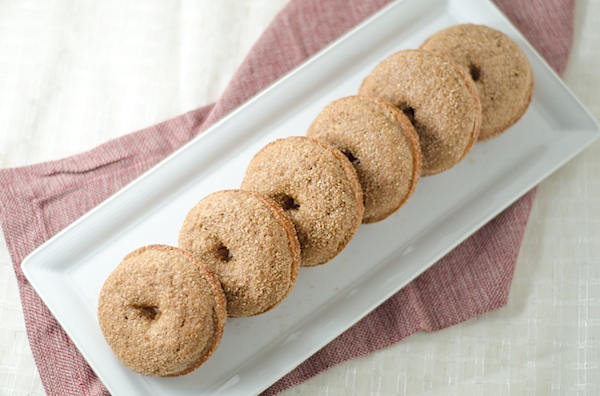 Delicious doughnuts!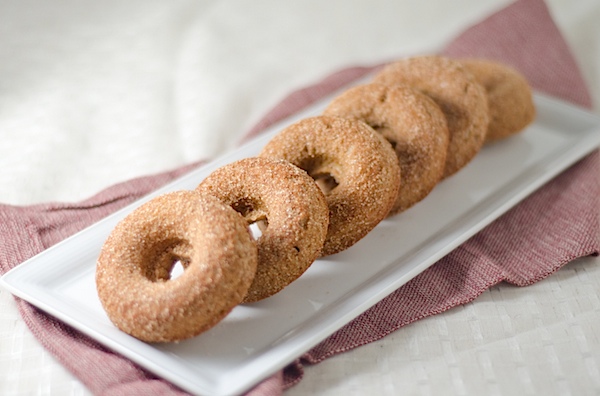 By the way, here's what they'll look like if you skip the vinegar (photo just above this line). The result is still delicious, but more dense and cake-like. We preferred the fluffier version, but now you have both options so you can decide for yourselves.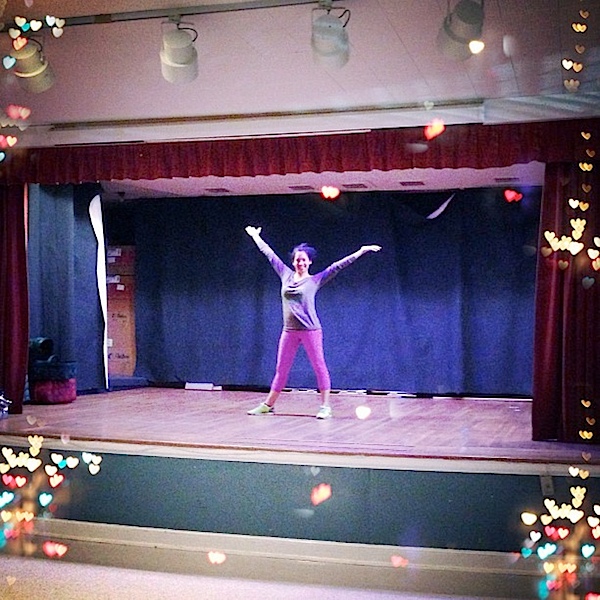 In other news, one of my Zumba classes got moved to a new location with a stage. A STAGE! I'm so excited. I've never taught a class with a stage before, so I think this will be great…mostly for my class participants so they can more easily see what I'm doing! I remember when I first started doing Zumba, the hardest part was just seeing what the instructor was doing (since I was hiding in the back and all). Not gonna lie…the cool lights and better room acoustics are a nice perk.
We did our kick-off class this week, and my 3 favorite songs were:
Booty Shake
Mueve la Colita
El Alacran (we do a dance-off to this song!)
***
I'll be sharing some Facebook-exclusive photos soon, so be sure to like The Chic Life on Facebook so you can see that and more FB-exclusive content.
Thanks for reading and for your patience this past week!
***
Reader questions: What's your favorite kind of doughnut? I've always loved straight-up glazed. How do you like your doughnuts? Fluffy? Dense?