Who else is missing their hour!? It's not just me, right?
Btw, sorry to anyone who is seeing some funky stuff with my list of links along the top of my blog (Home, About, Recipes, etc). I tried to add drop down lists to my site yesterday and just when I thought I had it working, I checked my blog on my iPhone today only to see it's broken. Grr. Apparently it's working for some browsers, but not all.
If you're seeing some weird stuff (like the list of links going top to bottom instead of across), let me know in a comment and tell me what kind of browser you're using – it would be really helpful info if don't mind. I got home too late to work on this tonight, but I hope to take a looksie tomorrow.
Apologies!
My fabulous Energy Bite Oatmeal this morning got me on the right foot.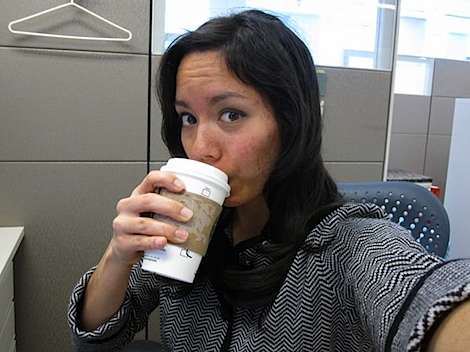 Starbucks Monday helped – tall vanilla soy latte. Since starting Project Hydrate, I haven't wanted to drink as much Starbucks as I normally do.
I really believe that when you're tired at work, water is a better solution than caffeine anyways. But I have post planned for that topic…more on that later.
*
*
*
As for lunch, since I didn't have my prep day yesterday, I totally ate out! Gah! I've been eating out so much! I need another Eat in Month! 😆
I had soup leftovers and a great whole grain carb, but I really wanted some veggies. I wanted a lot of veggies actually. I figured a salad was my best option.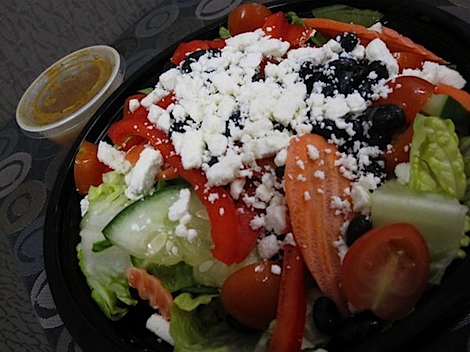 I got a GIANT salad. It was as big as my head!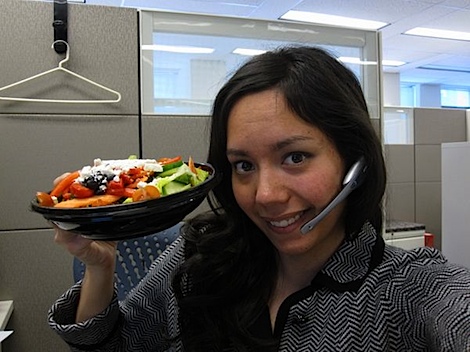 Seeeee!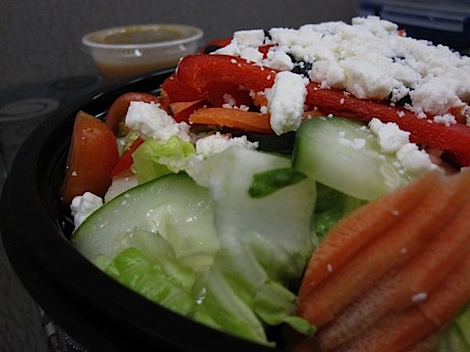 Salad: spinach, romaine, cucumbers, carrots, red peppers, cherry tomatoes, feta, tomato vinaigrette on the side (for dipping – it's the best way to control the amount of dressing you eat and I'm not a fan of salads swimming in dressing).
I thought about saving half the bowl for tomorrow, but I figured average people can't really eat too many veggies, so why not down the whole thing? I was hoping it would give me some good energy and nutrition for a workout later.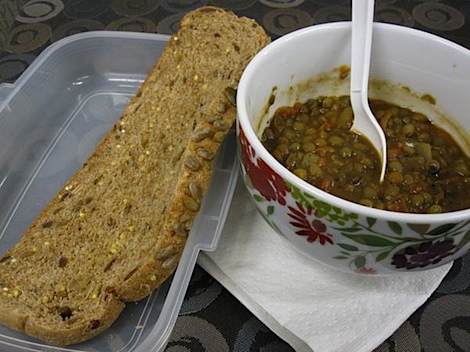 A little later, I had some plain Dakota bread (wanted to toast it but the toaster was taken in the 2 minute break I had) and some curry lentil soup leftover from Saturday.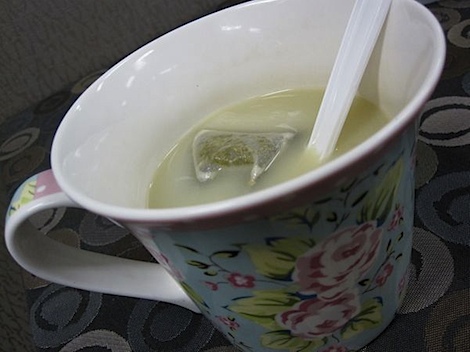 Yerba mate latte.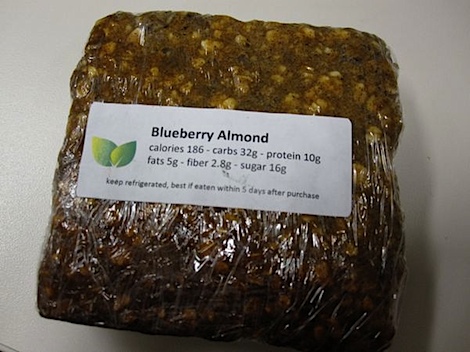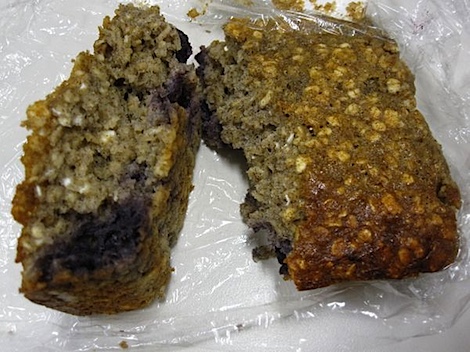 About an hour before my post-work workout, I had 2/3 of this blueberry almond granola bar. It was so good! I'm addicted! Eek! I need to figure out how to make these at home. They are like granola bars but more cake like. I bet I could come up with something good using nutritious spelt flour.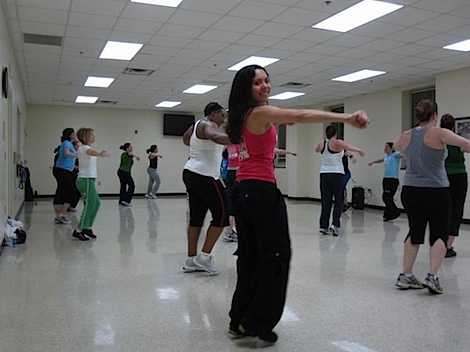 ZUMBA double-header. Two hours back to back.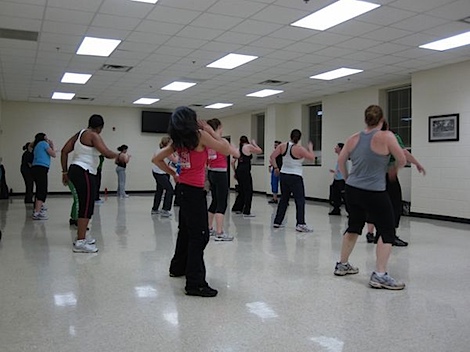 I love Mondays! 🙂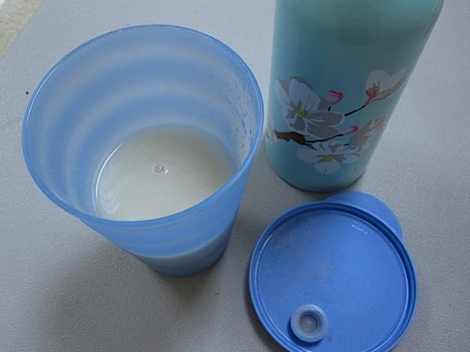 Post workout Aria protein shake.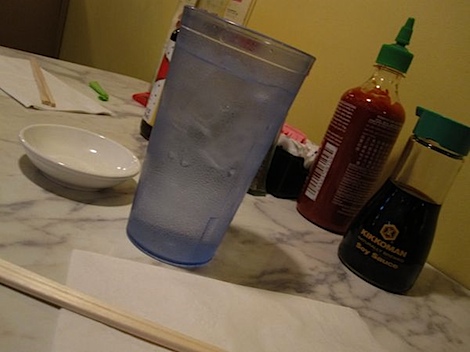 Post workout water.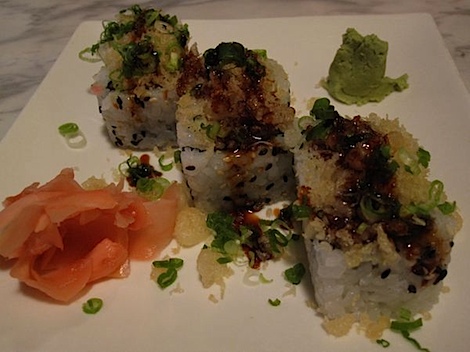 Post workout sushi.
Actually, my friend Kat got the sushi – The Grinch.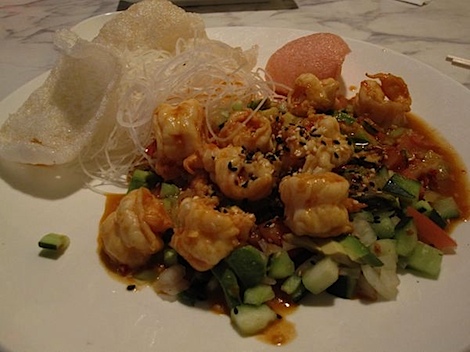 I got the Tiger Wok shrimp appetizer.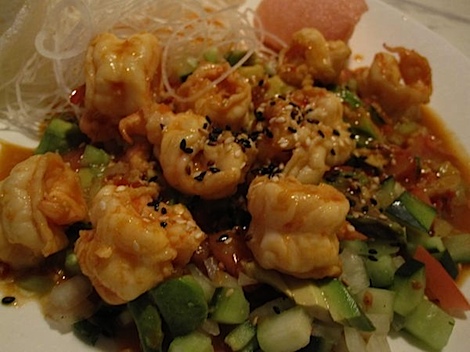 I should have taken a video for you guys b/c this dish came out with the rice puffs snap, crackle and poppin! Seriously! It was pretty neat.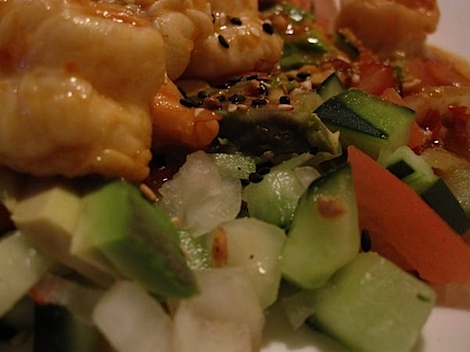 I love this dish because of the tangy lime squeezed over the shrimp paired with the salsa like base – tomatoes, cucumbers, onions, and avocado…plus lots of pepper and some other stuff – sesame seeds and what not.
Project Hydrate Day #8
I'm so pleased to hear that most of you guys are doing well with Project Hydrate! Go team!

Today marks the start of the second week of the challenge and I really feel like it's getting easier.
I also noticed a slight improvement in my workout today. I normally start getting pretty tired in the first hour of class and just push through, skipping some songs so I don't totally exhaust myself (I think I injured myself last year when I pushed myself too hard – remember to be careful and take care of yourselves people!). Today I felt like I had more energy. Perhaps hydration is my energy slump solution.
Consumed:
pink bottle – about 4 cups
turquoise bottle – about 3 cups (includes liquid for protein shake)
1 yerba mate tea
1 cup water with dinner
Though I needed to drink more water today because of my workout, I still did pretty well. Yay! How's your second week treating you?
Randomness
Did you check out my recipe on the Natural Food List yet? Remember to sign up for the newsletter for some awesome coupons for free. No, they didn't ask me or pay me to say that. I signed up for the list today and thought you may like the tidbit, too. 🙂
I'm so happy I got some new questions on my Formspring! Keep em coming!
And, one year ago today:
It was my first day on my current work assignment
I was on Week 7 of Small Changes, Big Results (SCBR)
I was still counting calories
I was feeling a bit under the weather and made my mom's Get Well Soup to feel better
I also had a fabulous veggie juice to help feel better
And, my favorite thing – I was packing for my trip to San Francisco!
Random reader question: What do you eat when you want veggies away from home?