Happy Tuesday to you!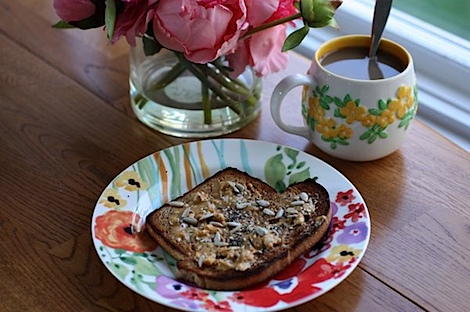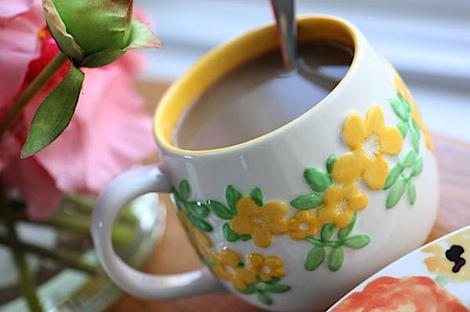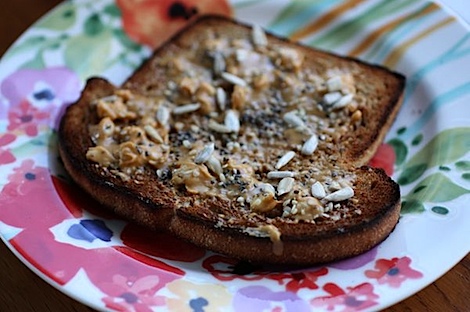 I stayed up late (per the usual) and rushed about this morning getting ready for work. Breakfast = Spring Blend coffee and Power Toast. with chia seeds, hemp seeds, and sunflower seeds all over Barney Butter. Boy did that coffee taste good with the toast today!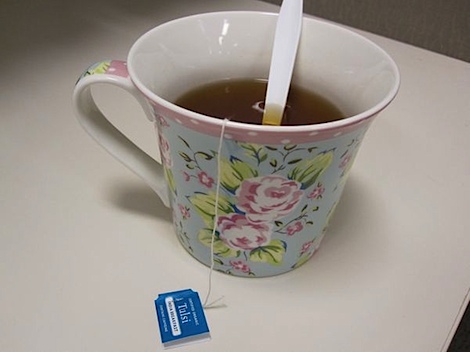 I started work with Tulsi tea in Indian Breakfast with some sugar. Sometimes I'm good with one cup of coffee and sometimes I need a little more caffeine. I prefer my second cup come from tea.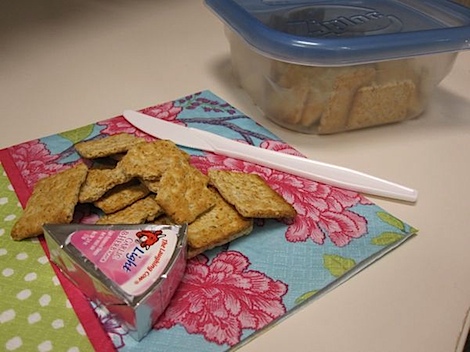 My one co-worker and I have been trying to plan a lunch for a few months now, but we're always busy or out of town. Today, we actually had some time not in meetings at the same time and decided to go for a late lunch. I had a snack around noon to tide me over – Kashi crackers in honey sesame and Laughing Cow cheese (from my work stash). I made my co-worker a serving, too. That workaholic never eats! So many people I work with skip lunch all the time. I may not have time to eat lunch away from my desk, but I NEED to eat something. It's so much healthier for you, too.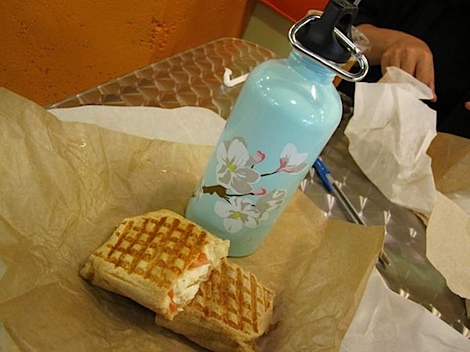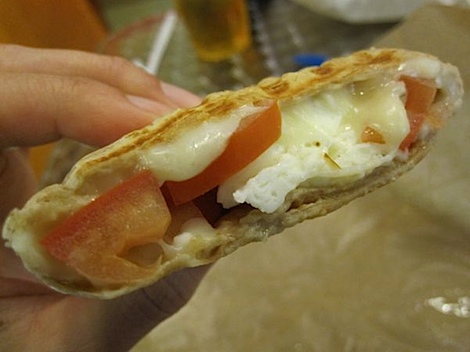 For our lunch out, I had a breakfast wrap – egg white, provolone cheese, tomato.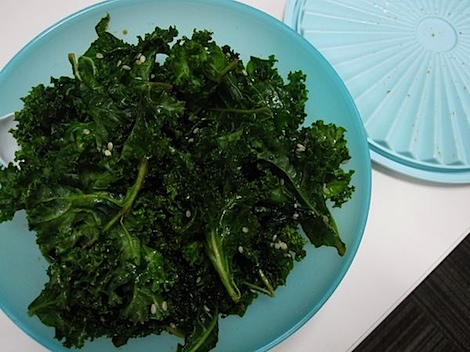 I was actually really excited to finish lunch back in the office because I had my marinated kale with me ready to taste test.
It was a WINNER! I can't wait to share my recipe. 🙂 Update – the recipe has been posted! Click here to view my marinated kale recipe!
I caught a craving for chocolate when I got stuck late at work. Around 6pm, I dug into my desk stash – dark chocolate and a PB Ghiradelli square. I find myself liking mainstream (Snickers, etc) candy and milk chocolate less and less. I really want to get some nice, quality dark chocolate to keep at my desk for my chocolate emergencies.
I ended up staying at work till 7 pm and left feeling totally drained of energy. 🙁 Cooking (or doing anything that took any amount of effort) was sounding less and less attractive. Take-out was sounding better and better.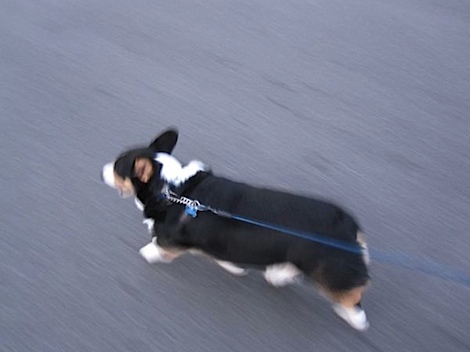 I got home and hubby suggested I de-stress with a quick walk with Bailey. Normally when I get home so late, I think about all the things I need to cram into the night in less time and try to not do "frivolous" things. Tonight, I decided a walk sounded like a good idea.
It was. The fresh air helped clear my mind a little.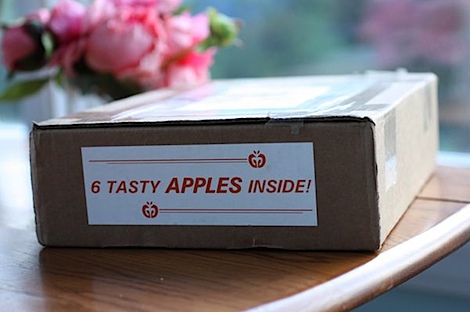 On top of that – I had a PACKAGE waiting to be opened!!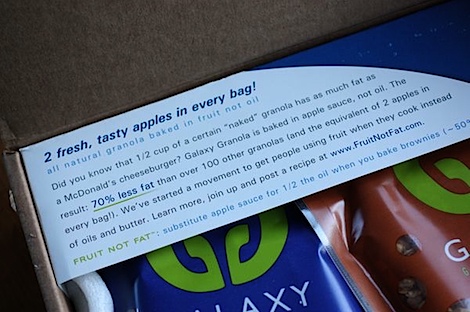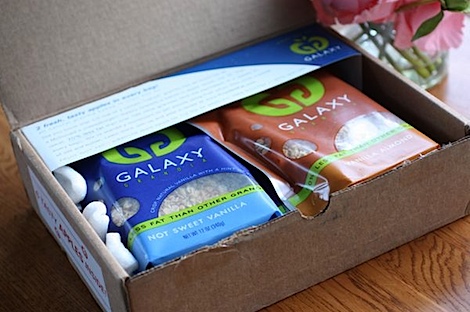 Inside – neatly, carefully, and chicly wrapped Galaxy Granola!! I've been wanting to try this stuff forever!
This stuff is really cool because they bake their granola in applesauce instead of oil!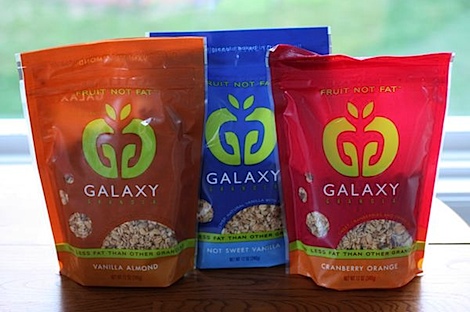 Galaxy Granola was kind enough to send me 3 granolas to sample * – yes, for free FTC. 🙂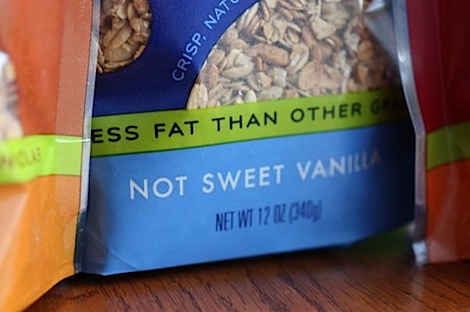 Flavors I get to try: Vanilla Almond, Cranberry Orange, Not Sweet Vanilla. They all sound so fabulous – I can't wait to dig in! In fact, I'm kicking myself that we don't have yogurt on hand because I reeeally want to try some Galaxy Granola out tomorrow morning! Gah! I just love opening new things. As soon as I get them I want to test them out.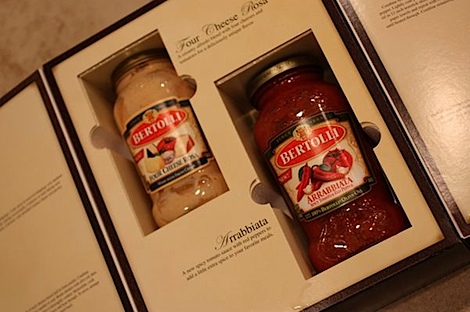 For dinner, I was so exhausted that I wanted to cook something that was both quick and easy.
I dug into one of my Foodbuzz samples, which I've been hoarding (but talked myself into finally using tonight) – the new Bertolli Arrabbiata sauce (f). I received these sauces for free as part of the Foodbuzz Tastemaker program.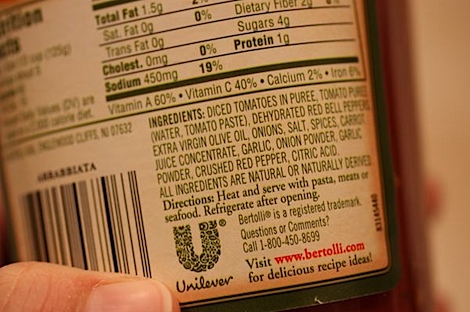 The sauce has a pretty good ingredient list – all pronounceable words.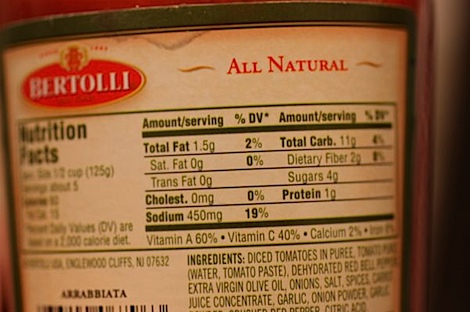 Nutrition info.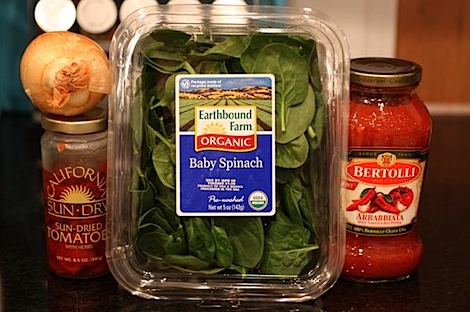 Other ingredients: onion, sun-dried tomato (leftover from that yummy veggie lasagna), baby spinach…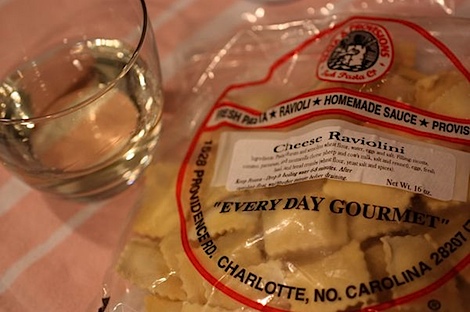 …local cheese raviolini (waiting for me in the freezer – plus some white wine to enjoy whilst cooking.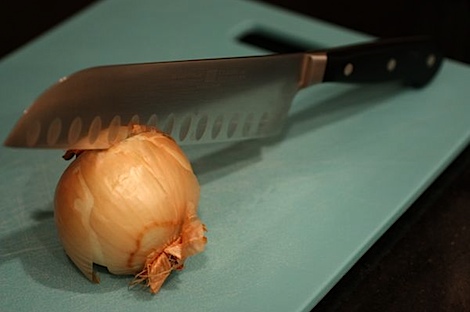 Love my Wusthof knife.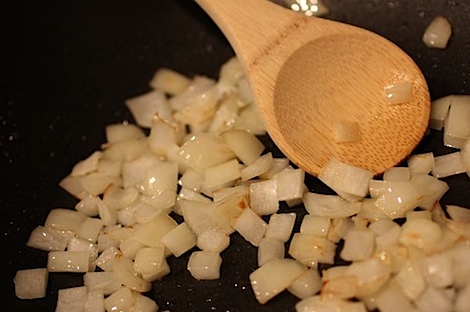 I think the smell of sauteed onions is intoxicating…yuuuuum!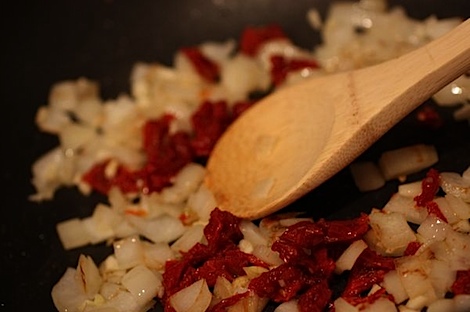 Chewy sun-dried tomatoes.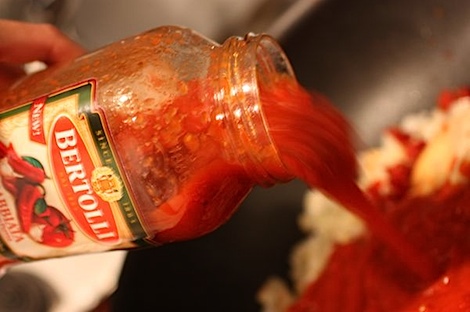 Add sauce.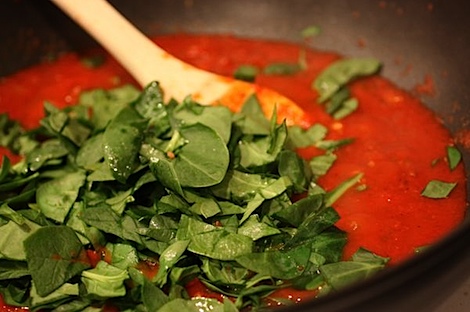 Add chopped baby spinach.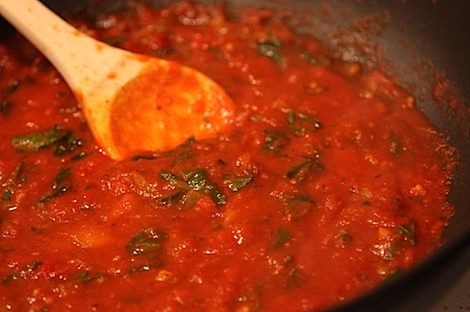 Niiice. This sauce couldn't come together easier. I love it when you have something you can just toss this and that in and it comes together in snap. Who wants to think hard after an extra-long day of work.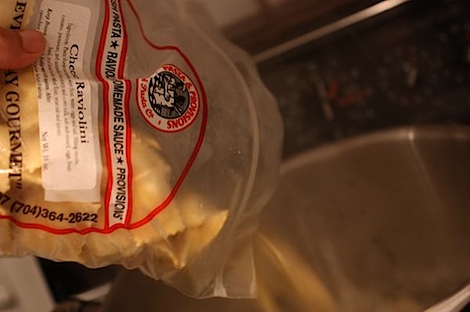 Cook pasta.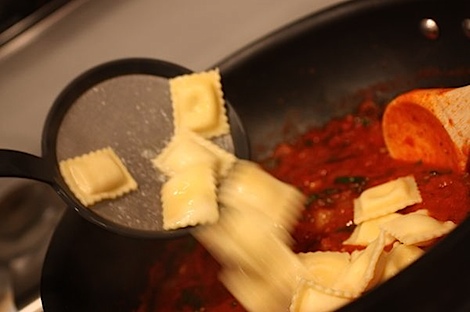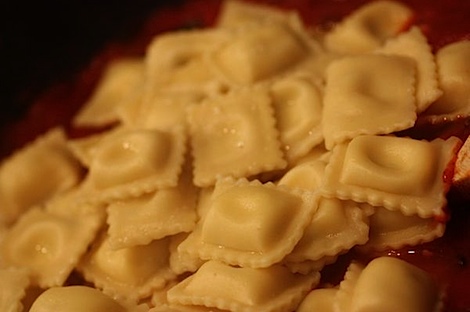 Ravioli to sauce.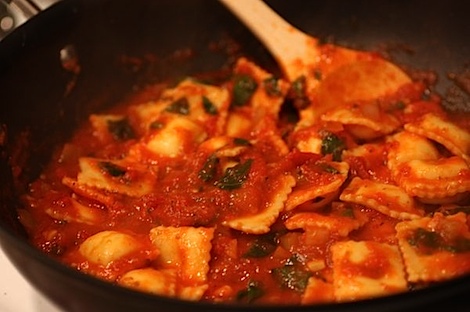 Stir. Done! Piece of cake!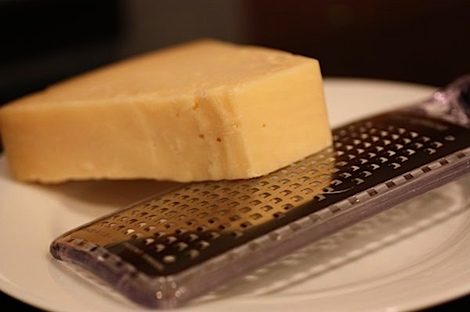 Top with cheese and we're ready to enjoy.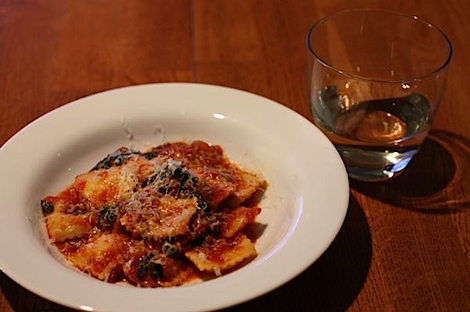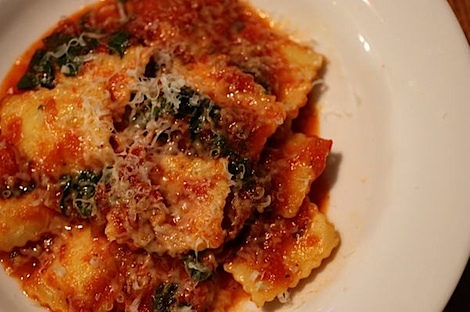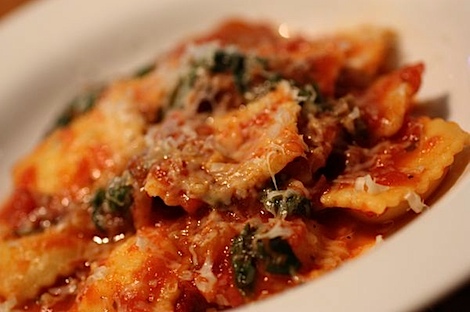 Dinner is served with bread and wine.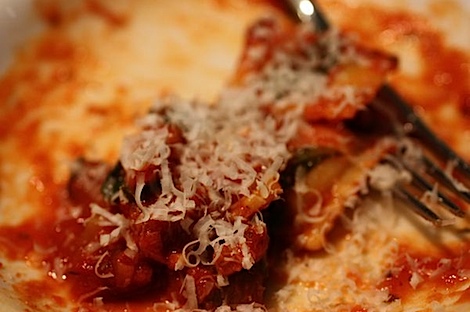 Seconds.
The sauce was lovely. I really appreciated the read-able ingredient list and the flavor was nice and slightly spicy with a sweet bite thanks to the sun-dried tomatoes I added. I really tasted the red pepper in the sauce, too, which was a nice change of pace from your average tomato-only-sauce. I would definitely purchase this sauce if I saw it in the grocery store. I think my add-ins upped the nutrition with extra veggies.
Quick + Easy Spinach, Sun-Dried Tomato, Arrabiatta Ravioli
This is a great meal for when you want to eat in but don't have the energy to do a big meal This dinner whips up quickly and requires little to no measuring.
Ingredients:
1 package frozen ravioli (I used cheese)
1 jar arrabiatta sauce (I used Bertolli's new flavor)
3 cups baby spinach, chopped
3 cloves garlic, chopped
1 small onion, chopped
sun-dried tomatoes, chopped (however much you want – I used about 1/4 cup)
1 tbsp extra virgin olive oil
Directions:
Heat a large pan over medium heat. Add EVOO. Add onion, saute 3-5 minutes. Add garlic, cook 60 seconds. Add sun-dried tomatoes, saute 60 seconds. Add sauce. Add spinach. Season with salt and pepper to taste.
Meanwhile, boil water in a large pot. Once boiling, add salt. Add ravioli. Cook to lowest cook time (pasta will continue cooking in sauce later).
Use a strainer to remove pasta directly from water and into the sauce. Add about 1/4 cup pasta water to the ravioli/sauce. Cook till ingredients combined, about 1-3 minutes.
Serve with fresh-grated parmesan.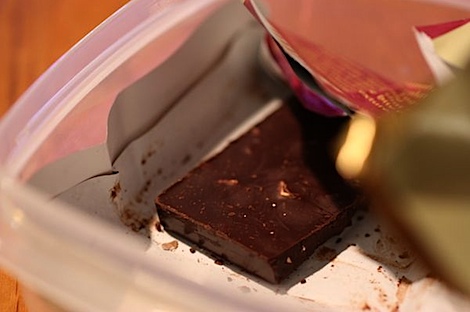 A couple bites of dark chocolate for dessert. 🙂
I must say, I was feeling pretty drained and lazy after work today…I mean I didn't get home till about 7:30pm. But, tapping into my Eat in Month skills, I avoided the urge to order take-out and threw together a super simple but satisfying ravioli dinner. I mean, Rachael Ray is right….sometimes it is easier and faster to just cook at home than get take-out!
Project Hydrate Day #23
I did about average today for Project Hydrate.
Consumed:
4 cups water
2 cups hot tea
I missed my first-thing-in-the-morning water, which usually helps me get another glass of water in.
Randomness
I'm working on getting some really cool things in my OpenSky shop. Unfortunately, not everything I'm requesting is making it in, but we'll get there. On the one hand, I feel like it's taking forever to populate my OpenSky shop. On the other I know it's because I'm all about quality over quantity & trying to be choosey about what I select to add. Only the best for you guys!! 🙂
I'm 3 fans away from 100 on my Facebook page. Who will be lucky #100?! 😉
One year ago today I was blogging about my fabulous stops at two more California wineries – Trentadue and Rosenblum. Can I go back there this weekend? Pleeeease?
Who's ready for a Fitness challenge? Details April 1st. In the meantime, get your strength training gear ready – simple weights (these are really affordable at places like WalMart/Target) and strength bands.
Reader question: After a long day or work/school/whatever, do you prefer to eat out or stay in and cook?