After seeing them on her blog and then on her guest post for my Meatless 4 Lent series, I knew I had to try Angela's (Oh She Glows) famous In a Jiffy Spelt Veggie Burgers (click for recipe).
Btw, these are vegan veggie spelt burgers!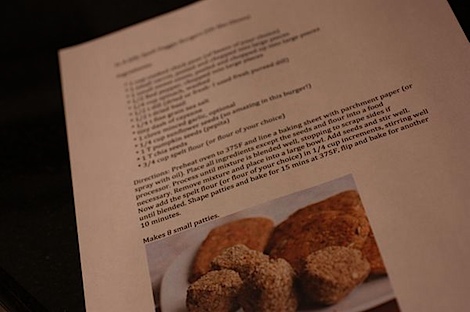 I put the recipe in a word doc and printed it out, complete with a photo (I'm very visual).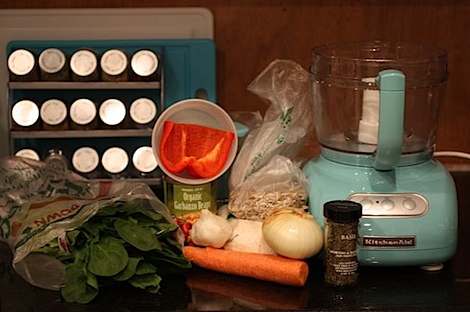 Ingredients gathered.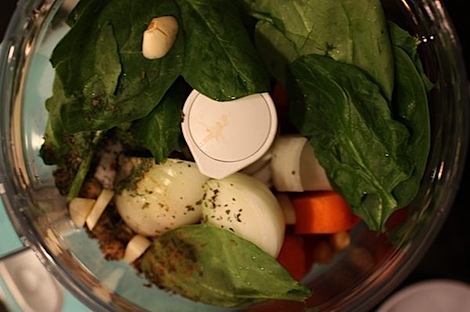 Into the food processor (I am in love with the color of this thing btw!).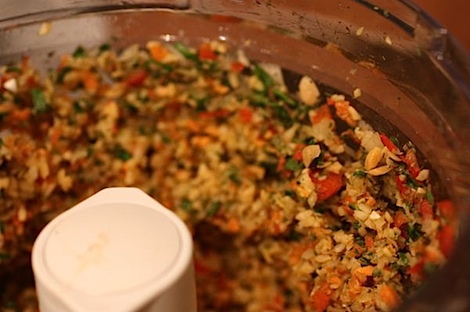 Stopped to scrape the sides. Keep going!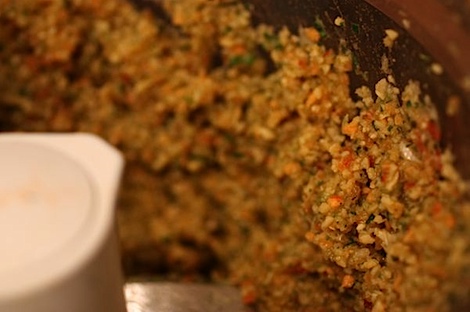 There we go.
I wasn't sure exactly how far to take the mixture, but I think it's one of those – make it to your texture preference kinds of things. I wanted mine to have some texture but not be too chunky.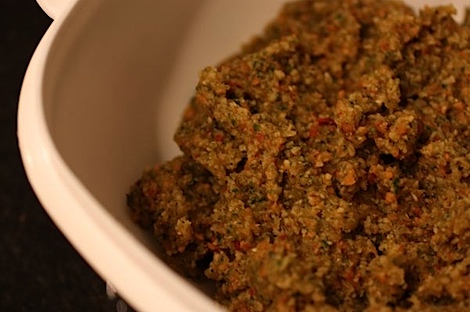 Here's what mine looked like after I stopped processing.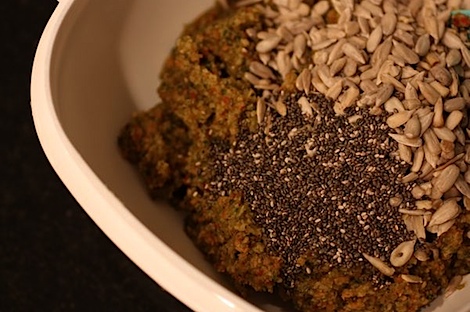 In seeds!
We didn't have pepitas so I just used extra sunflower seeds. As a promoter of diverse eating, I recommend picking up a handful of pepitas (pumpkin seeds) at the bulk section of your fave grocery store (the more health-food-y ones will have them in bulk) – they would be great in this recipe and you can keep the leftovers in your freezer to use at oatmeal toppers!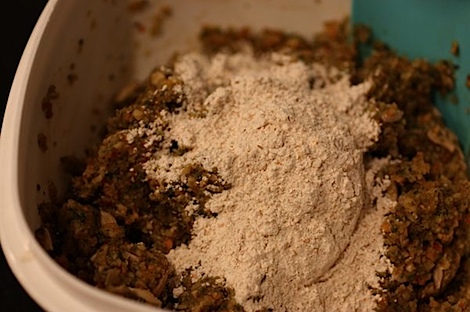 I was so happy to use more spelt flour. It is my current favorite flour.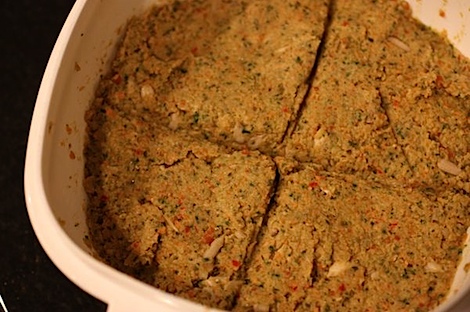 To help me portion out the patties, I flattened out the mixture and drew in a cross. I broke each quadrant into 2 even balls to roll/shape into patties.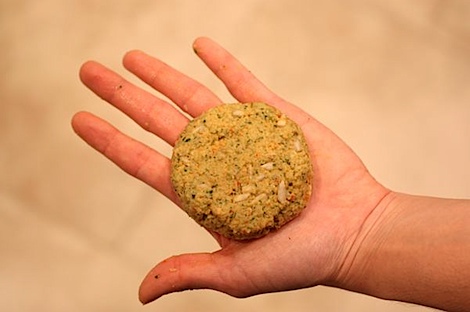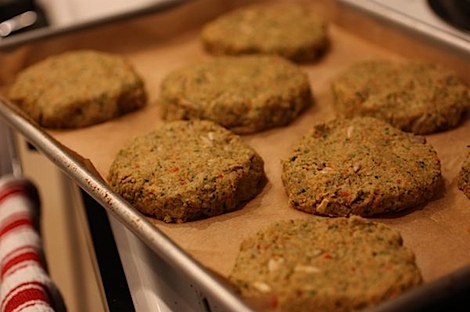 Ready to bake.
After the first 15, the bottoms were still a bit damp, so I gave them another 5 minutes before flipping.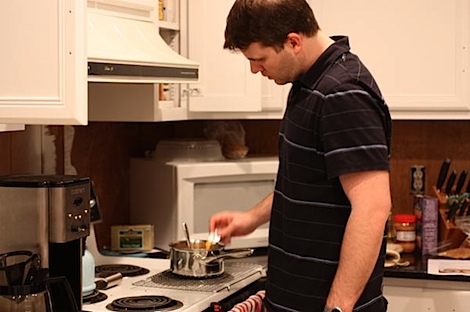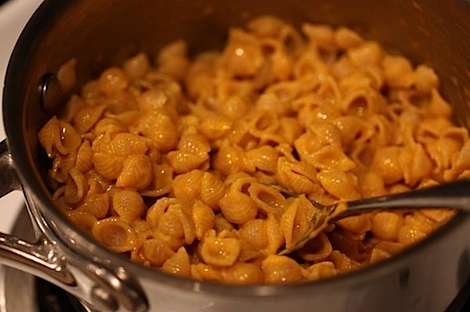 While our veggie burgers baked away, hubby cooked up some Annie's mac and cheese for our side. He is a macaroni and cheese making machine!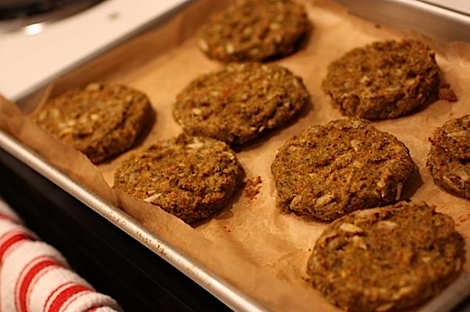 Btw, be sure to use a metal or very thin spatula, or your veggie burgers will turn out like mine. My plastic spatula didn't quite get under the bottom-most layer, so they got a little rough. When I switched to a metal one, it worked like a charm.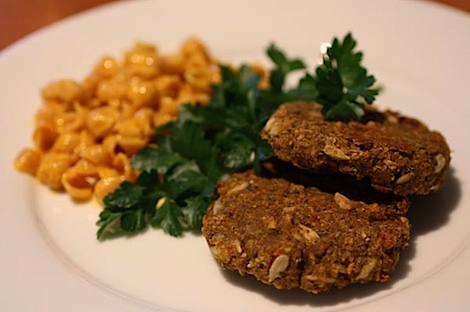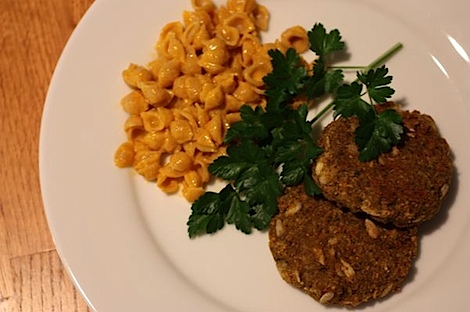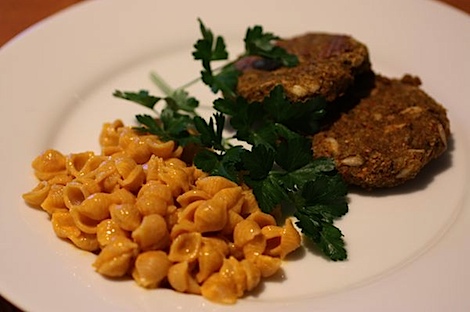 Dinner is served! Delicious meatless-Friday meal for the Lent season.
I wish I would have had another veggie side. I can't seem to get enough veggies.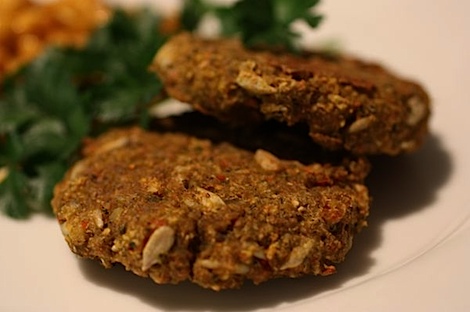 Oh, and Angela is right – the sunflower seeds are amazing in this – they add so much texture. And, I loved how I could taste a bit of the dill so subtly in each bite. Yum!
Hubby (the meat & potatoes guy) seemed to like these pretty good, though I think he would have enjoyed them more in true burger form – with a bun and toppings and condiments and all that jazz. I like my veggie burgers plain. :mgrgreen: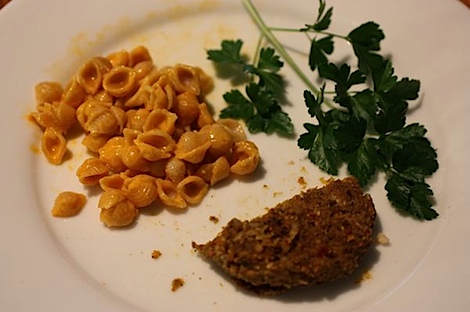 I got seconds….split a veggie burger with hubby and got more mac and cheese. Yummers
Have you tried Angela's spelt burgers yet? Click here for her In a Jiffy Spelt Veggie Burgers recipe.
Project Hydrate Day #12
I paired water with my coffee this morning and I think it made a big different in my water consumption. I mean, just starting on my water earlier in the day gives me the opportunity to consume more water.
I ended up downing 8 cups of water and a hot tea all before my workout after work today. Nice!
Consumed:
Need help with Project Hydrate or general hydration tips? Check out this The Chic Life Facebook discussion.
Tidbits
Also…
I have like 5 more M4L (Meatless 4 Lent) guest posts lined up – I can't wait to share them with you. We've had some fab posts so far and we have some more great ones to go! You guys are going to have so many wonderful meatless meal ideas, you won't won't miss it!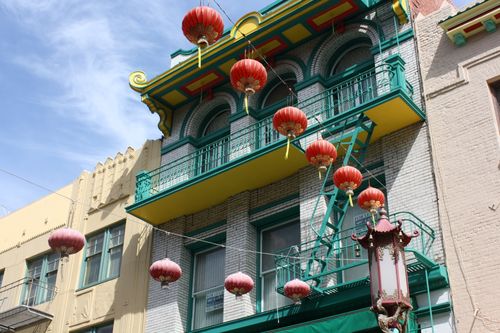 Also, one year ago today, I was eating dim sum in San Francisco! Click for my yummy dim sum eats and photos from San Fran's Chinatown. Man, I can't believe it's been a year since I went to SF. I want to go baaack…soon! Maybe for Foodbuzz? 😉