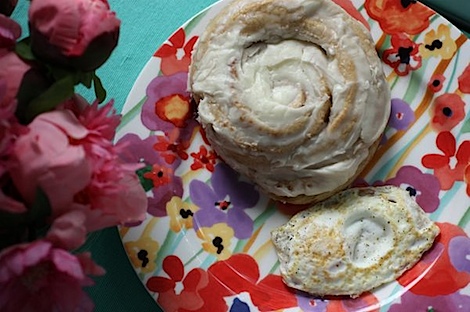 Years ago, I used to like eating unhealthy stuff for breakfast all the time. It seemed like breakfast was when they had the good stuff: chocolate croissants, sticky buns and other delectable sweets. But not just the sweet stuff – Bagels with cream cheese, egg sandwiches.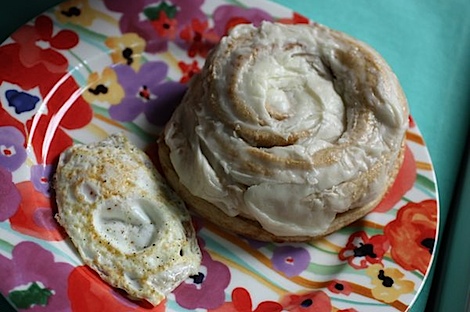 At some point, I realized that my indulgent breakfasts, while decidedly delicious to eat, were typically not that filling and would often leave me sluggish. So, I cut back on them – a little at first and then more and more. At some point, I fell in love with healthy breakfasts like oatmeal and Power Toast – breakfasts that filled me with healthful food and gave me plenty of energy.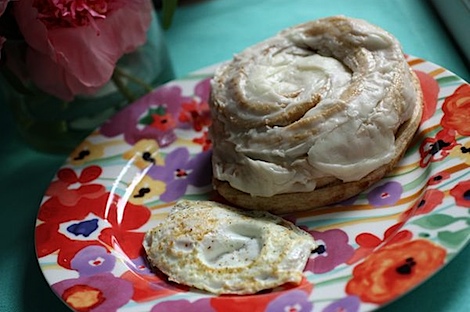 And while I love my healthy breakfasts and truly prefer them over the more indulgent ones, sometimes you just want something a little over the top. Breakfast was pretty indulgent today. Hubby picked up a GH cinnamon roll and I made us fried eggs. I forgot how HUGE that cinnamon roll is! I stuffed myself trying to finish it. Bad idea. The cinnamon roll wasn't such a bad idea…eating more than I was comfortable with was. Oops. Next time I'll save some for a snack later. 🙂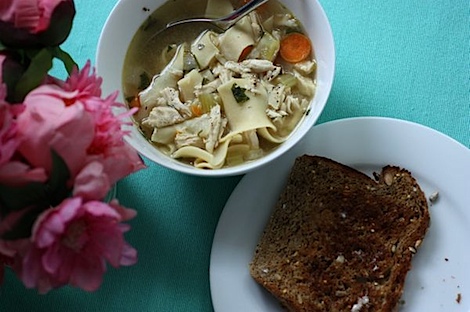 Lunch = leftover chicken noodle soup and Whole Grain Goodness toast.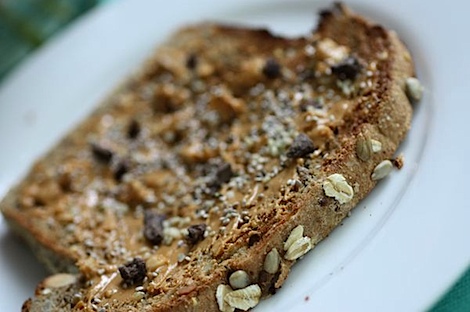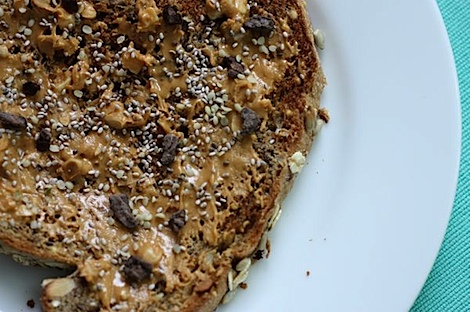 And I had some Power Toast for an afternoon snack.
Great Harvest Whole Grain Goodness with: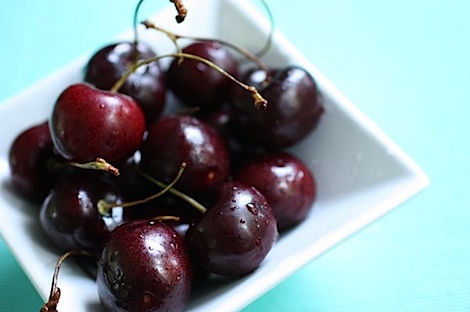 Organic cherries, too!
***
Guess who came to zumba with me tonight?!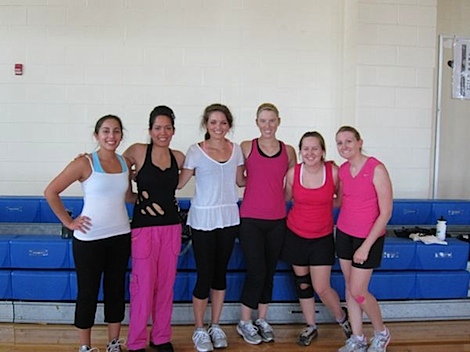 Check out all my bloggie friends: Irene, (me), Katie, Jen, Jen, and Brittney.
We all had a fantastic hour of zumba tonight – the firs time trying zumba for most of these girls. How did they do? They danced like rock stars, of course! 🙂
Thank you ladies for coming to class with me! I hope to see you there again soon!
Oh and random note, a lady in class was wearing some sort of calorie counter and said she burned like 850 calories in class tonight! Whoa! Michelle is giving me her old heart rate monitor so I'm going to be doing my own experimenting with calorie burning. Can't wait to see what the number is!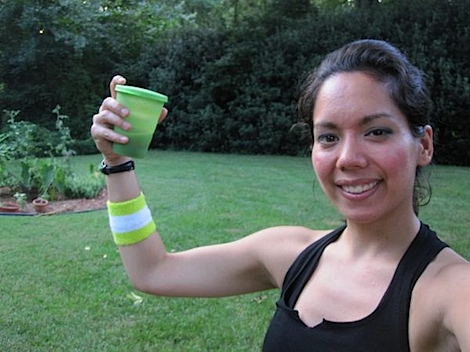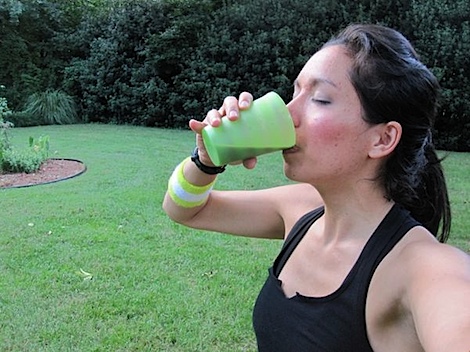 Post class it was time for a protein shake – Vega Whole Health Optimizer.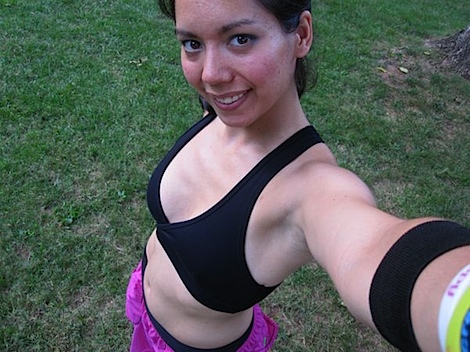 Yay zumba! I always feel like a million bucks after class.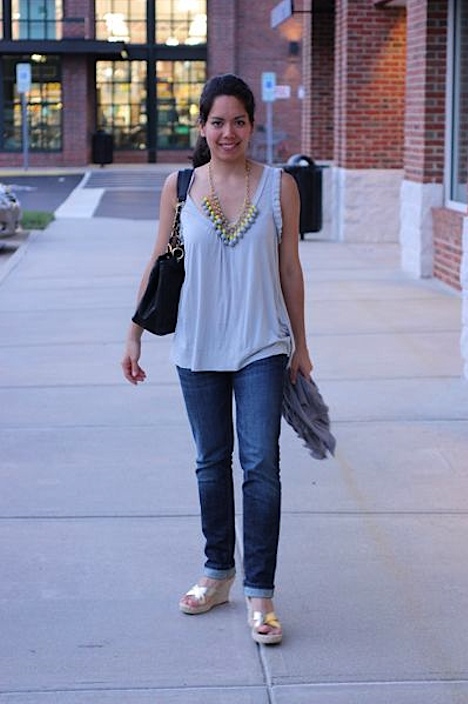 Post class hubby and I headed out for dinner at a local Mexican restaurant – 1900 Mexican Grill. It's probably our favorite Mexican restaurant in town because the food is good, the drinks are awesome (especially the dirty margarita), and the owner is sooo nice. I love to support his local business.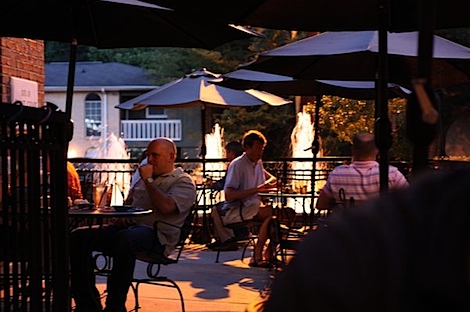 The weather was too gorgeous to not eat outside.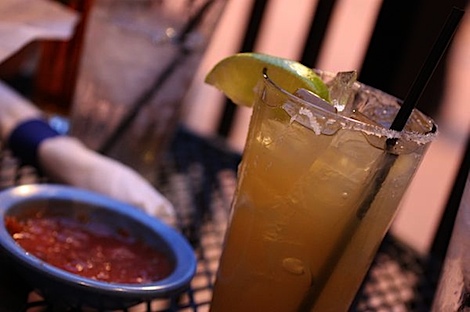 I started with a dirty margarita – made with tamarind!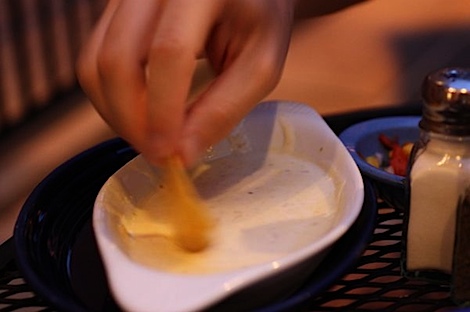 We started with some cheese dip (starting to prefer guac over cheese dip…who am I?) and chips and salsa.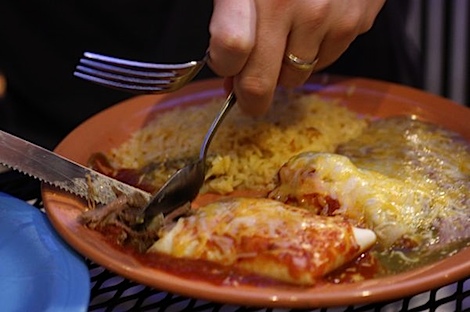 We shared a combo – beef burrito, chicken enchilada, and rice and beans.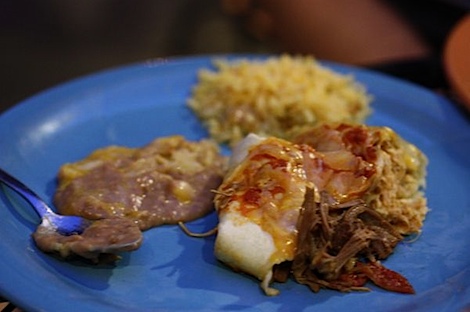 My portion – I barely finished.
Post dinner, went over to hubby's bacherlor-friends' apartment to chill out. We ended up watching a lot of Terminator Salvation before heading home. I'm pooped but I have a big day of dancing tomorrow!
What are you up to this weekend?