Going straight from the tropical, summery Bahamas to cool, fall-weather North Carolina has been almost a shock to the system. One minute I'm sipping coconut daquiris on the beach, the next minute, I'm eating pumpkin oatmeal in a sweater. C'est la vie.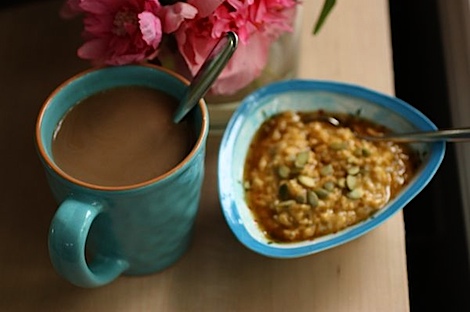 Since I'm now in full-fall mode, I started today with pumpkin spice brewed coffee…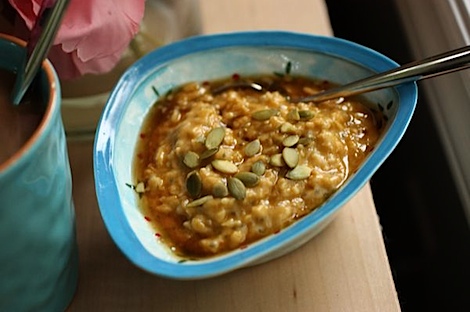 …and since you guys know I'm like a 5 year old at Christmas with new stuff, I busted out my new Bahamian starfish bowl for some pumpkin oats.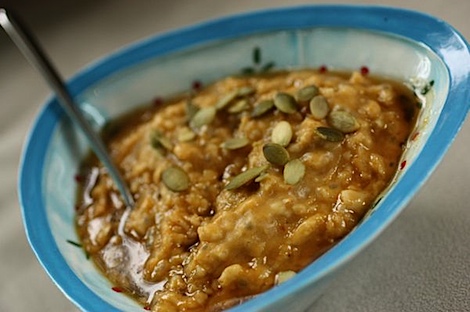 Hello delicious oats! This batch was made with rolled oats, hemp milk, canned organic pumpkin, pepitas, and maple syrup.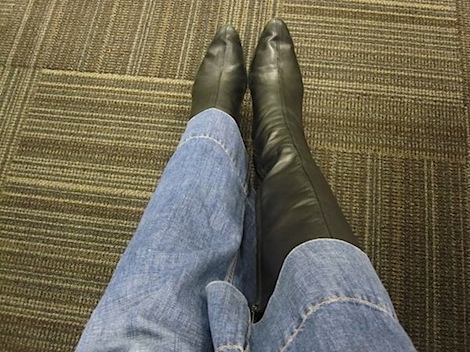 I wore my boots for the first time this season (ok, first time with the exception of my Lady Gaga concert get-up).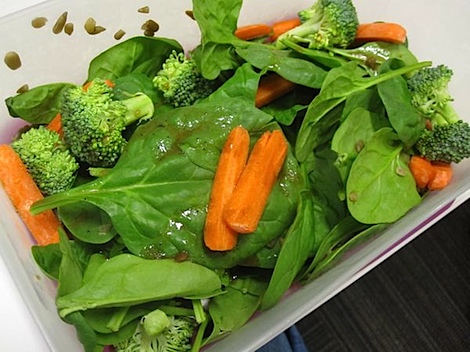 I packed up a large salad for lunch today (last night), but didn't have anything to go with it.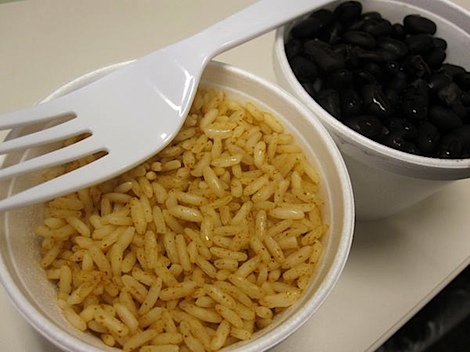 So, I scored some rice and beans for only $2 at a local burrito shop.
I was really excited to try this Peanut Butter Chocolate Chip protein bar from a local eatery, but I wasn't a fan. I love their other flavors to pieces, but this one had RAISINS in it. I don't know if it's the fact that I don't care much for raisins or that I totally didn't expect raisins to be in a PB-Chocolate-Chip flavored bar, but it was not my cup of tea. I'll stick with the blueberry or banana flavors next time because those are scrumptious.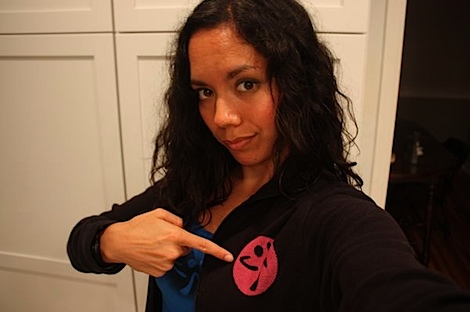 Post-work, I taught ZUMBA! I subbed a class for my friend Alicia (yes, the one I randomly ran into in the Bahamas!) since she was still out of town
We had a really, really FUN class! I hope tomorrow's is just as good. The playlist was kicking and the class was really moving great tonight!
Fave songs of the playlist:
The Power
Everything I Can't Have
She's Hotter
Hello Good Morning
Krazy (an old-school song I'm trying to revive in class)
Speaking of songs…
I CANNOT get Lady Gaga's Speechless song out of my head! I've found myself singing it non-stop for about the last 48 hours. Whoa. Check out the video above – it's sooo good live!
I would really like to try singing this at karaoke…if I could just muster up the courage.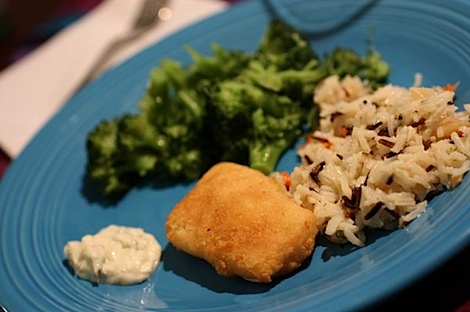 Anywho, hubby had dinner ready when I got home – breaded halibut, garden medley rice and steamed broccoli.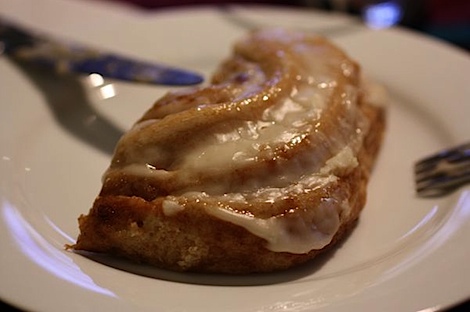 Plus we split a Great Harvest cinnamon roll for dessert. Soo ooey-gooey and yummy!
And speaking of sweets, I've had TONS of birthday dessert but ZERO official birthday cake. I think this is pretty tragic and needs to be remedied immediately. Or at least ASAP. Anyone want to bake me a cake? 😉
***
Btw, the Bahamas were beautiful, but something was missing…
Bailey! That's our little cuddle-monster. 🙂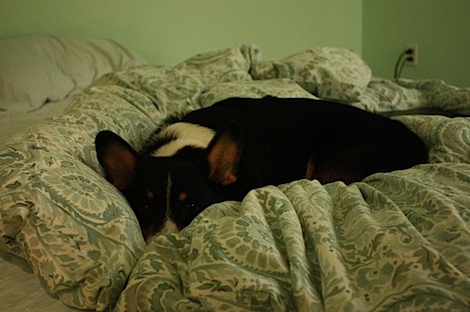 This little guy may have missed us, but he also missed our BED! He's been getting pretty cozy there a lot lately. Spoiled little guy.
Do you let your pet sleep on the bed?