I forgot to mention yesterday, but WOW! You guys eat early! Maybe I should do a New Year's Resolution to start eating earlier?
Ooh and I had fun reading about your eating styles! Glad to see I'm not the only one who gets skittish when it comes to ordering meat at a restaurant. Unless the restaurant states they source quality meats, I assume it's factory. Ew.
On to today's eats…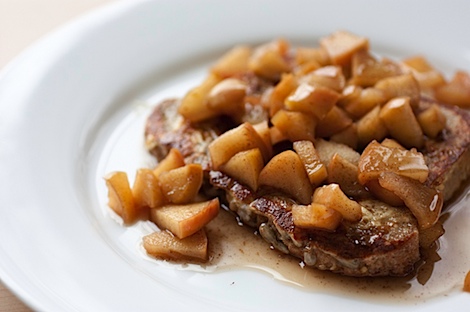 I had a hard time thinking of something interesting to eat today, but finally came up with a simple yet savvy concoction.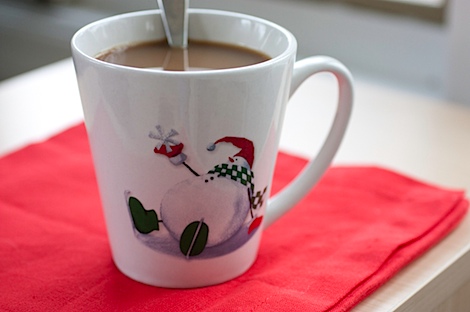 Of course, breakfast wouldn't be complete without lovely, hot, comforting coffee in a Christmas mug. I love the shape of this mug!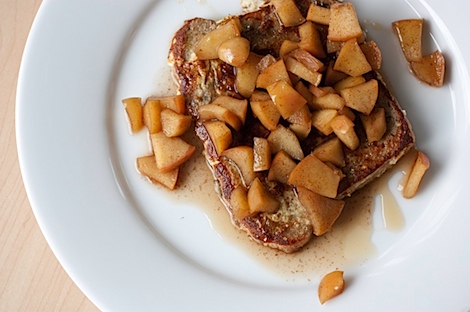 I ended up making french toast with Great Harvest Whole Grain Goodness.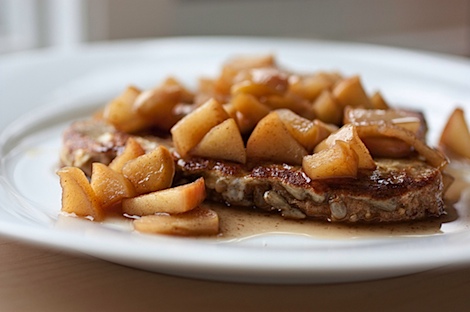 I made a quick apple-maple topping.
Quick Apple Topping Non-Recipe: add 1 small-chopped apple (remove skins if you want, but they have a lot of nutrition), 1/4 cup water, 2 – 4 tbsp maple syrup (depending on how sweet you want), and 1/4 tsp cinnamon. Cook over medium heat to a boil, then simmer till apples are tender and sauce is reduced to your liking. Serve over french toast, pancakes, etc.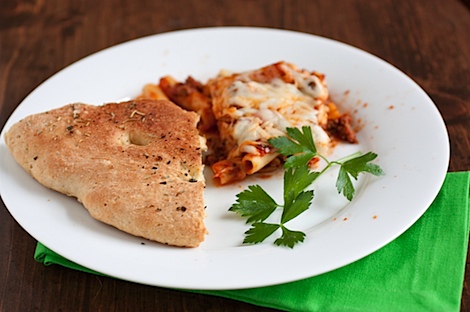 Hubby and I had leftover baked ziti and homemade focaccia for lunch.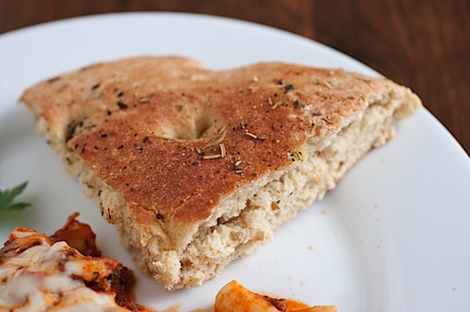 Mmm…re-baked focaccia. 🙂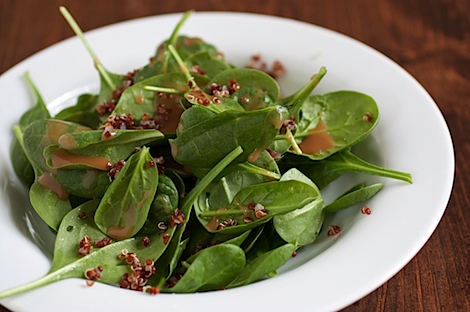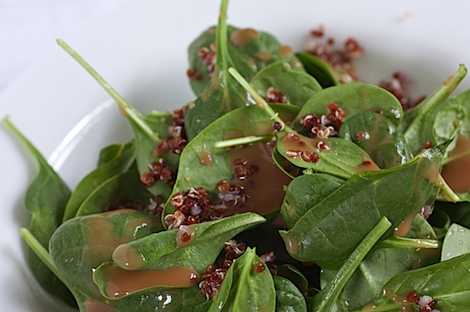 I had a simple salad for some veg – organic baby spinach with red quinoa and balsamic vinaigrette. I've put grains, like wheat berries, in salad before, but I first saw quinoa in salads at Foodbuzz at the Fresh Express tasting table.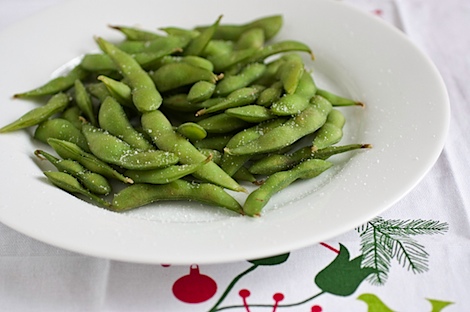 And I had some steamed edamame a little later.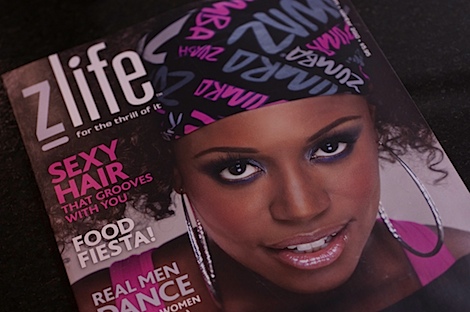 Lookie what I got! The new ZLife, whic is the Zumba magazine.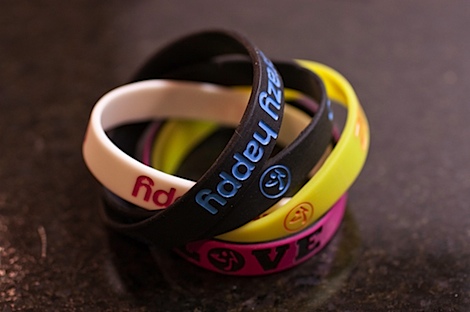 Speaking of Zumba, I taught a fabulous class tonight. I busted out a new song I choreographed, called Mira.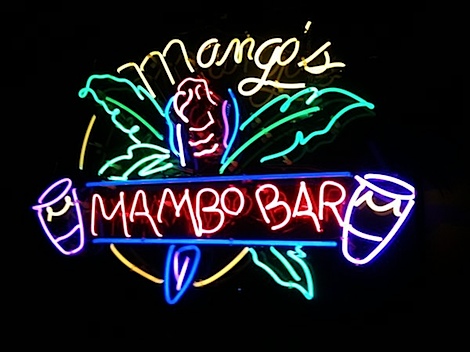 Once upon a time, I went with some friends to a cool club in Miami called "Mango's Mambo Bar."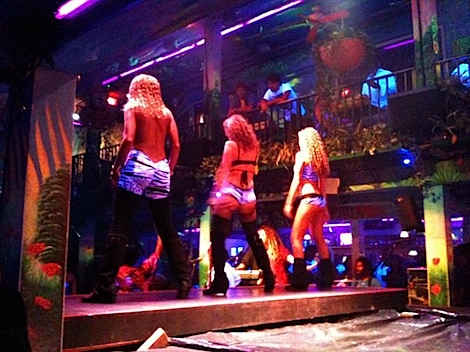 There, I saw girls in skimpy outfits dancing to hot Latin tunes, from Merengue to Reggaetton. The girls were hot, but to me…the dances were hotter! I used inspiration from that trip to choreograph my new Zumba dance – Mira by Fulanito (featuring Truko). My class loved it, and I had fun teaching it! Woohoo!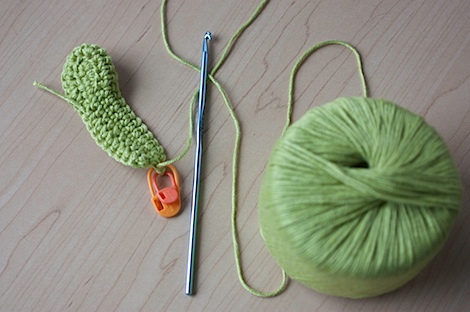 I'm still working on my crochet ripple blanket, but I have a few other things in the works.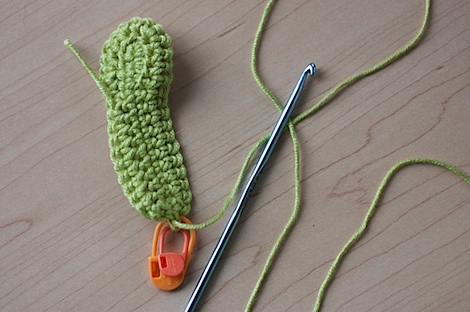 Any guesses what this is?
Fitness Therapy
I tweeted this earlier today:

I feel like workouts can be so therapeutic. I like getting different therapeutic value from different styles of exercise. I've found comfort and a feeling of refreshment from yoga. I've found freedom and endurance in running. I've found empowerment and excitement in Zumba. I wonder what other people think about how their workouts make them feel. I had a few people tweet back at me with their versions of therapy, but I'd like to hear from you guys, too…
What's your fitness therapy? How does it make you feel during or after?