My, my, my…the garden is really growing up fast!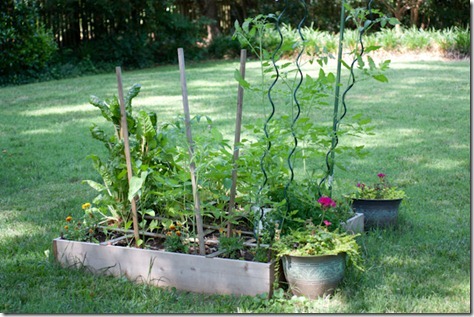 I'm really excited to be eating fresh vegetables straight from my own backyard! I only wish I had a bigger garden! lol. Maybe one day. For now, I will admire the baby vegetables slowly starting to form.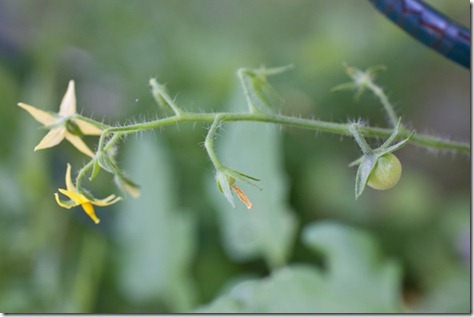 Let's see…we have future cherry tomatoes.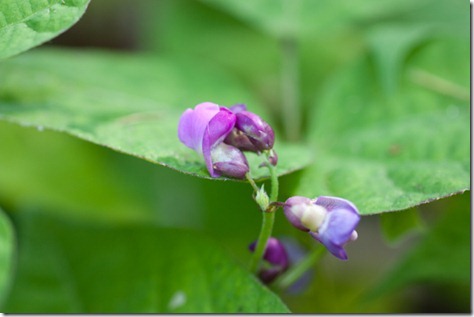 And the green bean plants are starting to flower, which means I'll have tri-color green beans, soon!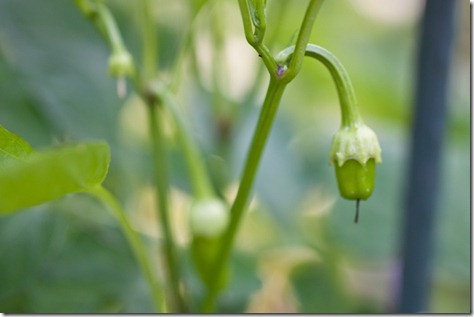 And my banana pepper plant has a couple little mini peppers slowly forming.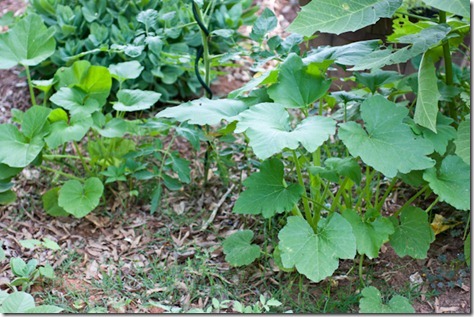 On the other side of the yard, my squash plants are getting bigger and bigger every day!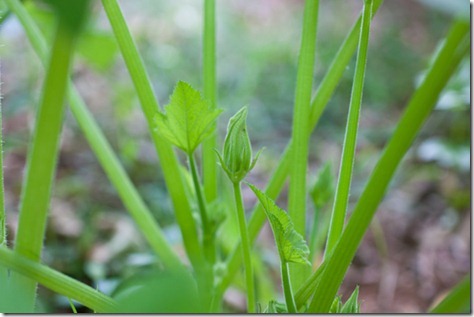 And are those future squash blossoms I spy?
I also have a huge assortment of herbs growing in various pots near the house. On Friday morning, I plucked a fresh sprig of dill, which I used as the inspiration for my veg-i-ful breakfast.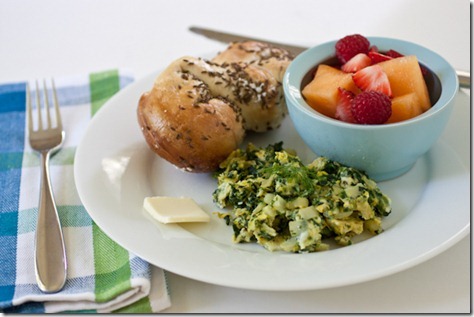 You guys know my usual egg and bagel breakfast? Well…something's been missing for awhile now, and thanks to Project Veg-Up, I've figured it out. I needed to add in some fruit and vegetable servings! Now just look at how much more well-rounded and nutritious this meal is. It took only a handful of minutes longer to put this together, but this is a far more power-packed plate of goodness. Don't you just want to dig in?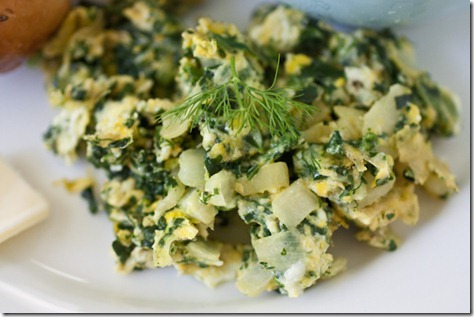 The eggs look like green eggs and ham. hehe. I've seen people doing that with pesto, but this baby is just comprised of spinach as far as greens go. Ooh, and that dill.
Green Eggs and Havarti (with Spinach & Dill)
This take on the classic egg scramble ups the ante with some fresh and flavorful dill and easy-to-access frozen, chopped spinach. For my vegan friends, I bet this would be equally amazing as a tofu scramble!
Serves 2
Ingredients:
1 teaspoon extra virgin olive oil
1/4 cup onion (or do 1/8 if you don't like a lot of onion)
1/4 cup spinach (frozen, chopped)
2 eggs, preferably local or humanely raised
1 sprig fresh dill, chopped (about 1-2 teaspoons)
1-2 tablespoons chopped havarti
Directions:
Heat a small non-stick pan over medium-low heat. Add extra virgin olive oil and onion. Cook onion till it starts to turn translucent, about 4-5 minutes. Add spinach and cook till defrosted, about 2-3 minutes.
Crack eggs into pan and stir to scramble (or you can crack eggs into a bowl and whisk with a fork, but my method is for the lazy chef – less mess! ). Once eggs are mixed together, stir occasionally and cook to preferred texture (everyone has their own doneness preference).
When eggs are nearly done, stir in dill and havarti. Season with salt and pepper. Cook until havarti is just melted.
Serve with whole grain toast or a bagel and fresh fruit.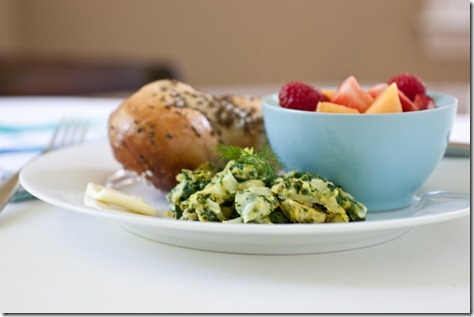 I actually didn't count the veg as 1 serving for Project Veg-Up, but it was still worth throwing them in for flavor alone.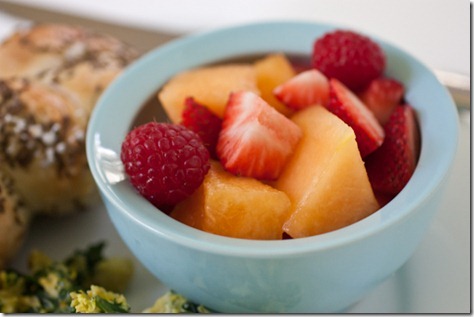 And the fruit made for a great breakfast-dessert – so refreshing!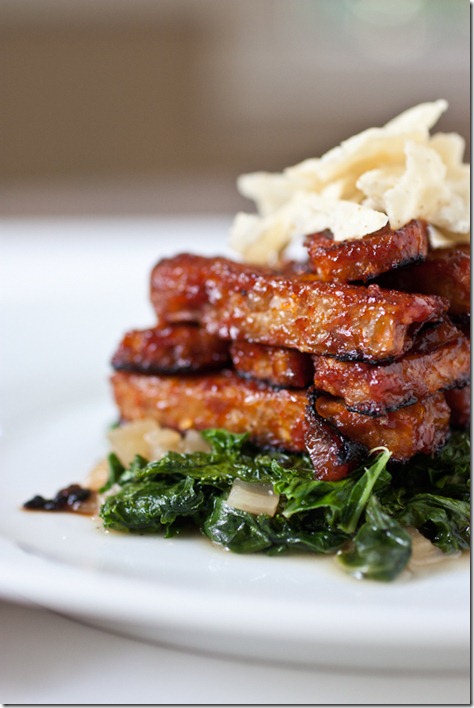 And just wait till you see the amazing lunch I threw together. I used stuff I had around the house and greens from the farmer's market and my garden. It was a very tasty surprise! 
***
Like the post? Feel free to use the share buttons or Facebook-like button to spread the love! 

  And you can click here to get free updates!
***
This morning's lesson: So, even though I usually try to shoot to include fruits and veggies with every meal, I was reminded with today's breakfast just how easy and delicious that can be!
What about you? Do you try to include fruits and vegetables in every meal or do you try to get your servings in at certain times of the day?