I was feeling a little tired from Zumba Convention Day 1. Three sessions, about 5 1/2 hours of dancing total, will do that to you. But all things considered, my body felt strong, and I felt pretty energized still.
My schedule for ZinCon Day 2 (Friday, July 29):
Hip Hop Turn-Up (Gina Grant and Dahrio Wonder) – 10:00 am – 12:00 pm
Asian Invaison (Alena Groopman) – 03:00 pm – 05:00 pm
Fitness-Concert – 08:00 pm – 10:00 pm
Here's Zumba Convention 2016: Day 2 (Hip Hop Turn-Up, Asian Invasion, Zumbawear Store, Fitness Concert).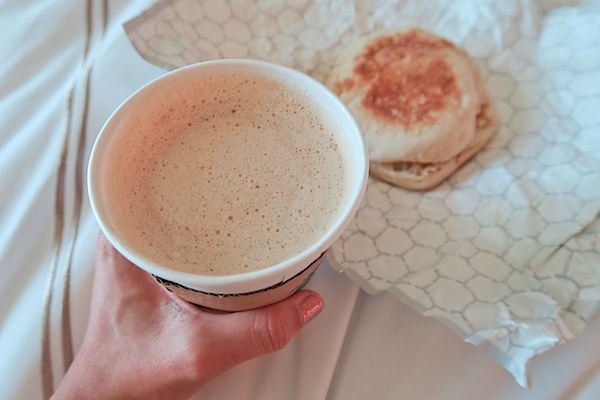 On Day 2, I figured out that I could get just an egg and cheese English muffin breakfast sandwich at the Hilton. This saved me $2 and was also a more reasonable size for me to eat. Woop!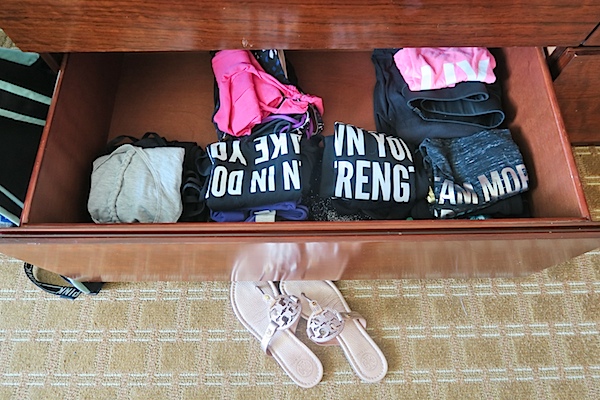 Here's how I organized my outfits for ZinCon. As I mentioned in my packing tips post, I plan an outfit for each session. I stacked each session-outfit together and stored them in one drawer. They fit perfectly!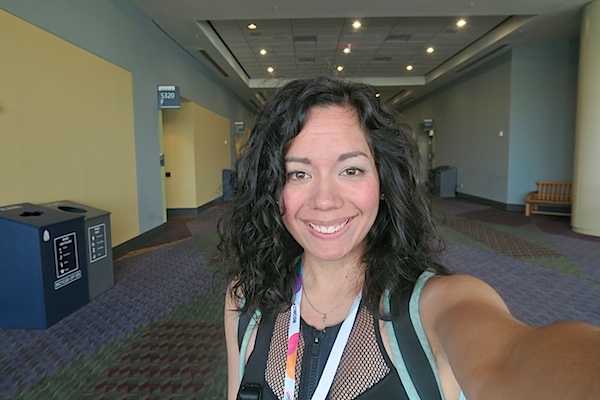 Feeling pretty energetic still!
Hip Hop Turn-Up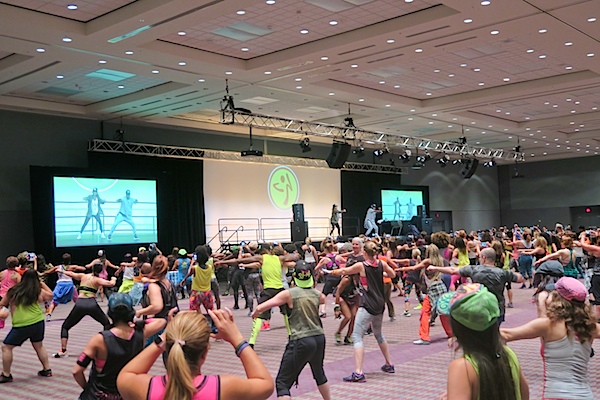 I've always enjoyed the hip hop sessions at Zumba Convention. Even before I started taking real hip hop dance classes in NYC.
This session was led by Gina Grant and Dahrio Wonder. I also did this session last year. I loved the way they broke down some really simple but fun hip hop moves this year. They non-verbally taught moves, repeated them, and then built and repeated from there. Then, they put the moves into songs. The sequences were put into a couple songs initially. Then the moves were spread out into various songs in the master class at the end of the session. Everyone was following along swimmingly and looked like they were having so much fun!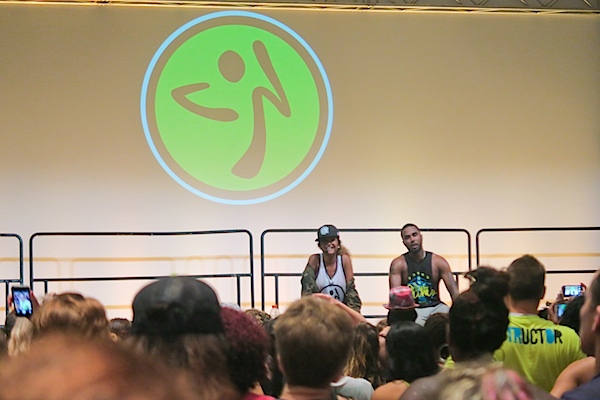 And then similar to what Kass did, Gina and Dahrio did a Q&A at the end of class. It was so nice to have this personal touch with some of my favorite ZinCon presenters.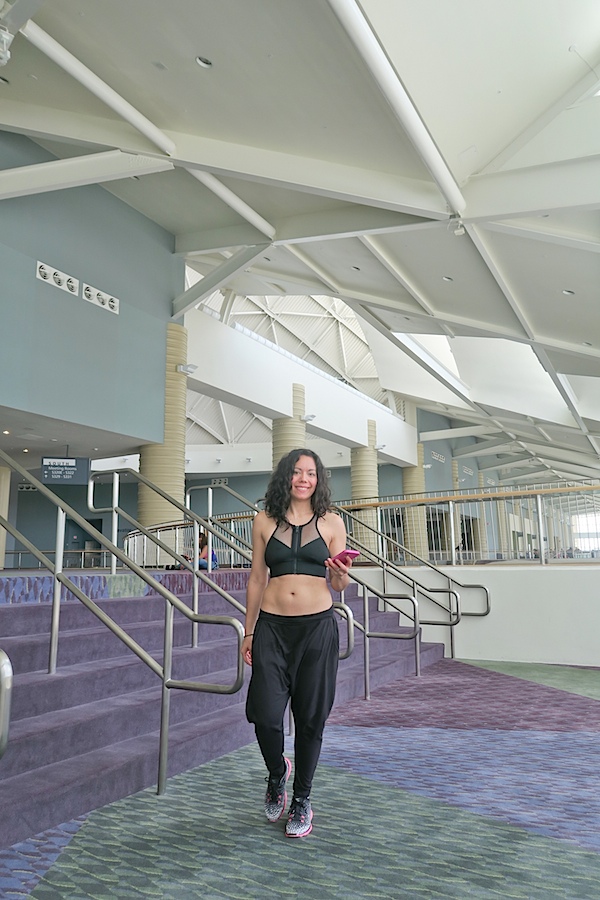 Here's my Hip Hop Turn Up outfit: harem pants from Discount Dancwear, mesh top by Michi NY, shoes by Nike.
Break Time
I had a surprisingly long break in between sessions on Day 2. These are rare but much appreciated. I took it to spend some quality down time relaxing.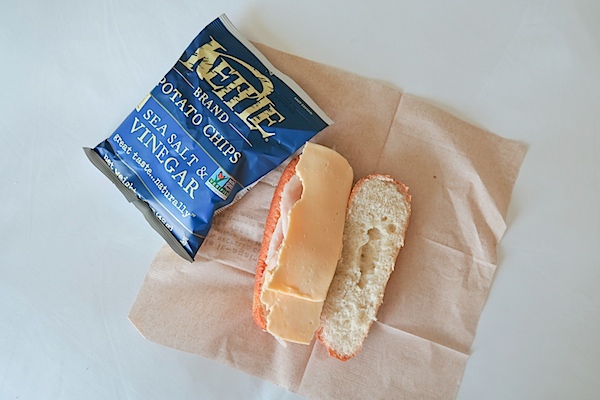 I made lunch in the room again. Another turkey-havarti sammie with salt and vinegar chips I picked up at the market. Plus more tomatoes.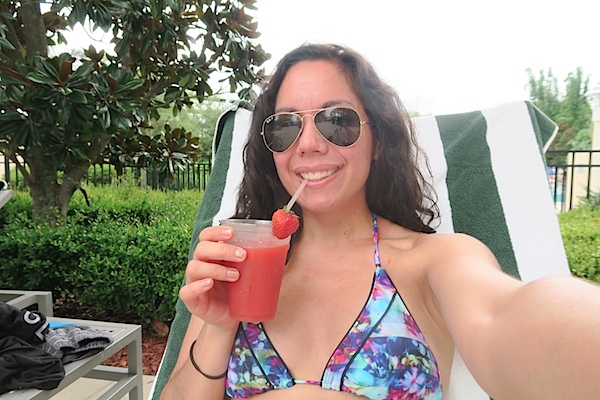 I even had enough time to visit the pool again. It was just long enough to get some vitamin D and enjoy a Chloe's soft serve strawberry mocktail.
Asian Invasion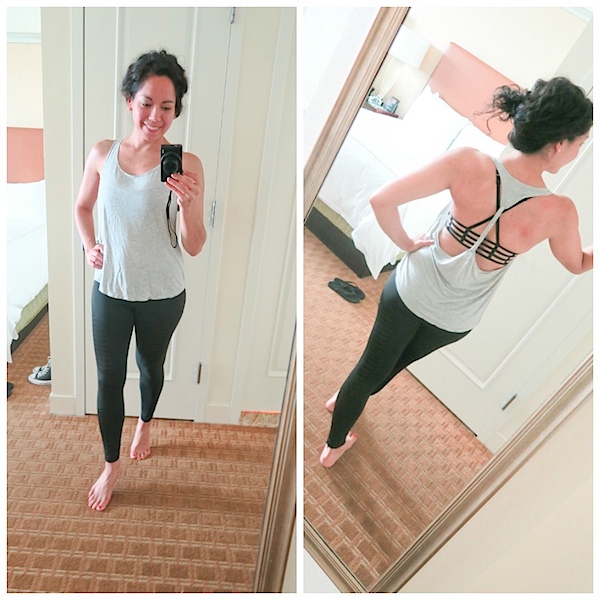 Here's my outfit for the Asian Invasion session: tank by Forever 21, sports bra by Lululemon, mesh pants by Reebok. I also wore shoes. I guess I forgot to put them on before this photo. lol.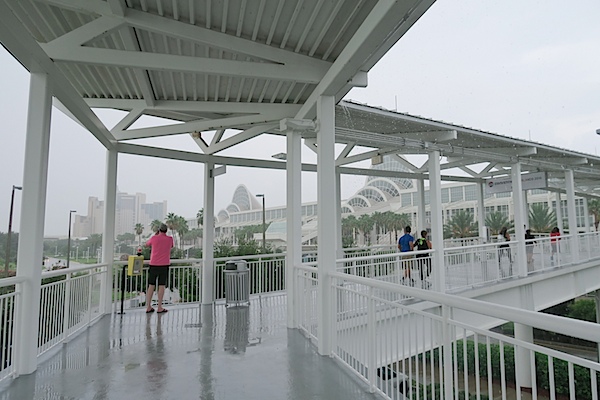 I actually got rained out of the pool. It was about time for me to leave anyway, but the rain was my hard stop. Thank goodness the white mile is covered!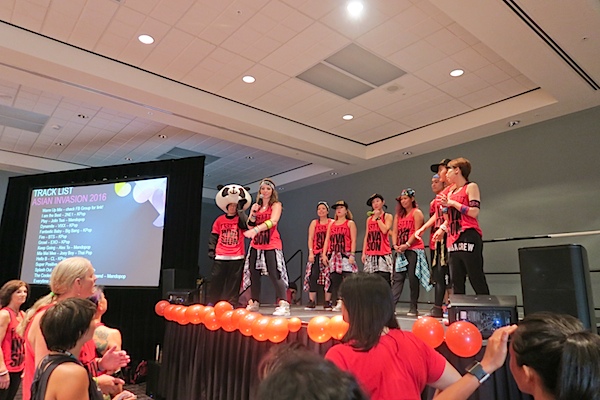 I was really looking forward to my afternoon session – Asian Invasion with Alena Groopman. And not just because I'm Asian. I happened to catch Alena on the Let It Move You stage last year and saw three of her songs. They were all amazing. I even brought one back to my class ("I Am the Best"), and they loved it.
The session was everything I'd hoped for. The energy was super high, the songs were almost all new to me, and the choreo was so fun. Did I mention there were three Filipinos on the stage?! Yas!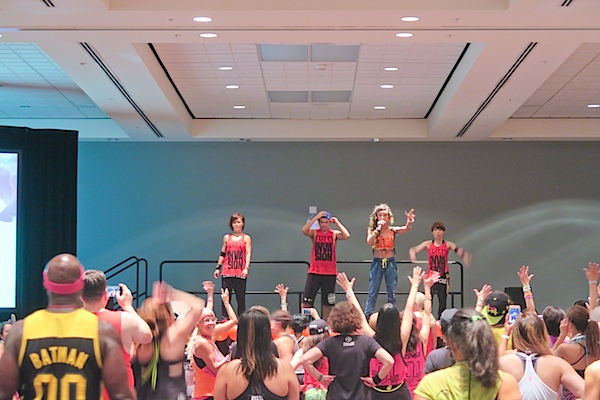 We even had a special live performance by J-Pop star Aisha.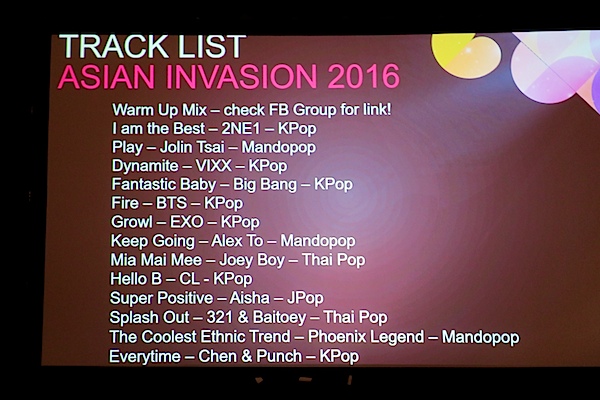 Here's the Asian Invasion 2016 playlist.
And the whole crew! Loved them!
Zumbawear Store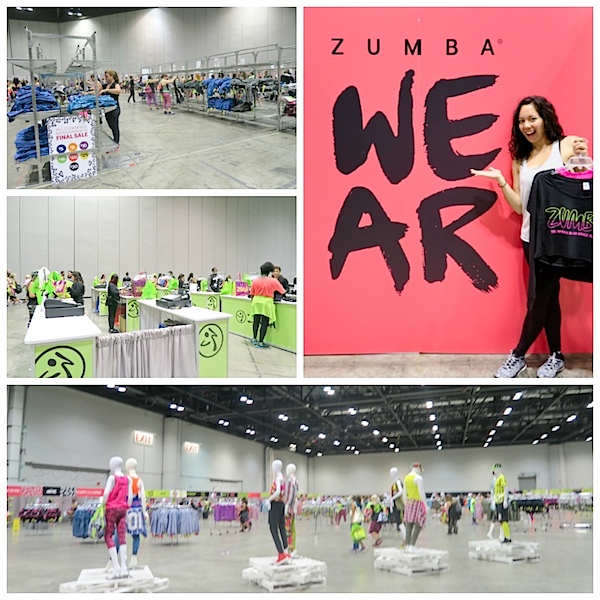 Since I had another pocket of time before the Fitness Concert, I finally swung by the Zumbawear Store. I expected them to be sold out of this year's favorites, and they were. Most things were still there, but the size availability was often scarce for many items.
Not surprisingly, I found a couple goodies to take home.
I also swung by the discount store, but it was picked nearly clean. That one always goes so fast!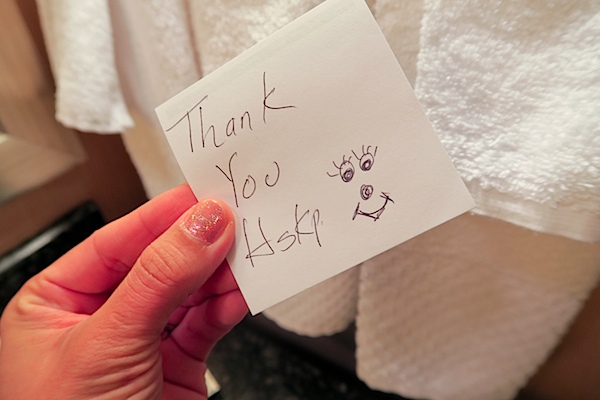 When we got back to the room, we had a note from hospitality. Aww!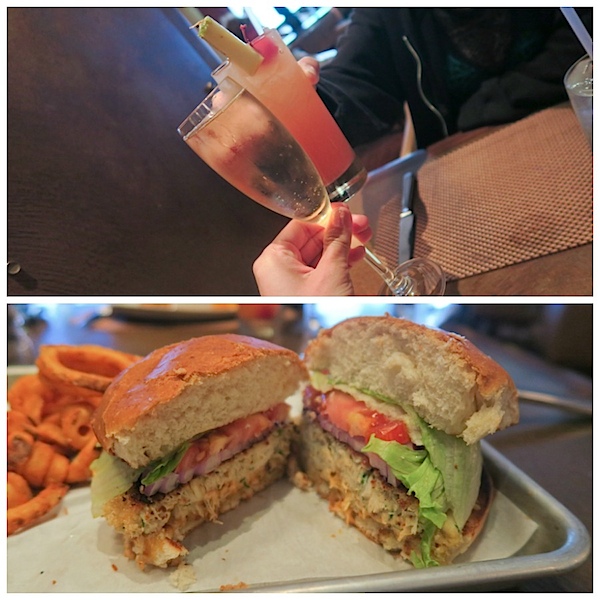 We went back to David's for dinner. This time, I tried the crab burger. It was like a crab cake sandwich, and it was really good. This was served with curly fries.
Fitness Concert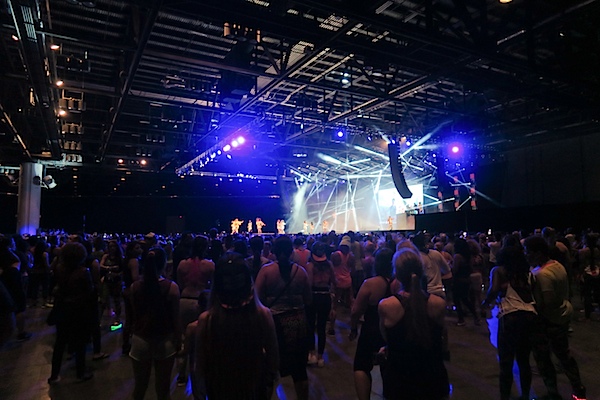 I really am always a bit in awe when I see the Fitness Concert in person. I think 6,000 people attended this year's. That's a lot of Zumba love.
Shaggy performed!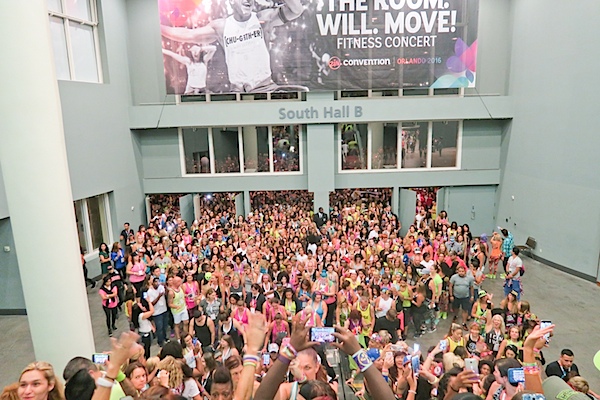 Here's the crowd leaving. This is one of my favorite photos of convention.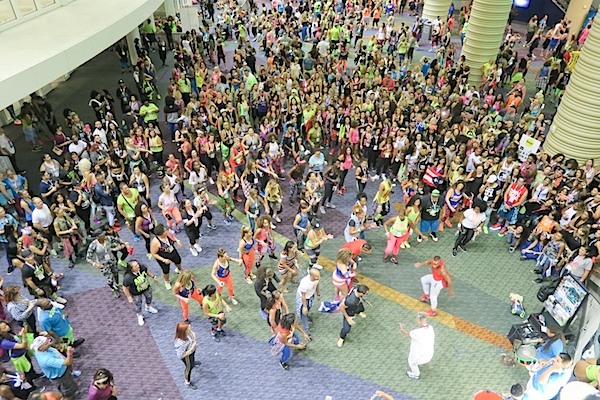 And afterwards, an impromptu dance party broke out.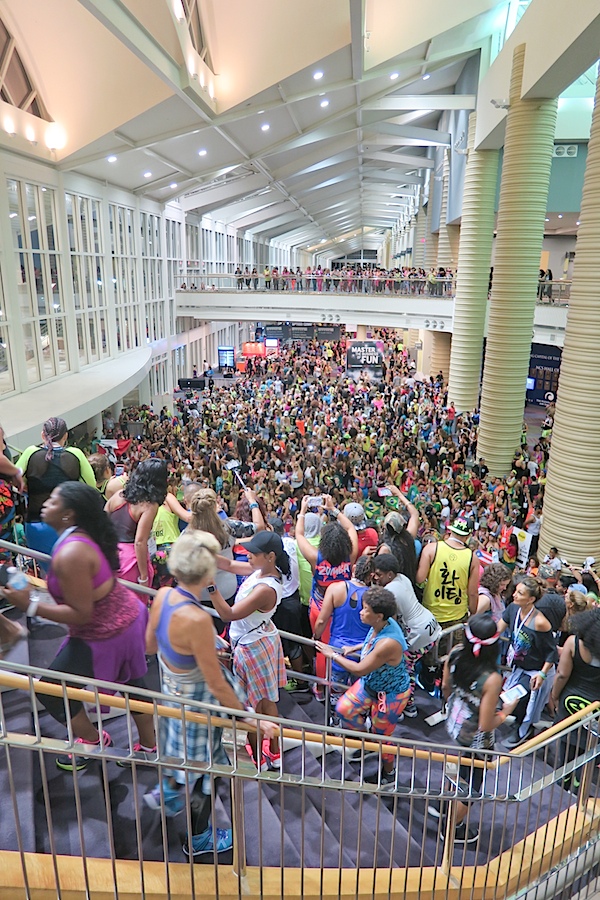 So much Zumba! I love it!
More Zumba Links
Check out my other Zumba Convention 2016 posts:
Next time – Zumba Convention 2016 Day 3 (Came to Party Master Class, Tribute to the King and Queen of Pop, Tropical Urban)