Hi friends! This post features a GLAM-O-WEEN planner decorations look. Yup, it's a orange, black, green, with pink and gold accents. Traditional colors with some fun elements. This is what's so great about planners – you just have fun and play. And who couldn't use some more play in their lives? This look is colorful while still leaving plenty of writing space. And I filmed a Plan-with-Me video to show you how I put this layout together. Planner supplies are linked at the end of this post.
Oh and if you're looking for last minute decorations – this is a great option because you can purchase the key materials at your local Paper Source.
Note: This post contains affiliate links. If you make a purchase from one of these links, I may make a small commission at no extra charge to you. I use and love the products and shops linked. Please feel free to reach out if you have any questions.
*VIDEO* Glam Halloween Plan with Me | Erin Condren Vertical LifePlanner 2018
Click here to watch the video if the above player doesn't work.
Glam Halloween Planner Decorations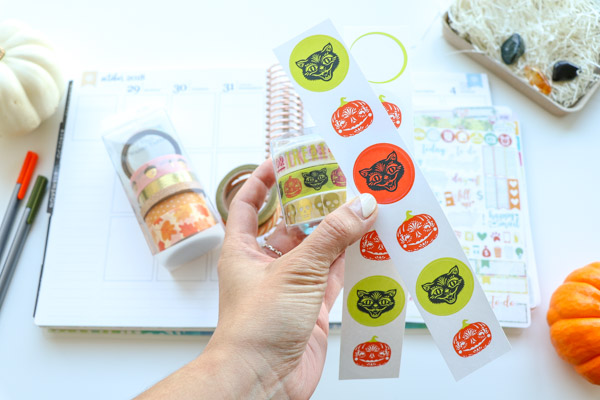 Whenever I start decorating my planner, I start with an inspiration piece. In this case, I used this mini washi tape set and stickers by Paper Source.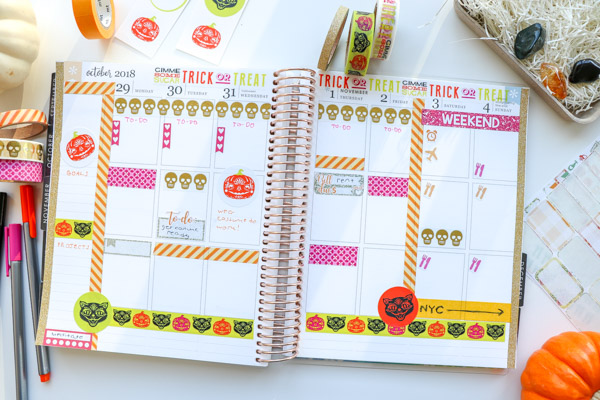 After that, I added coordinating washi tape, Etsy stickers, and color pen writing to maintain the color scheme throughout the spread.
I used washi tape and some of the sticker kit I used in this fun fall "Sweater Weather" Plan with Me video & post.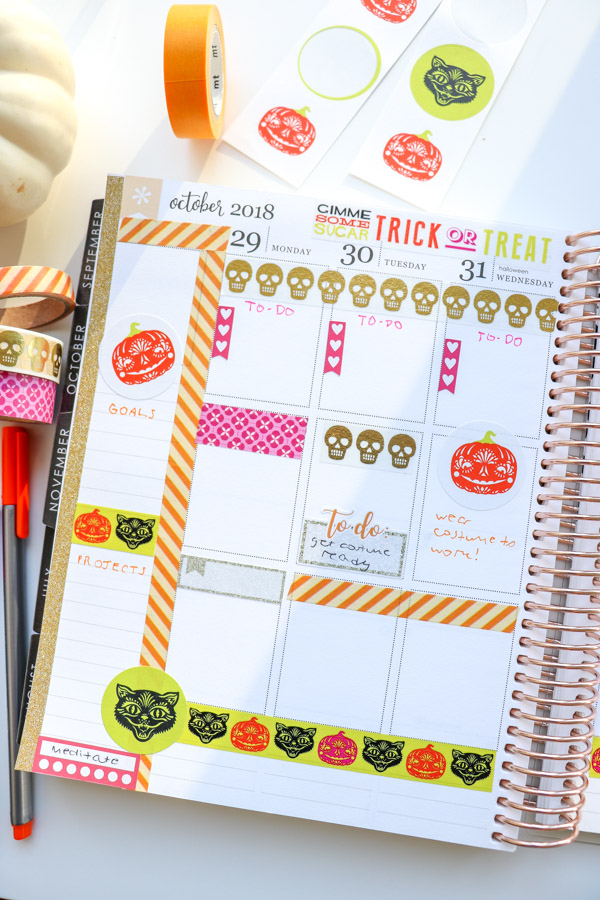 When I want my planner decorations to be extra colorful, I'll add extra pieces of washi tape in the tops and/or bottoms of the vertical day boxes. Now that I'm using multiple planners, I've found that I don't need quite as much writing space, so this allows for more decorations!
On this layout, I'm using the left column to track Goals, Projects, and a habit of meditation.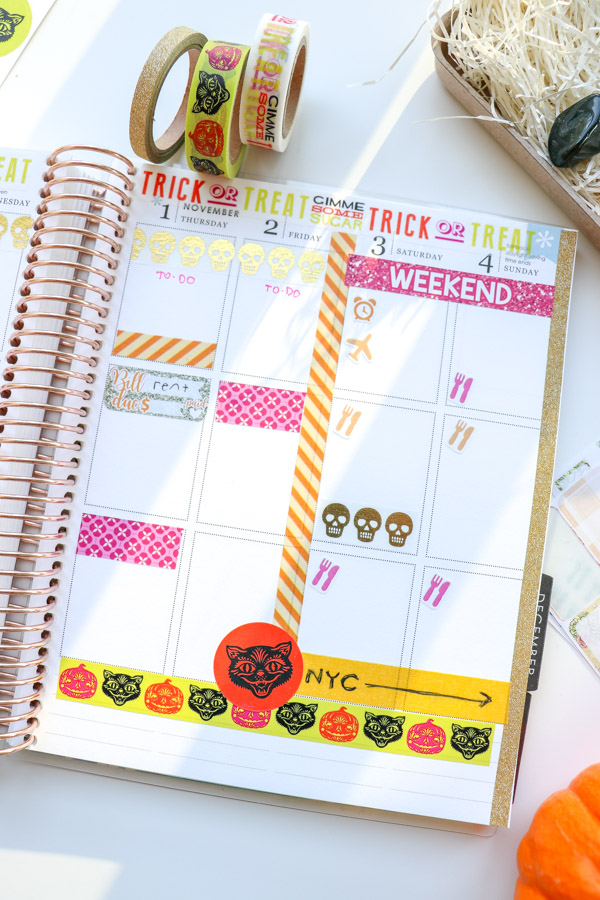 Planner Supplies & Shopping
Some of the stickers were sold out when I went to find links for you, so in some cases, I've linked similar items below.
♥ Fall sticker kit – It's Planning Time "Sweater Weather"
♥ Halloween washi tape set by Paper Source (not available online)
♥ Fall washi tape set by Paper Source
♥ Similar checklist stickers by Nicole Hutch Designs
♥ Similar glitter weekend banner stickers by Nicole Hutch Designs
♥ My Go-To Color pen set
♥ Scissors
♥ Planner – Erin Condren LifePlanner
Save $10 on your first Erin Condren with my referral link
More Planner Fun
Click here for more Planner Decoration Ideas
And how about this Sweater Weather Fall Plan with Me
Click here for my Fall-Themed Layout for October 2018
Here's a quick tip on how to make text stand out in your planner
***
Thanks so much for reading and watching! Hope you liked this Glam-o-ween Plan with Me: Halloween Pink And Glam | Erin Condren Vertical LifePlanner 2018. Cheers!