Hi planner friends! Today I'm sharing 7 Reasons I Love the Erin Condren LifePlanner 2019 AND I'm doing a GIVEAWAY (closed)! That's right…you can win your very own LifePlanner. Stay tuned for dets below. Oh, and the new Erin Condren LifePlanner is debuting today! The 2019-2020 planner is here. Woop!
Note: This post contains affiliate links. If you make a purchase from one of these links, I may make a small commission at no extra charge to you. As you know, I've used the ECLP since 2011, so it's definitely something I love to use based on lots of personal experience. But do reach out if you have any questions.
*VIDEO* Get More About the 7 Reasons I Love the LifePlanner
Click here to watch the Erin Condren video if the above player doesn't work.
***
Here are some photos…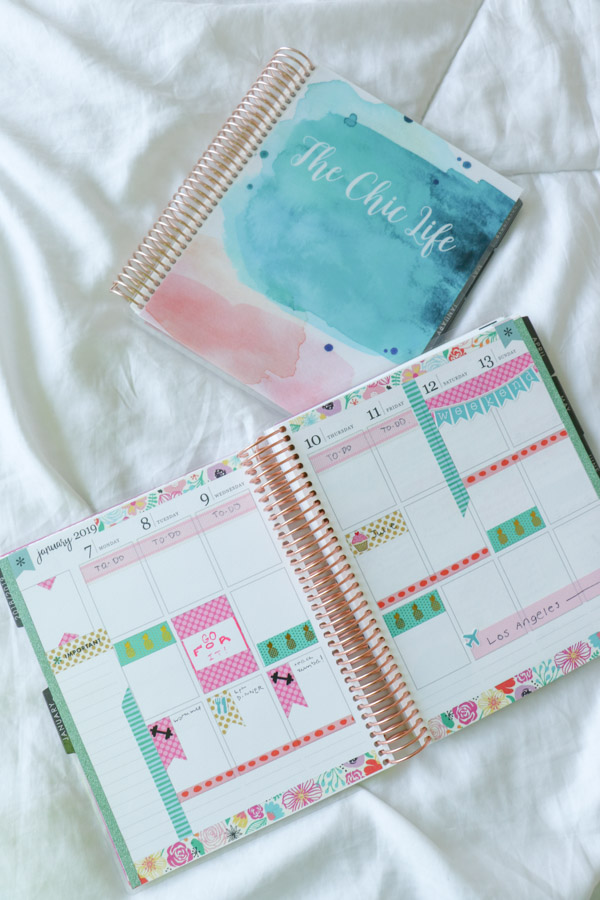 So I have a good amount of experience with the Erin Condren LifePlanner, because I've used it since 2011. As you may be guessing, I've used quite a few ECLPs over the years. Lol! And there are certain things that make me keep coming back again and again.
Let's discuss this more, shall we?
7 Reasons I Love the Erin Condren LifePlanner
#1) Weekly and Monthly Layouts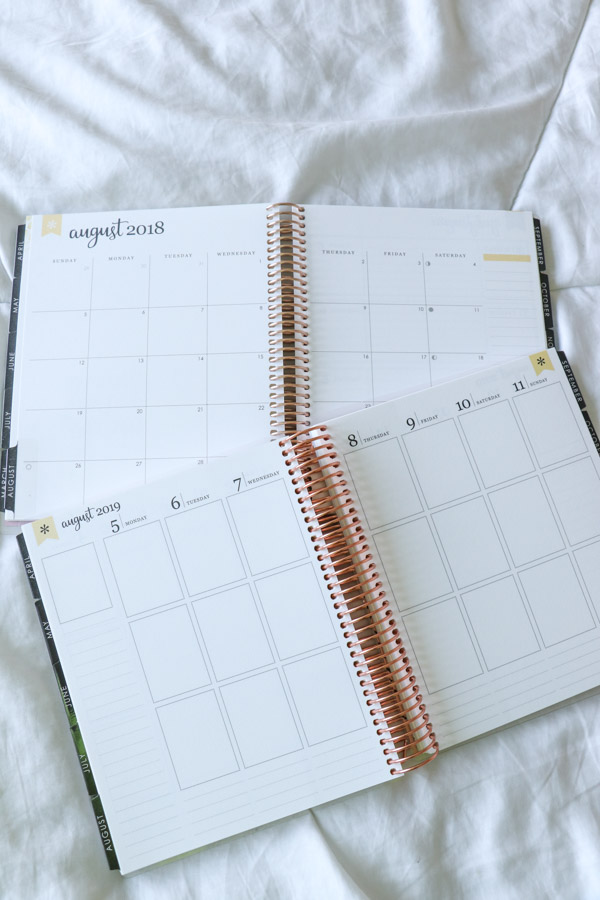 Back in middle and high school, I used a planner with weekly and monthly layouts. And I LOVED them. After college, I tried using smaller (pocket) planners with only monthly layouts. That style wasn't for me. Besides that planner being too small, it didn't function the way I wanted it to.
Basically, I love using the monthly layout for higher level planning and the weekly layout for everyday planning. Def planning to detail this out more.
#2) Speaking of Layouts
There are also multiple types of weekly layouts now – vertical, horizontal, and hourly layouts.
Additionally, there are other planner types altogether: teacher planners, goal setting planners, and more! Check out the EC site to view all the options. There are so many now!
#3) Ample Writing Space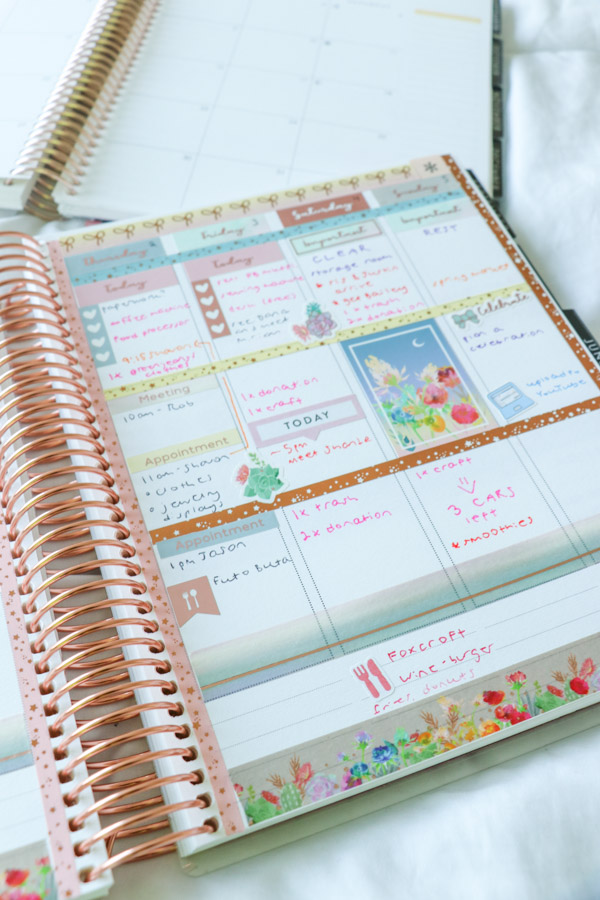 I swear I've had more writing space in my LifePlanner than I have had in planners that were physically bigger. Not sure how it works, but I feel like I can write in everything I really need. And this is great.
Rarely do I find myself thinking – geez, I wish I had more space here to write.
Instead, for most layouts, I have plenty of white space. And this is nice if you are the type of planner who likes to go back and add a bit of journaling / memory keeping in your weekly or monthly layouts.
#4 Thoughtful Design
Shout out to the Erin Condren team for listening to community feedback and incorporating as much as you can with every release.
One small example is how the tabs (on the monthly sections) were thick paper that still bent out of shape. The EC team ended up laminating these tabs, and now they're perfect for a whole year! (Maybe longer, but I guess I don't use it after a year though, haha).
#5 Customizable and Interchangeable Covers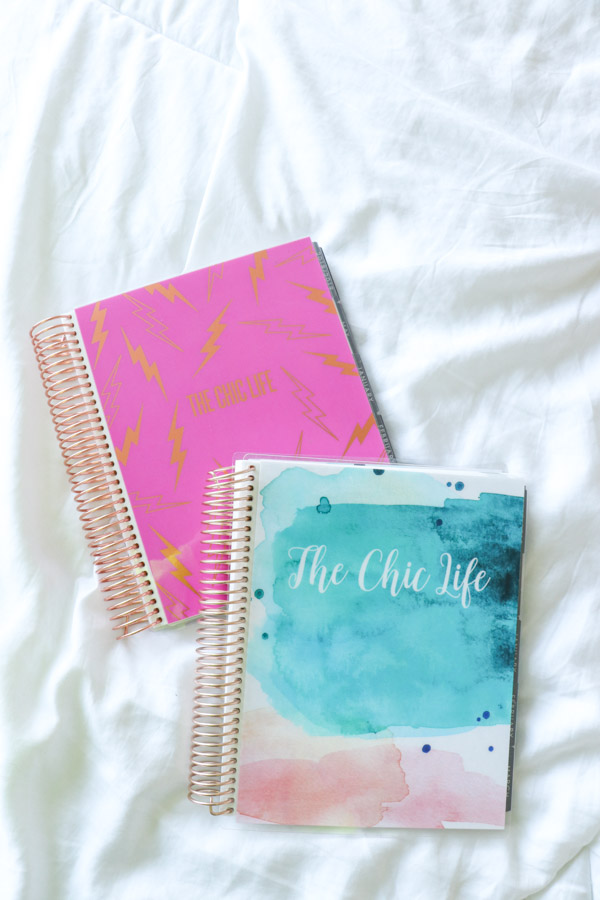 The covers are super customizable. For many designs, you can change the entire colorway. Want pink cactuses instead of green ones? No problem!
On almost all, you can add your name or initials. Or something else!
And they even have covers that you can add your own photos to so you can look at whatever you want all day while you're planning.
Like Bailey, my corgi. His photos would make a fantastic planner cover. Just sayin.
#6 Quality Paper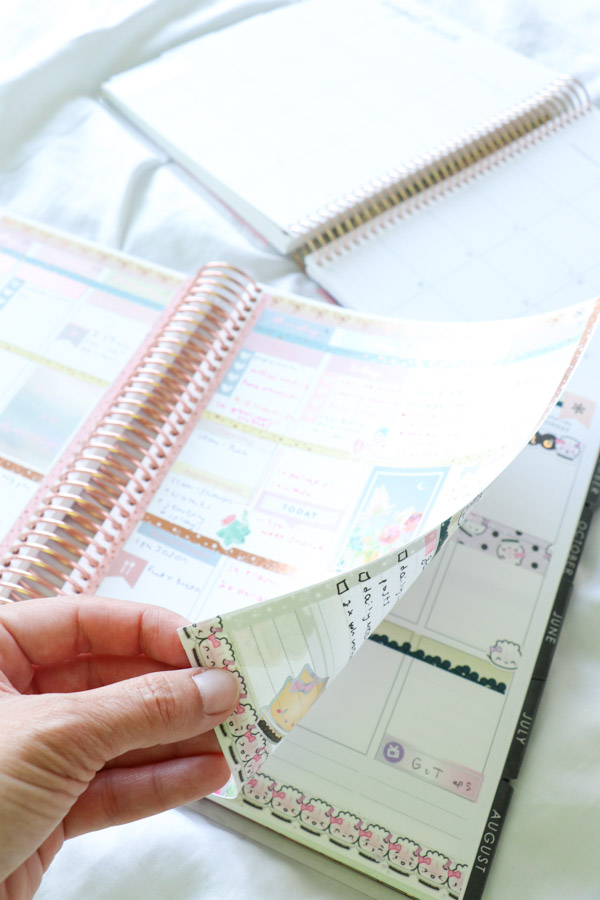 The paper in the Erin Condren LifePlanner is also a very nice quality. It's thick without being bulky, and this is good because:
I rarely have issues with ink bleeding through (it usually only happens if I go back and forth on my writing a lot)
And the paper rarely rips
It's good to be able to fully use your planner without worrying about damaging it.
#7 Erin Condren Community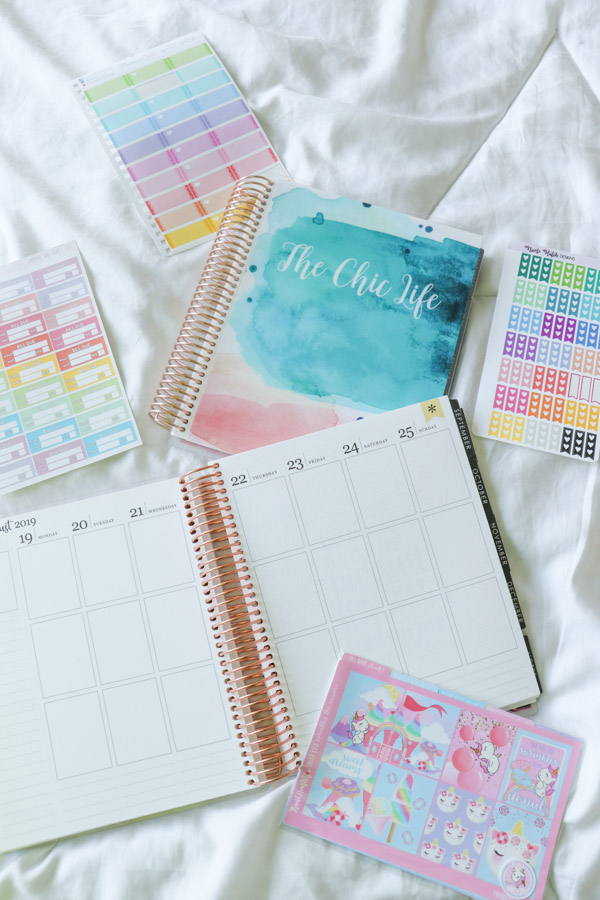 And by community, I mean the unofficial, non-affiliated community.
Thanks to Erin Condren being one of the first leaders in modern paper planners, there's a whole world of EC fun out there, including:
Custom stickers: Infinity* Etsy shops making custom-fitted planner stickers just for the ECLP
Free printables: on Pinterest so you can print your own stickers in an affordable way
Inspo / ideas: on YouTube, Pinterest, etc. so you can get ideas on how to decorate and use your planner
Be sure to check EC-related hashtags for awesome content. Examples include: #erincondren, #eclp, #plannerlove, and more!
Giveaway (Closed) – Win an Erin Condren LifePlanner 2019
UPDATE: This giveaway is now closed. Congrats to our winner – Donnie! 🙂
Additional Giveaway Details/Rules/Info:
» This giveaway is actually for more than just a LifePlanner. I'm gifting you $80 in gift certificates, which means you can get a LifePlanner plus upgrades and/or shipping to most locations. Woop!
» Winner must reply within 48 hours of my notification that you that you won or I will select a new winner.
» Shipping requirements are according to Erin Condren's shipping policy – please check that EC ships to you before entering here.
» Get the rest of the rules here linked above.
***
Save $$$ on Your First LifePlanner
Didn't win? You can use my referral link (click) to get a discount on your first LifePlanner.
***
More Planner Fun
How to Use and Organize Your Planner
Your First Planner Spread – Easy Planner Decoration Ideas for Beginners
Click here for my main Planner page (and easily get to the rest of my planner posts and ideas)
***
Thanks for reading and watching my 7 Reasons I Love the Erin Condren LifePlanner. Good luck to those entering the giveaway! Cheers!
READER QUESTION: Do you have an Erin Condren LifePlanner? What's your favorite thing about it?