This one goes out to my fellow foodies looking for a quick and easy variation on the classic grilled cheese. OR a tip on how to make a grilled cheese sandwich healthier. For you, I have this Healthier Italian Spiced Grilled Cheese Sandwich Recipe.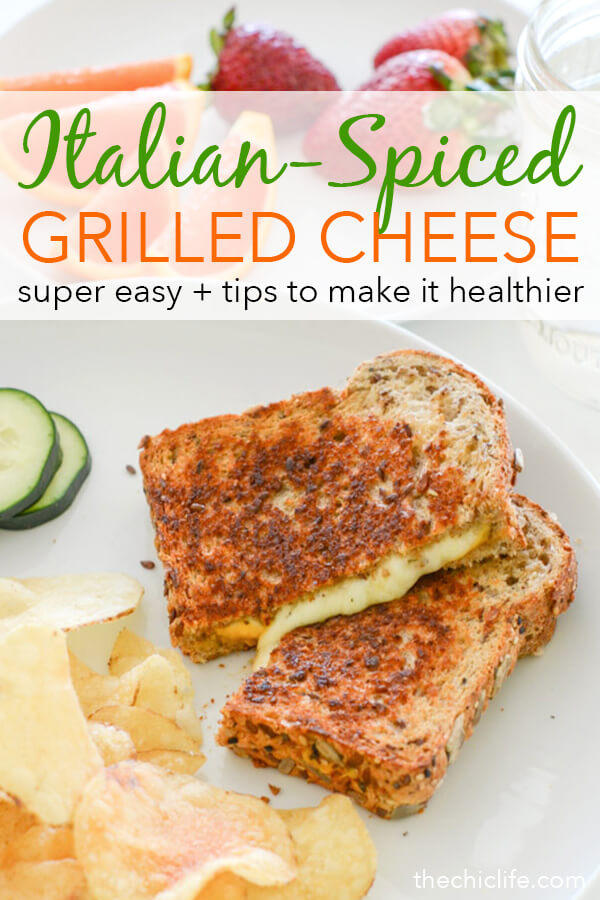 Yum! Who wants in on this golden brown Healthier Italian Spiced Grilled Cheese Sandwich Recipe?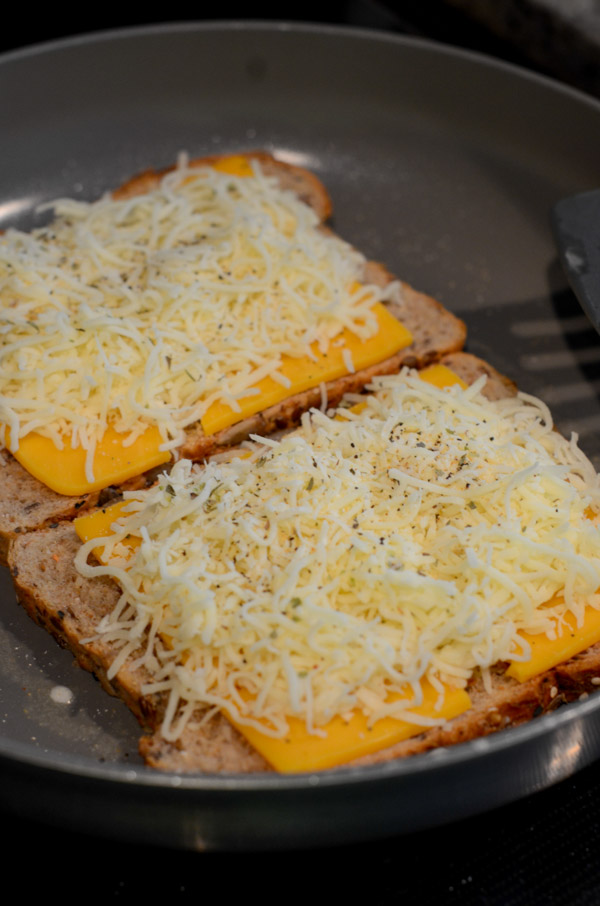 Now, I know what you're thinking:
Grilled cheese isn't healthy.
How is this "Italian"?
Let's discuss!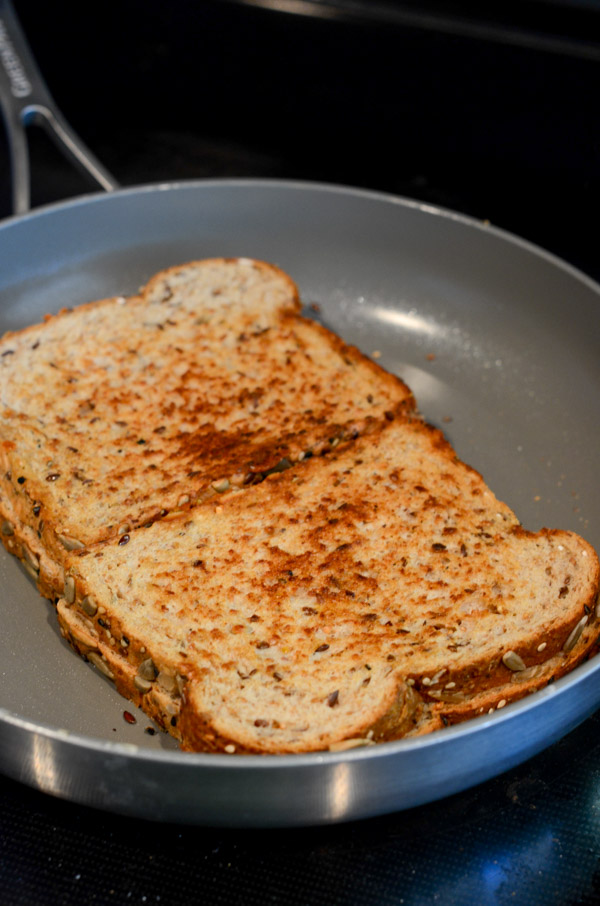 An Easy Pantry Meal Idea
The inspiration for this Healthier Italian Spiced Grilled Cheese Sandwich Recipe came from me working from home, needing to eat lunch, and having no time to go to the grocery store. Where are my corporate peeps?
I did what I usually do in such times – I turned to my pantry.
What did I already have?
Well, I'd been making grilled cheese sandwiches, so I had bread, cheese, and vegan butter*. Except…
I only had ONE slice of cheddar.
Could I do a lightly-cheese-y grilled cheese?
NO!
I mean, just…no.
*Though I have cheese, I'm currently using vegan butter as I work my way towards eating more plant-based foods.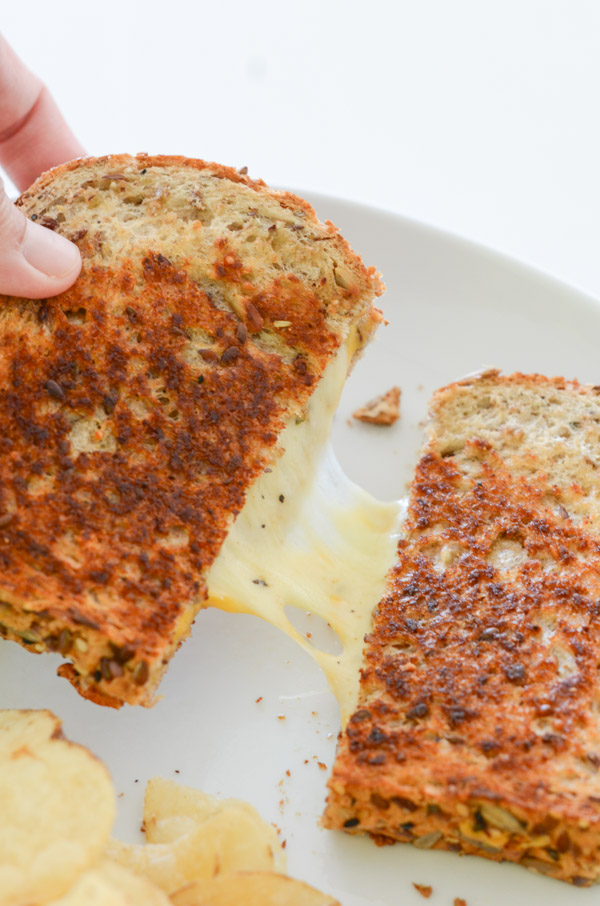 Italian-Spiced Grilled Cheese Recipe
Luckily, I had some leftover shredded mozzarella cheese on hand.
But with the different cheese (and the fact that I'd already eaten a lot of grilled cheese sandwiches recently), I decided to change the flavor profile a wee bit. Also using pantry ingredients.
So yea, I know this isn't an "Italian grilled cheese". I'd consider maybe a ciabatta roll with vine-ripened tomato slices, fresh mozzarella, and fresh basil (caprese-style) more along these lines. But that sounds like a grocery trip in the making. Amirite?
But that's why we're calling this version "Italian-spiced". Emphasis on the "spiced".
Because with a dash of Italian spices and garlic powder, plus that mozzarella, you get a whole new flavor profile. With little effort required!
And that's the key – low effort.
Especially when you're in the middle of a busy work day.
Because sometimes you want a simple food idea, right?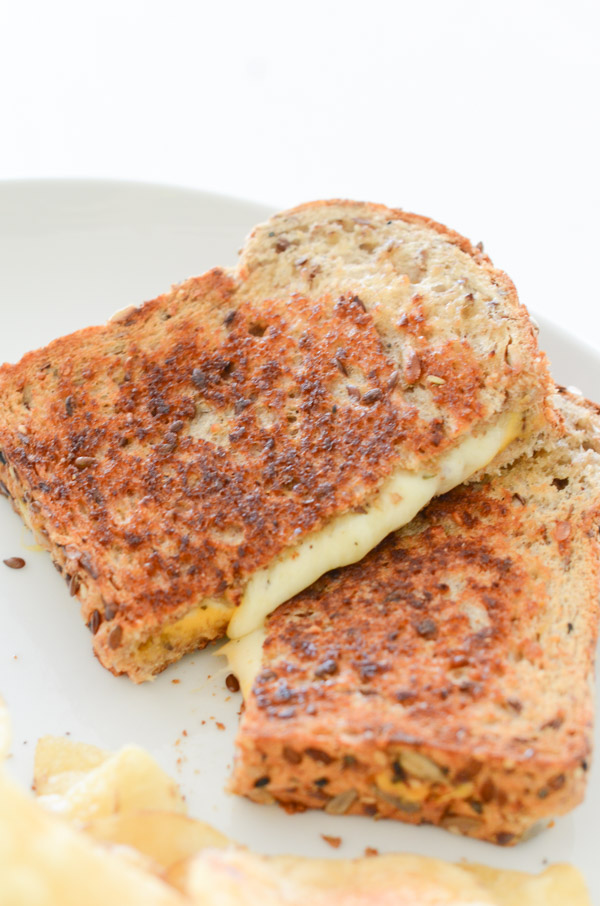 How to Make Healthier Grilled Cheese (Without Going Overboard)
So if you're anything like me, when you want pasta, you want pasta. Not zoodles!
In the same way, when you want a grilled cheese sandwich, you want a flippin' grilled cheese sandwich.
So, I'm not going to tell you to use cheese substitute, collard greens instead of bread, or something weird like that.
Instead, here's how you can make your grilled cheese healthier:
Use a good quality, clean eating style, whole grain bread (bonus points for nuts and seeds included)
Use less butter for cooking
Opt for Healthy Bread
Using a whole grain bread helps boost nutrition value (especially with nuts and seeds – those things pack a punch). And whole grains are generally good for keeping you satiated longer.
And dodge the chemicals by going cleanish on the bread. You'd be surprised at the ingredients I've seen in some breads at the grocery store.
Currently, I'm loving Dave's Killer Bread. The ingredient list is long, but that's because there are 21 different whole grains included.
Use Less Butter
As it turns out, you don't need a lot of butter to get the bread golden brown. In this recipe, I recommend using 1 teaspoon. When I make my grilled cheese, I don't measure this. Instead, you can use an eyeball measurement. The amount probably varies between 1-2 teaspoons for me.
Is it just me or do most recipes (and restaurants) absolutely drench grilled cheese sandwiches in butter?
So, add just what you need to get a light spread.
For numbers, I googled "grilled cheese". The top 3 results used between 1-3 tablespoons of butter. Here's how that impacts calories and fat as far as Earth Balance goes:
1 teaspoon (recipe amount): 33 calories + 3.6 grams fat
1 tablespoon (lowest googled amount used): 100 calories + 11 grams fat
3 tablespoons (highest googled amount used): 300 calories + 33 grams fat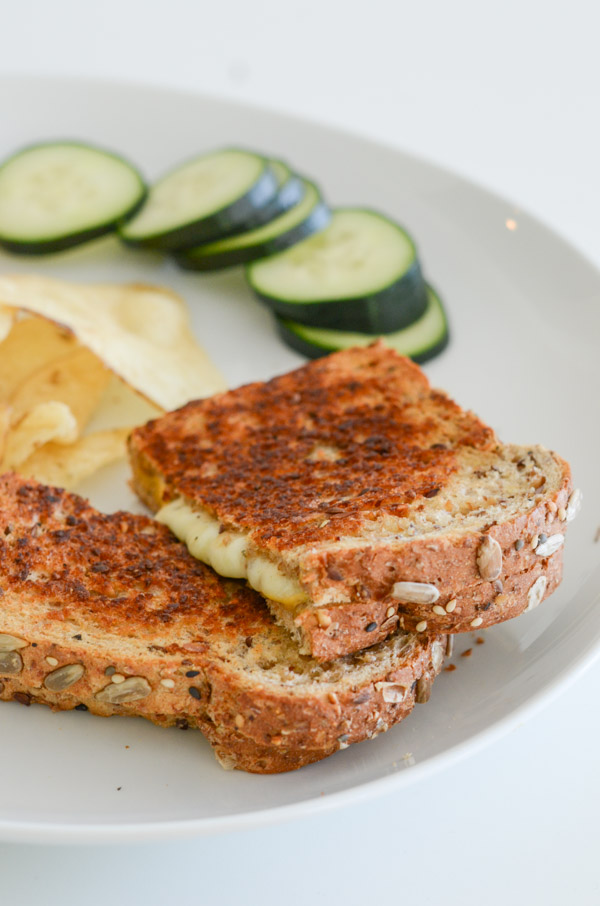 Make This Healthier Grilled Cheese Recipe a Meal
And to go with this Healthier Italian Spiced Grilled Cheese Sandwich Recipe, I like to have kettle chips, cucumber slices, and fresh fruit on the side.
The chips are also low effort. Sour Cream and Salt & Vinegar are my jammmm right now!
And the cukes and fruit and make the holistic meal even healthier with even more nutrition added.
With this complete meal, you have a pretty awesome, clean eating, working lunch. Woop!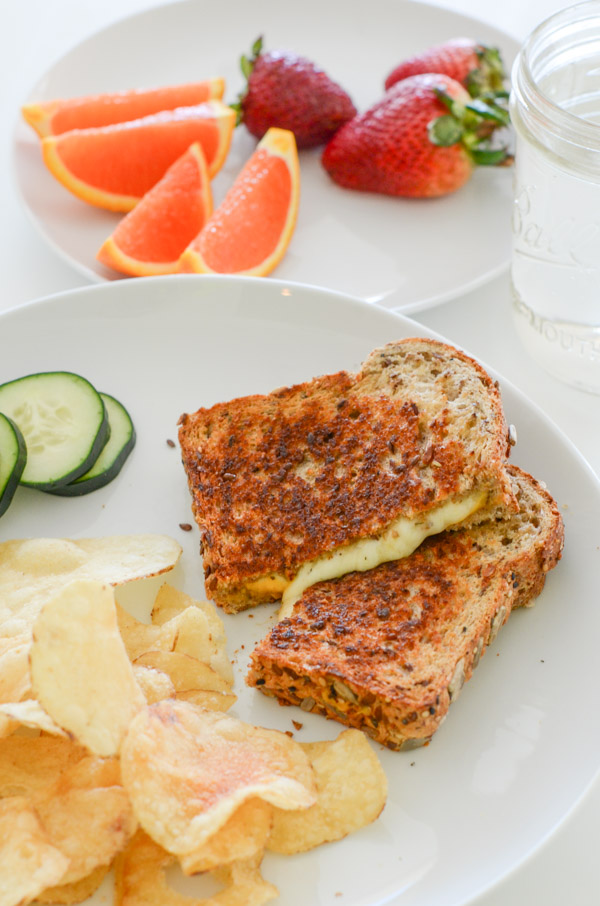 Print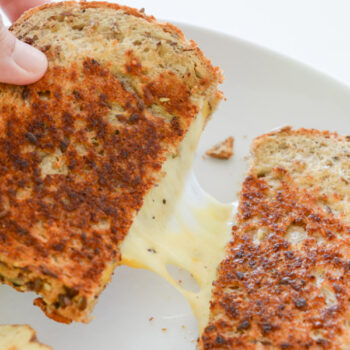 Healthier Italian Spiced Grilled Cheese Sandwich Recipe
Author:

Cook Time:

10

Total Time:

10 minutes

Yield:

1

1

x

Category:

Vegetarian

Method:

Sauté

Cuisine:

American
---
Description
Use simple pantry ingredients to do this grilled cheese twist – this Italian spiced grilled cheese sandwich recipe is easy and delicious! And I share a tip on how to make this healthy without compromising taste.
---
1/2 teaspoon

plus 1/2 teaspoon butter (I used Earth Balance)

2

slices clean eating whole grain bread

1

thick slice cheddar cheese

1/4 cup

shredded mozzarella cheese
dash Italian seasoning
dash garlic powder
---
Instructions
Pre-heat a sauté pan over medium heat. When pan is hot, add 1/2 teaspoon butter. Spread with a spatula while it melts to roughly the size of your bread.
Place bread on melted butter. Top with cheddar, mozzarella, Italian seasoning, and garlic powder. Top with other slice of bread. Dabble top with remaining butter. Cook until bottom of bread is golden brown.
At this point, the top butter should have softened. Spread evenly on top slice of bread. Flip. Cook until bottom of bread is golden brown.
Slice in half, serve with chips, fresh veggies, and fresh fruit, and enjoy!
---
Notes
Note: You could melt the second half of the butter in a way similar to the first. However, I personally find the recipe method easier. Where do you put the half-cooked grilled cheese while you're melting that second portion of butter? I guess you could put it on your plate. But my lazy method has worked well for me, so I thought I'd share it. Cook your grilled cheese however you like. The spices are the real key in this recipe.
Keywords: lazy, easy, vegetarian, work lunch
Recipe Card powered by
More Easy Healthy Recipe Ideas
Easy Almond Butter Banana Toast – have more bread? Try this easy breakfast recipe!
Lazy Low Carb Fried Rice – I can make this with 100% frozen vegetables and rice – in case you really don't have any fresh vegetables – hopefully your freezer is well-stocked.
2 Minutes Yogurt Breakfast Bowl – Filling and nutritious.
Green Curry Tempeh Bowl – Easy and tasty for a great weekday dinner.
***
Thank you so much for checking out this clean eating Healthier Italian Spiced Grilled Cheese Sandwich Recipe. Hope you enjoy it! Cheers and happy cooking!
And stay tuned – I have a lot more recipes headed your way soon. Be sure to check my Insta stories because I love posting previews there. Woop!