Hi friends! I have a treat for you. In this post I'm sharing a healthy cookies recipe – NO weird substitutions! As you know, I'm sort of obsessed with making dessert healthy. And while sugar will never be as healthy as broccoli, I do think there are real ways to healthify dessert recipes without making them too complex. And here's my latest winner – this Healthy Dark Chocolate Tahini Oatmeal Cookies Recipe.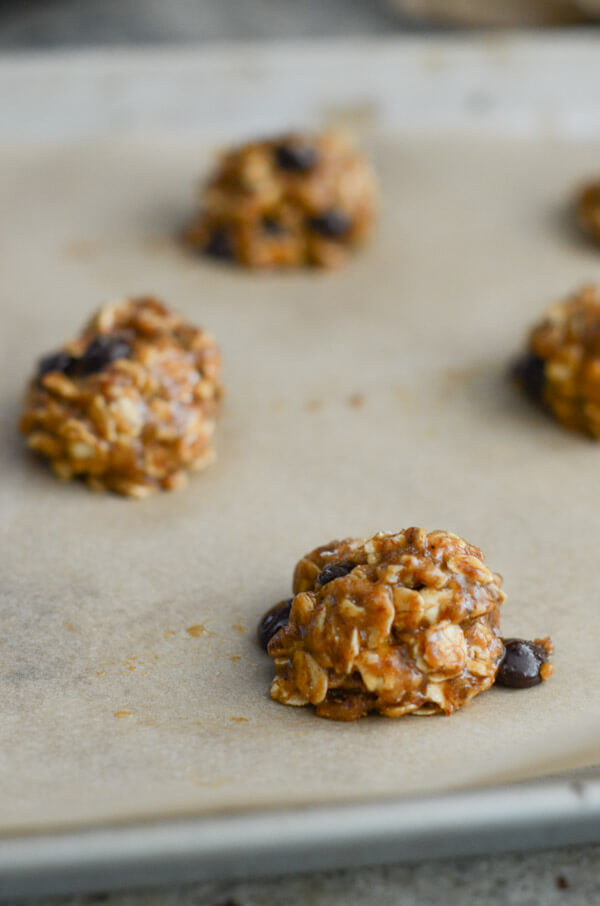 Healthy Cookie Recipe Experiment
I had no idea if this recipe would work. I used one of my other cookie recipes as a baseline, but I wanted to reduce the butter/vegan butter and sugar to make it more healthy.
In my experience, removing too much butter/oil and sugar yields a resulting baked good that resembles more of a muffin top than a cookie. Both ingredients seem to be the key to getting that chewy and/or crunchy texture. Which is sad news for healthifying recipes.
So when I mixed up the dough, and it looked quite wet (see above photo), I was nervous I'd just wasted a bunch of ingredients to make something inedible.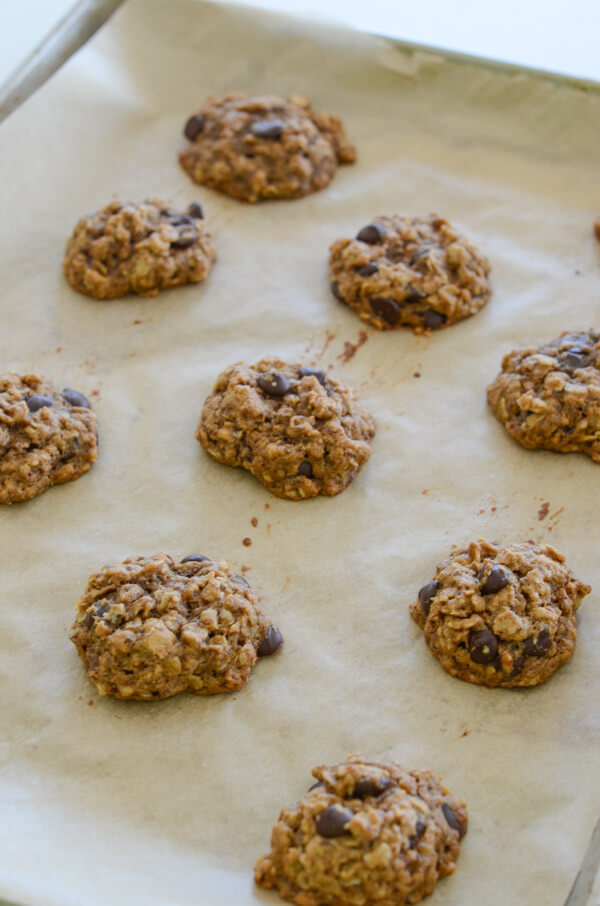 Healthy Cookies Recipe Winner!
Luckily, the cookies came out delicious!
I (nervously) bit into the first cookie as a taste test with no clue what to expect. I think I said, "Holy sh*t, these are good?!" And yea the question mark is there on purpose. Like you know when you say something as a statement / question because you're so surprised.
Yep. That was how I felt about the taste test of this Healthy Dark Chocolate Tahini Oatmeal Cookies Recipe taste test.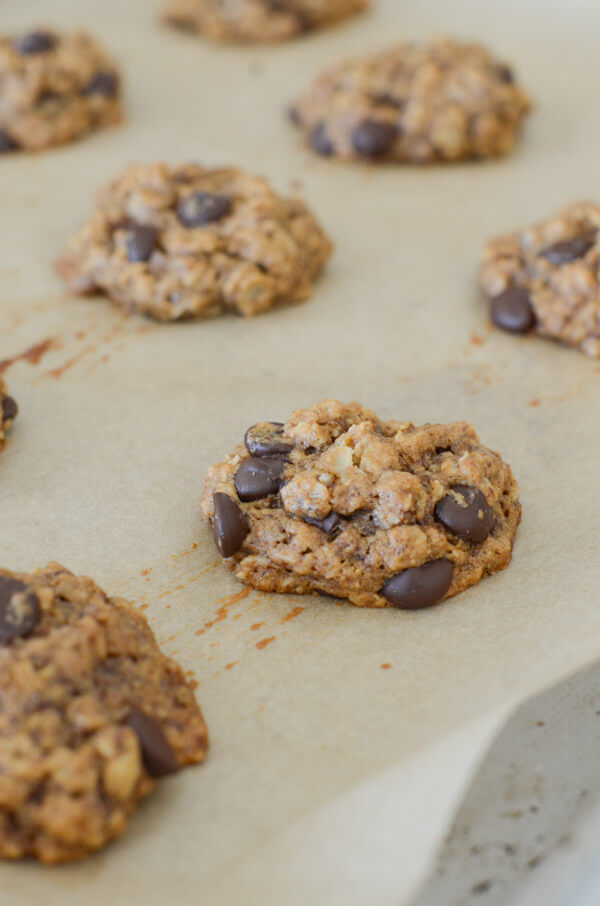 Healthy Chocolate Chip Cookies Texture
The texture is one step away from muffin top, but I think it retains enough of that cookie bite. Though I will say upon storing these, they did seem to soften a bit. A worthy side effect for what I got in health terms.
Thanks to one substitution, I was able to reduce the butter by almost half of the original recipe. And I reduced almost half of the sugar too.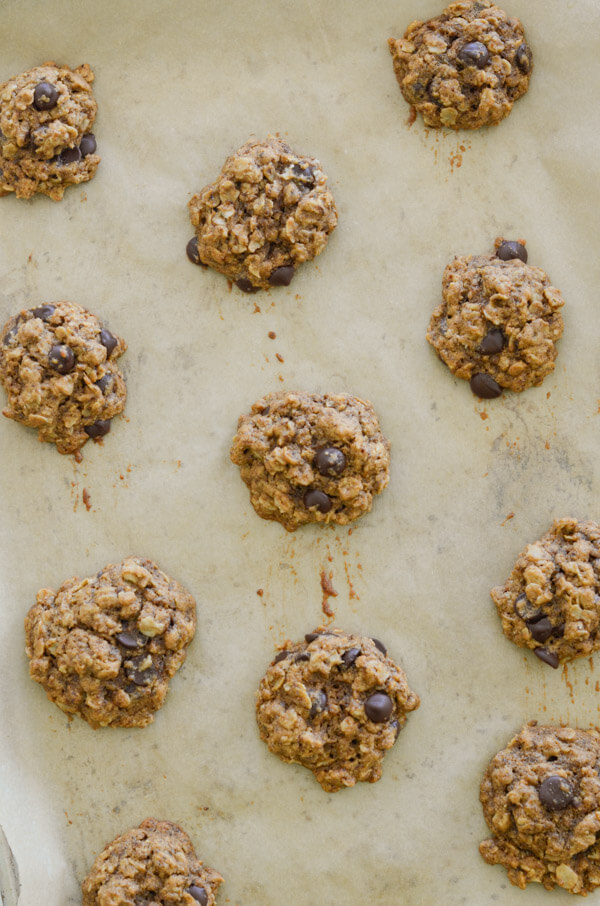 Healthy Dark Chocolate Tahini Oatmeal Cookies Recipe Ingredients
Secret Ingredient
So my not-so-secret ingredient is…tahini!
I actually used tahini to sub out roughly half of the butter. And on top of being much healthier, the tahini also added a lovely flavor to the this Healthy Dark Chocolate Tahini Oatmeal Cookies Recipe.
Making Cookies Healthy
As mentioned above, I did a few things to make these cookies healthier:
Reduced the butter by about half by subbing some of it with tahini.
Reduced the sugar by about half and also subbed regular sugar for coconut sugar.
While coconut sugar is nutritionally about the same as regular sugar, I like that it's closer to the source and less processed.
Used whole grains – spelt flour and rolled oats.
And used flaxseed eggs instead of eggs.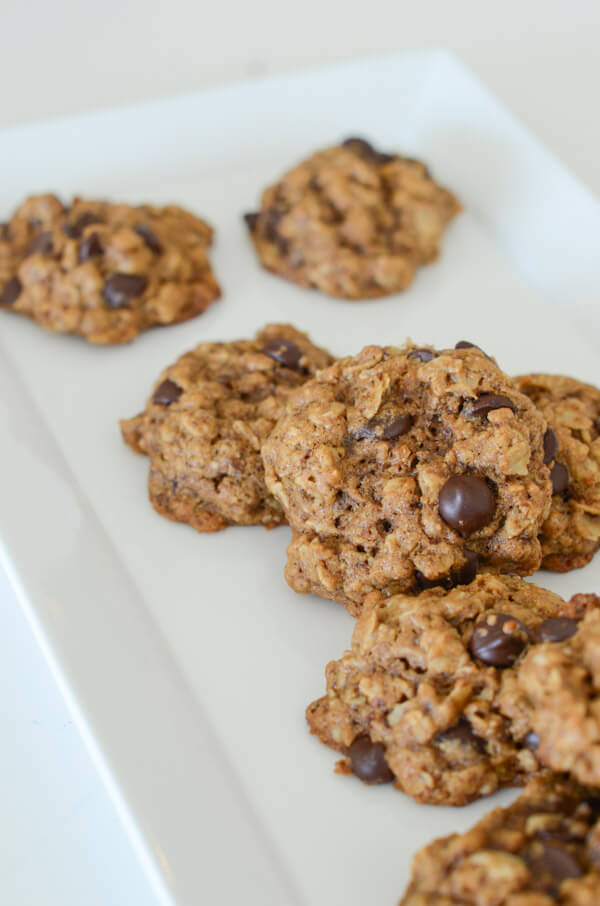 So, who's ready to make this Healthy Dark Chocolate Tahini Oatmeal Cookies Recipe?!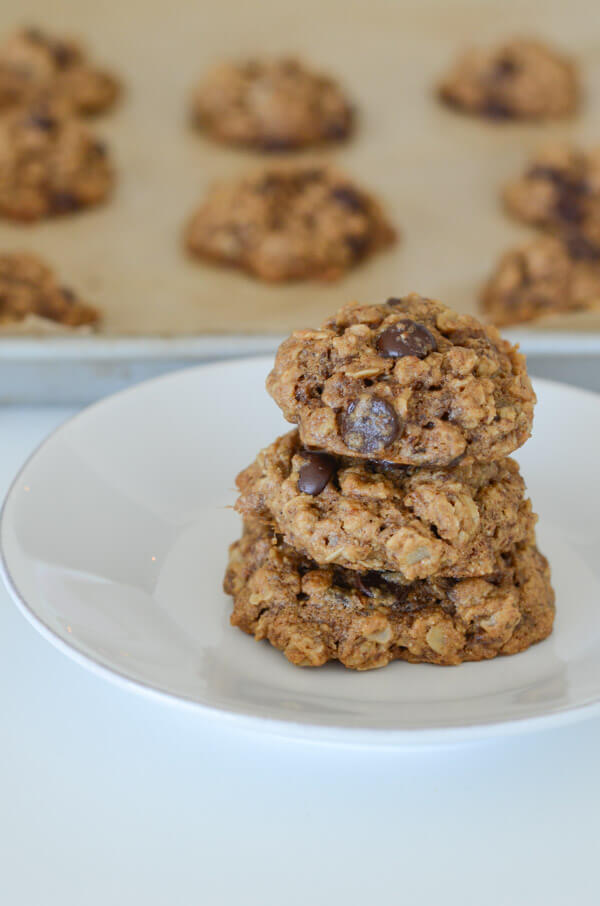 I'm already ready to whip up another batch.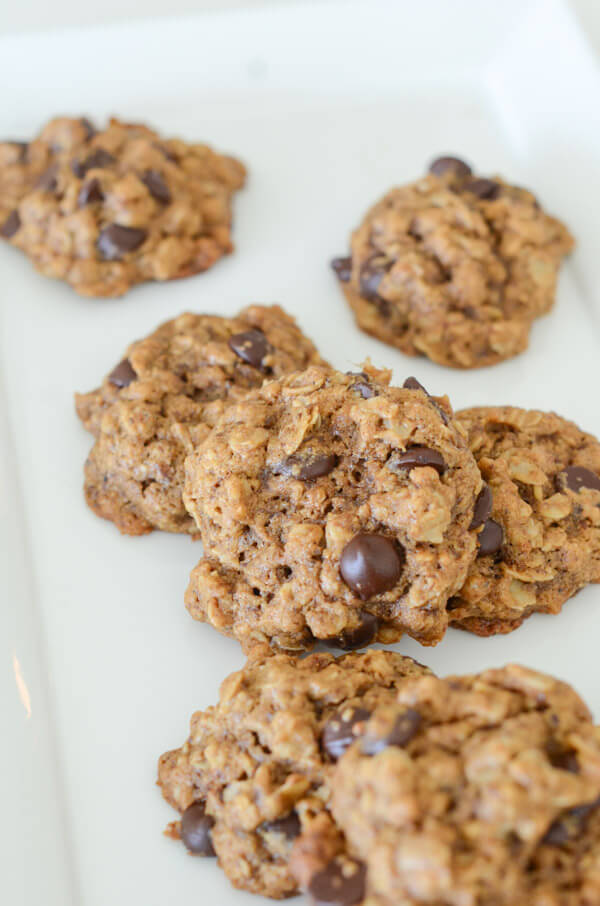 Who wouldn't want the smell of these fresh baked chocolate chip cookies wafting around your home?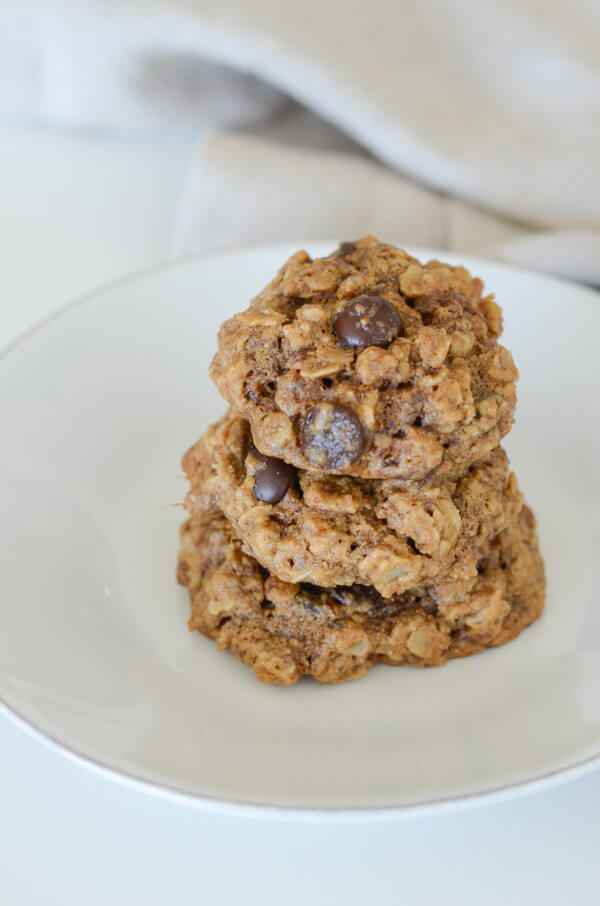 Mmm…clean eating chocolate chip cookies!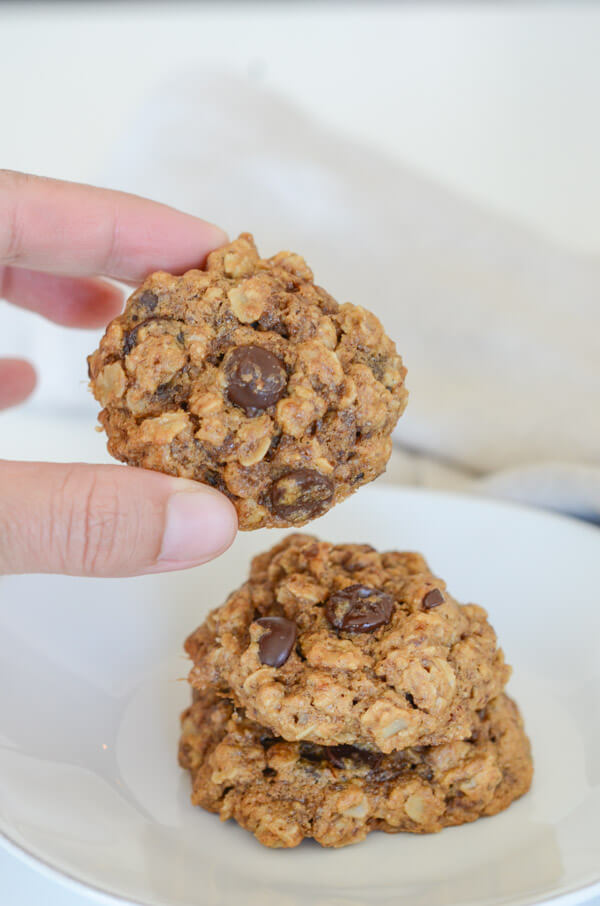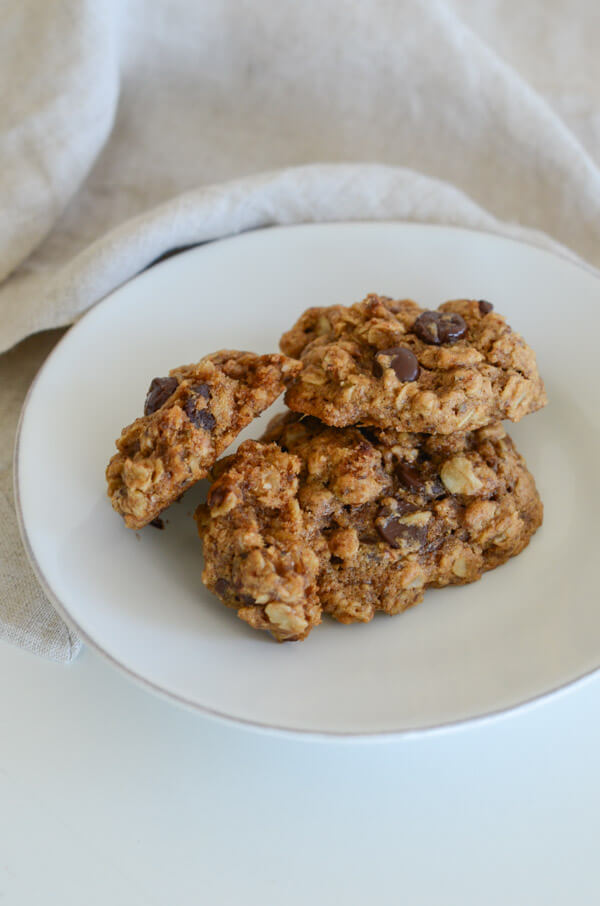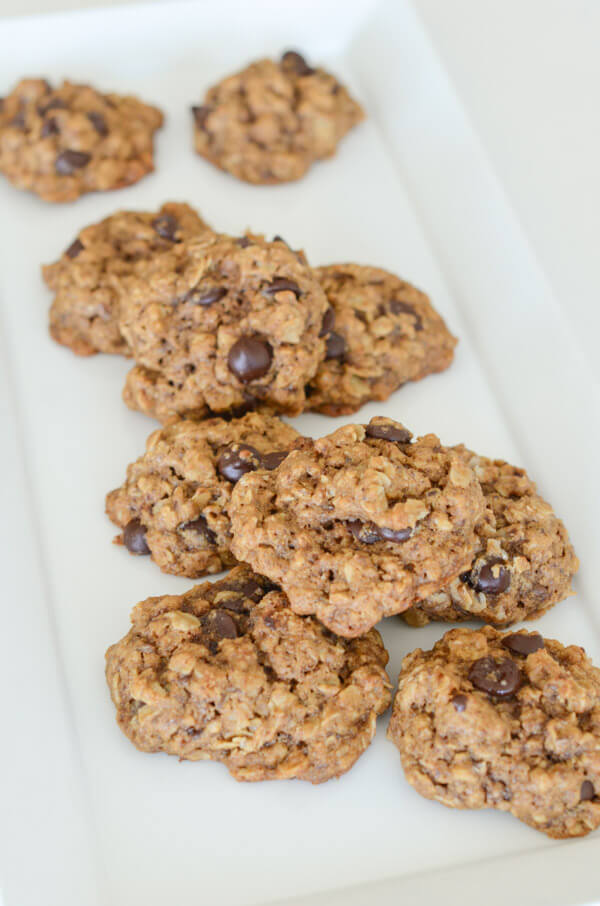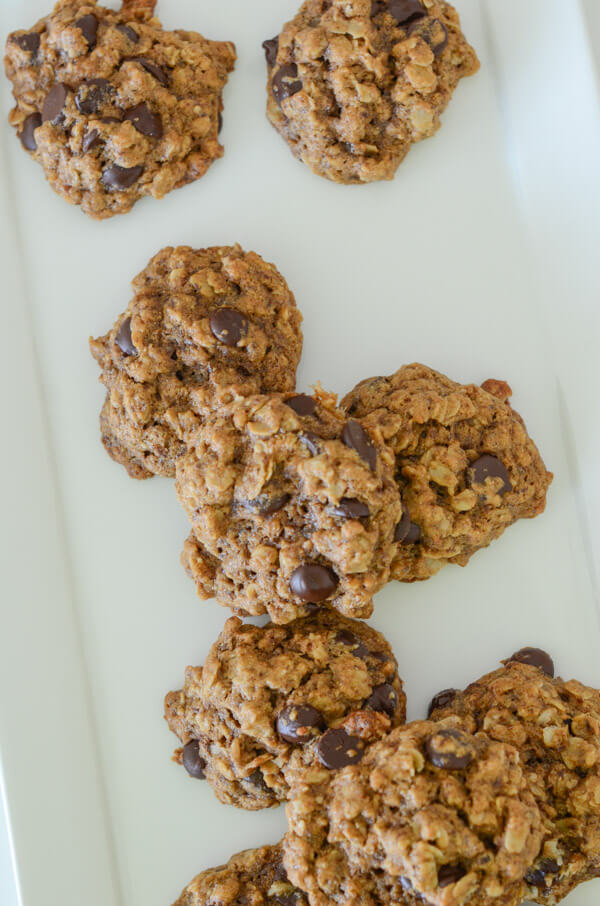 Print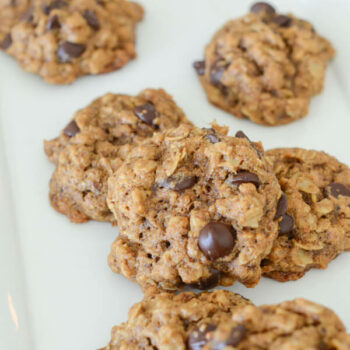 Healthy Dark Chocolate Tahini Oatmeal Cookies Recipe
Author:

Prep Time:

10

Cook Time:

12

Total Time:

22 minutes

Category:

Vegetarian, Vegan

Method:

Baking

Cuisine:

American
---
Description
Healthy cookies – NO weird substitutions! You'll love these Healthy Dark Chocolate Tahini Oatmeal cookies. This clean eating dessert recipe is easy and delicious. Yay for a healthy cookie recipes!
---
1 cup

rolled oats

1/2 cup

spelt flour

1/2 teaspoon

kosher salt (reduce amount if you use table salt, maybe 1/4 – 1/2 depending on how you like your cookie flavor)

1/4 teaspoon

baking soda

1/2 cup

dark chocolate chips

1/4 cup

vegan butter, melted and cooled slightly (I used Earth Balance)

¼ cup

tahini

1/2 cup

coconut sugar

2

flaxseed eggs

1 teaspoon

vanilla
---
Instructions
Pre-heat oven to 350 degrees F. Prepare two baking sheets with parchment paper.
In a large bowl, add oats, flour, salt, and baking soda. Whisk to evenly combine. Whisk in chocolate chips.
In a medium bowl mix butter, tahini, and sugar. Stir in the flaxseed egg and vanilla. Whisk to evenly combine.
Pour wet mixture into dry mixture and gently mix with a large spatula.
Using a medium sized sorbet scoop (2 tablespoons size), scoop dough and evenly distribute on baking sheets, leaving about 3 inches of space in between each ball of dough.
Bake 12-14 minutes, until cookies are set and tops don't look as wet. Remove from oven and let cool on baking sheets to room temperature. Enjoy!
---
Notes
Note #1: You can use real butter or real eggs and the recipe should still come out great. If you do try this, please let me know how it turns out in the comments below.
Note #2: The cookies are very soft. They'll probably need to cool for a good bit before you can pick them up so they can set. It's hard to tell if they're "golden brown" like most cookie recipes because the dough is naturally golden looking. If in doubt, err on the side of cooking a wee bit more. I added 1 minute until mine looked set.
Keywords: Healthy Dessert, Dessert, chocolate, cookies, vegetarian, vegan
Recipe Card powered by
More Healthy Dessert Recipes
Healthy Salted Caramel Smoothie (no refined sugars!)
Healthy Pumpkin Chocolate Chip Muffins
Easy Ginataang (Sweet Potato Coconut Milk Dessert)
***
Hope you enjoy this Healthy Dark Chocolate Tahini Oatmeal Cookies Recipe. Whether it's because you're looking for a clean eating dessert idea or just felt like baking cookies. Happy Baking! Thanks for stopping by!