Hi friends! Today I'm sharing 12 Healthy Foods I Eat Every Week. These are some easy clean eating food ideas that you may want to consider adding to your regular rotation. If you're not already eating them, of course!
To stick with the clean eating theme, I tried to focus primarily on whole foods versus food products. Though there are some things I'm just not likely to make on a regular basis. Like yogurt. I'd LOVE to make my own yogurt. But you need a machine, time to learn how to do it, time to actually make it! And my potential yogurt-making time is already allocated to other things. We gotta prioritize, right guys?
We do have the same 24 hours as Beyonce. But we also get to choose how we want to choose those hours. Anywho, I could go on about this. But you're here for healthy food ideas. Let's get to that, shall we?
Note: This post contains affiliate links. If you make a purchase from one of these links, I may make a small commission at no extra charge to you. Please do reach out if you have any questions!
*VIDEO* 12 Healthy Foods I Eat Every Week
Click here to watch my favorite healthy foods at the moment, if the above player doesn't work.
***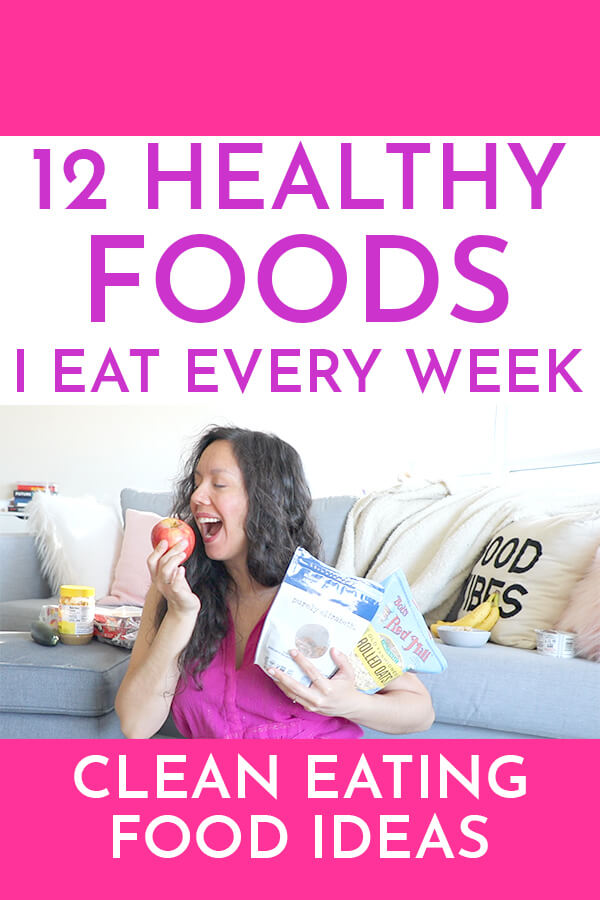 12 Easy Clean Eating Food Ideas
Let's get straight to it! Here are the 12 healthy foods I'm currently eating every week. And yes, these fit my busy lifestyle working my Corporate job, teaching Zumba, and creating content for my blogs and YouTube channel. Is it always easy to maintain a healthy lifestyle? No! But these foods help me stay healthy the happy way.
Coconut Yogurt (Unsweetened): So Delicious coconut yogurt is really good and so smooth! I love getting unsweetened and adding a touch of maple syrup to control the sugar amounts. And I'll top this with fresh fruit and granola. See next healthy food idea!
Blueberry Hemp Granola: Loving Simply Elizabeth blueberry hemp granola. It has a nice savory-sweet flavor and pretty clean ingredient list. I believe it's also nut free!
Bananas: So versatile. Love these as an easy whole fruit to eat. I like them at night because I read they're supposed to help with sleep. They're great mashed in banana bread or muffins. And frozen bananas make wonderful smoothies and nice cream.
Rolled Oats: One of my OG breakfasts since my skating days. I love my oats cooked stovetop (get tips and a video how here) with banana slices, cinnamon, and a touch of maple syrup.
Chia Seeds: One of the easiest superfoods to eat. I love this sprinkled on sunbutter toast or stirred into stovetop oatmeal. It's also great as a soda replacement chia fizz drink.
Broccoli: Probably my favorite vegetable at the moment. This is so good in most recipes I eat on the regular. Love it in noodle soups, veggie stir fries, and roasted veggie bowls.
Potatoes: Also SO GOOD in roasted veggie bowls. And unless you have good reasons to avoid them, potatoes actually have decent health benefits, like being a good source of magnesium. I've had an eye out for foods with good sources of magnesium since I learned that a deficiency of magnesium can negatively impact your sleep!
Brown Rice: Probably my long favorite grain, thanks to my mom being Asian. And since I got a new rice cooker, I have warm rice basically whenever I want. And that's a BIG time saver for my busy work weeks. So I'm sort of in love with it now. Haha.
Sunbutter: Since I'm currently avoiding nuts while I sort out if I have a potential allergy or sensitivity, I've turned to Sunbutter as a simple breakfast add on that is filling and food for you. It's also fantastic in desserts!
Sprouted Grain English Muffins: These things are the best for breakfasts that are actually filling. I love these toasted with a drizzle of EVOO and sprinkle of sea salt with a fried egg. Or as a base for avocado slices with a drizzle of EVOO, sprinkle of sea salt, and dash of everything bagel seasoning. Yum!
Apples: Currently my favorite pre-workout snack. But also an easy fruit to take to work since you don't have to prep it or have a storage container to bring it in.
Cucumbers: My current lazy veg side of choice. Perfect sliced on the side when you're having a sandwich or want something to dip into hummus. Yum!
***
Links Referenced in the Healthy Food Video Above
More Healthy Food Ideas
Watch my What I Eat in a Day videos (get them from this list of  Eating posts) for ideas of what I eat on a regular basis, while I navigate my busy Corporate work days and what not.
Click here for my other Health + Diet posts.
***
Hope you enjoy this 12 Healthy Foods I Eat Every Week blog post and video. Thanks so much for reading and watching.
What are your current favorite healthy foods you're eating every week?