Affirmations are a powerful tool that you can use to re-write negative thoughts or shift into more positive energy. You can use them to generally raise your vibe or call in a specific outcome. Perhaps you're currently interested in manifesting love? If so, you're in the right place! Use these 11 love affirmations to help you manifest and attract true love.
Who's ready to manifest love and call in more loving energy to your life? Let's go!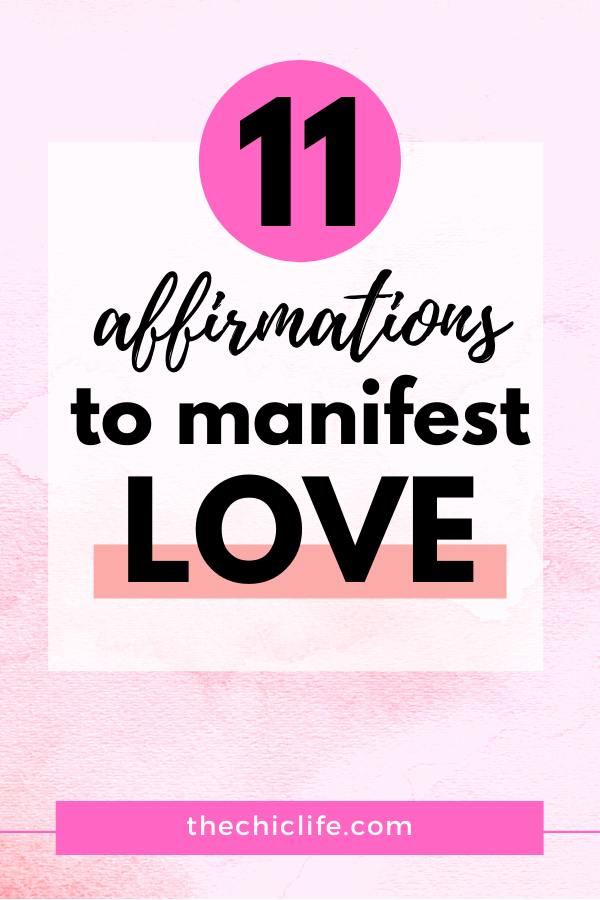 How These 11 Love Affirmations Can Help You Manifest Love
Love and Limiting Beliefs
Love is all around us. Sometimes it can be a bit harder for us to see.
After my divorce, I initially struggled to think love was possible for me again. I had many limiting beliefs in my mind and also heard many new limiting beliefs about love from people around me. It was a challenge to overcome my current limiting beliefs as well as not bring the new ones into my reality.
Limiting beliefs about love can be almost impossible to ignore. Not only do you have them floating in your head, many love-related limiting beliefs are even popularized in the media, from TV shows to movies to social media.
Limiting beliefs are unique to each of us, but they may sound like:
There are no good men/women/options left
It's so hard to date in ________ (insert your city)
Who would want to date me?
Love is hard!
Dating is not fun
And while they may sound like minor complaints, these limiting beliefs can really hold us back in the manifesting love department.
Overcoming Love Limiting Beliefs
So what can you do to focus your thoughts on what you actually want to happen? This is an important question.
Why?
We know that to manifest anything, you need to be in the energy of already having the thing you desire. The Law of Attraction states that like attracts like. So it's important to be in the energy of love to attract love into your life. There are many ways to do this, like using manifestation techniques.
One simple way is to use affirmations.
Affirmations are a positive thought or phrase that is intentionally worded to indicate that what is being described is already present in your life. This invokes Law of Attraction to magnetize it to you.
If you've never tried affirmations before, they may feel silly at first. I know they did for me.
But I'm happy to report that I successfully used love affirmations to overcome negative beliefs, shift into positive thinking, and successfully manifest love into my life.
Whilst affirmations don't work for everyone, I'm a big believer and wanted to share some of my favorites with you.
11 Love Affirmations to Attract Your Ideal Partner and/or Loving Energy
Here are 11 love affirmations to help you manifest love and attract your most aligned partner to your life:
I am loved, loving, and lovable – Louise Hay
It is safe for me to receive love
I welcome love with open arms
I easily attract loving energy and loving relationships
I'm an amazing catch
I so grateful for the way love surrounds me
As I focus on the love all around me, I attract even more love into my life
I easily align with the energy of love
Love is my vibe
I am so grateful for all the love already present in my life and all of the love that I will receive in the future
The love available to me is infinite
***
Try using your favorite affirmation on a sticky note like this to use these more powerfully and consistently
***
Pin this to your affirmation or manifestation board on Pinterest: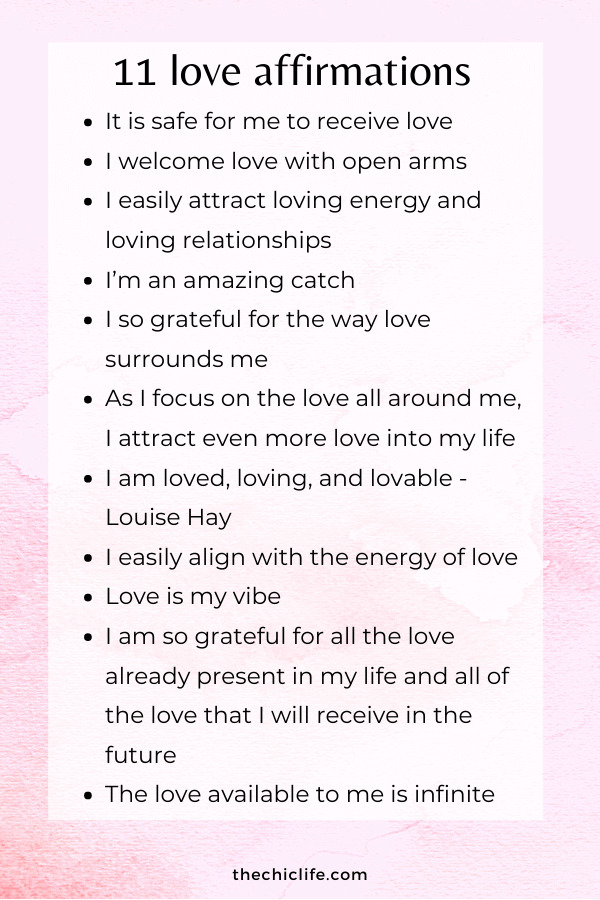 ***
88 Dream Life Affirmations
Love affirmations? You'll love my 88 Dream Life Affirmations – click here to check it out!
***
More Manifestation Tips and Ideas
How I Manifested Love (My Success Story)
How to Manifest ANYTHING – My 3 Step Process
The Best Manifestation Technique
11 Affirmations for Peace and Calm
How to Manifest Someone to Text You
***
Thank you for stopping by. I hope you enjoyed these 11 Love Affirmations to Help You Manifest and Attract True Love.
Which one is your favorite? Comment below! Have a love affirmation you'd like to add? Please share that in the comments below too!