It's sweet, it's refreshing, and it's…GREEN? Yup, it's a Green Monster Smoothie!
I know most of you reading right now are Green Monster experts and enthusiasts, so you're probably wondering what on earth you could possibly learn from this post. And actually, I don't think you'll learn anything you don't already know. But, I do think you could offer your Green Monster expertise for those less familiar with the wonderfulness that is the GM.
This post is actually written more for my other friends and readers. I have a lot of my Zumba participants, "real life" friends, and blog/twitter friends who either aren't as familiar with Green Monster smoothies or have possibly never heard of them before.
So, if you're wondering what the heck a "Green Monster" is, then read on. And if you're a Green Monster guru, then leave some comment love to share some of your GM-know-how and favorite GM recipes.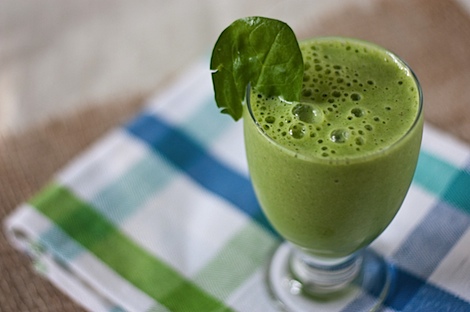 So, what is a Green Monster smoothie?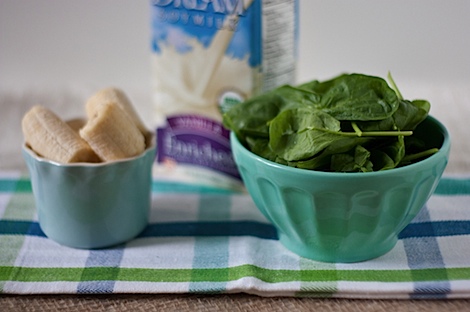 What is it?
A Green Monster smoothie is a healthy smoothie that is bright green in color, thanks to the star ingredient: spinach! Yes…I said "spinach." Don't cringe. Honestly…once it's all blended up with other ingredients, you cannot taste it! I mean, have you ever tried eating just a spinach leaf plain? I have. It didn't taste like much of anything. So, especially when you blend the spinach up with fruit and milk, you won't taste it. Mmmkay?

Now, some people will use kale in place of spinach, but personally, I prefer spinach.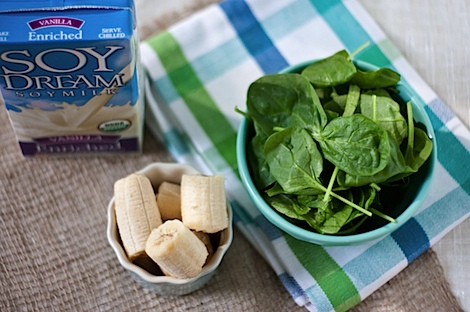 Ingredients
There are endless combinations of ingredients to make a GM, but the most basic and common ingredients are:
Spinach – This is the KEY ingredient – you can use fresh or frozen (I've tested it – check out this post), and as I mentioned above, you can substitute the spinach with kale
Bananas – usually 1 to 2 are used per smoothie, I go with 1 per serving, and I prefer frozen bananas because it makes the texture thicker, not to mention this is a good way to save bananas before they spoil – freeze and save for a smoothie later!
Milk of choice – dairy milk, soy milk, vanilla rice milk – whatever you fancy, but obviously a sweetened milk will yield a sweeter smoothie
Ice – to help make the smoothie cold and frosty
Other common GM ingredients:
Yogurt – makes the smoothie thicker and provides protein and probiotics
Honey/Agave – liquid sweeteners if you need more sweetness in the smoothie – I think the bananas are sweet enough and if you use a sweetened non-dairy milk, you probably won't need either of these
Chia Seeds – a health-food ingredient – If you let it sit in liquid for several minutes, it will plump up and become gelatinous (like a tiny tapioca pearl, for bubble tea fans)
Nut Butters – peanut butter, almond butter, etc. – for creaminess and healthy nut nutrition
Other fruits – feel free to add your other favorite fruits – just see the next section on ingredients to avoid when selecting
Ingredients to use in small portions when making GMs:
*Edited: After reading some of the comments, I decided to edit this to warn against using too much of these ingredients instead of avoiding them all together. Thanks guys!

*
Berries – blueberries, raspberries, etc. -because if you use too much, the berries will change the color of the smoothie and it won't be green or as green
Other – Pretty much anything with a lot of color that will change the color of the smoothie away from green (trust me, a brown smoothie is not as appealing visually, even if it still tastes amazing…not to mention I wouldn't call a brown smoothie a "Green" Monster. I'd call that just a smoothie with spinach in it. We should come up with a name for these, right?!)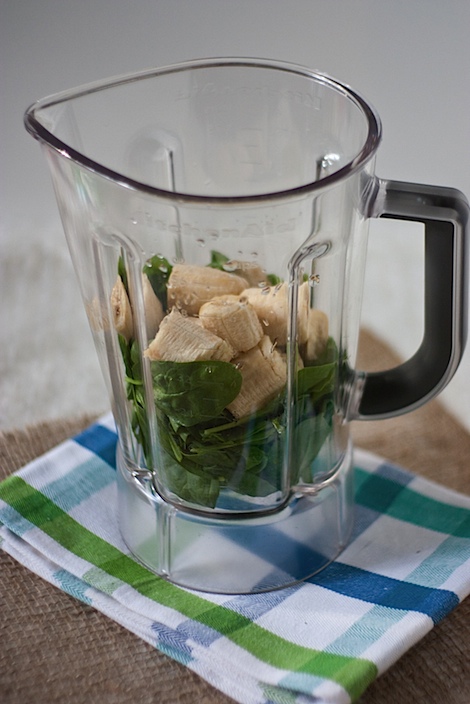 Once you're ready to blend, there are a couple tips to keep in mind…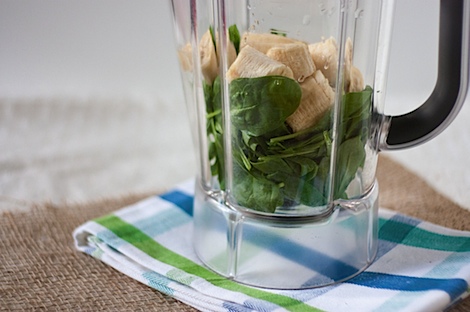 Blending Tips
I like to layer my ingredients in the blender in the following order (and all of these ingredients are not always used, but if I were using them, this is the order I'd go with):
Spinach – putting this at the bottom helps ensure the leaves are blended instead of flying around the blender and sticking to the sides – if I use frozen, I don't always add that first since it doesn't have the same texture as fresh
Dry ingredients – like flaxseed meal, matcha, etc – same reason as spinach – so it doesn't get stuck to the sides/lid
Nut Butters – so it's less likely to fly up and stick to the sides
Liquid Sweetener – same as nut butters
Other small fruits – goji berries, etc.
Bananas – to weigh spinach down
Other large fruit – cantaloupe, etc.
Ice
Milk of choice
And every blender is different, so settings will vary. I usually just blend away until all the fruit/ice is smooth and all the spinach leaves are blended so small, I don't see individual pieces, just smooth greenness. This usually only takes 1 or 2 minutes for me.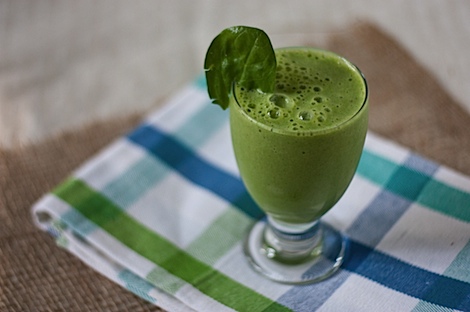 Why Drink Green Monsters?
First of all, they're fun to look at and just plain delicious.
After spending a month with my Project Veg-Up challenge focusing on eating lots of fruits and veggies every day, I know that it can sometimes be a struggle, especially on your busiest days to get your full servings for the day. Smoothies are one of the easiest ways to consume fruit. And now thanks to the GM, they can be the easiest way to consume vegetables (at least spinach), too!
So GM smoothies feature spinach, and here's why spinach is good for you – a quote I've shared before from whfoods.com:
Spinach is an excellent source of bone-healthy vitamin K, magnesium, manganese, and calcium; heart-healthy folate, potassium, and vitamin B6; energy-producing iron and vitamin B2; and free radical-scavenging vitamin A (through its concentration of beta-carotene) and vitamin C.
Side note: This is just general info. I know some people are supposed to avoid spinach (doctor's orders), so obviously, you may want to avoid the GM if this is true for you, too. And, you should always consult with your doctor before making dietary changes. But, I trust that you know what's best for you.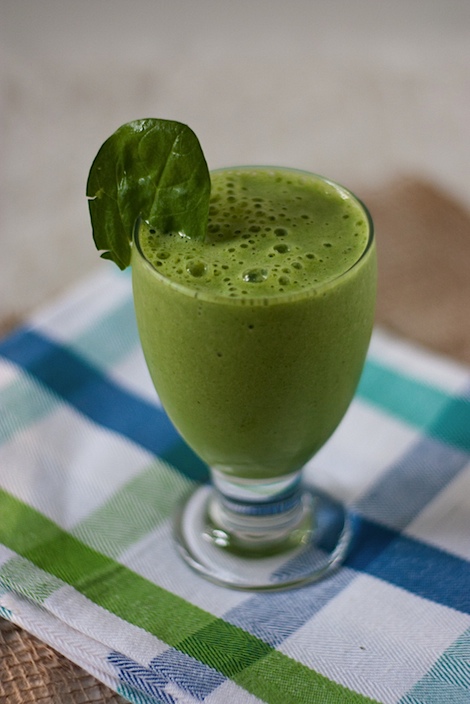 Basic Green Monster Smoothie Recipe
Green Monster smoothies are beautiful to look at and delicious to drink. And if you're not sold yet, they're good for you, too! Drinking GM smoothies is the easiest way I know to get a vegetable serving in for the day. Also, I don't typically add extra sweeteners to my smoothies, but I've included directions below in case you would like to add some to yours.

*Vegan if you use vegan milk*

Serves 1
Ingredients:
1 1/2 – 2 cups loosely packed spinach (or sub 1/4 cup frozen spinach)
1 banana (a frozen banana will give you a thicker consistency, but non-frozen works, too)
1 cup milk of choice (dairy, non-dairy, vanilla non-dairy, etc.)
2 cubes ice
sweetener of choice, to taste, optional
Directions:
Place spinach, banana, milk, and ice in the blender.
Cover and blend until banana/ice is processed and smooth, about 1-2 minutes. Taste test and if desired, blend in sweetener of choice to taste.
Enjoy!
Here are more fabulous GM smoothie recipes you may enjoy:
*And be sure to check out this site for hundreds of other tasty Green Monster recipes: http://greenmonstermovement.com/ *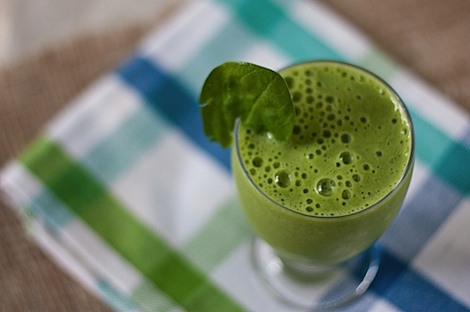 Green Monster Virgins: Are you scared of Green Monsters or do you think you'll try one soon? Why or why not?
Green Monster Gurus: What are you favorite things to add to your GM smoothies? And if you have any GM smoothies (of your own or of others) that you love, please leave the link in a comment!