Though I had a blast this weekend with fitness training and visiting my fam, I didn't make it to the grocery store! No groceries means no food in the house!! Ok, no fresh fruits and veggies. Lucky for me my pantry is well-stocked.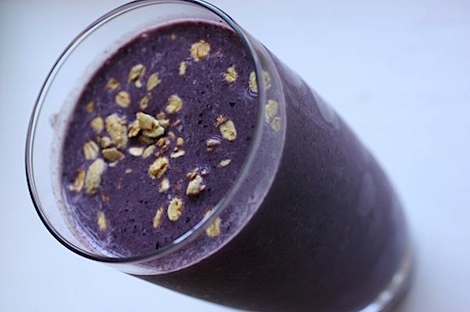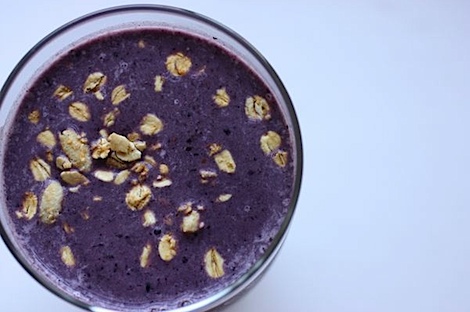 So, though I was out of oatmeal (can you believe it!?), I was able to throw together this mixed berry (but mostly blueberries) smoothie with a 5/8 full scoop of Vanilla Chai Vega health optimizer, topped with some Galaxy Granola (*). I also had a mug of coffee, not pictured.
I normally don't like smoothies in the mornings because I prefer hot stuff, but I really enjoyed my smoothie this AM. It was very filling, too!
I made sure to celebrate Starbucks Monday today with a grande vanilla soy latte. Yummers!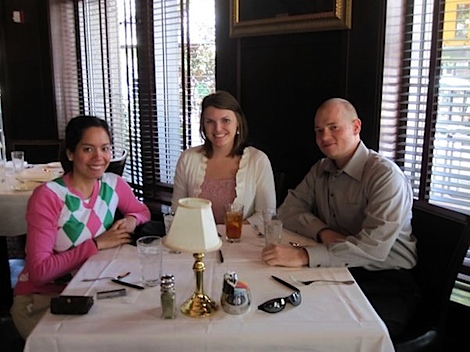 One of my meetings was cancelled today, so I was able to do an impromptu lunch with my friends Megan and Alex. So adult-y! 🙂
We met up at Capital Grille. I haven't been here in years!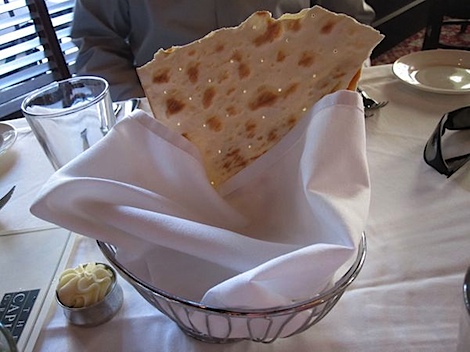 Interesting bread basket. There were rolls under the napkin.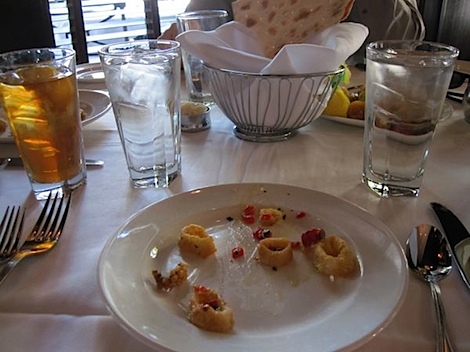 I had a couple bites of calamari to start.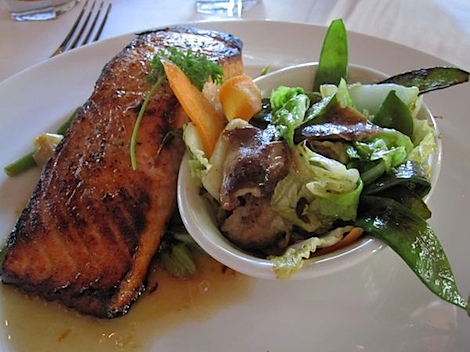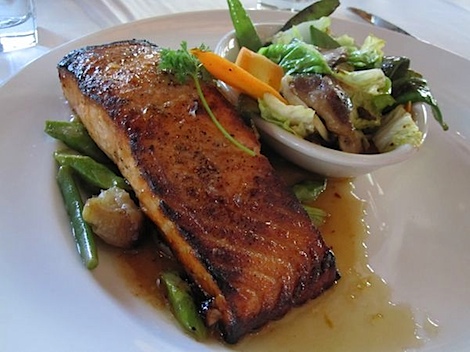 I got the citrus glazed salmon with the veggie of the day – a mixture of different veggies and mushrooms. Though it was quite tasty, I only managed to finish half my plate. That was a HUGE piece of fish!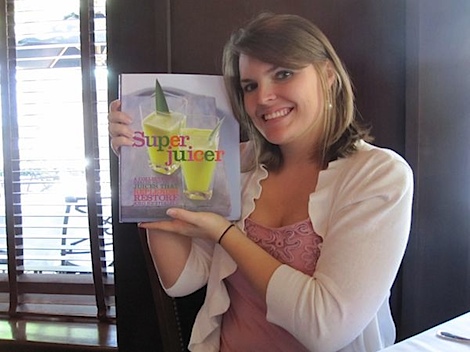 Megan even had an impromptu gift for me – a juicing book!!! Aww…she knows me so well! I've been wanting a juicing book! I can't wait to scope out the recipes so I know better things to order at the juice bar. And the pictures inside of gorgeous and so colorful! The book is called Super Juicer and it's by Christine France.
Thanks Megan!!! xoxo 🙂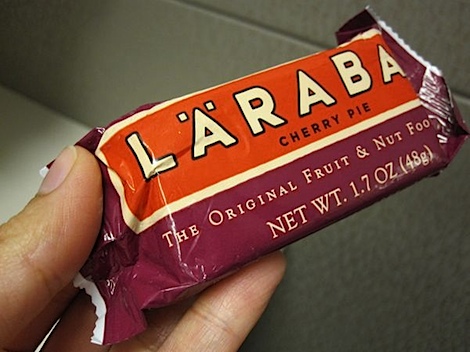 I had a Cherry Pie Larabar for a pre-workout snack. I read in Thrive that dates are a good pre-workout snack, and dates are also typically the primary ingredient in Larabars. Guess that makes Larabars a pretty good snack! I thought so today at least.
I had a fabulous hour long workout tonight and even got to lead the first song in class – Hips Don't Lie (Bambo version) by Shakira. I was so nervous, though! I hadn't led that song since instructor auditions. You'd think you wouldn't be nervous doing a song you've done countless times before and practiced relentlessly, but…I was! 😆 Luckily, it went just fine. Phew!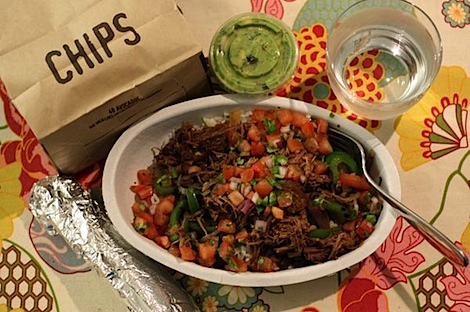 I grabbed a quick dinner on my way home – Chipotle.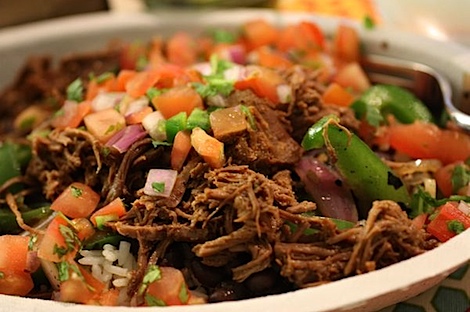 I got the barbacoa beef burrito bowl (with lots of veggies) with a tortilla on the side (I like to break up small pieces and eat bites of tortilla/meat/veggies with a fork), plus chips and guac. Remember all that cheese dip I used to eat? I knew it was terrible for me, but it just tasted so darn good! Well, I've transitioned to a better dip – guacamole! I know some people avoid guac because of the fatty avocados, but they have a good kind of fat! Anywho, I'm sure I'll still get cheese dip once in awhile, but it's nice to enjoy healthier options.
I only managed to eat about half of my dinner, but luckily hubby helped me finish the burrito part.
I had a little piece of Theo Orange Dark Chocolate for dessert. I didn't want a lot – just a touch of sweetness. 😉
What are your favorite burrito fillings?