One of my favorite things about having this blog is when people make my recipes. Sometimes people leave me comments telling me about their experience, including who they made the recipe for and why (like this one yesterday). Sometimes I see people make notes about my recipe on Pinterest. And sometimes, my family makes one of my recipes and then serves the finished product to me. But, no matter who you are or why you decided to try out a TCL recipe, know this – I really think that's one of the coolest things ever. It's always an honor to me when anyone takes the time to try out one of my recipes.
I know this may seem weird since I post recipes all the time, but I don't ever really expect people to make any of the recipes I post. I hope for them to, but unless I see a comment about it, I just assume no one did. But here's the thing, if I can share a recipe and even one person finds some sort of happiness or any ounce of helpfulness from it, I consider that a win. In fact, reading comments with success stories about my recipes makes me so happy. It's like blog fuel – it keeps me going.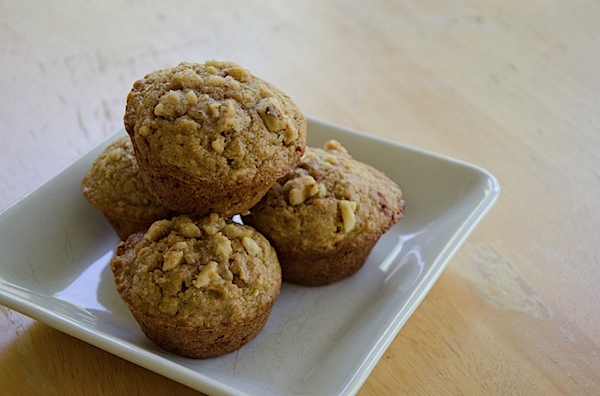 My sister actually did something cool recently – she adapted one of my recipes into something new. It actually happened somewhat by accident. She said she was trying to make my Green Monster Muffins, when she went to get the spinach out of the refrigerator and discovered that there was none. Doh! Apparently, my parents almost always have spinach in the house, so she assumed it would be there. When she realized it wasn't there, she found a quick back-up – acorn squash. Yup, she came up with an Acorn Squash Muffins with Sweet Walnut Topping Recipe. Not sure how the acorn squash was selected, but apparently, it worked! The result was apparently a big hit with my family, and she made them again for me to try when I was in town this past weekend.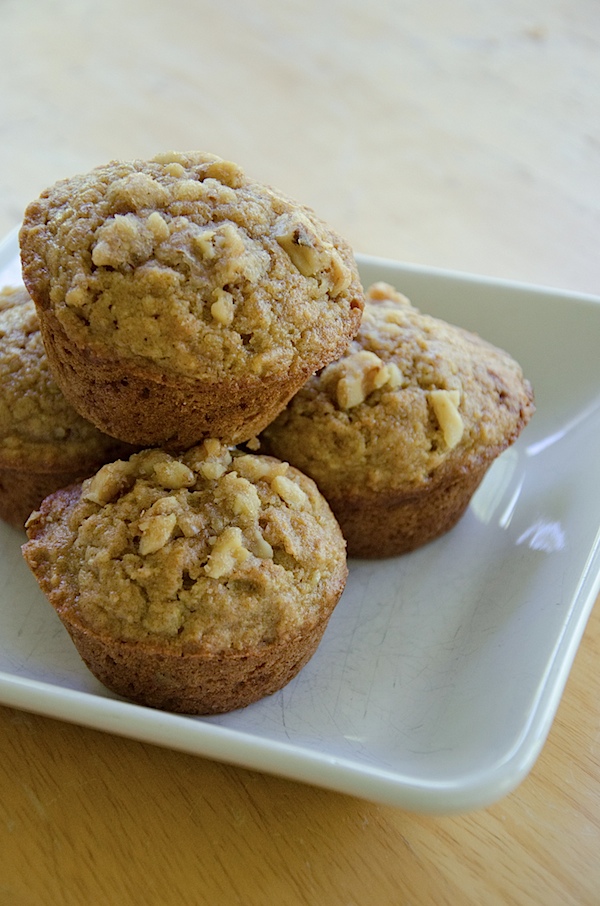 In addition to subbing out the spinach with acorn squash, she made a couple other adjustments in types and amounts of ingredients. Plus, she changed the nut topping to slightly more streusel-like mixture. The adapted muffin was definitely a winner, and now I have this great Acorn Squash Muffins with Sweet Walnut Topping Recipe to share.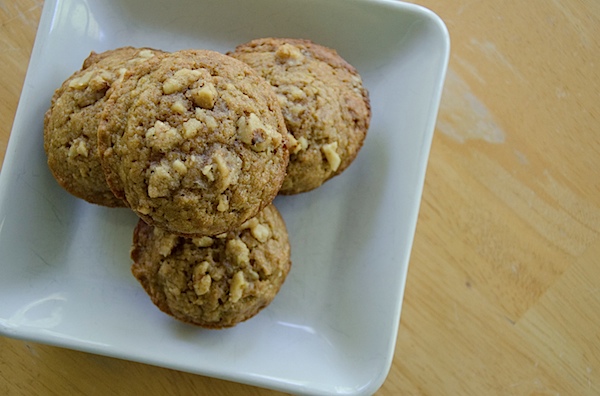 Print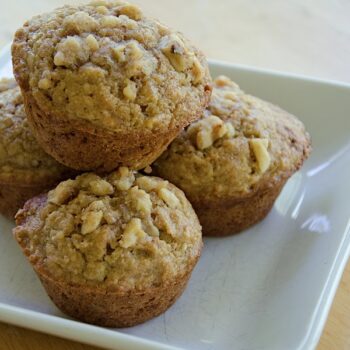 Acorn Squash Muffins with Sweet Walnut Topping Recipe
Author:

Prep Time:

10 mins

Cook Time:

20 mins

Total Time:

30 mins

Yield:

6

1

x

Category:

Breakfast
---
Description
By my sister, adapted from my Green Monster Muffins Recipe
When my sister was midway through making a batch of my Green Monster Muffins Recipe and realized there was no spinach in the house, she made a substitution using acorn squash instead. Thus, this Acorn Squash Muffins with Sweet Walnut Topping Recipe was created. These delicious muffins offer another way to sneak a little bit of veggies into anyone's breakfast or snack. 😉
PS: The ingredient list looks long, but these are really easy to make. I think the most difficult part is processing the acorn squash to get it grated!
*Vegan options below*
---
Acorn Squash Muffin Ingredients
1 cup

whole wheat flour

1 cup

all purpose (unbleached) flour

1 teaspoon

baking powder

1 teaspoon

baking soda

1/2 teaspoon

cinnamon

1/4 teaspoon

freshly ground nutmeg

1/4 teaspoon

salt

1

egg (or use vegan substitute, like a flaxseed egg – 1 tablespoon ground flaxseed mixed with 3 tablespoons water – let sit for about

10

minutes)

1/2 cup

packed brown sugar

1

single serving applesauce (or

1/2 cup

), preferably no-sugar added

1 cup

finely grated acorn squash, no skin (about

1/2

an acorn squash processed in food processor)

1/4 cup

milk (we used skim) (or use vegan substitute, like soy, rice, hemp milk, etc.)

3 tablespoons

canola oil (or other oil of choice)

1 teaspoon

vanilla extract

1/2

–

1

teaspoon lemon zest
Sweet Walnut Topping Ingredients (optional)
1 tablespoon

melted butter (or use vegan substitute, like Earth Balance)

1 tablespoon

brown sugar

1/4 cup

chopped walnuts
---
Instructions
Pre-heat oven to 350 degrees F and prepare a 12 cup muffin tin with muffin papers or brush with melted butter.
Add whole wheat flour, all purpose flour, baking powder, baking soda, cinnamon, nutmeg, and salt into a medium bowl and whisk together.
Whisk to beat egg and sugar together till light (I did this by hand for just a couple minutes).
Whisk in applesauce, acorn squash, milk, canola oil, vanilla extract, and lemon zest.
Pour dry ingredient mixture into the wet ingredient mixture, and stir gently just to combine – careful to not over-mix.
Pour muffin batter into muffin tin cups – about 3/4 full each. If using walnuts topping, mix butter, brown sugar and walnuts together and evenly sprinkle walnut mixture on top of each muffin.
Bake for 18-22 minutes until centers set or a toothpick inserted in the center of a muffin comes out clean.
Cool at least 10-15 minutes, or until safe to eat, before serving.
---
Recipe Card powered by
You may also like: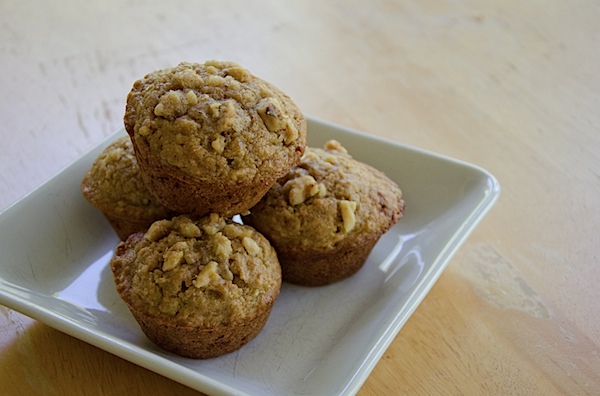 Thanks Sis. Happy baking! And thank you again to everyone who's ever tried a TCL recipe. You guys keep me inspired to keep cooking, baking, and blogging.
***
Be sure to subscribe to my feed to get free updates. You can even opt to have them sent straight to your email! Click here to sign up. Be sure to check me out on Facebook for more TCL fun.
Thank you for reading! Hope you enjoy this Acorn Squash Muffins with Sweet Walnut Topping Recipe!