One thing that I enjoy most about travel is eating. We usually have a Zumba Convention tradition of going to Café TuTu Tango, but we also usually have almost half of our team of instructors together. This year, I went with my friend Sarah only, so it seemed too sad to uphold the tradition without the rest of the team.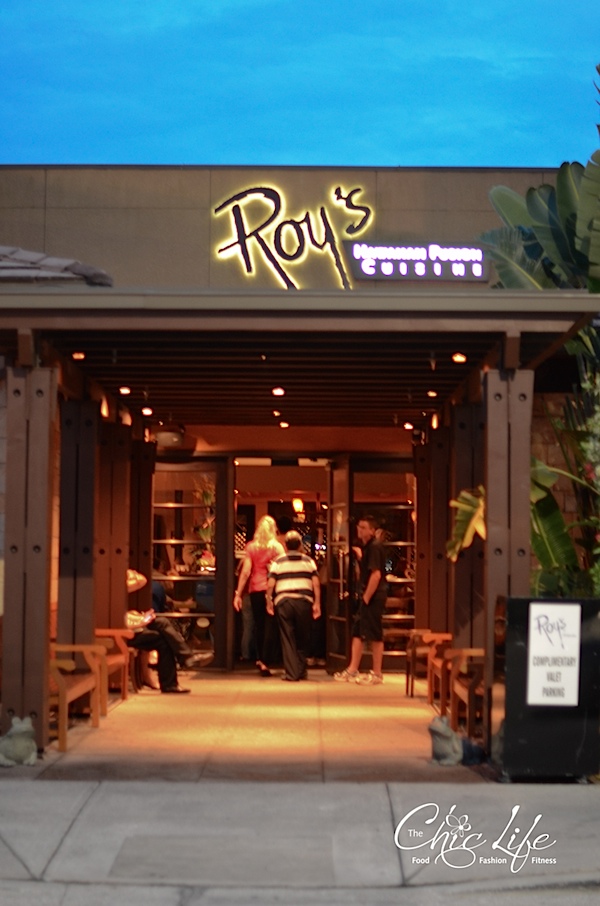 Instead, we hit up one of my favorite chains, Roy's Hawaiian Fusion Cuisine. Yes, I said "chain." I know I typically like visiting local restaurants when I'm traveling, but I love Roy's (click here to view a post about a previous visit), and it isn't your typical chain restaurant. According to their web site, the chefs at Roy's utilize local ingredients and even get to design a portion of the menu. I saw the menu part first hand. The fabric-bound menu had all the usual favorites that every Roy's features, plus a whole page designed by the Orlando chef, Mac Lynch.
Think those flowers are real? Sarah guessed they weren't, and I guessed they were. Sarah was right!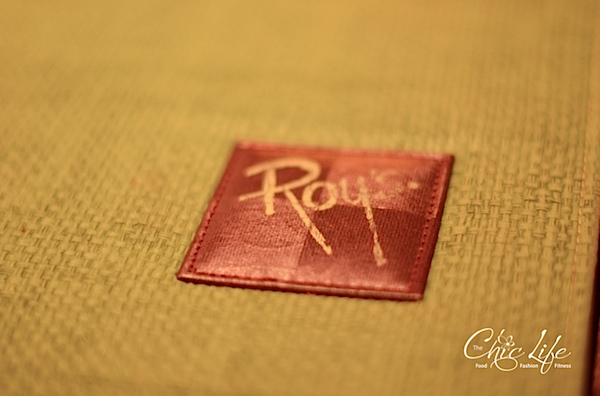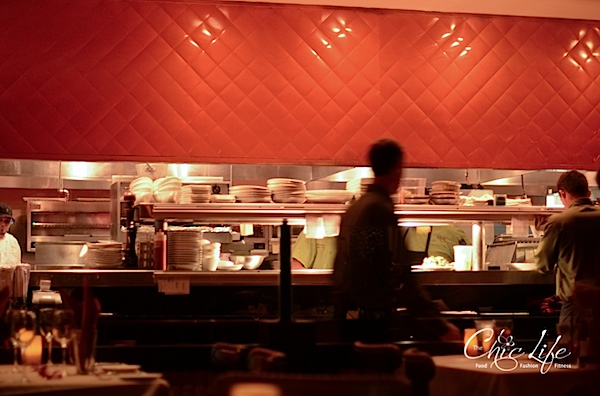 I love open kitchens, though I did get in trouble for trying to snap a couple closer shots of the chefs in action. Oopsie!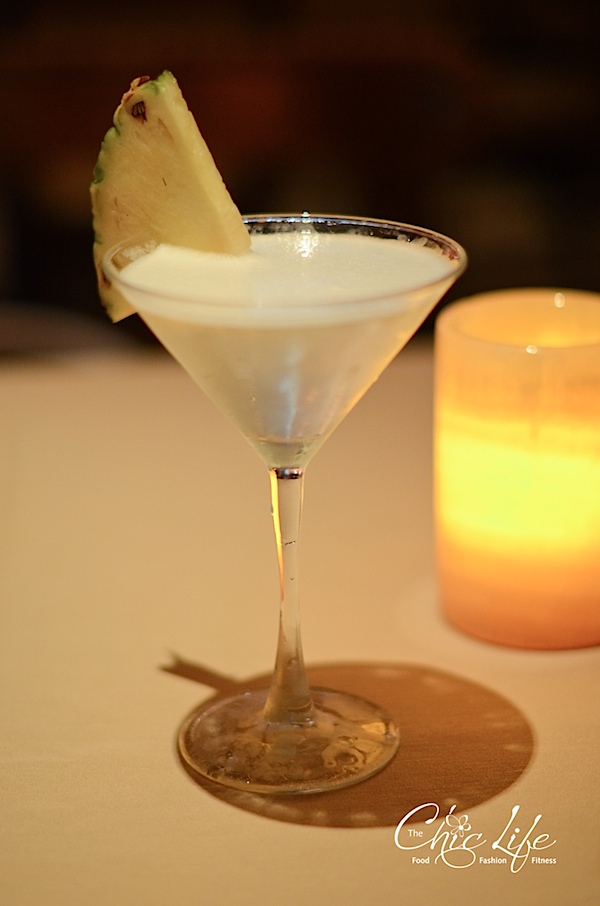 For my drink, I tried out their specialty – "The Original" Hawaiian Martini – "In classic Hawaiian fashion, our Maui pineapples are drenched in SKYY Vodka, Stoli Vanil Vodka & Malibu Coconut Rum. Hand shaken to order."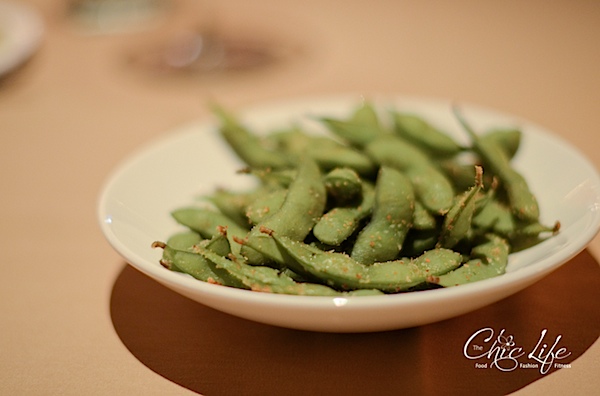 The complimentary edamame was the best edamame I've had, mostly thanks to the special togarashi spice blend they use to season the bite-sized snacks. I found a similar spice blend on Amazon called, Shichimi Togarashi, and I'm strongly considering buying some to try to re-create this snack at home.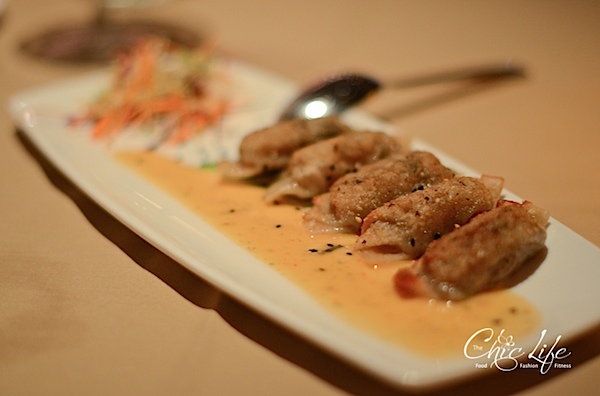 Sarah and I were going to order the prix fixe menu but decided to order our own entrées and share an appetizer and dessert instead. For our starter, we tried the Lobster Potstickers with Spicy Togarashi Miso Butter Sauce. I've never seen potstickers made with lobster, and these were not only unique, but tasty, too. The crispy outside provided a nice contrasting texture to the tender lobster inside, and the potstickers went great with the sauce.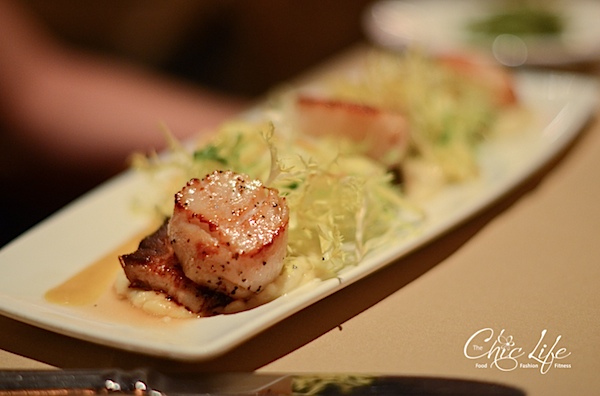 Sarah had the Seared Sea Scallops – "Potato Purée, Pork Belly, Fennel, Apple, Honey Coriander Glaze".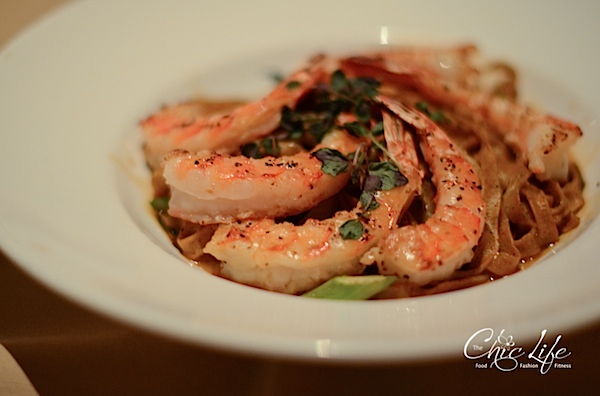 I thought about getting the mahi mahi, but another dish caught my eye – Teppanyaki Shrimp – "House-made Togarashi Noodle, Sambal, Tomato, Garlic, Thai Basil & Asparagus". I was worried this may be a little boring compared to some of the other entrées on the menu, but my choice was spot on for me. The thing that really caught my attention was how the noodles were house-made. I guess I have a thing for from-scratch carbs (pastas, pastries, and breads).
Not only that, but you can't really get noodles like these anywhere else. These noodles had the (also) house-made togarashi spice blend (that I liked on the edamame so much) in the noodles. The spices gave the whole dish a fiery bite, and I loved the flecks of vegetables and fresh herbs that made it into each bite. I may have to re-order this again at next year's convention!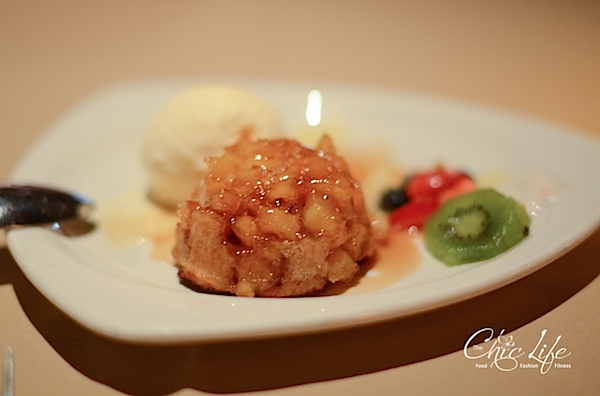 For dessert, Sarah and I shared the pineapple upside down cake, which was simple but wonderful. The cake was served hot with sweet, little bites of caramelized pineapple on top and cool ice cream with fresh fruit on the side. Yum!
By the time we were ready to go, we were on a serious food high. You know, the kind where you're just so happy with the dining experience you just enjoyed that you're utterly stuffed and can't stop smiling. Yup, that was us.
Till next year, Roy's! Thank you for another amazing eating adventure!