I wanted to get this post up before Halloween in case anyone needed any last minute costume ideas. Because…this was one of my all time favorites from all the dance fitness theme classes I've done. My friend Ashley and I threw a Way Back Wednesday dance fitness theme class. Where did the name come from? We did all pre-2k songs and asked everyone to dress as their favorite decade. Also our class landed on a Wednesday. I decided to go as one of my lifelong favorite artists: Michael Jackson.
Michael Jackson Costume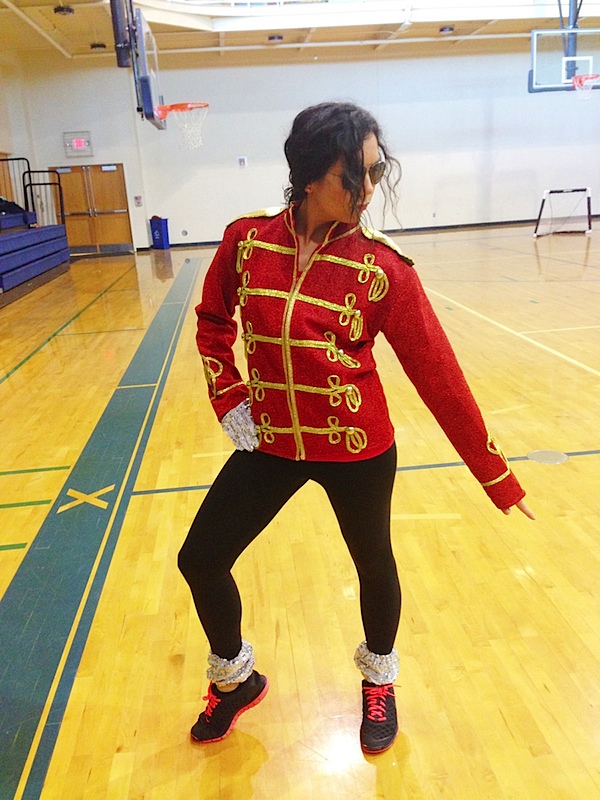 As with my other exercise-friendly costumes, a pair of leggings was a key piece. I wasn't as crafty as I was with my DIY Wonder Woman costume. I purchased all the Michael Jackson costume pieces at a local shop. They actually had a Michael Jackson kit complete with sequin ankle covers, a wig (which I soon learned I didn't need), sunglasses, and a hat. I also found a sparkly glove and this red jacket there. I went as 1984 American Music Awards Michael Jackson.
I realized that if I styled my hair just so, it actually looked pretty close to MJ's. I wore it curly and pulled a couple strands of hair forward and tied the rest back. I also wore red lipstick. And I just used some black sneakers that didn't distract too much from the rest of the costume.
The jacket was surprisingly hot. I actually wasn't able to wear it through the entire class. I had a red tank top on underneath. But, I think a white t-shirt could have been good too if you wanted to switch out for another classic Michael Jackson look.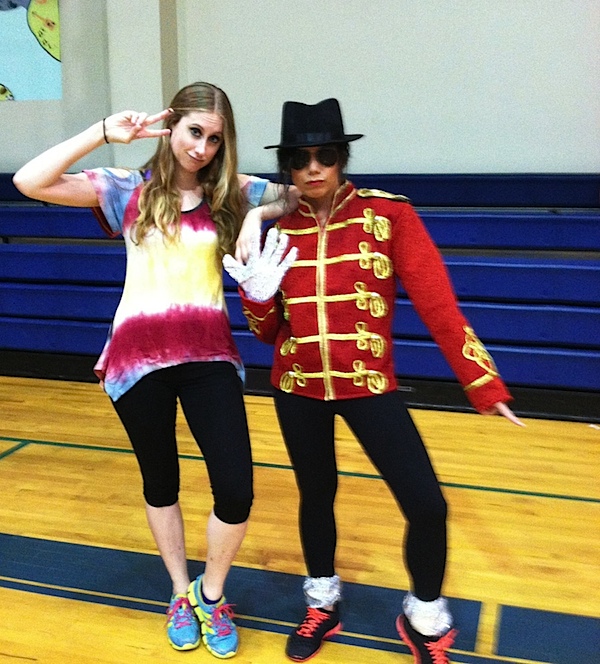 Way Back Wednesday Playlist
For my playlist, we did all songs that were released before the year 2000:
Everybody Dance Now (1990)
PYT (1982)
Baby One More Time (1999)
Maniac (1982)
Thong Song (1999)
Everybody (1996)
Come On Shake It (1988)
Ain't Too Proud to Beg (1966)
Cold Hearted Snake (1989)
Proud Mary (1971)
Vogue (1990)
Don't Leave Me This Way (1971)
Do You Love Me (1962)
Wanna Be Startin Something (1982)
Livin on a Prayer (1986)
Regulate (1994)
It was so fun!
More Dance Fitness Fun
Totally 80s Dance Fitness Theme Class
I should do a 90s theme class next, right?
Thanks for stopping by!