Hi friends! Well this vlog took waaaaay longer to edit than I thought I would. But I think it's worth it. I had so much fun editing this one, and I especially love the theme party section. That was such a good time!
I ended up spending multiple lunch breaks, mornings, and evenings working here and there when I had time. But now that it's uploaded, I'm so happy. And I hope you like all the little details I put into this one. From making dance moves match the background music's beats to the little notes to explain various parts. There's a lot to see. So feel free to watch it multiple times and share it with your Zumba Convention friends. Haha.
*VIDEO* Zumba Convention 2018 VLOG: Day 3 (Sessions and Masquerade Theme Party)
Click here to watch the ZinCon Day 3 vlog if the above player doesn't work.
Breakfast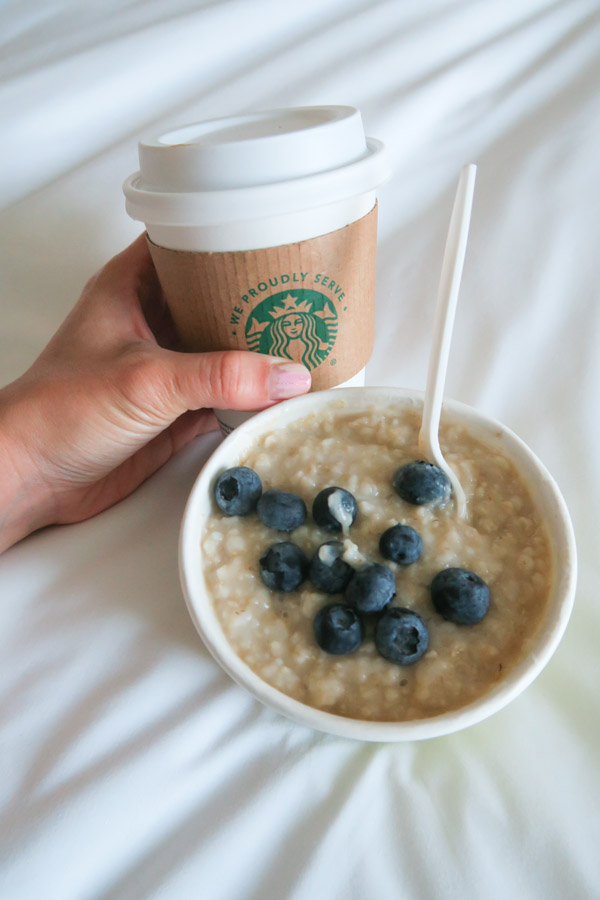 Most of my meals were on the heavier side this year, so my stomach was a bit upset. Most likely due to my not getting groceries like I've done every year. The last couple I've wondered if groceries were a good idea since they seemed pretty pricey. And they can be when you're getting lots of waters, snacks, and meals. Did I mention snacks? Yeaaa stock up on those for sure.
Anywho, lesson learned – those grocery trips have been validated, my friends!
I'm planning to do a cost breakdown of my entire trip, so you'll see what I'm talking about then.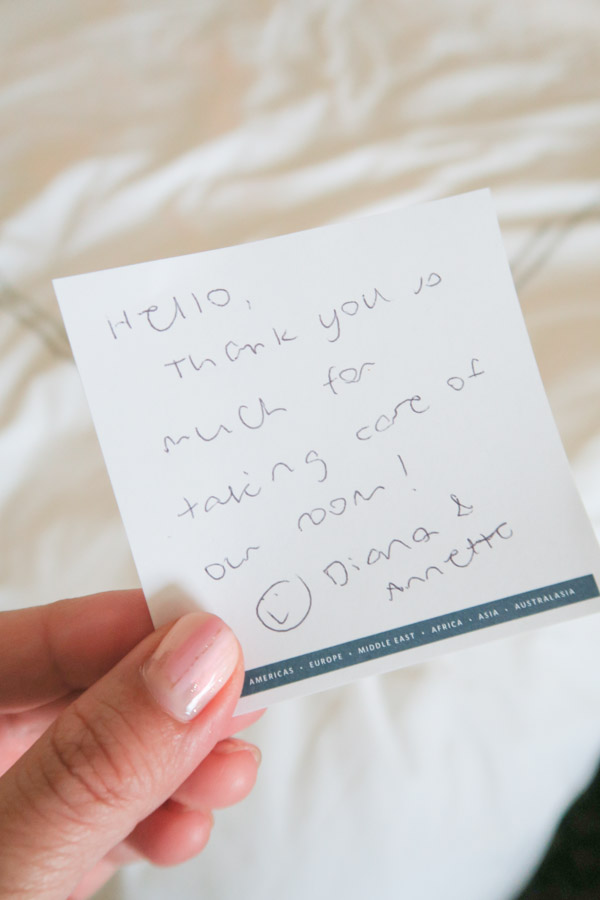 And do you ever leave notes for house keeping? I love to do this just so I have a way to say thank you in addition to a tip. One year I even got a note back!
OOTD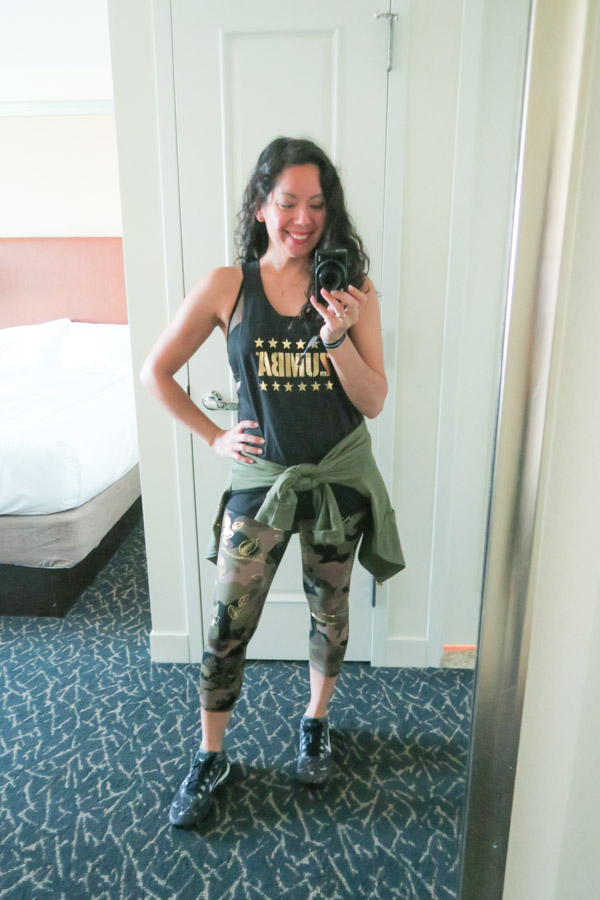 Here's my outfit of the day. I wore some of the new Zumba gear I picked up on Day 0 of my trip. You can check out my full haul on my ZinCon Day 0 post.
Latin Pop Master Class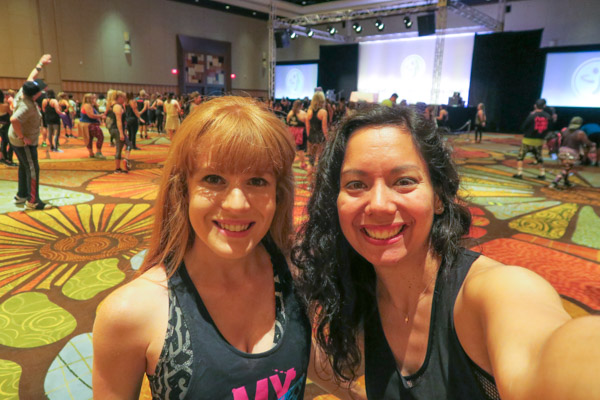 Katie (from last year's ZinCon) found me at Latin Pop. It was so fab to be reunited. Little did we know we'd run into each other at the theme party (which I'll blog about in my next post).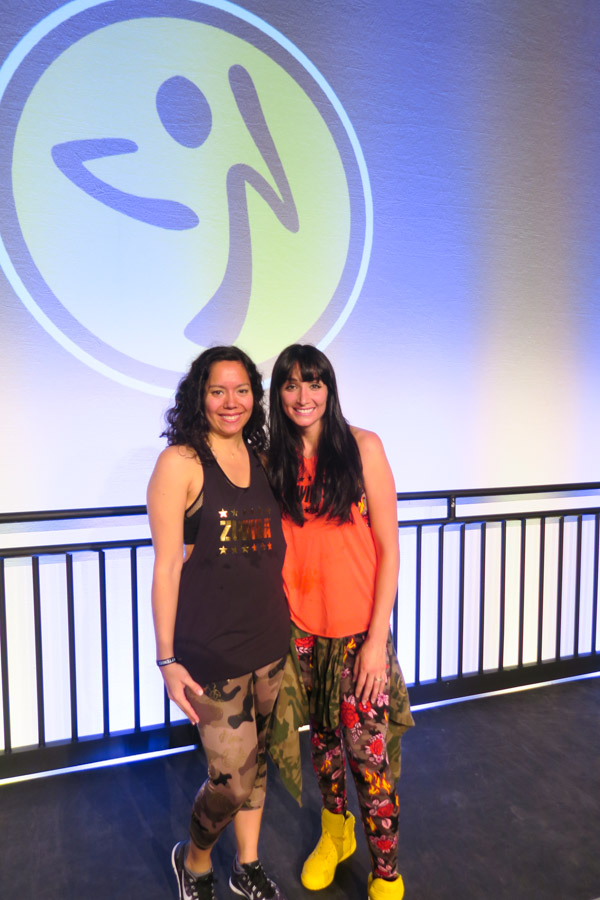 Lindsey had to miss last year's Zumba Convention, so it was great she was back at it this year with all her usually sassiness. I remember I was injured and not really dancing when she posted on Instagram about her return to teaching. This was very inspiring to me. And while I'm not back to teaching on the regular, I hope to enjoy my comeback class very soon.
AND FOR THE FIRST TIME IN MY ZINCON EXPERIENCE…EVER…
I danced on stage.
Dancing On Stage
Guys, we've talked about this here on the blog before. I have stage fright. But Lindsey had a team member scouting the room for people to dance on stage. And she picked me.
She walked right up to me and said very assertively, "Go on the stage."
To which I replied, "Go on the stage?!" *eyes wide*
To which she confirmed, "Yes, go on the stage!"
How could I say no? I ran over, all the while thinking…how will I hide myself up there? And I did my best to find a spot in the back corner.
LUCKILY, my friend Blythe caught the whole thing on camera! I'm so thankful to her for capturing this special moment because I was so caught off guard and focused on pushing past my stage fright that I forgot to ask someone to film.
It wasn't nearly as scary as I thought. I mean…I was nervous. But I didn't feel like I'd fall apart like normal. Those NYC dance classes must have really broken me in. Lol!
And to my surprise, I got pulled up on stage again later in the class.
It was such a nice challenge for me to continue pushing myself to dance on stage. Because old me would have been like, "Sure!" And then promptly run out of the room to hide after the first request. I probably would have missed the whole session. Haha
But not this time, guys. I did it! And it felt so good!
Break Time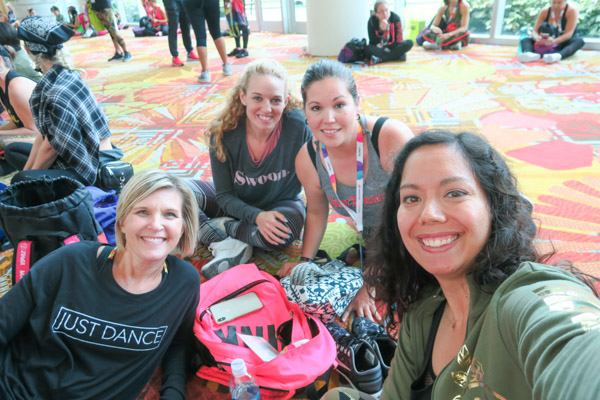 Since all my sessions were at the Hyatt (almost a mile from the Hilton), I planned to stay in the Hyatt all day. So I used the break time to relax, stretch, snack, and catch up with Zumba friends, Blythe, Antonia, and Jeniffer.
Fly Girl 101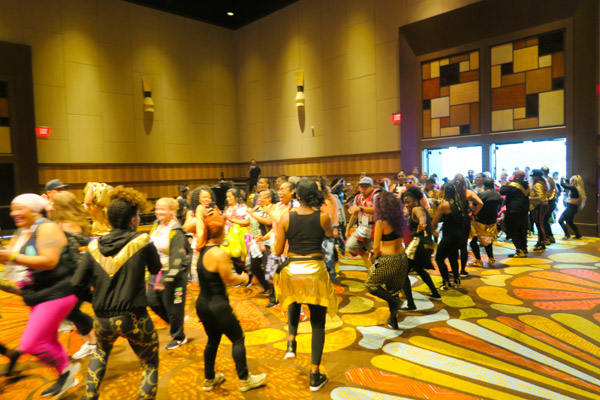 Fly Girl 101 had the best intro EVER! Lisa Marie had a team of (I believe) 35 people ready to greet you with dancing and plenty of smiles.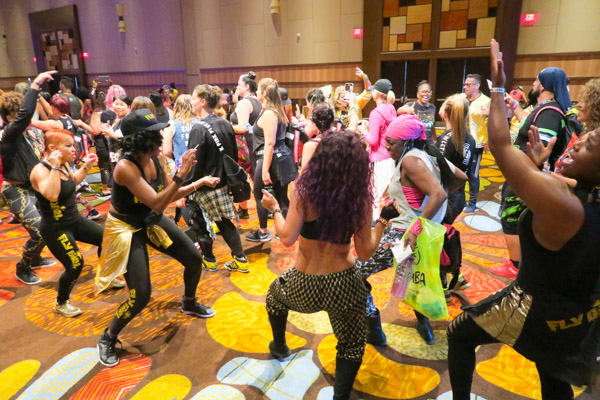 You gotta see the video for this part. It was super fun.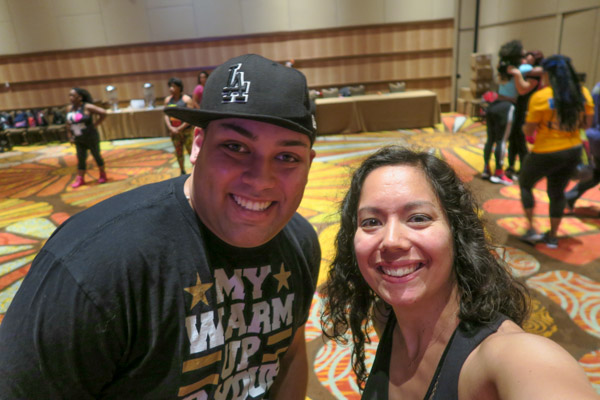 And Derrick from Virginia introduced himself in the session. He said he watched my ZinCon vlogs. Woop! Thank you, Derrick!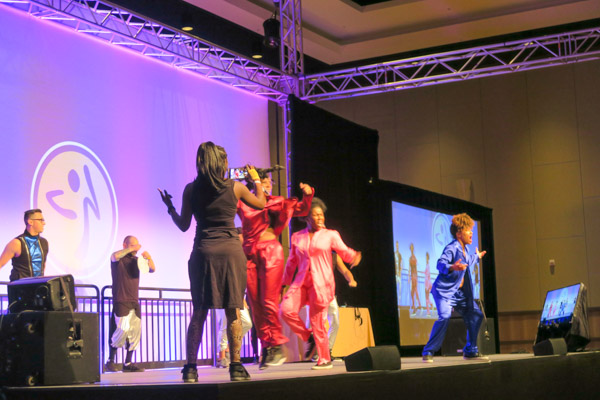 The session had costume changes.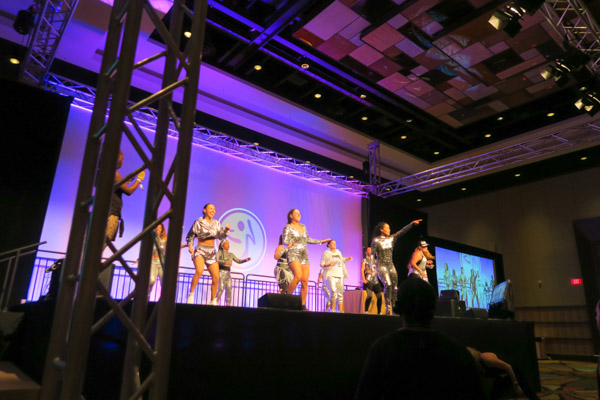 Lots of them. They were so fun!
We learned steps to 8-count sections that you can apply to almost any 90's song. They were fun and useful. We got to practice them to many songs. And there was even a dance battle.
This session was a real party, and I thoroughly enjoyed it.
Lunch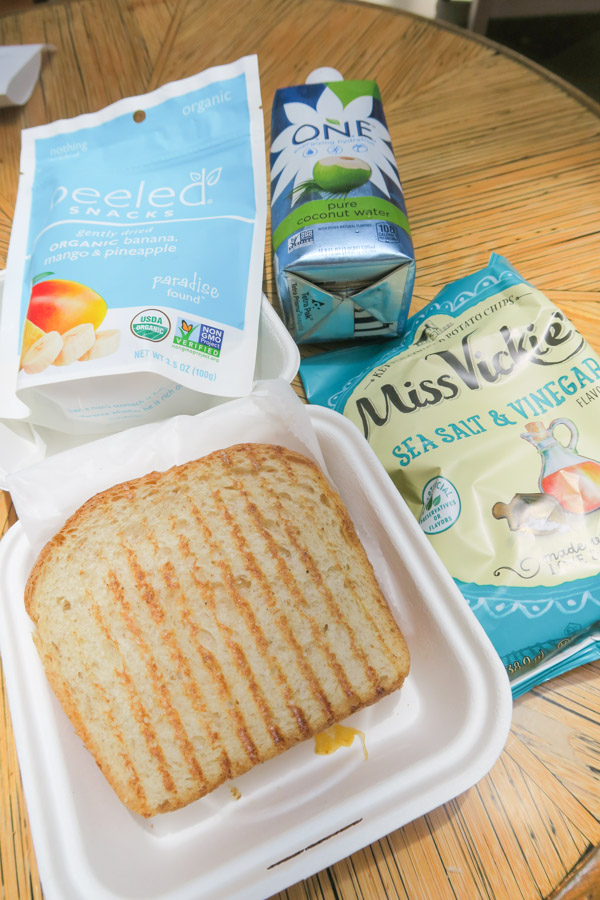 For lunch I had a grilled cheese, chips, some dried fruit, and some coconut water.
I've been avoiding conventional meat more and more. So I find I eat vegetarian when I can't find (or don't have time to find) the source information.
Hip Hop Turn Up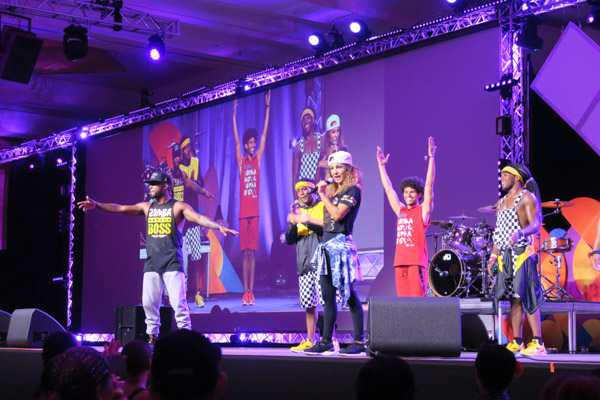 Hip Hop Turn Up with Gina and Dahrio is always a fun party.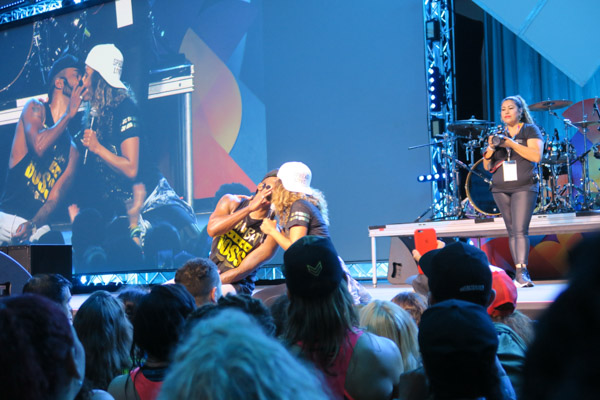 Their moves pair perfectly with hip hop music while being totally do-able and in line with Zumba-style choreo (easy to repeat moves for each section).
Also, they're so cute together.
Shopping Tip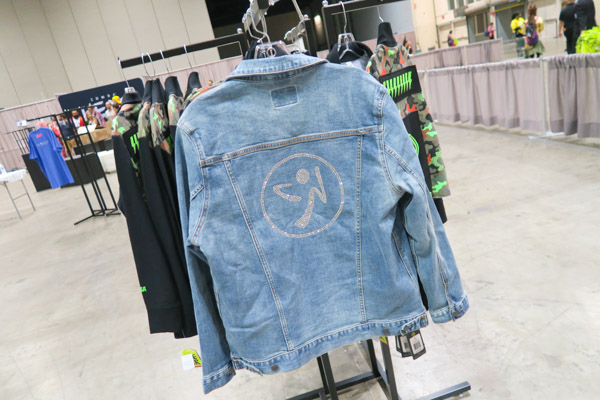 For those of you looking for sold out items, I have a tip for you.
Check on the return day. There's typically only one day for returns (which is usually Saturday). They'll restock items as they receive them. And if you're lucky, someone will return just the thing you're looking for.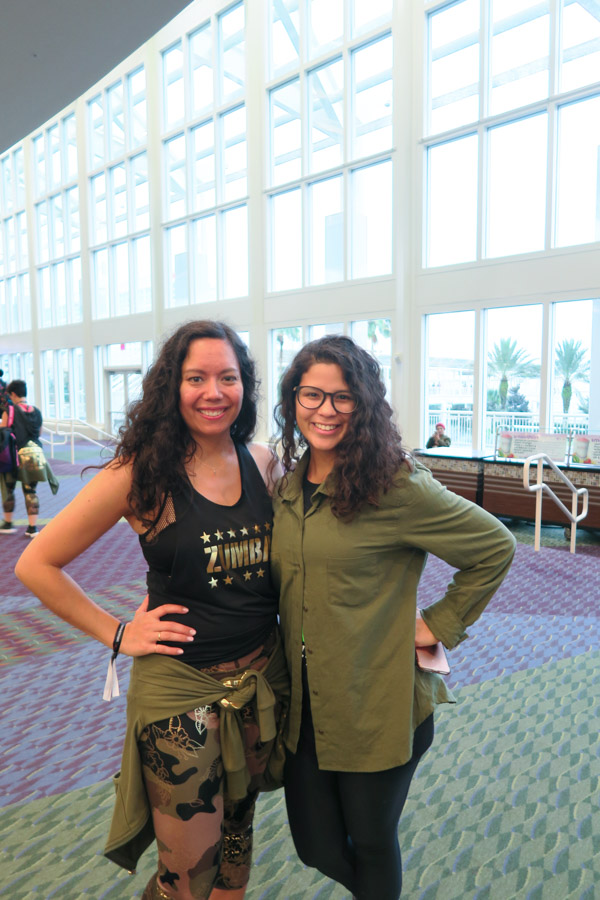 And Brenda from Venezuela introduced herself when we passed in the hall in the OCC. She said she watches all of my videos. Aww! Thank you so much, Brenda! And her favorite session? Mandarin! Brenda explained that in this session you learn Zumba moves with Mandarin-inspired flair. Very cool!
It's always so great to meet you guys in person and chat. I often feel like no one is really watching these vlogs, even though there are high view counts on most of these. So to meet you, talk to you, and hear that you watched these vlogs and found them helpful…that means everything to me.
If you ever see me at Zumba Convention (or anywhere else, really), please say hi!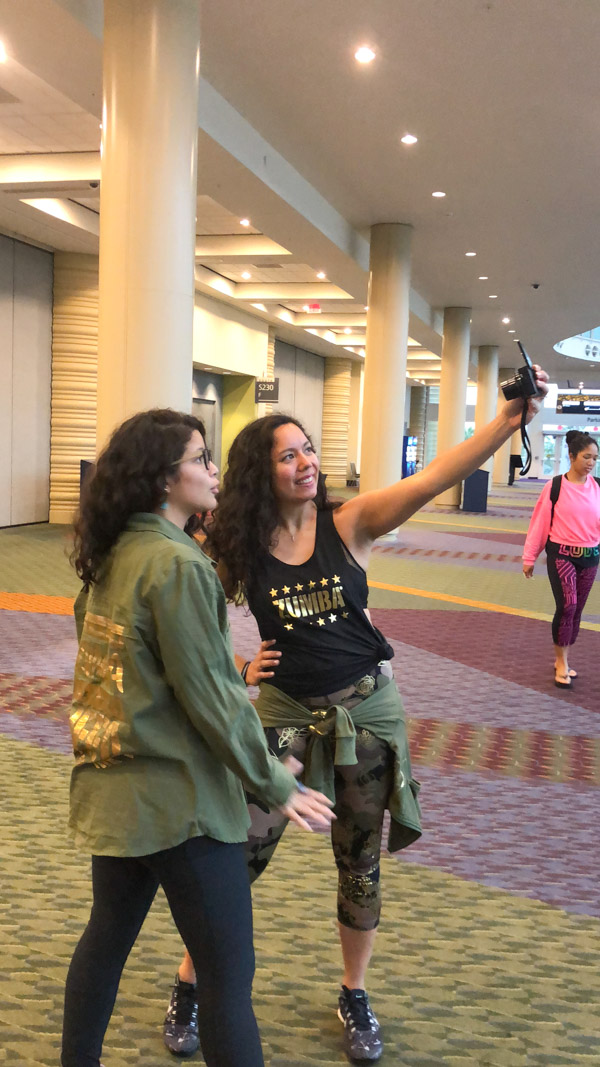 Shout out to Sara for getting this behind-the-scenes.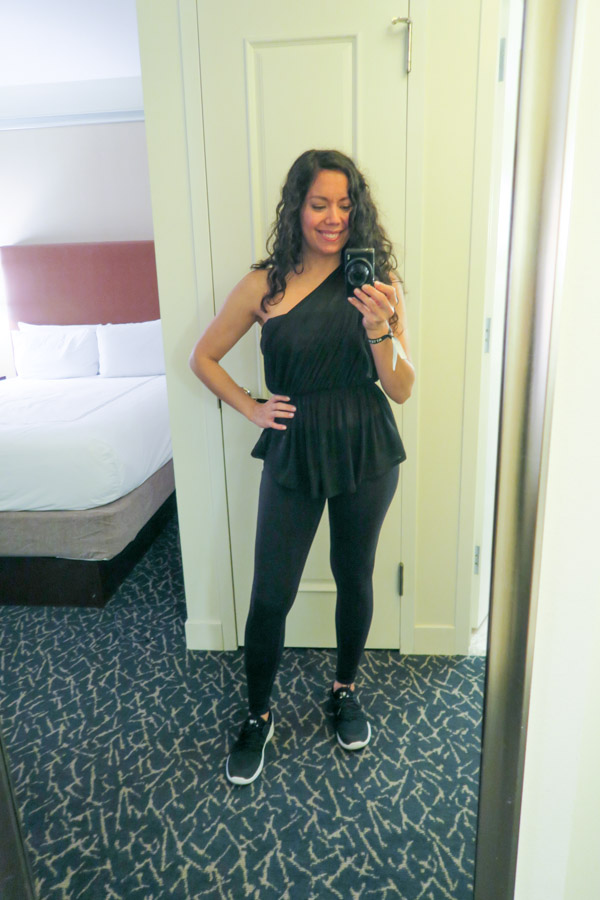 Here's my Theme Party outfit. With all the life changes, I didn't have much time left for costume planning. So I opted for comfort that was a little dressed up.
Dinner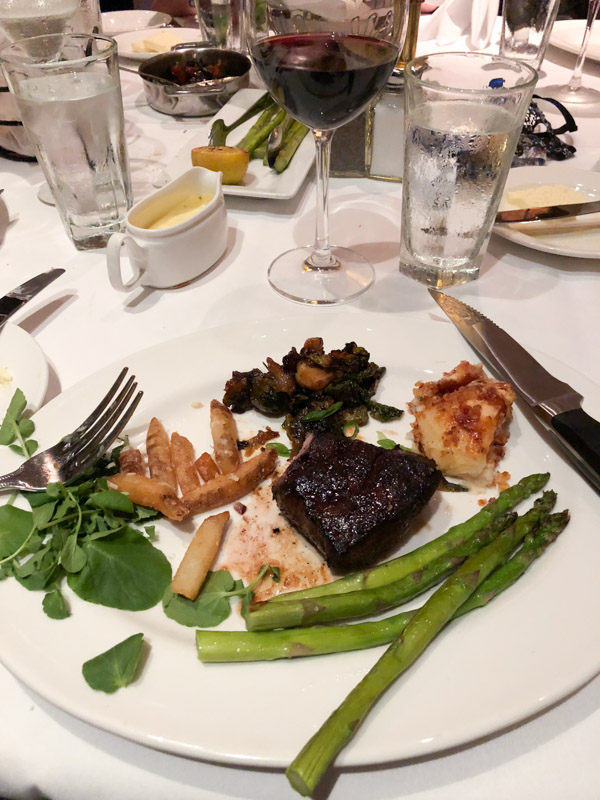 I headed out with the girls for dinner at Capital Grill where we got to celebrate Sara's birthday.
We shared steaks and sides, and it was delicious.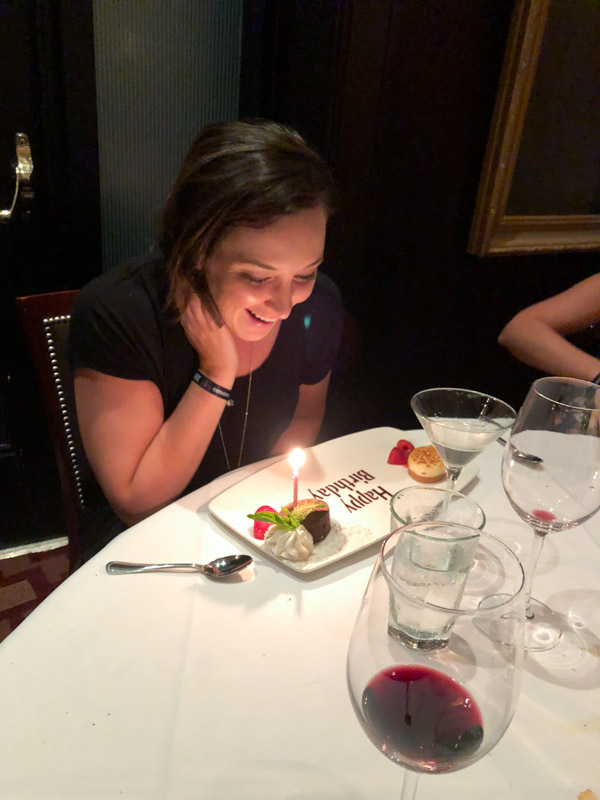 Happy birthday, Sara!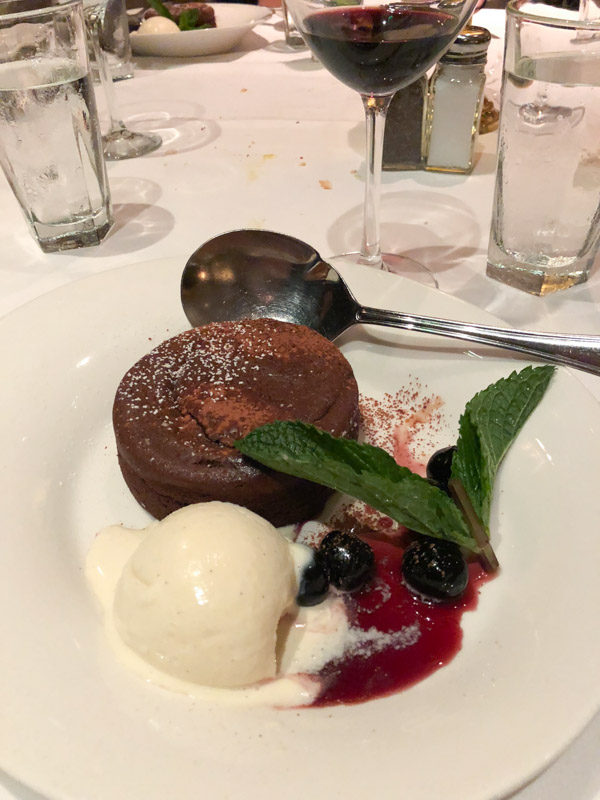 Mmm, hot chocolate lava cake dessert.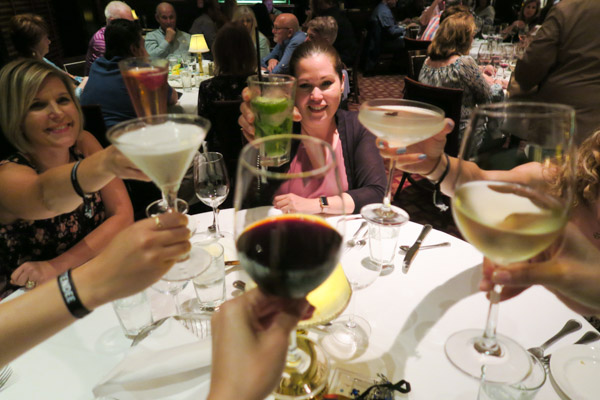 Cheers!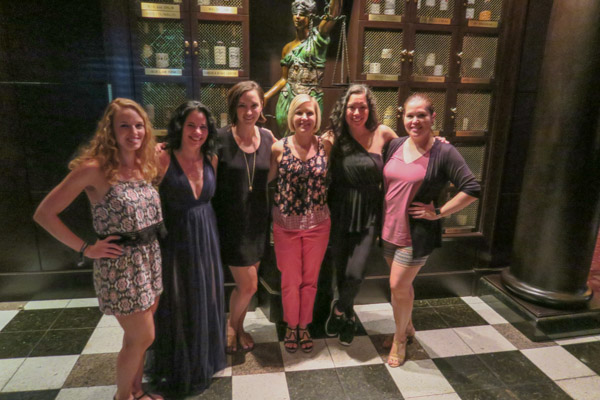 Next Up – Theme Party!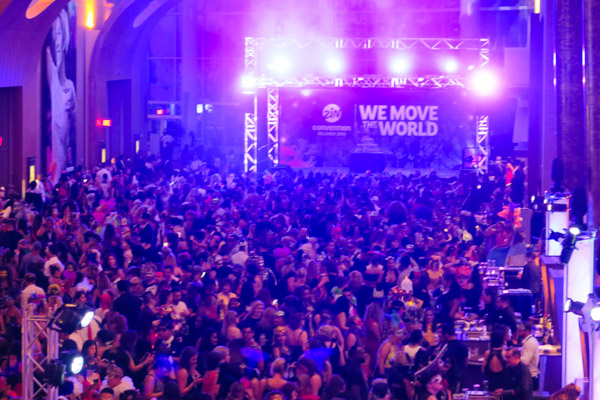 I have so many theme party photos to share with you, I decided to put those in a separate post so this thing doesn't take forever to load. But the video has both parts together, so watch the video if you want to see masquerade action.
More Zumba Convention Posts
Check out my other ZinCon 2018 posts:
And you can read about my other 7 years attending Zumba Convention here.
***
Thanks for reading and watching! Please share this with your fellow Zumba Convention fans and friends to let them know what ZinCon is like. Cheers!