Hello friends! Who's ready to make 2020 their best year (and start to a decade) YET?! When it comes to living your dream life, I'm a big believer in tapping into the Universe. But also in taking MASSIVE ACTION. Goals don't happen on their own, and you'll need to be sure you can actually achieve all those awesome goals you're setting for yourself. So, here are some tips on 5 Easy Ways to Achieve Your Goals (These Are So Simple!).
By the way, if you didn't know it already, I'm a HUGE personal development geek. I've been studying self improvement, growth, and what not since high school, if not earlier, so I've definitely learned a lot over the years. And I'm so happy to share these tips with you to help you live your best life!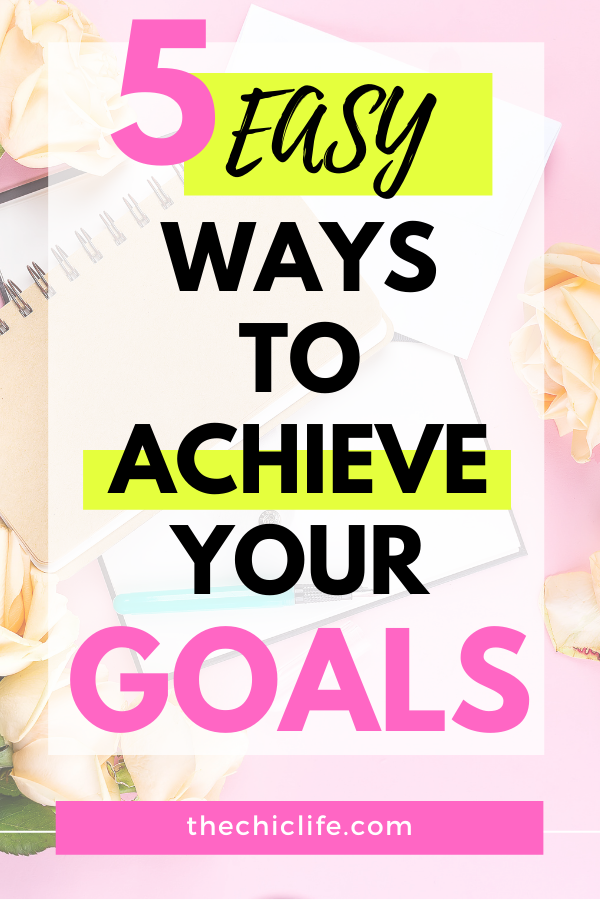 *VIDEO* 5 Ways to Achieve Your Goals in 2020
Click here to watch this video on how to follow through with goals in 2020 if the above player doesn't work.
Which Do You Choose: Excuses or Results?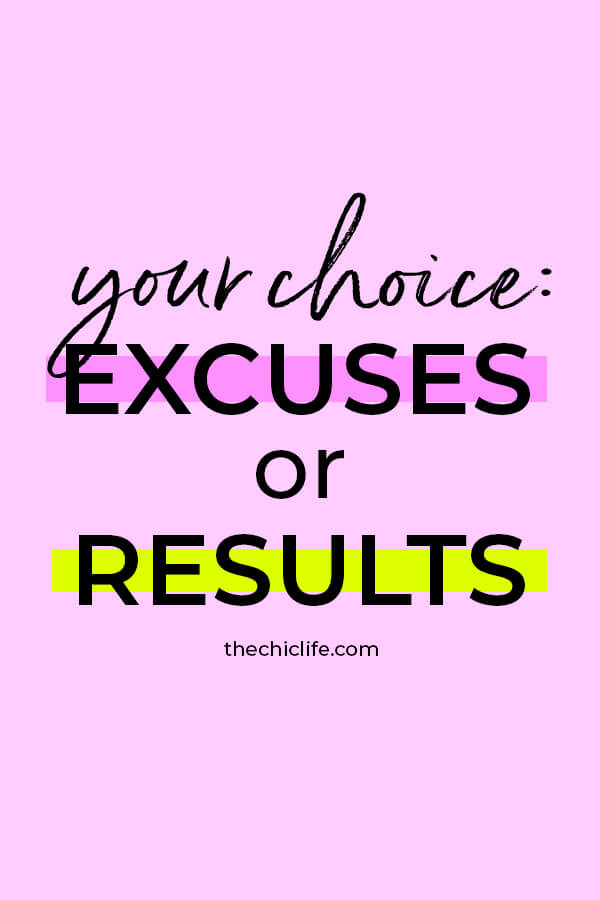 When it comes to getting things done, I like to ask myself a simple question:
Which do I choose: excuses or results?
(Probably inspired by this Tony Robbins quote)
This simple question is all I need to call BS when I'm making up reasons why I can't follow through.
I highly encourage you to save this question – save it on your phone, pin it, whatever. Put it somewhere you can see it often for inspiration.
And if you have any friends who need some encouragement, feel free to send this to them too. Heck, send them this whole post! There's a button at the end of this post to email it. Anywho…
Excuse Evaluation *Exercise*
Another thing I like to do is a simple excuse evaluation. I came up with this as an adaptation to something I read in The Magic of Thinking Big book.
How to Do an Excuse Evaluation
Look at the 3 areas of your life where you're successful and 3 where you're not (as much as you'd like)
Ask yourself: in that in the areas where you are NOT successful, do you have more excuses than the successful areas? (The answer is probably yes)
This is basically meant to be a kick in the butt to stop making excuses and start finding ways to get ish done. Simple as that.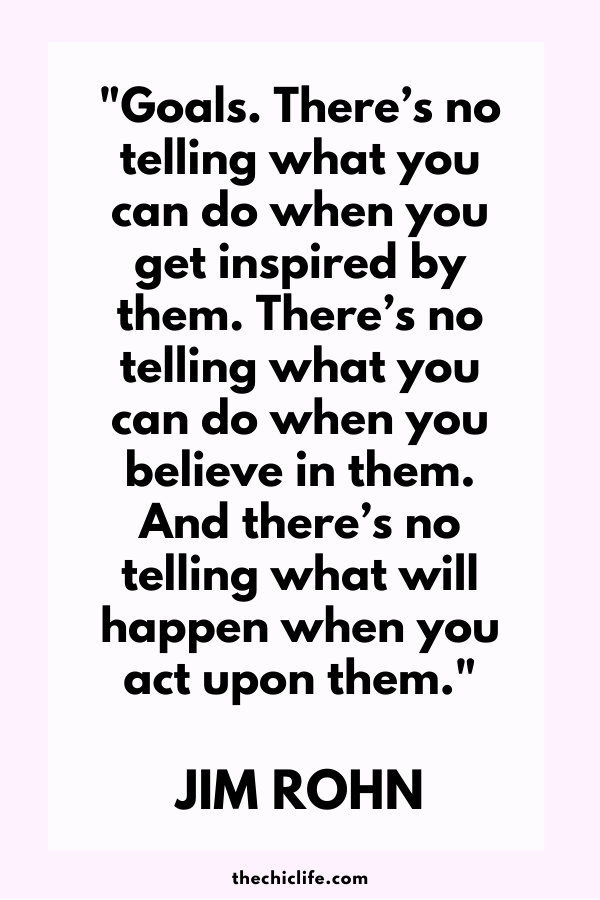 5 Easy and Realistic Ways to Follow Though with Your Goals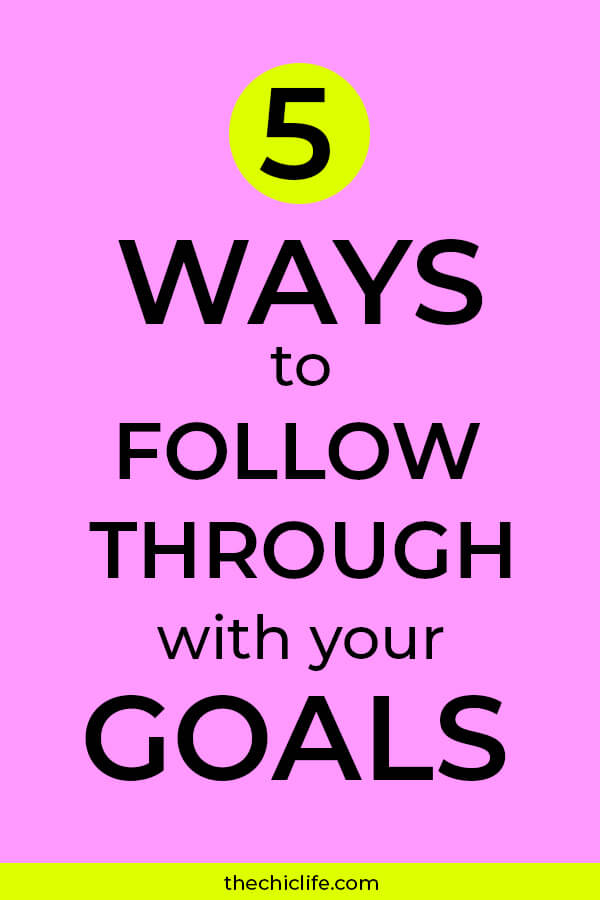 Whist there are many ways to achieve your goals, I find these 5 ways work in a really reasonable and realistic way. So you can…you know…actually feel successful! Let's jump into these goal success habits…
Schedule It
Compromise to Commit
Take the Next Step
Make It Cost
Grow Into Your Goals
Read below for an explanation on each.
NOTE: I'm doing to use the gym as an example, but you can apply these to almost any goal!
(oh and do check the video for more)
5 Easy Ways to Achieve Your Goals
#1 – Schedule It
Pick an exact day and time to tackle your goal. Schedule it like a meeting or appointment and treat it with the same importance you do work or the doctor's office.
Would you skip a work meeting? What about an appointment? And yet if you made an "appointment with yourself" to go to the gym, would you give it the same importance or just go when you feel like it? Hmm?
#2 – Compromise to Commit
If the thought of doing what you planned is making you feel like a failure before you start or you're thinking you don't have time, try compromising to commit.
When it comes to building habits, it's important to maintain the habit – the frequency and follow through. So if you wanted to go to the gym for an hour but you don't wanna go any more. Could you go for 30 minutes? Heck, even 5?! It's still forward progress and it helps build your habit successfully.
#3 – Take the Next Step
If the thought of going to the gym is overwhelming you, don't think about the HUGE effort it will be. Just take the next step. What's the smallest next thing you can do that will take you in the direction of the gym? Putting on socks? Do it. What next? Picking out your outfit? Do it. And continue…until you find yourself at the gym!
Note: I think I heard this one in a podcast, but I don't remember where! Please drop a comment if you know.
#4 – Make It Cost
When I was on ClassPass in NYC, if I signed up for a class and then wanted to cancel within 24 hours of that class, they would charge me $15! This small financial cost kept me in check and attending workouts, even when I didn't want to walk through rain, ice, and snow to get there.
If your associated goal doesn't have a cost associated, you can make a pact with a friend that you will follow through on your goal or you'll give them…$10…$15…$20? Whatever it takes to make it hurt just enough that you'd rather just tackle the goal than flake out.
#5 – Grow into Your Goals
Wen it comes to understanding ways to achieve your goals, one of the biggest mistakes I've seen over the years is that people try to go ALL IN from day 1. They're like, "I'm going to go to the gym EVERY DANG DAY!" (even though they're currently going 0 days a week)
I've never seen this work, and I know from personal experience that drastic changes don't work for me, at least.
Instead, grow into your goals. If you want to go to the gym every day (though…don't you want rest days?!), then start small. Especially if you're currently going 0. Try going 1 day per week until you can successfully maintain this. Then add one day at a time.
Or make a plan if you want to try to time box yourself, and add one or two days a week to meet your timeline. Tweak it so it works for you. But the general idea is to start smaller than where you want to get to. You may even find you're successful with less than you originally though.
(I work out 1-3 times a week btw, and I LOVE rest days)
***
💡Save this for later by pinning it to your Personal Development board on Pinterest.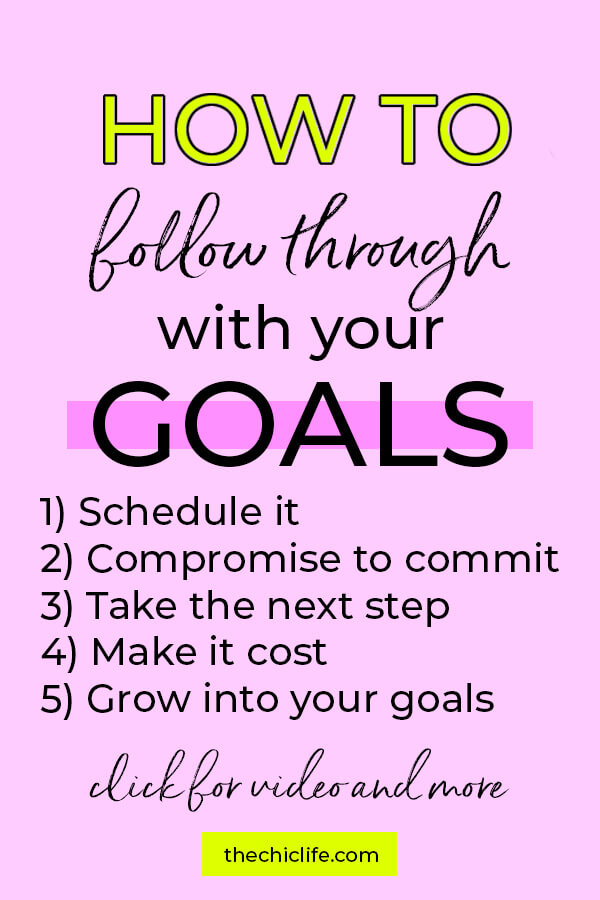 More Personal Development Tips
Confidence Is a Skill – You Can Become Confident Now
Click here for more motivational posts and videos
***
Hope you enjoyed this post and video on 5 Easy Ways to Achieve Your Goals (These Are So Simple!). Hope you got some great tips that will help you live your dream life, one goal at a time!
What's your favorite way to achieve goals? Leave a comment below!