Can you manifest a specific person? Yes! You can manifest ANYTHING using the Law of Attraction. But what I want to talk about in this post and video is why you should NOT manifest a specific person. Hint: It's because I think you can get even better results with manifesting your soulmate another way! Of course, this is simply my opinion, and if you truly wish to desire your specific person, I say go for it!
Let's jump in…
*VIDEO* My Experience Manifesting an SP and Why I Think You Shouldn't (In My Opinion)
Be sure to watch my video for my full explanation and some fun examples.
Click here to watch my video about manifesting a specific person if the above player doesn't work
Can You Manifest a Specific Person?
Yes! I want to be super clear that you definitely can manifest a specific person. Additionally, to respond to some of the feedback I've received on this topic, yes, you also can manifest that person to change. It's just my *opinion* that you shouldn't.
But ultimately, you can manifest pretty much anything using the Law of Attraction.
Now, some LoA teachers say you can literally manifest anything. I like prefer to say that you can manifest *almost* anything. Perhaps I'm too rooted to my 3D experience, but in my opinion, if you're a 70 year old 5 foot tall woman, you will most likely not be able to manifest playing as a starting line-up member playing regularly for an NBA team. I'm willing to be wrong here, I just haven't heard of someone manifesting something like this.
Perhaps this is due to my approach of working with manifestation and Law of Attraction from a practical-meets-woo POV.
Two Reasons You Should NOT Manifest a Specific Person
So we've already established that you can manifest a specific person. But beyond that, should you do it? I have two reasons I think you should NOT.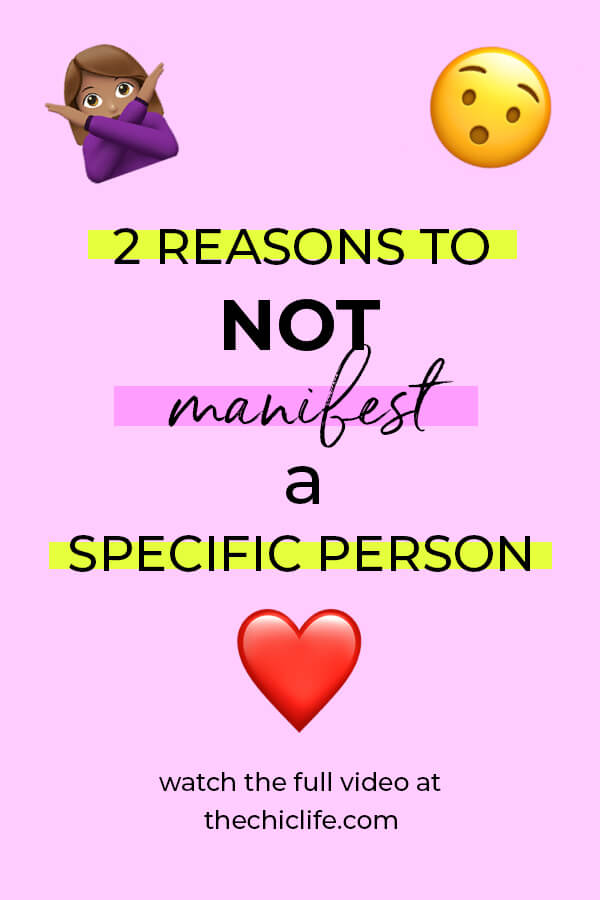 And before we jump in, I've heard many stories about manifesting a specific person going both well and not so well. When it comes to success with Law of Attraction in the love department, I wanted to share my thoughts based on my personal experiences. But I'd love to hear from you if you've manifested a specific person, so do comment your story below!
Reason #1: You may manifest a specific person but not get your needs truly met (or may have to do a TON of mental gymnastics to manifest needs they don't yet have)
Pre-note: I've been reading a TON about this in various Facebook groups, YouTube comments, etc. and what I'm sharing is based on what I've heard time and time again. I read so much pain and struggle in people trying to manifest a specific person and wanting to change so many things about them. I've heard of people putting their lives on pause for YEARS trying to manifest a SP, and it's just my opinion there's a better way to get what you ultimately want – love. Now every once in awhile, someone will pop in and say, "That's not me! My specific person is perfect for me, and I'll manifest them!". Okay cool. You do you. This post isn't for everyone, and it sounds like it's not for you. If so, the rest of this post will be unhelpful for you, so no need to read further. I'm sending you all the love and best wishes on your SP manifesting.
So say you're looking for a relationship with someone where you have the following, and they:
like to travel with you
respect you
make you feel loved
like to hold your hand
make you feel safe
But you've had a crush on this guy, Joe, and you decide to manifest a relationship with him. In the relationship, you find out that he respects you, makes you feel loved, and likes to hold your hand, but…
…he does not like to travel (he's a homebody), and he doesn't make you feel safe (he's a trusting soul and leaves the doors unlocked, among other things). Now you have a relationship where you may (keyword="may") have to compromise on traveling with your significant other and getting that feeling of safety you desire.
Of course, this is just ONE example, and you could have manifested a different specific person who DOES give you all the things you want. This isn't a case of always having one or the other. A specific person certainly CAN give you everything you want.
The key here is that focusing on a specific person opens you up to the possibility of either compromising on what you truly want or having to do a TON of mental gymnastics to manifest them to have the things they're currently lacking.
Why?
The Challenge of Knowing Our Specific Person
Abraham Hicks talks a lot about how it's SO much easier for us to manifest based on our physical experience. This is one way our manifestations can be blocked because we can be so aligned to the energy of what we already know that it's hard to align to the energy of what we truly desire when it's different.
So if your specific person doesn't have all the qualities you want, you'll have to overcome what you already know about them to manifest them having those qualities.
I mean…think about what you may want to change about yourself / your life. And now you have to do that for yourself AND for them?
Tuning Into You
Yes, the Universe is unlimited. You can manifest anything with the Law of Attraction. But we are spiritual beings in imperfect human form, living a physical experience, and that human form can unfortunately come with some limitations. I don't want to create limiting beliefs for you but instead ask you to tune into what is true for YOU.
You can do whatever you want with your time and energy, but mental gymnastics are not for me. I prefer manifesting from a more flow space and leaning more into surrendering and trusting that the Universe has a better plan than me (as Gabby Bernstein says).
So, what if you could get EVERYTHING you want from a significant other an easier way? You can! This brings me to my next point…
Reason #2: You cut the Universe off from giving you the full abundance and limitless possibility available to you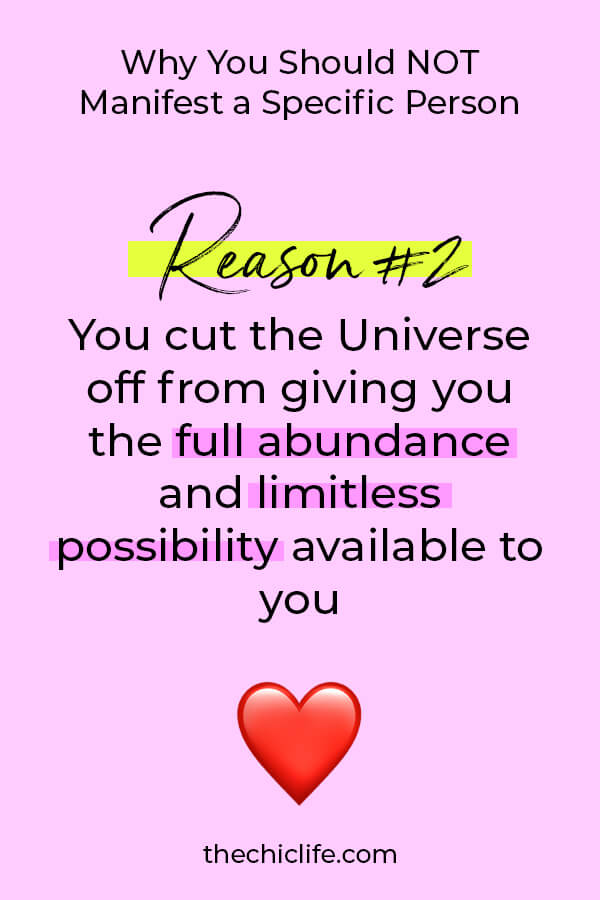 In the example with Joe, you got your guy, but you had to compromise in a couple areas of your relationship (or put a lot of work into manifesting him changing).
Whereas if you focus on manifesting your ideal relationship, you will get EVERYTHING you want – whether it's your specific person OR someone else. The Universe is full of abundance and limitless possibility, so there are many matches who can give you everything you're looking for in a relationship!
You can guarantee having a relationship that gives you all of these:
like to travel with you
respect you
make you feel loved
like to hold your hand
make you feel safe
If you focus your thoughts on the above qualities and are open to the Universe delivering the perfect person for you.
I actually manifested my ideal relationship by focusing on a list of ideal SO qualities. At the time, I thought there was someone I already knew who may be my ideal match. However, I ended up dating someone completely different.
Could I have manifested the person I knew? Probably! However, that person most likely not have moved to SF with me, and I wasn't interested in a long distance relationship. So, it seems to have worked out well!
Want to Manifest Love?
Learn how you can manifest ANYTHING you want using the Law of Attraction
Is Manifesting a Specific Person Wrong or Bad?
One of the most common questions I've heard about manifesting an SP is: "Is manifesting a specific person wrong?" Well, the answer is…it depends.
It depends on your belief system.
From my research, there are a couple schools of thought on this:
Yes, it's wrong, because it's wrong to manifest against someone's free will
No, it's not wrong, because somewhere out there in the multiverse or multi-worlds there is a version of reality where you and you and your SP are together in perfect harmony, and you can shift into that reality at your choosing
Let's discuss both of these further so you can find what feels most true to you.
Manifesting Against Someone's Free Will Is Wrong
Some argue that manifesting a specific person is wrong because it could be manifesting against that person's free will in a manipulative / negative way.
This is complicated because not everyone agrees that free will even exists in manifestation.
Additionally, if you're manifesting a specific person, but that person is manifesting someone very different from you – who would win? The person who was better at manifesting? Could the stronger manifestor bend the free will of the other?
From a purely practical POV, if manifesting a specific person feels wrong to you, it's probably not a good idea to try it. If it feels wrong to you, chances are good that your subconscious will self-sabotage you. Or if it works you'll feel guilty and bring negative emotions into the relationship.
But you need to choose what feels most true to you. And there's another option.
Part of why some people argue that free will isn't a thing is due to the next section on multi-worlds.
Manifesting an SP in the Multi-World (Or Multiverse) Is Okay
There is a theory in Quantum Mechanics that multiple versions of reality exist at the same time. And some manifestation teachers believe you can use manifestation techniques to shift into the reality that has anything you want.
Think Doctor Strange in the Multiverse of Madness. Sort of.
The Many-Worlds Interpretation (MWI) of quantum mechanics holds that there are many worlds which exist in parallel at the same space and time as our own.

Source: stanford.edu
When it comes to manifestation – even a different thought could put you into one world versus a different one. So to manifest your SP, you'd need to choose the thoughts, energy, etc. that would shift you into the reality where you and your SP are happy.
Also, some people reference multi-worlds and the multiverse interchangeably, but they are different in quantum mechanics.
What are your thoughts on these schools of thought? Comment below!
What the Experts Say About Manifesting a Specific Person
As this blog post and video have garnered a lot of attention, I've decided to see what the experts say. As I gather additional information from the best Law of Attraction teachers out there, I'll add that here.
Gabby Bernstein on Manifesting a Specific Person
Gabby Bernstein is one of my favorite Law of Attraction teachers. I was very curious what she would say about this highly-debated topic. Luckily, I found her answer on her site: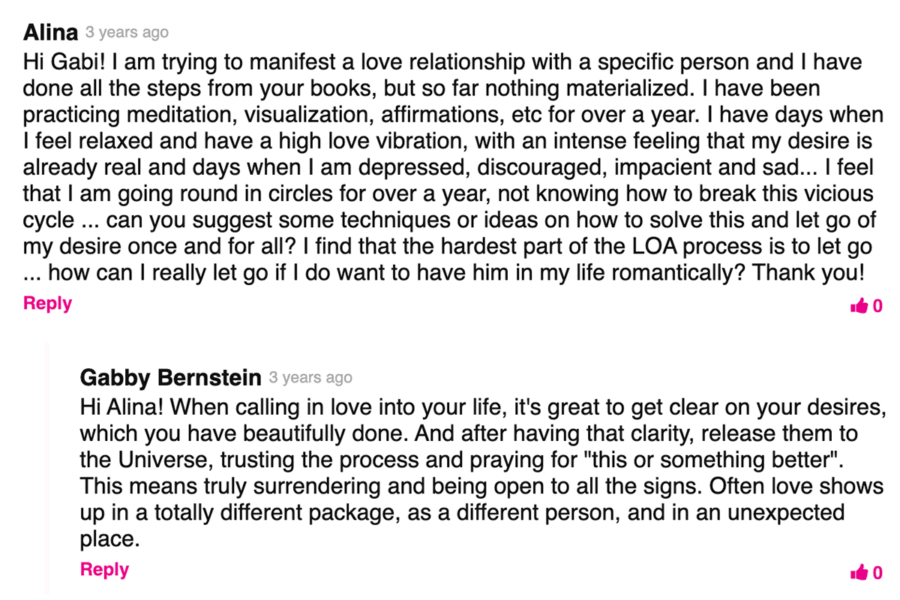 So a reader named Alina commented on Gabby's blog post "How to Use Manifesting to Get Anything You Want: My Interview with Marie Forleo". Alina shared that she had been trying to manifest her SP for about a year without success and asked Gabby for help.
Gabby replied that it was great that Alina was clear on what she wanted. But also to let go and trust the Universe. She also suggested Alina focus on the prayer/mantra "this or something better" because "love shows up in a totally different package, as a different person, and in an unexpected place."
I know Gabby is huge on focusing on your true desires and releasing control. So this aligns with what I thought she may say. As well as how I also approach manifestation and experienced the most success.
Summary
In short, whilst you can manifest a specific person and that person CAN give you everything you want, I personally find the risk of compromising on what I want in an ideal relationship too high.
Definitely check out the above video for more details and a couple additional examples.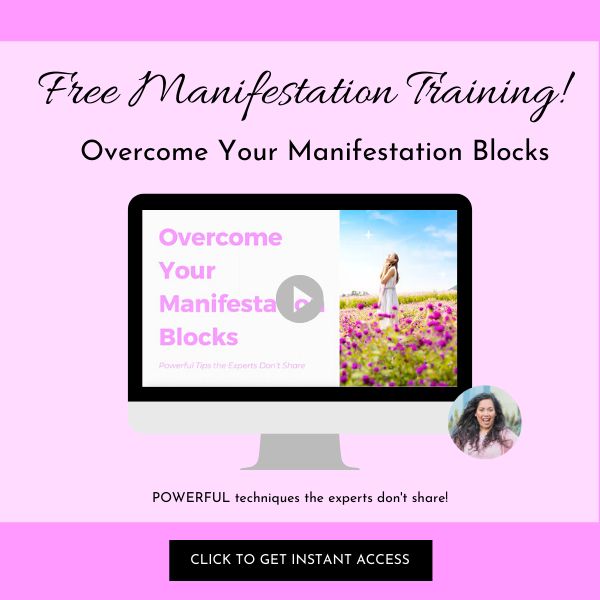 More Manifestation Inspo
How I Manifested Love / My Boyfriend
How to Manifest Someone to Text You
How to Use Jealousy to Attract LOVE to Your Life
How I Manifested My Dream Luxury Apartment
How Seeing Repeating Numbers Helps Your Manifestations
How I Overcame My Back Injury Using Law of Attraction
***
Wishing you love and happiness whether you manifest a specific person or focus on your ideal relationship qualities.
What do you think? Should you manifest a specific person? I'd love to know your thoughts and hear from anyone who's done it on how their experience went. Comment below!