Here's a fun project to try this strawberry season…
Does this look familiar?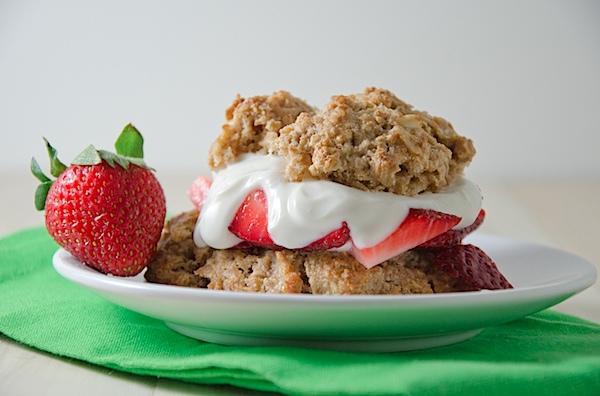 I mean, from the photo, we appear to have something I've blogged about before – Farm-Fresh Strawberry Shortcakes with Amaretto-Spiked Whipped Cream (click for recipe).
It looks like a rich shortcake with sugar-sweetened strawberries and fluffy, potentially-spiked, whipped cream, right?
As it turns out, looks can definitely be deceiving…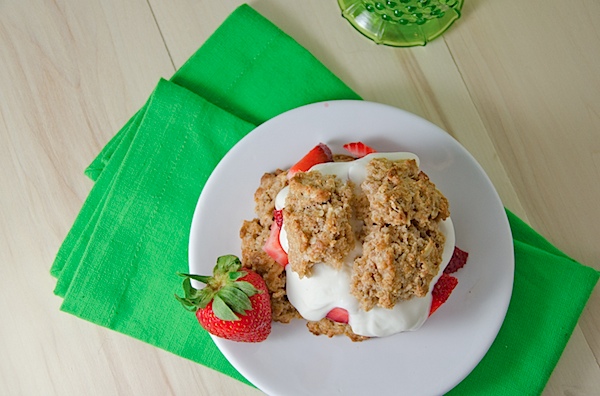 What we actually have here is a strawberry shortcake made-over for breakfast. I added one of my favorite breakfast ingredients – oats. I also used a whole grain flour (spelt), cut the sugar by not macerating the strawberries in sugar, and found a fabulous, breakfast-worthy substitute for the whipped cream – yogurt.
I'm not going to promise you that this is healthy, but it is more breakfast-friendly. Would a chocolate croissant have more butter and sugar? I don't really know, and I don't really care. But, anywho, you could probably use this version as another Not So Sweet dessert with even less sugar than the original. Just tell them it's good for you because of the probiotics. Yeaaaaaa…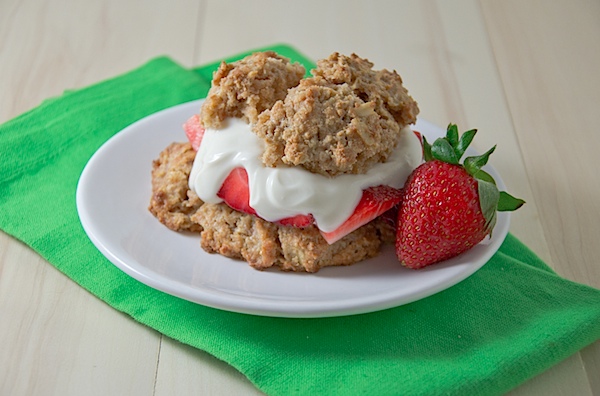 Breakfast Strawberry Shortcake for One
I took my dessert strawberry shortcake recipe and switched up the ingredients to make it more breakfast-friendly. I used a whole grain flour, added oats, skipped macerating the strawberries, and substituted yogurt for the whipped cream. You could probably make this even healthier by substituting a good oil (maybe coconut?) for the butter (and please report back if you do). Oh, and I took almost all of the sugar out of this baby, so if you like your breakfast sweeter, by all means, add your preferred sweetener, to taste.
*Vegetarian, Vegan Options Listed*
Ingredients:
1/4 cup spelt flour (or flour of choice)
2 tablespoons oats
2 teaspoons sugar
1/4 teaspoon baking powder
1/8 teaspoon salt
1 tablespoon butter, cold (or sub vegan substitute, like Earth Balance)
3 tablespoons milk (or vegan non-dairy milk)
3-4 strawberries, tops removed, sliced
1 small container vanilla, Greek yogurt (or yogurt of choice or vegan yogurt, like a coconut-milk-based option) – or sub plain yogurt and add sweetener of choice, to taste
Directions:
Pre-heat oven to 400 degrees F. Prepare a small baking sheet with parchment paper.
Combine flour, oats, sugar, baking powder, and salt in a medium-sized bowl. Whisk (or use a fork) to evenly combine.
Use a pastry cutter or fork to cut butter into the dry ingredients until the butter is in small bits (about the size of rice grains or pop rocks…yea, I said pop rocks).
Gently stir in the milk/non-dairy milk until just combined (careful to not over-mix, but do ensure all flour combined into dough).
Form dough into a ball-shape and place on the prepared baking sheet.
Bake for 15-18 minutes, until golden brown on top and cooked through (if a toothpick inserted in the center comes out clean).
Allow to cool to room temperature. Cut shortcake in half. Top bottom half of shortcake with strawberries. Stir yogurt to desired texture and spoon as much as you'd like (I used about half the container) over the strawberries. Top yogurt with top half of shortcake and enjoy.
You may also like: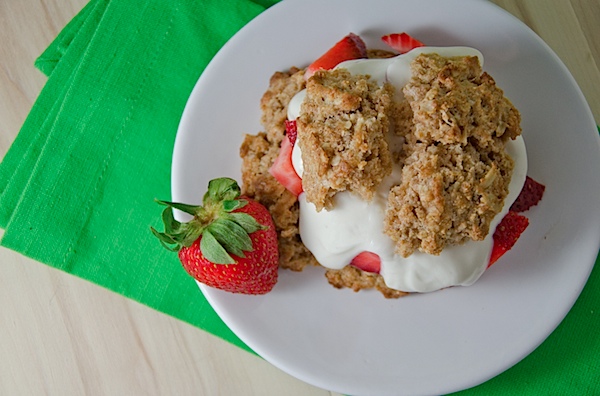 Dessert for breakfast? You betcha.
***
Click here to get free updates (even delivered to your email inbox).
And we've been having some great conversation over on my Facebook page. Click here to take a look and like my page.
Thanks for reading!
***
Reader question: What's the sweetest thing you ever ate for breakfast?
3