I often wake up on Day 3 of ZinCon in a bit of denial that it's my last full day. But, it's too early to think about convention coming to a close. There's too much fun ahead! Days 1 and 2 were great, but 3 had a lot to look forward to: a master class with Kass Martin, Absolute Funk, Queen of Pop, and the Theme Party).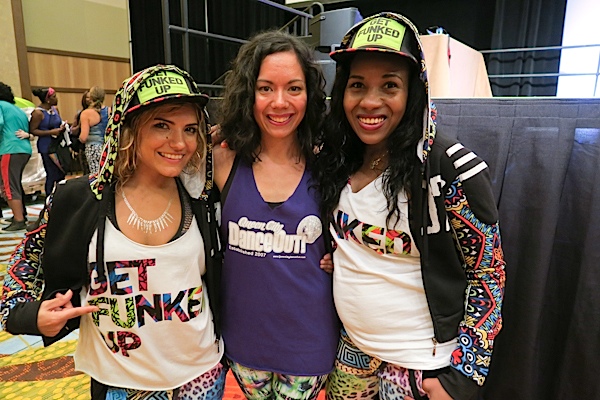 By Day 3, my body is feeling the wear of the previous days full of dancing, but with so many great sessions and instructors, it's pretty easy to muster up the energy to continue.
Master Class with Kass Martin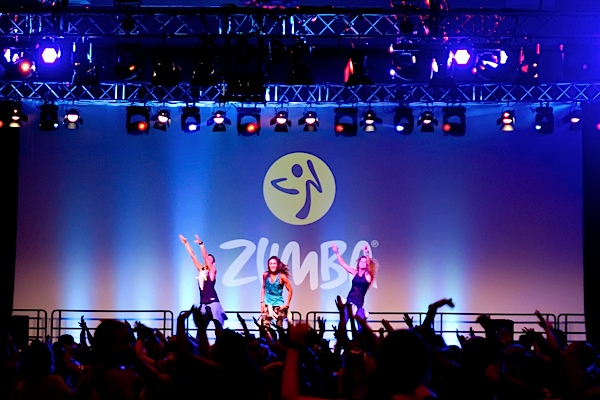 I did Kass Martin's master class at Zumba Convention 2014, and it was such a great experience, I decided to do it again this year.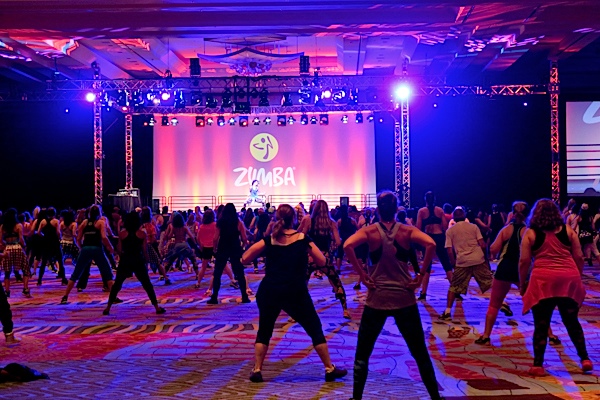 Her energy is contagious, her choreo is fun, and I truly look to her as an inspiration for what it means to be a great Zumba instructor.
She did one of the same songs she did last year (Sheil Ki Jawani), and it was actually one I brought back to do in my classes. Since I knew the choreo already, I got really excited because I knew I could extra get into it. I jammed out!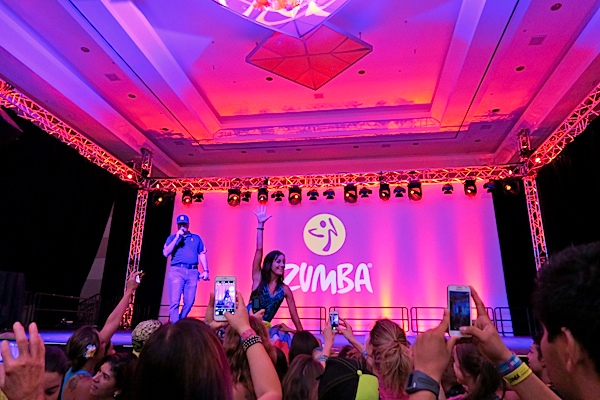 I Shazamed a ton of songs because there were so many I thought my classes would enjoy. But the stand out favorites are: Imagine by Nico and Vinz and Freedom by Pharell. I especially liked Imagine because it was so fluid and pretty. There's a moment where Kass did an inspirational push up with her hands and then twirled them as they came down that instantly made me love the song and choreo. I also really enjoyed her cool down song, Wildest Moments by Jessie Ware. As always, it was overall fabulous. Don't be surprised to see me there again next year!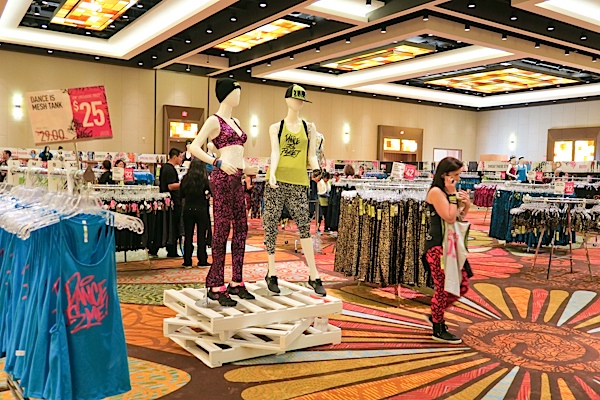 I swung by the Zumbawear store again to see if I wanted to pick up more goodies to take home. This was likely a mistake because I found too many things I liked.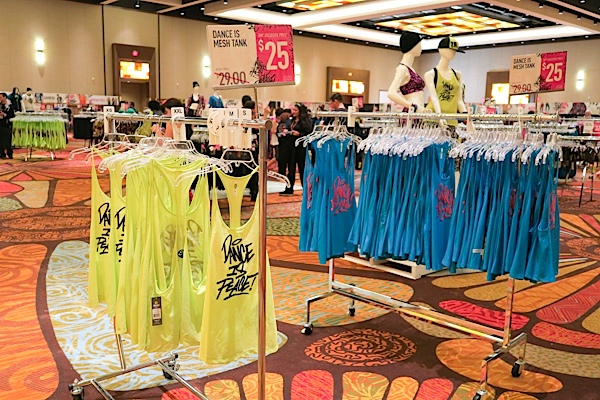 My favorite item was this mesh tank top. It must have been everyone else's favorite too because they were nearly sold out. I only found my size in turquoise. Black and gold was nowhere to be found. And I stood by the rack for a short period of time to see if neon green would come out since Saturday was the first day people could make returns. What do you know…within about 5 or 10 minutes, a tank in my size came out!
By the way, if you liked this tank top too, stay tuned for a giveaway in an upcoming post! 😉
Absolute Funk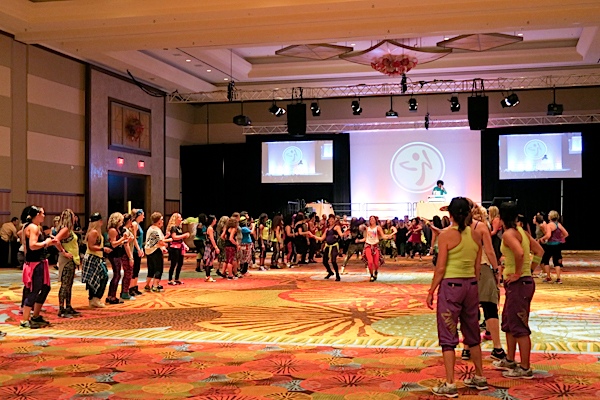 Next up, I went to Absolute Funk with Shahidah and Clotilde.
This session started with a brief presentation on the history of funk, which I found really interesting. There were so many artists they mentioned that I didn't realize were in the funk genre or were inspired by funk. For example, Dr. Dre's G-Funk is based on funk. This may be obvious for some, but I didn't realize there was such a direct correlation despite G-Funk literally containing "funk" in the name.
There were two really sweet and personal moments towards the end. Shahidah's husband came on stage with their new baby and presented Shahidah with some beautiful flowers.
And Shahidah's mom, who is a Zumba Gold ZES, also came on stage to share some touching words. Aww…feeling the feels!
Queen of Pop
The answer is YES!
Queen of Pop is another repeat session for me. I did this one in 2014, too. I came to see one particular song again (Like a Prayer), but I got so much more.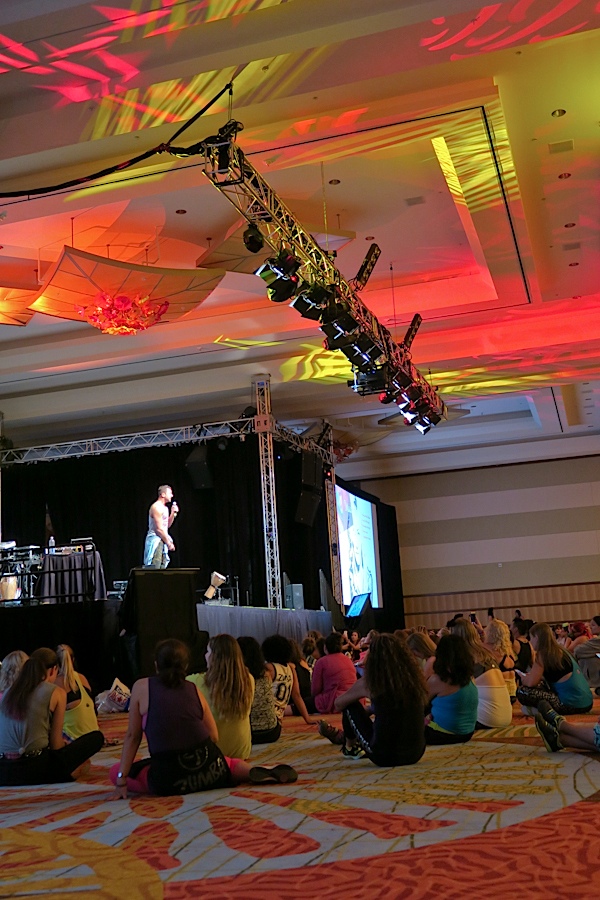 I remembered loving this session last year, but this year, it may have been a top 3 (if not top!) fave. Steve keeps us engaged and refreshed by playing familiar Madonna songs but using concert remixes. You can recognize the song, but it may have a totally different feel to it, which gives you the comfort of knowing the song while also providing a unique experience.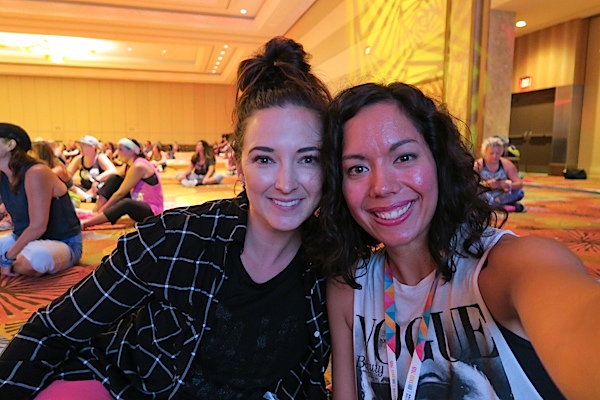 My friend Sara was in the same session, too, which was great. It's always fun to share the session with a friend.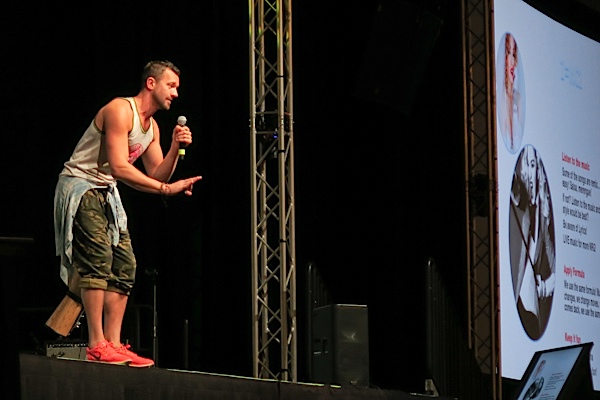 My favorite songs this year were Like a Prayer, Beat Goes On, and Material Girl. I've been doing the latter two for the last few weeks, and classes have loved them. I probably have the best memories of Beat Goes On because it has a walking spin. And I just remember walking in unison with hundreds (or thousands?) of fellow ZIN members and twirling across the room. I love a good spin song. Oh, and there was a really energetic Asian lady beside me. She was dancing with so much pure joy, it was really cool to see. I love how Zumba can give so many people that moment of clear happiness.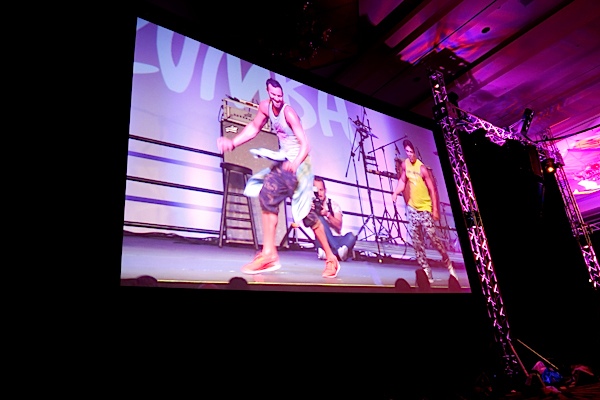 And we had a Beto moment! He came in during Material Girl and busted out some Vogue arms. Woop!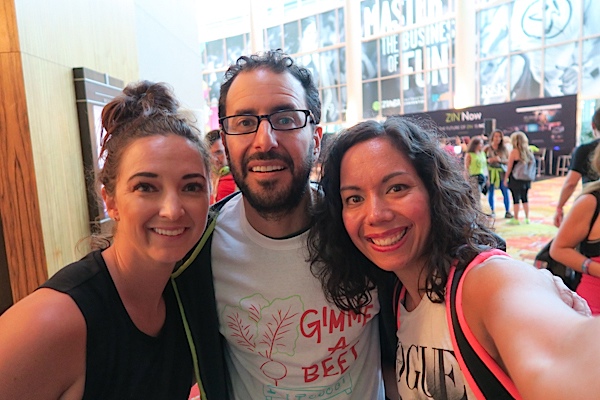 And Sara and I met Alberto Perlman!
***
You can get even more about my ZinCon 2015 Day 3 experience by checking out my vlog:
***
For more, you can click through my other ZinCon 2015 posts:
I took tons of Theme Party photos, so I'll share those in a separate post. Hoping to get that one up later today! But, you can watch my video in the meantime if you really want to see some scenes now.
Thanks for stopping by!