I adore plateware. If I could, I think I'd have plates in every color and pattern. It must be the inner Martha Stewart in me. Since I don't have enough space to hold a plate for all occasions, I have to try to be selective as I add new items to my collection. It's hard to say no, but I try to be picky.
My favorite types of plateware to purchase are dinner plates, bowls, and mugs because I use them the most. I especially love white and turquoise-colored plateware, but I like adding expected colors in, too.
Here are some of my favorites from my collection:
Dining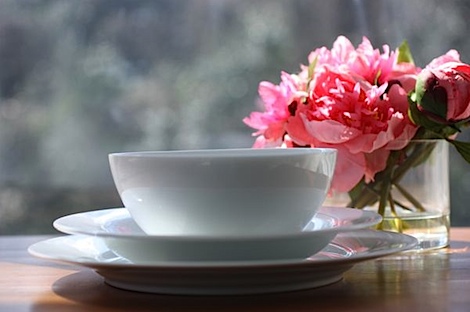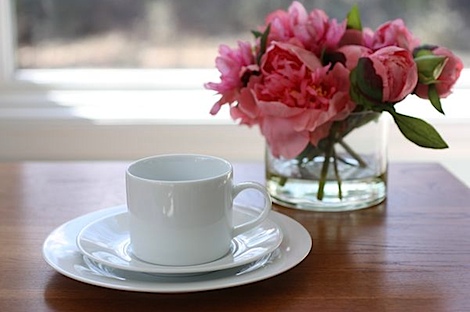 For a long time, when I was in and shortly after graduating college, I had some plates that were hand-me-downs from my parents. They were great, but they had distracting flowers on them. All I really wanted were some simple white plates – no flowers, no distractions. I wanted the plates to be my blank canvas so my food could be the focus. I spent a few years drooling over white plates, but it wasn't until hubby and I got married that we finally got our white plate set. Since we were having a small wedding, we decided to get fine china later but white every day plates for now. Great decision!
We got the Aspen Dinnerware from Crate and Barrel and I love these plates – they are the foundation of my dinnerware collection. Hubby and I currently have 8 plate settings, but I'd like to get more in case we have a large party to entertain or in case any of our dinnerware breaks.
*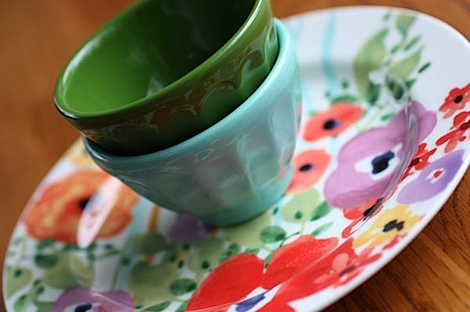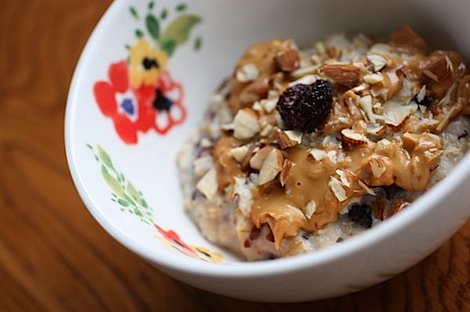 For the last few years I've dreamed about having a place to entertain. I love seeing beautiful places settings full of color and life, and I love how these plates have so much energy. I think I need to get some more of them so I can do a great spring or summer entertaining dinner.
These plates are from the Verdant Acres collection plus two mini latte bowls
*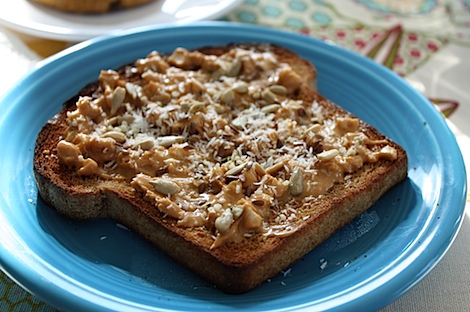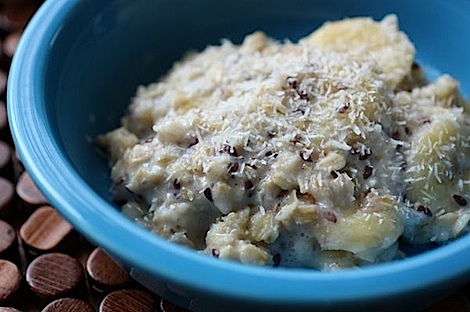 After seeing tons of vintage Fiesta dinnerware online when I was searching for vintage plates, I thought I should look into these famous plates. They seemed very popular and came in an array of bright colors.
When I saw the Fiesta dinnerware on sale at Belk's, I decided to get some. I got 2 sets that each came with a dinner plate, bowl, side plate, and mug. I purchased them all, of course, in turquoise. I would like to get some other colors one day.
*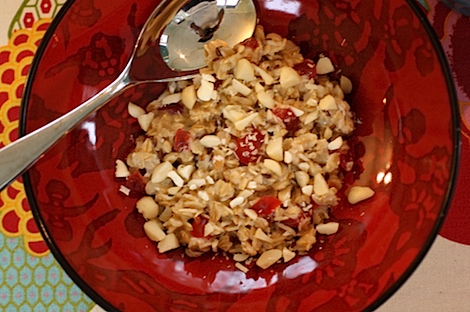 I saw these fun bowls at Pier One and knew i had to have a couple. The bright red color was fun and the pattern on the inside caught my attention. I thought the red would be a nice color to add to my sea of white and turquoise.
*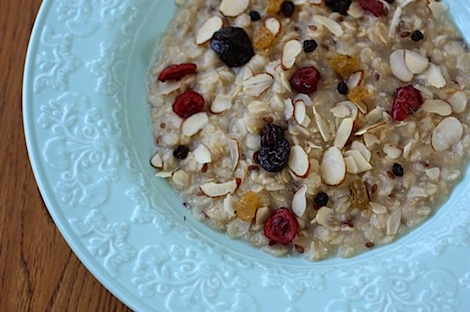 My sweet mother-in-law and her friend, Melessa, found these beautiful light-turquoise plates whilst on a shopping trip (I think at one of those places where you look for missing pieces of china) and gave them to me as a gift. I love the color (obviously!) and the pretty pattern along the edges. I received several low bowls, a large serving bowl, and 2 oval platters.
Mugs
Since I drink coffee every day (and tea on most days, too), mugs are important part of my plateware collection. I figure since I use them every day that I should use mugs that I like to look at. My little mugs can get my day started right with pretty colors, patterns, and positive words. It's the little things, right?
I get most of my mugs from Starbucks. Starbucks has a nice variety of shapes, styles, and colors. I like to wait for them to go on sale and then I swoop in and rack up. 😀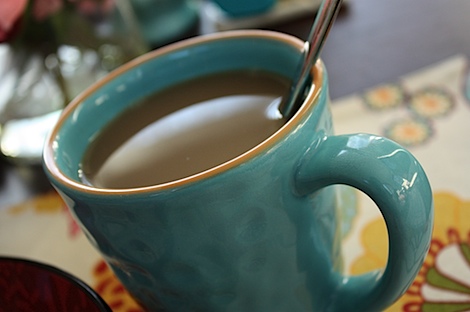 This is my favorite mug. The color is my favorite shade of turquoise and the little dips in the sides add a lot of personality. I found 2 of these on sale at Starbucks.
*
I got 2 of these red, heart-stamped mugs the week after Valentine's at Starbucks. They are V-day themed, but I use them all year. I like how cheerful the hearts are.
*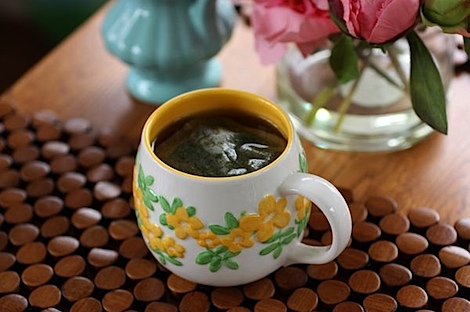 This little white mug with yellow flowers is one of my most-fun mugs. For a long time, I didn't use it very often because I thought it held less coffee than the others, and I have to have juuust the right amount of caffeine in the morning. The shape of it makes it looks smaller than some of my other mugs. However, I did a test one day and filled up one of my "usual" mugs with water and then poured it into this one. It fit perfectly. Like the others, I got this one at Starbucks.
*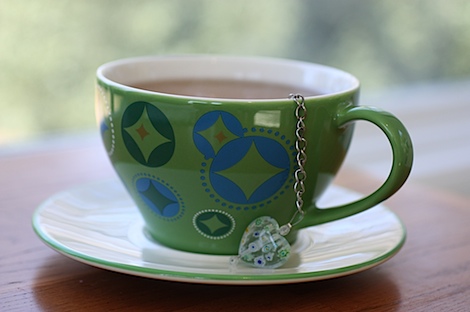 I found this mug at Starbucks the week after Christmas. It is actually a holiday mug and has a stocking in the inside-bottom of the mug, but I still use this one year-round. I like the wide, flat shape of the mug and the saucer makes the drink seem extra special (I guess because I normally just use bulkier mugs – without saucers).
*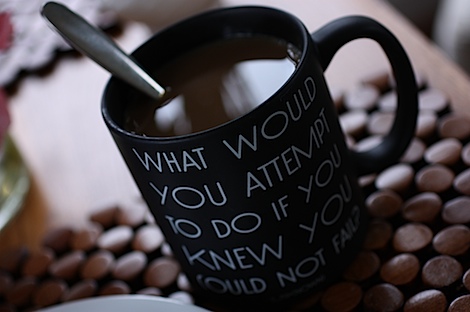 I purchased this quote mug full-price at Barnes & Nobles because it has one of my favorite quotes, and I was worried it may sell out. Nothing like a motivational quote staring you in the face every morning to put you in the right frame of mind for the day.
The quote reads: "What would you attempt to do if you knew you could not fail?"
Vintage Pyrex
I am infatuated with vintage Pyrex. I love the shapes and colors and old-school patterns on vintage Pyrex and I'm always on the lookout for some new pieces for my collection online and at garage sales and thrift shops.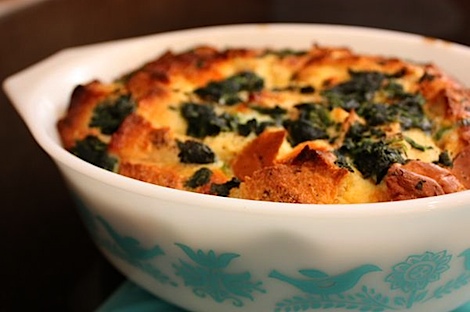 I found this vintage Pyrex casserole dish on ebay. Not only is the pattern beautifully delicate, but the dish even came with the original glass lid and metal stand. I can't believe what great shape this casserole is in.
Future Plateware
Since I love having lots of variety in my plateware, check back as I add more items to my growing collection.