Happy Hump-day everyone! The week is officially more than half way over, and I'm already ready for the weekend! 😆
I have some scary, frightening, what-did-I-get-myself-into but mostly exciting, exhilarating, and happy things in the works now. I can't wait to share more details with you guys!
Workday Eats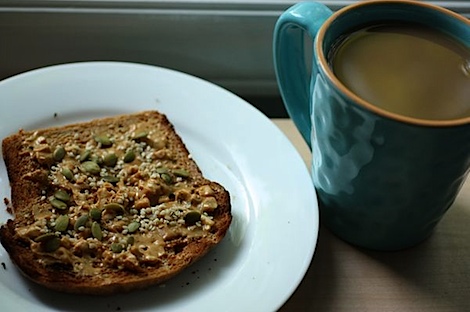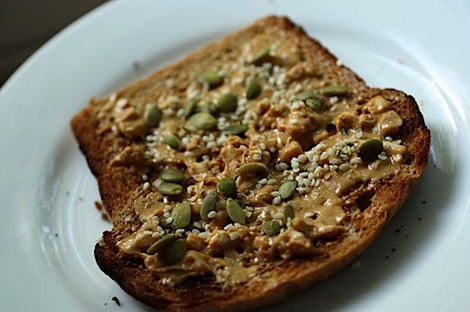 We had some bread on its last legs, so I decided to go ahead and have Power Toast instead of the blueberry oatmeal I was craving.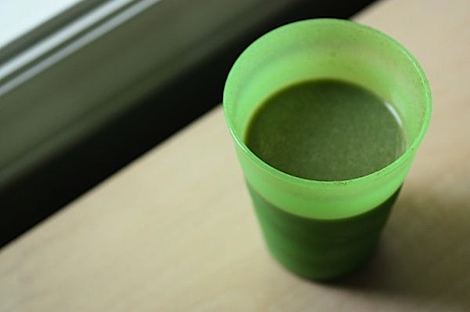 I had a mini Vega shake (vanilla chai health optimizer + water) for nutrition.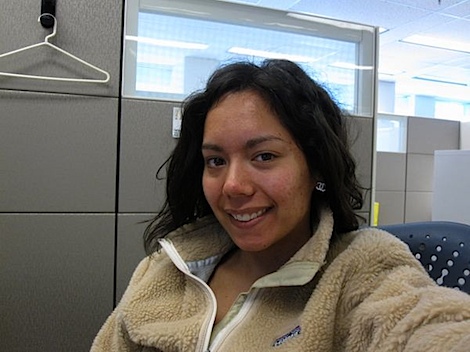 As soon as I got to work today, I was freezing! Instead of using my blankie I put on my teddy bear polar fleece. I think this thing makes me look like a stuffed animal! 😆
I had a lunch date at 12:30 with a co-worker, but I was feeling pretty hungry by 11am. I tried to ignore my hunger, but it wasn't working! Sometimes, I avoid snacks because I don't want to take on the calories (though I'm not counting any more, I can easily estimate in my head and I'm such a numbers person!), but lately I'm leaning more towards the thought that…if I'm hungry…I should EAT! It seems so obvious, but when I was employing less-than-healthy methods to "get skinny", I used to think being hungry was good. I know now that while a little hunger is good, the way I was approaching it was not so good.
Luckily, my new approach to eating is much more intuitive! I mean, your body is smart, right? It tells you what it wants. If it's saying it's hungry, then you should probably give it something, right? So while logic told me that the numbers weren't adding up the way I wanted, my body said…FEED ME!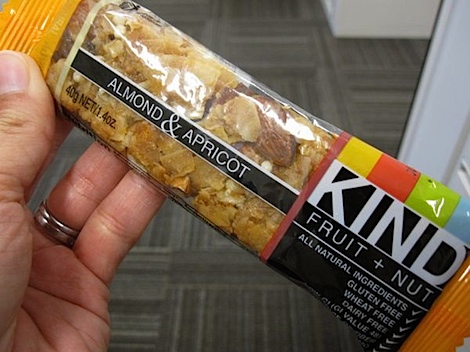 So feed myself I did – with a half KIND Fruit + Nut bar in Almond & Apricot. I saved the other half for later. I only went with half so I wouldn't spoil my appetite for lunch. 😉 It was just the right size to tide me over.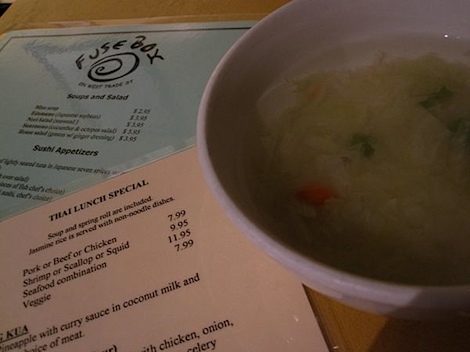 For lunch, my co-worker and I got something I've been wanting to eat for MONTHS and haven't been able to talk hubby into getting – Thai.
We started with soup.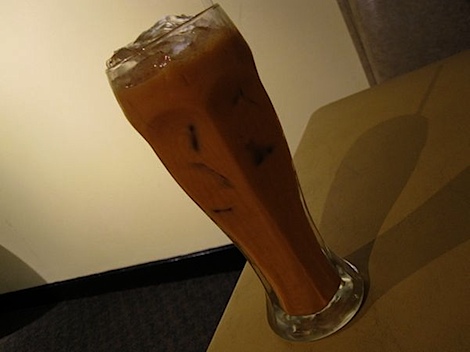 I also got a Thai tea – delicious!
My co-worker gave me a bite of her green curry. It was freakin delicious! I tasted coconut, cream, and lemongrass…yum yum yum!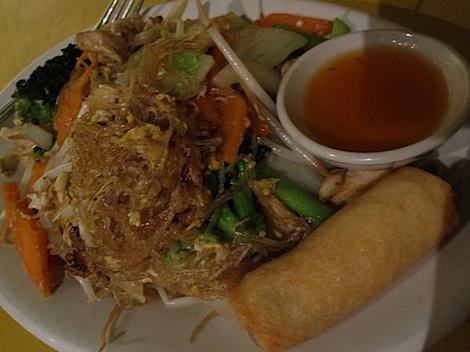 I got the pud wun sen but only managed to down about half this plate. There were so many noodles on that plate!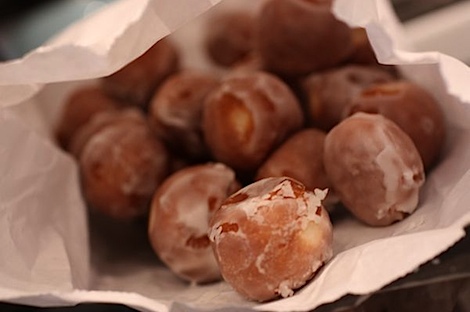 I picked up some of those yummy donut holes on my way home so I could give some friends a sample later…details further down post.
Project Yard Beautification
Hubby and I don't know what most of the plants in our yard are. Our neighbor and my mom pointed out some, but we're still, for the most part, completely clueless!
There are a couple things I'd like to do with our yard:
Learn what we already have
Beautify our yard with more fabulous plants and flowers
Take care and nurture our yard and plants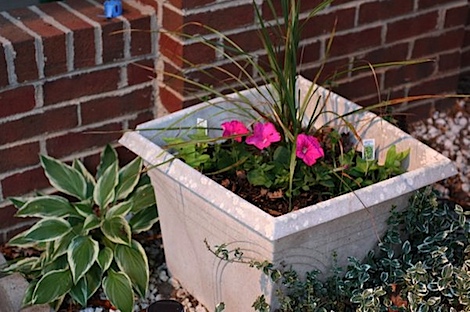 Today I swung by a local nursery on my way home and picked up just a couple little things. While I'd like to do one big project and have a giant, fantastic post about it, the truth is that biting off small pieces of projects will probably be the easiest.
When I got home, I quickly planted our new goodies. There are two large, white, plastic planters that contained existing plants, but I wanted to add some other colors and textures to them. Well, honesty, I don't care much for plastic planters and would prefer to replace them with ceramic, but have you seen how much large ceramic planters are?! They're like $100-300 depending on how nice they are. Yowsa! So, I just stuck with what we had and added my cheap-o little plants. 🙂
Reader Question: Anyone know where I can get nice, cheap planters? I'm thinking maybe Lowers or Target? Ideas?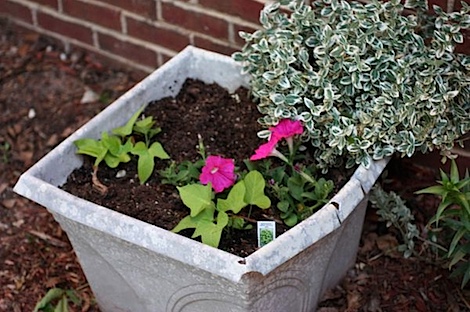 To each pot, I added petunias and sweet potato vines. I love the pink of the flowers and the chartreuse of the vines. I can't wait till these grow out some more.
I picked the petunias because they are a good companion plant for both deterring bad pests and attracting good ones. Granted, I didn't plant them in my garden, this pot is right near my herbs, so hopefully that helps. I figure, the more good plants the merrier, right?
I have many more spots in the yard where I'd like to add flowers and other plant-life. I think I have more spots than money unfortunately! 😳
Edible Garden Update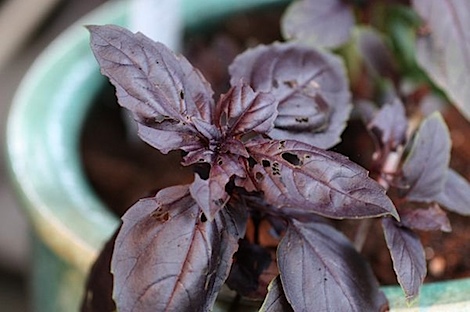 Something is eating my purple basil!!! It's putting tons of little holes in the leaves and it's really pissing me off. I even tried companion planting a marigold with the basil to deter pests, but I guess it's not deterring the right ones! 🙁
Does anyone know what might be eating my plant?
Compost Update
The worms seem to be settling into their compost bin. Tonight I fed them their first scraps – some romaine lettuce (that I had put in the freezer a few days ago so it didn't spoil). Eat up boys!
Tonight's Theme = BEER!
And now we get to the fun part!
Matt came over after work and took hubby and me to The Olde Mecklenburg Brewery. Here are some photos from our trip: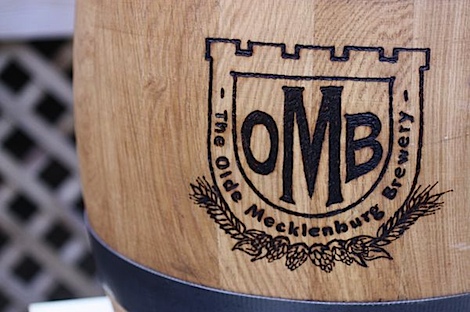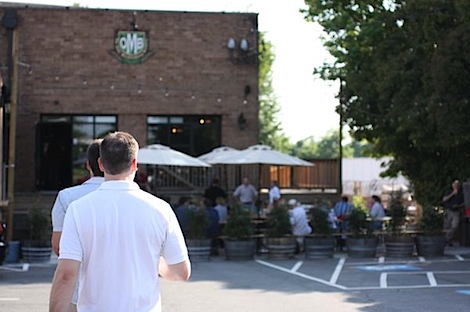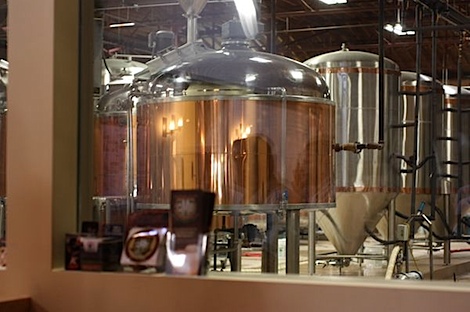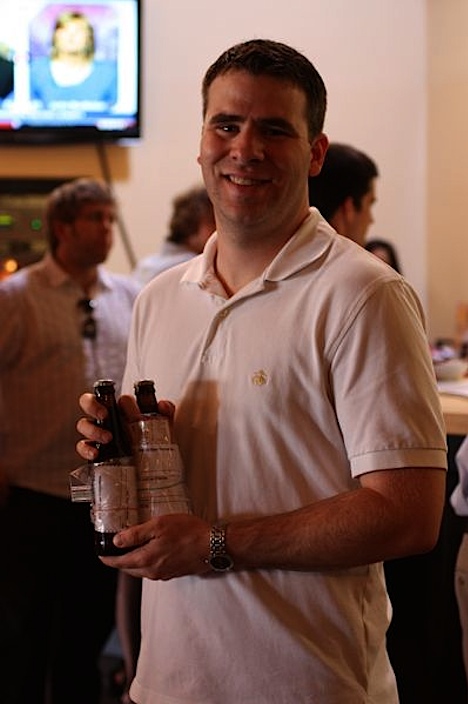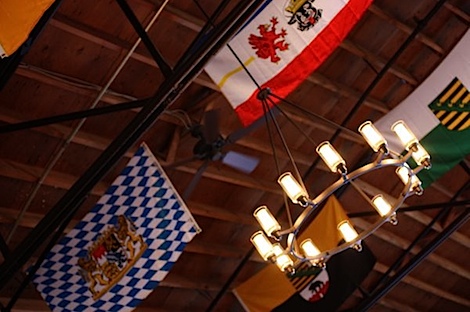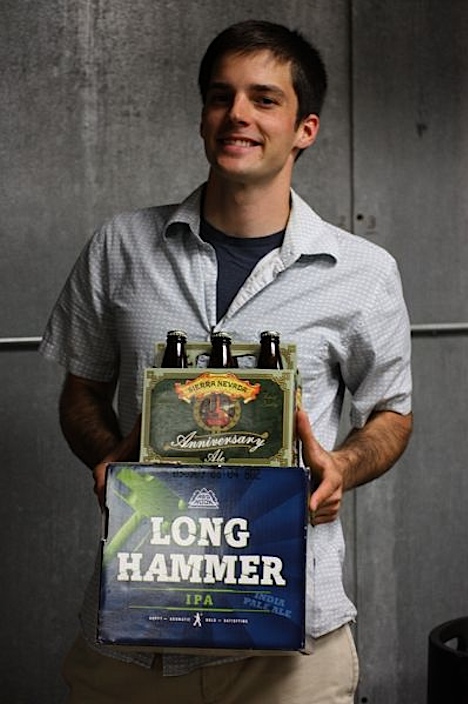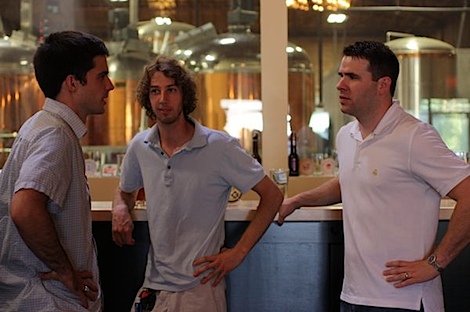 We stopped by to drop off the beer Matt and hubby brewed a few weeks ago and to sample the new OMB beer – Mecklenburger.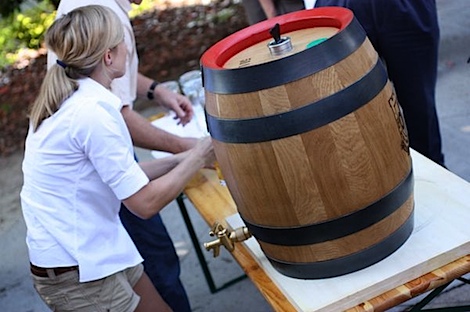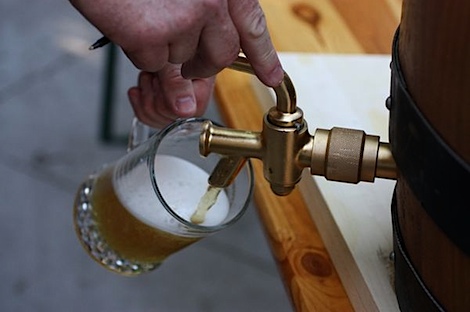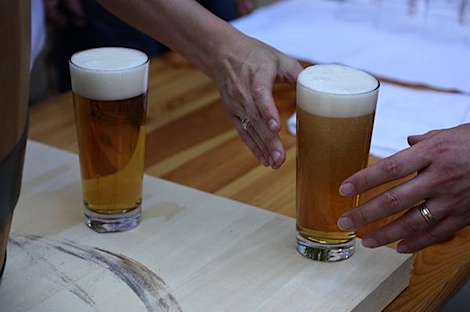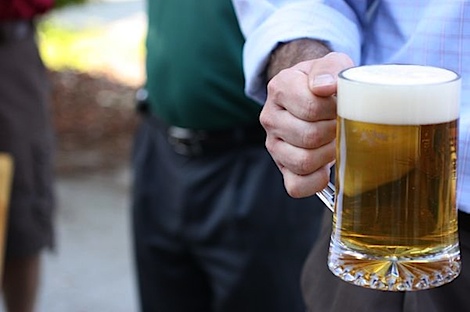 To celebrate the new beer, they tapped it out of a wooden keg. Neat-o!
As for the beer – I really liked it. It was nice and smooth. I'm far from an expert beer drinker, so for me – the smoother the better. I like some hoppy (sp?) beers, but my palate isn't as refined as it could be for beers. Guess I need to drink more! Good thing hubby is getting into home-brewing.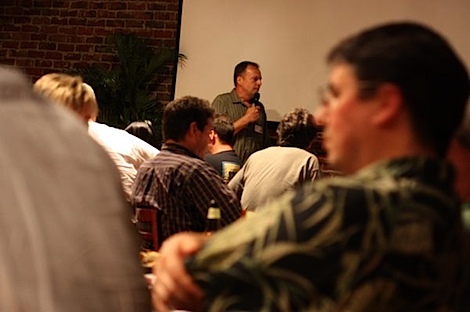 After our quick trip to OMB, we headed to Dilworth Neighborhood Grill for a home brew meeting.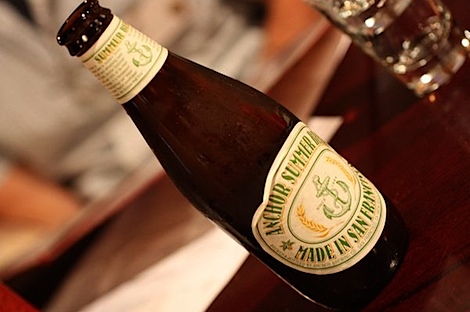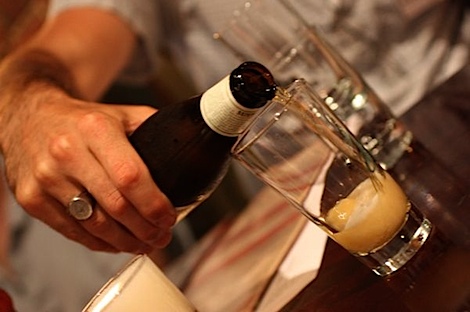 Kath and I shared a summer ale.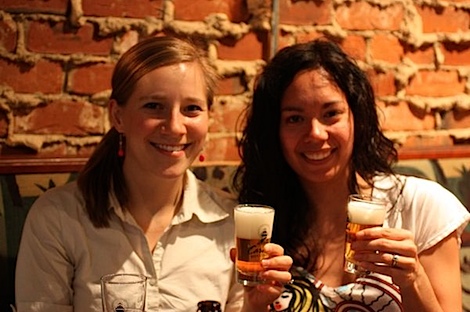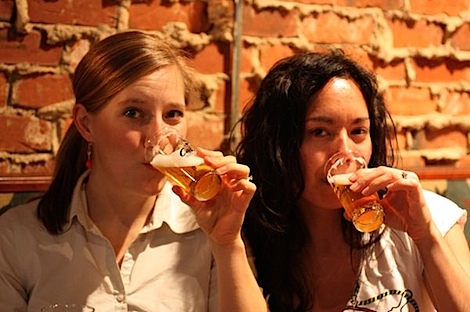 Bottoms up!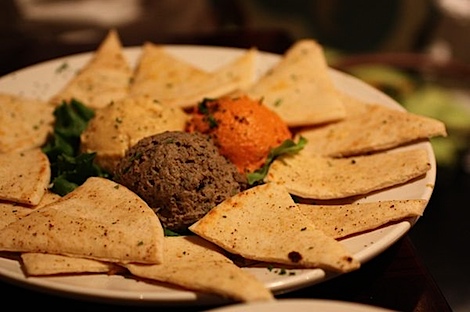 We also shared a hummus trio appetizer. It was served with yummy, tender pita bread. I love pita bread with hummus, though I think Ellie's is still my fave style with her spiced pita chips.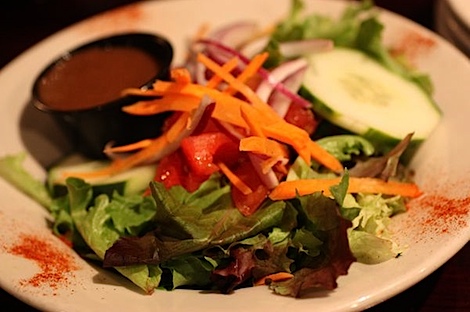 I also had a side salad with balsamic vinaigrette.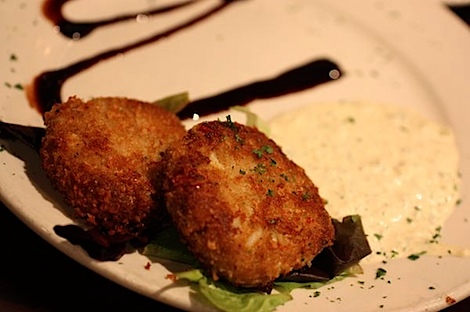 And, I had a crab cake appetizer as my entree. It looked kind of silly on the mostly empty plate, but it tasted good. I picked it out because I read on the restaurant's web site that they won a prize for "Best Appetizer" for Taste of Charlotte in 2009!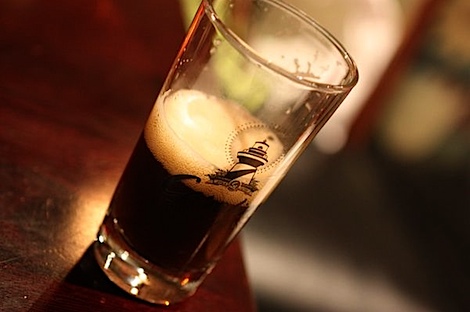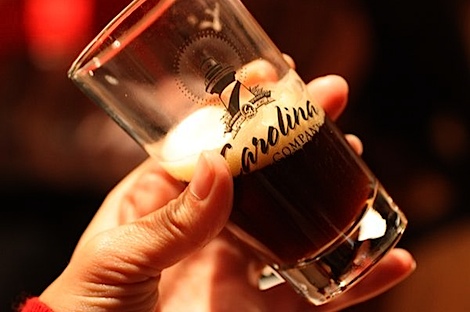 We sampled lots of beers, including many flavored ones: mint, coconut, and raspberry (ok, TWO raspberries!)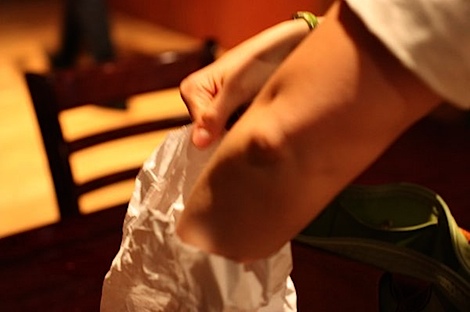 After our beer tasting fun was over, Kath and I had a donut tasting!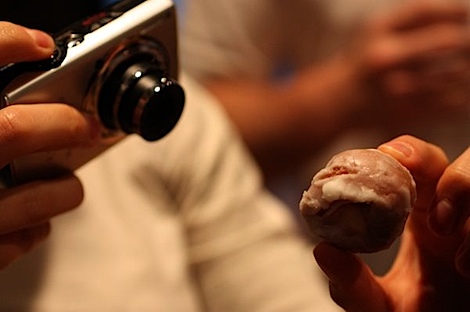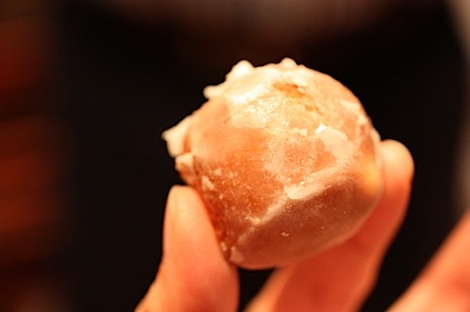 I must have eaten a dozen of these today…Oy! So wrong, but so right. 😆
After the meeting, Matt dropped us off and stepped inside for a quick minute – just long enough to taste-test the fruit of their labors – to sample their home brew they made a few weeks ago. I got to try a sip, too, and I'm happy to say it was awesome! Go team hubby and Matt!
So much fun hanging out with Kath + Matt – they're fun friends! 😀
Break-up Recovery Week
Here are more tips for my friend who is recovering from a recent, and very difficult break-up. If you have some tips to share, I'm sure they'd love to read them and they will really help. Please leave them in a comment and I'll blog them later this week.
Jessica – I always think getting a new hair cut and a new outfit helps. Once when I felt like I was going to be single forever, I went out and bought a gorgeous ring!!! A big blingy ring… it made me smile!!
Andrea – i love pedicures, long sweaty runs and trips to whole foods or tjmaxx to cheer me up
Cindy – What worked best for me was hitting the gym. Working out was a great distraction and it made me feel and look great. Just concentrate on what empowers you, whatever that may be.
Faith – As far as breakup tips, I think it's so important to focus on your positives. We usually dwell on negatives – how the relationship went downhill, the irritating things about the partner, but it's much more mood-boosting to remind yourself of why you are an amazing woman definitely make a list of things you love about yourself!
RunnerForever – After any hardtime, like a break up, I go run my heart out!
Emily – Gosh, I'd love to help your friend but all I can think of is to just revel in all that life offers. Being single and having that independence is just as fantastic as being with someone. Be okay with how you're feeling now, and truly feel it. And then be glad to have known and loved.
Marie – What I would do if it was me going through a breakup is either make an actual list or a mental list of all the things that person did that I didn't like, approve of, or hated. This makes you realize that you are better off without him and may lessen the hurt. Think about & plan all the things you have wanted to accomplish but could not because of this other person and immerse yourself in them. Whether its taking a class to learn a new language, a hobby, joining a gym, getting a pet, or going back to school to get a degree. The upside of this is while you are doing what you want, you are in a social setting and the potential for meeting a new mate is there. Good luck to your friend – it's true — time heals all wounds and everything happens for a reason!
Wow – what great tips guys! You're like our own Dr. Phil! haha
I do have some other emailed, twittered, and commented tips, which I'm saving for the Thursday and Friday. I do need some more, though, so please send your tips in! I know they'll love them!
Reader Question: Do you let yourself eat when you're hungry or do you try to stick to a diet, calorie count, etc. that sometimes leaves you hungry?