After a great start to my sister's bachelorette weekend in beautiful Asheville, NC, we were looking forward to our first (and only) full day of the trip.
Morning at Reynolds Mansion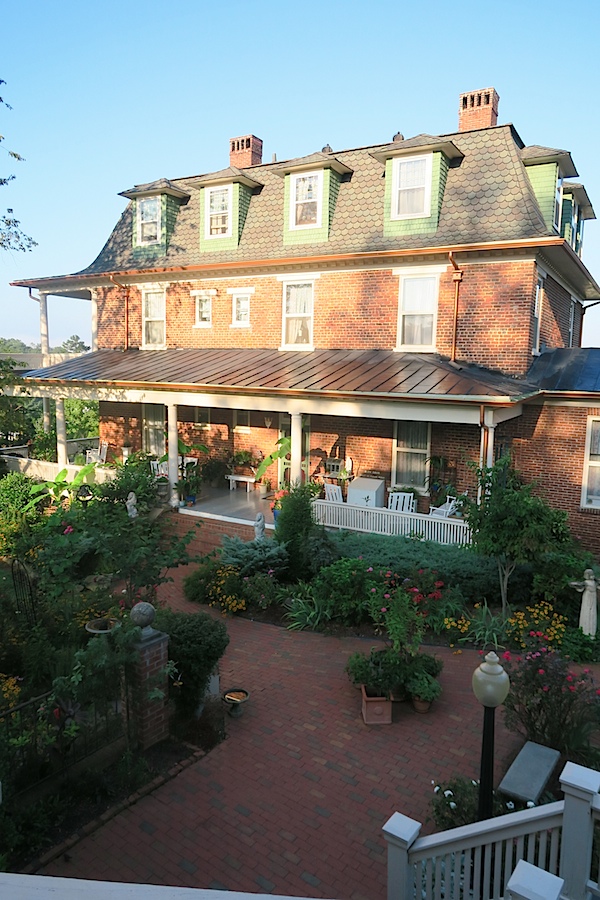 I love seeing this first thing in the morning. A gorgeous, sunlit Reynolds Mansion.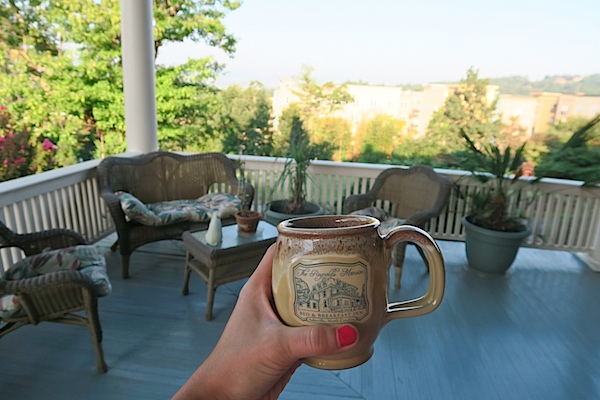 And the moment I'd been waiting for – their delicious, hot, spiced coffee…enjoyed on the cozy porch of the B&B. It's always one of my favorite vacation moments.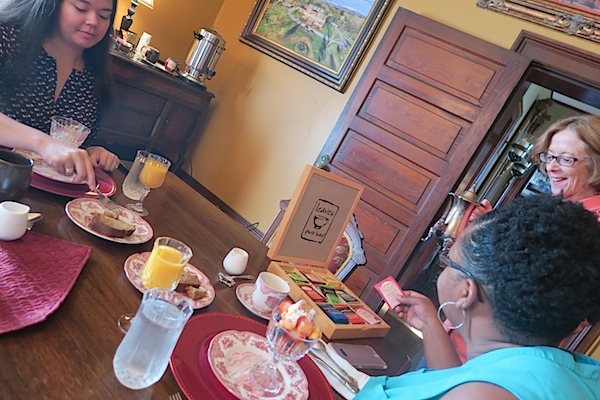 And as if there wasn't enough to look forward to, there was breakfast on the way.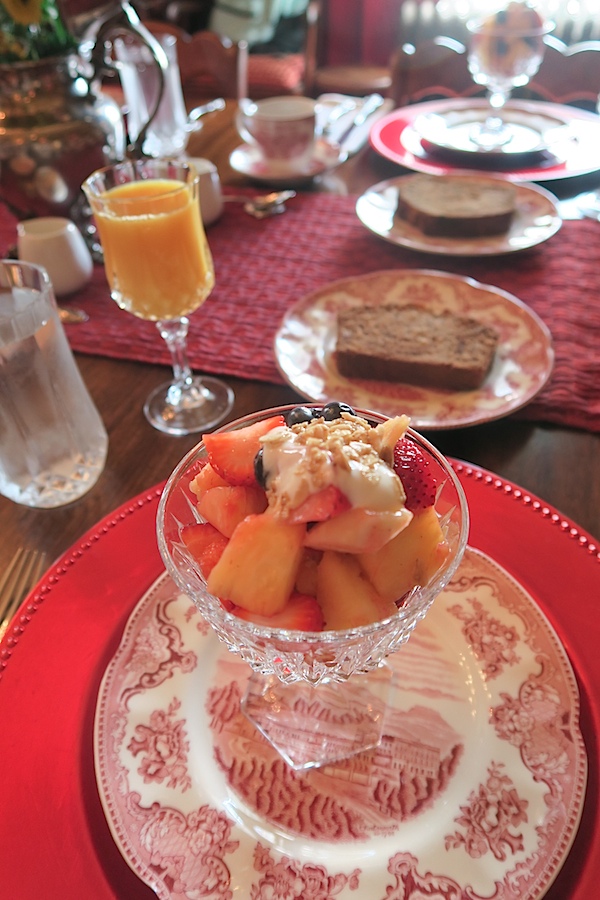 We started with fresh fruit with some yogurt and granola.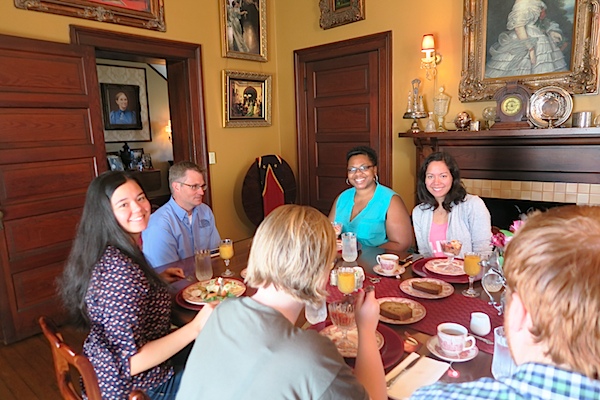 For the first time, we sat near the head of the table where Billy sits. He tells the best stories. Like, you've heard the story before want to hear it again good. It was great to sit so close to him this time around.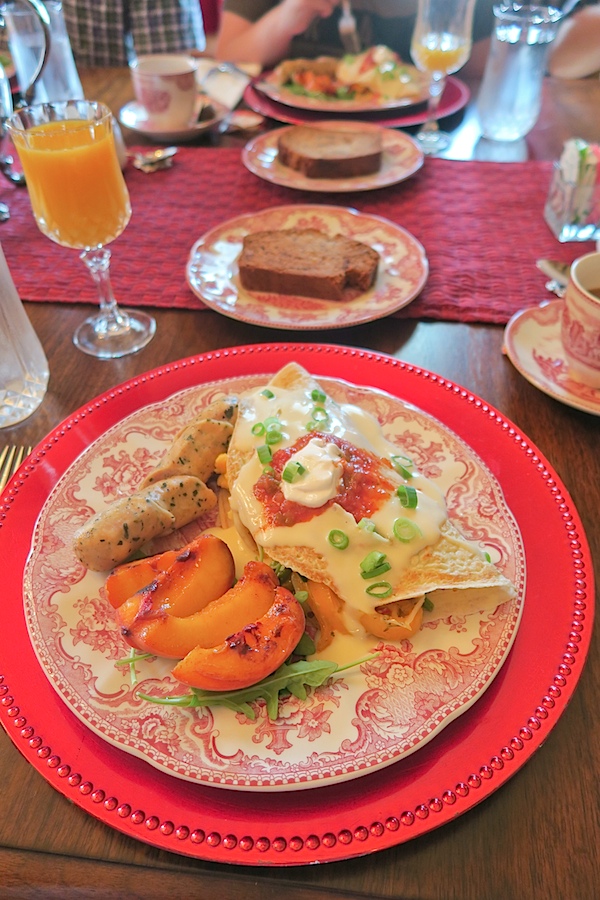 Hope you didn't think the fruit is all we got. Check out the next couple of rounds! Fresh baked banana bread, savory crepes, peaches, and sausage.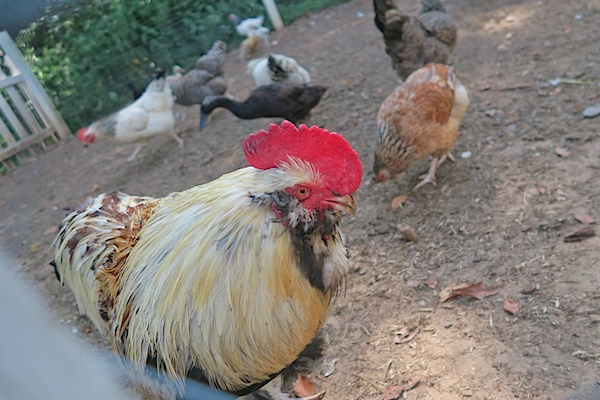 After relaxing at the B&B and saying hi to the chickens, we headed into downtown Asheville.
Lunch at Rosetta's Kitchen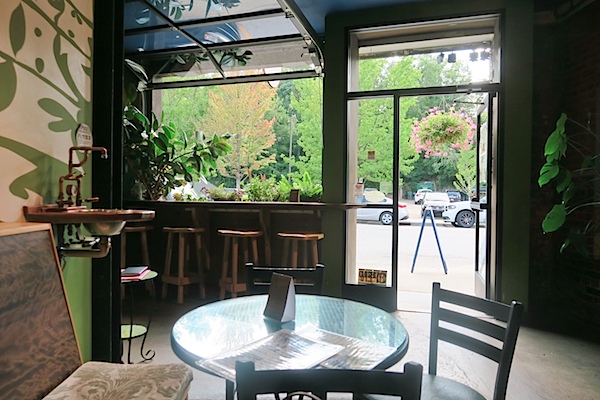 I love this front room of Rosetta's kitchen. It's so bright and happy.
Sis really wanted to revisit this spot, since we had gone here on our sister weekend trip.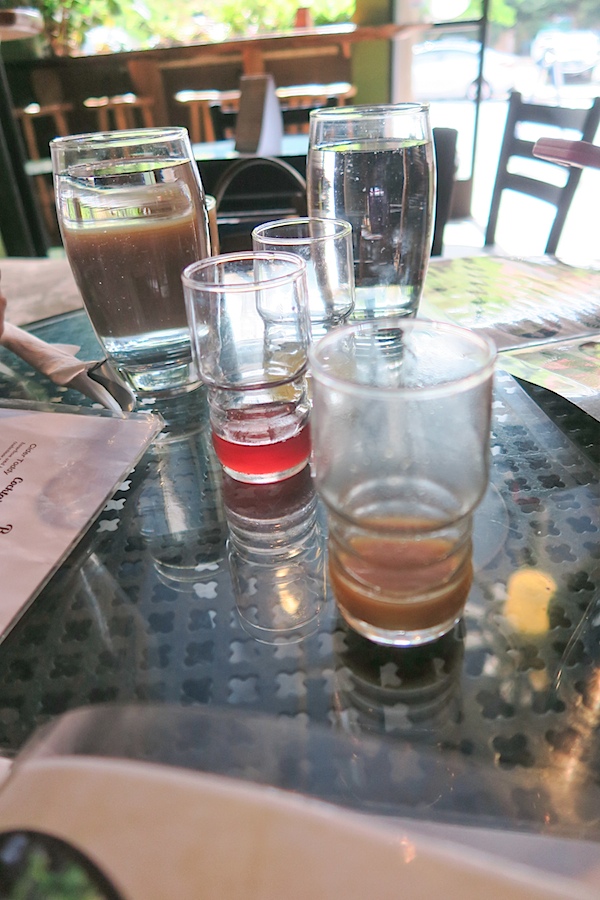 We were hoping to order more juices like last time, but Rosetta's Kitchen stopped doing those. But we got to sample kombucha instead, which was cool.
I know kombucha is super trendy in the health world, but I never really got into it. However, one of the samples was really fruity and not too strong-tasting of that usual kombucha-tang. So I opted for a small cup of this.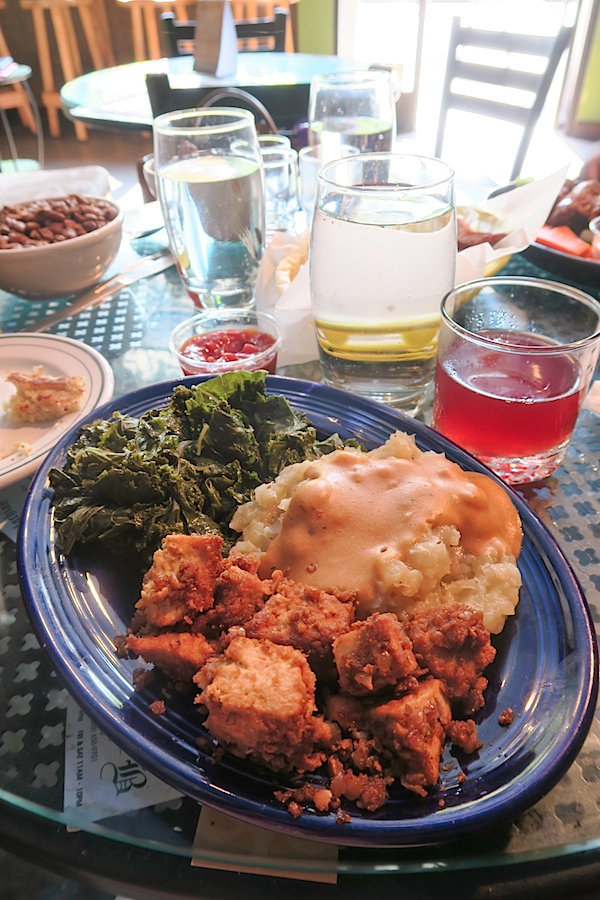 I got my usual for eats – the Family Favorite: peanut butter tofu, mashed potatoes, and greens. It was delicious, as always.
Dobra Tea (Visits 2 and 3)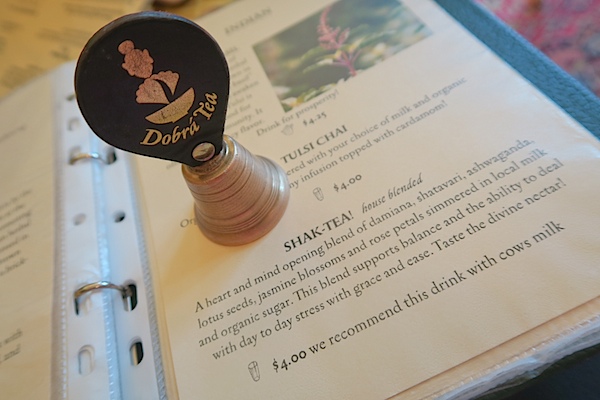 Following my careful plans, we next visited Dobra Tea. I knew if we went early enough, we should be able to squeeze two visits in one day. We'd done it before, and we could do it again. And I was trying to stay true to Sis's only request for the weekend.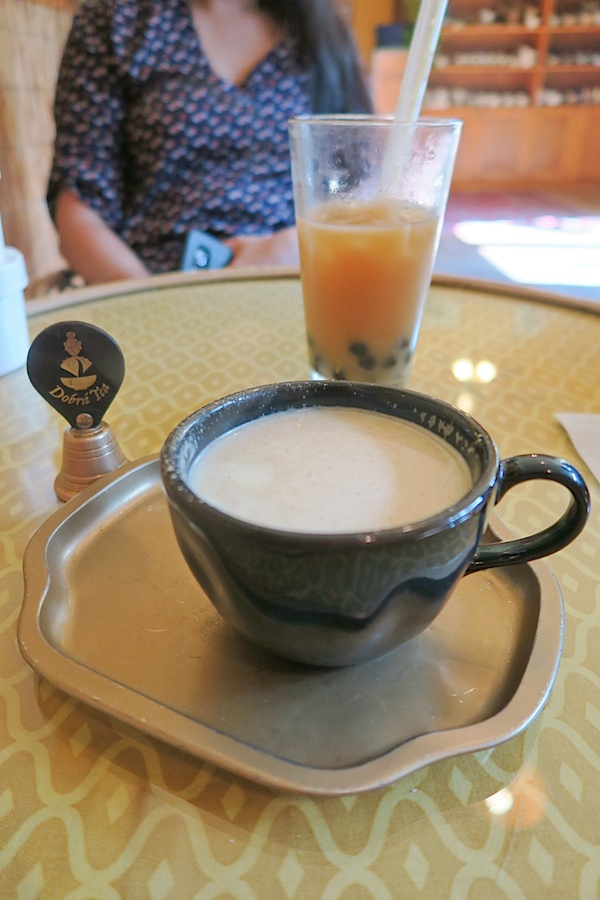 To be honest, I forgot what I ordered, and it's hard to tell from the photo. I believe I got the Shak-Tea again. It's so good when you're stressed. And I was feeling a little frazzled from all the travel (NYC to Charlotte to Greenville to Asheville).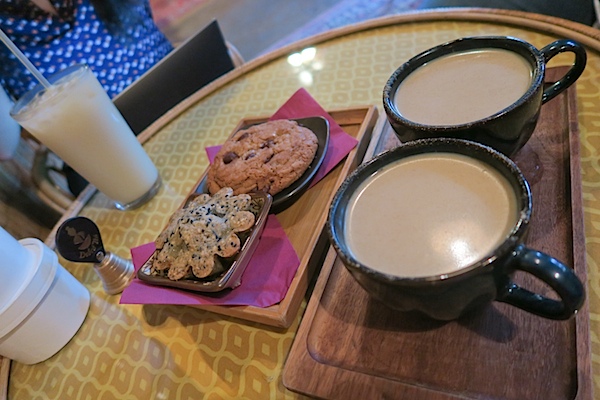 And a funny thing happened. We stayed so long at Dobra, that instead of leaving to walk around and then come back, we decided to just go for round two right then. For my second tea of the day, I believe I got the Tulsi Tea. I also got a black sesame ginger tea cake.
Vinnie's Neighborhood Italian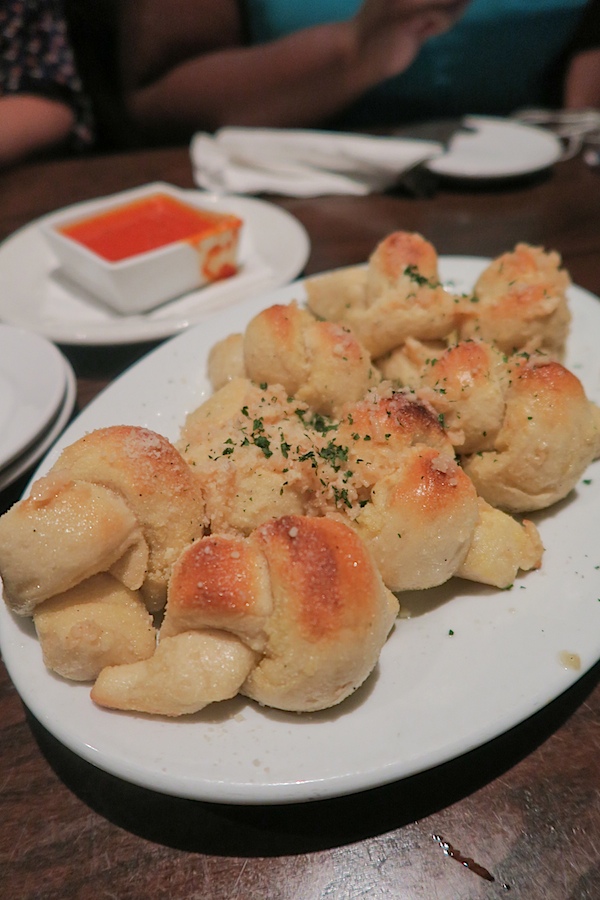 And we made another return visit to Vinnie's Neighborhood Italian. Well, it was a revisit for me, but new to Sis and Celeste.
We shared some of Vinnie's famous garlic knots. I know when a place calls their dish "famous" it doesn't always hold weight. But these garlic knots really are stand-out good. If you like carbs, butter, and garlic, then get them! I also recommend getting some marinara for dipping.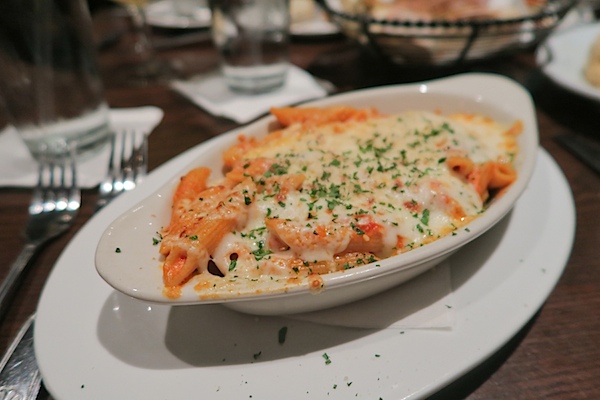 I opted to re-order the baked ziti. It was good, but it didn't have quite the same delicious flavor that it did the first time I got it. I think my latest version wasn't quite as baked as the last one, which had a bit more golden brown on top. But we still had an overall great meal.
Day Three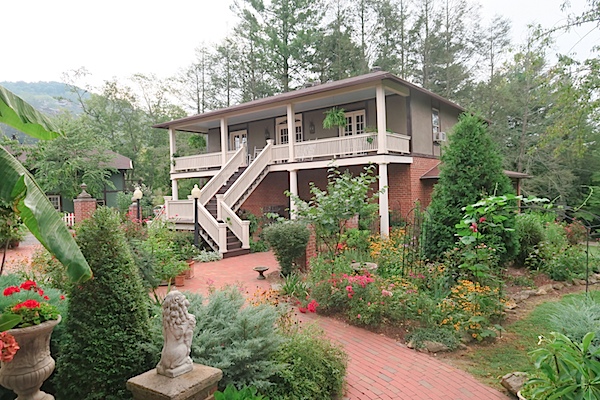 On our last day of the trip, I walked around the grounds to snap some more photos of all the lovely greenery around. I often come here in the fall or winter, and the plants are much more sparse at those times of the year. It's so fun to visit a place during different times of the year to see how it changes.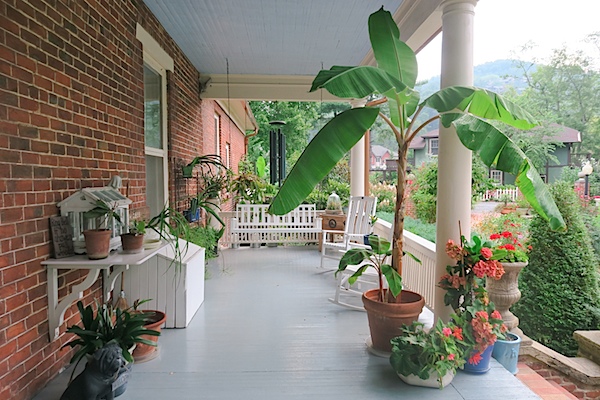 Plants galore!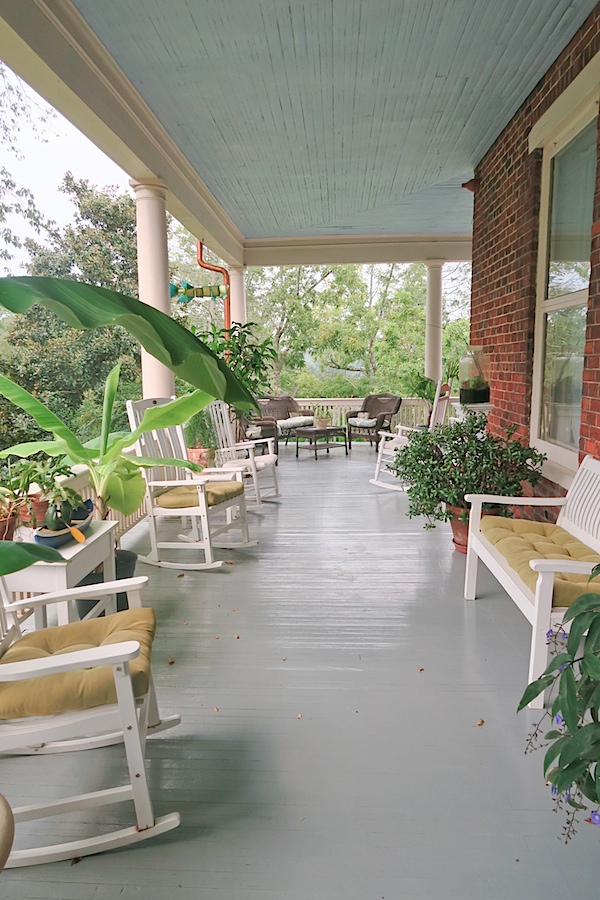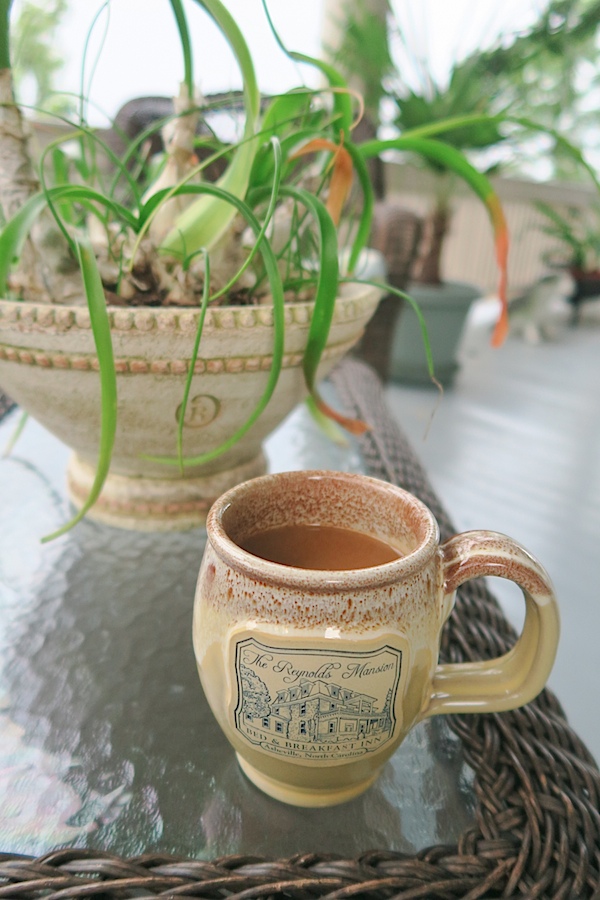 And of course I had to make time for coffee on the porch.
Brunch at Reynolds Mansion B&B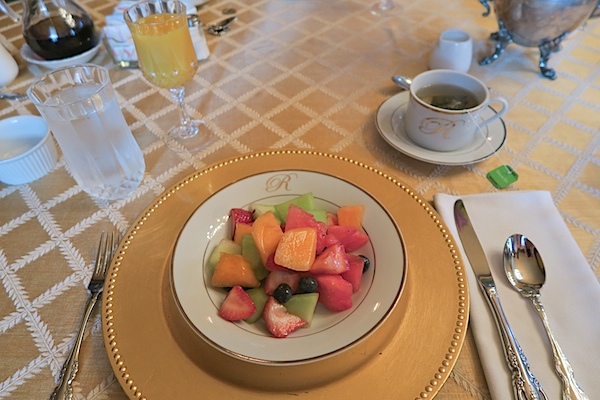 For our last brunch of the trip, we started with a big bowl of fresh fruit.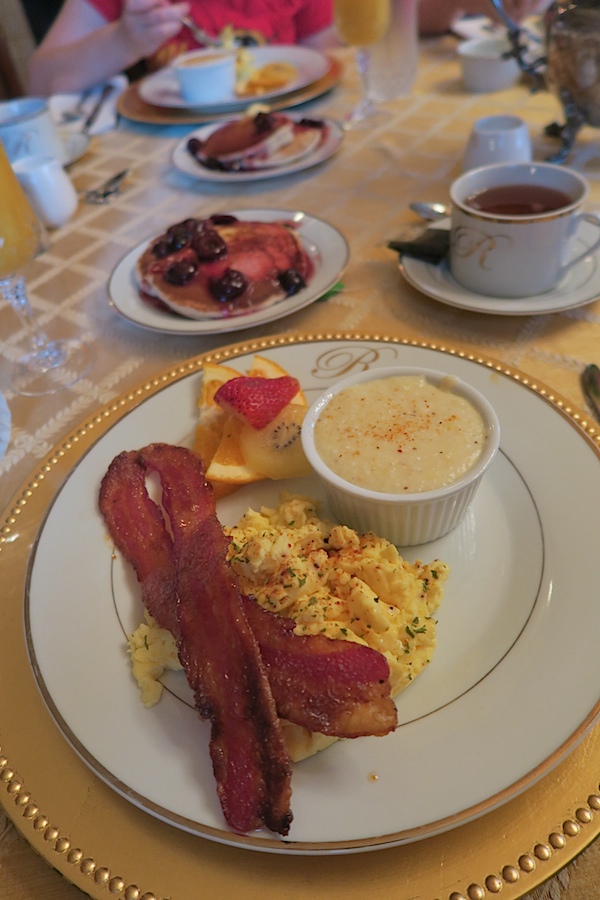 And for the main event, we had a repeat fave of mine. Though I rarely get repeat meals at the Reynolds Mansion B&B, this is one of my favorites. I think I've had it three times now, and I love it so much, it could be a staple of every visit I made to this magical B&B. Scrambled eggs, spicy-sweet baked bacon, grits, fresh fruit, and blueberry pancakes.
So, so good! I swear, it's so hard to leave Reynolds Mansion every time. I love the beautiful B&B, the delicious food, and the friendly team, especially Sandy and Billy. They make every visit so special
Dobra Tea (Visit #4)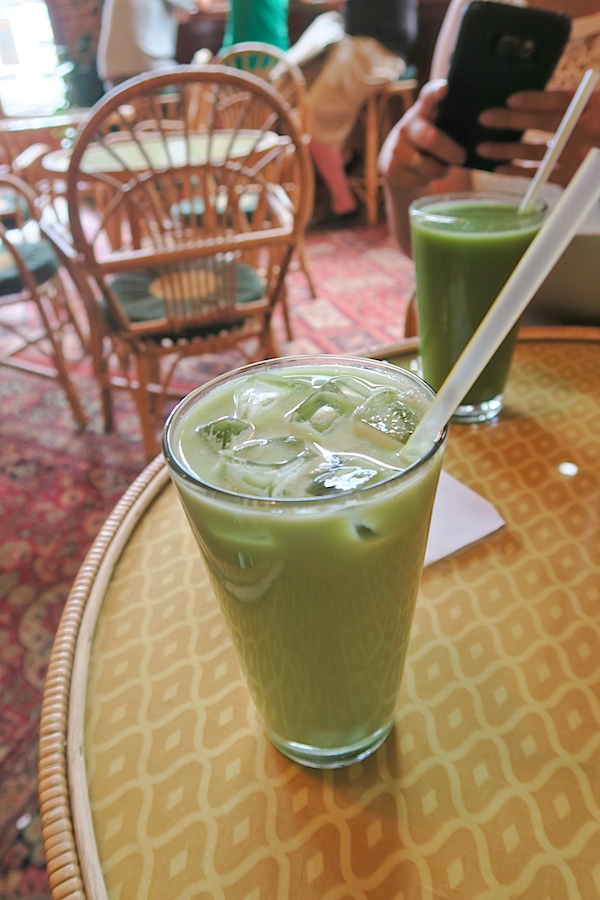 And as promised, we squeezed in one last trip to Dobra Tea on our way out of town. Since it was summer, I tried a new iced tea that may be my new favorite (of the cold drinks). It's called the Kyoto Kinen. From the menu: "A Japanese delight, made with powdered matcha green tea, milk and honey. The tea is quickly infused, then shaken with other ingredients to produce a frothy tea milkshake. The recipe is from our friend, Master Takada, a Japanese tea planter from Kyoto."
I had so much fun spending quality time with my sister and her friend Celeste. It was the perfect kind of bachelorette for my sister – beautiful and classy, just like her.
More Asheville Posts
Bachelorette Weekend in Asheville – Part 1 of 2
Click here for the last time my sister and I visited Asheville
Click here for my video about our siser weekend visit
Thanks for stopping by!